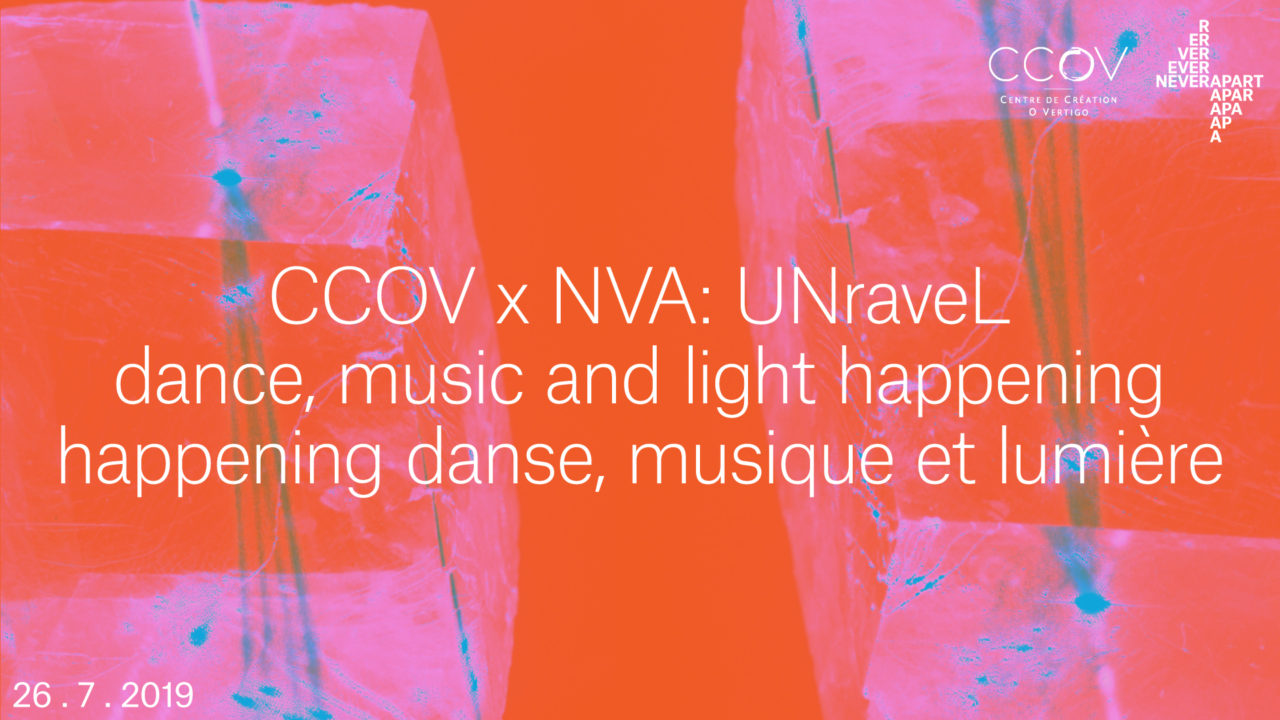 NVA and the Centre de Création O Vertigo – CCOV collaborate for the first time to present a music, light and experimental dance happening, exploring and reframing the aesthetic ideas of RAVE.
Unraveling the distinctions between choreography and musical performance, between dancers and the public, inviting everyone to participate in an immersive sound and body experience. UNraveL blurs the lines between a party and performance event, subverting the progression of a wild night out into a container for colourful artistic propositions.
Come and discover the CCOV, a new hidden space in the underground of Place des Arts.
Eventbrite RSVP required
PWYC at the door, no one turned away for lack of funds.
► Musique / Music:
Ouri (DJ)
M0llygum / Seven Yuan (DJ)
YlangYlang (live)
► Visuels / Visuals:
Ottomata
► Danse / Dance:
Stephen John and Alexe Lebel-Faille
Thierry Huard
Anne-Flore de Rochambeau
Jean-benoit Labrecque
Andrea Peña
Georges Stamos
Winnie Ho
► Accessibility Info at Centre de Création O Vertigo – CCOV:
The CCOV is located in the third floor basement of the Place Des Arts which is accessible at street level and has ramps and elevators throughout the building and entrances. There are 2 washrooms in the space which are not wheelchair accessible. However there is a wheelchair accessible bathroom on the same floor very close by. Anyone needing assistance accessing our space or more details regarding accessibility can contact us as we are more than happy to try to accommodate people to the best of our ability.
► Land Acknowledgement
We would like to acknowledge that the land on which we gather for this event is located on unceded Indigenous lands. The Kanien'kehá:ka Nation is recognized as the custodians of the lands and waters on which we gather today. Tiohtiá:ke/Montreal is historically known as a gathering place for many First Nations. Today, it is home to a diverse population of Indigenous and other peoples. We respect the continued connections with the past, present and future in our ongoing relationships with Indigenous and other peoples within the Montreal community.