Age of Union Talk: Leadership
Dax Dasilva & Dominique Anglade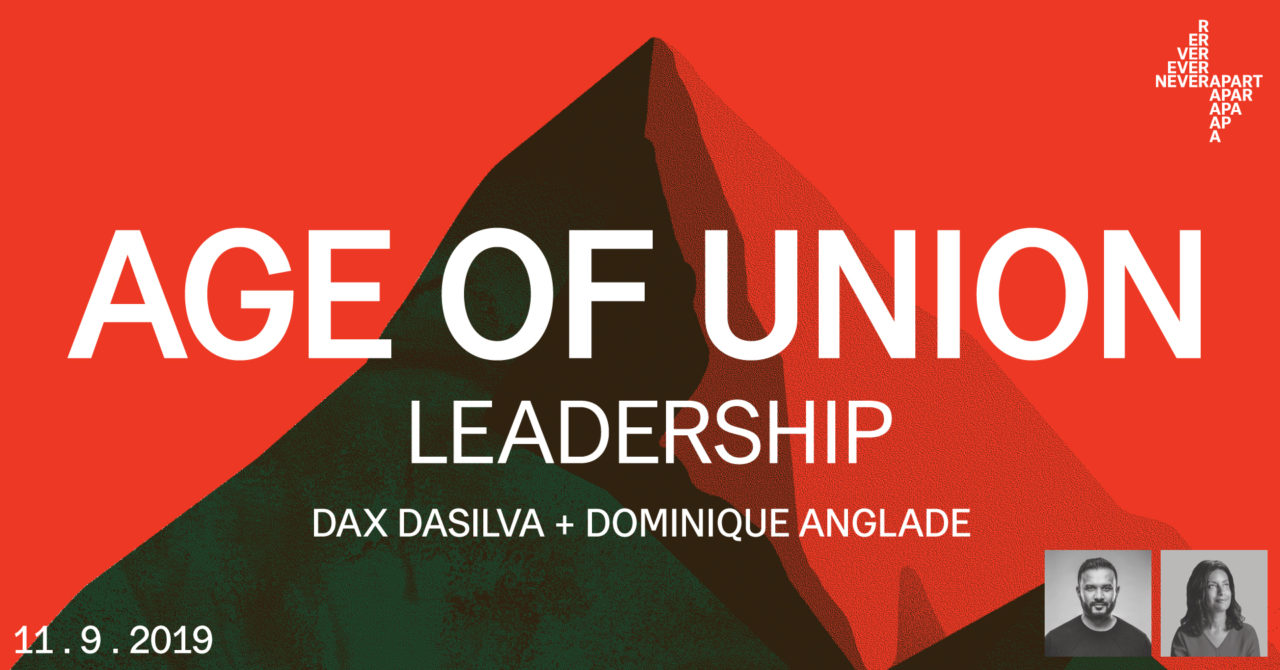 Dax Dasilva, author of Age of Union and founder of tech company Lightspeed and cultural centre Never Apart, begins his series of four Age of Union Talks with the first pillar of the book: Leadership. For the first of four talks, Dax is thrilled to welcome special guest Dominique Anglade to engage in this exciting discussion.
In this 45 minute talk lead by Dax followed by a 30 min group discussion, we will delve into topics explored in the book such as: the power of the individual, life's journey, diversity of leadership, qualities of a leader, overcoming echo chambers and multiplying leadership to ignite changemaking.
Free entry, RSVP required:
https://age-of-union-leadership.eventbrite.ca
► About Dominique Anglade
First elected on November 9, 2015 in the Saint-Henri-Sainte-Anne riding, Dominique Anglade was named Minister of Economy, Science and Innovation and Minister responsible for the Digital Strategy from January 28, 2016 to October 18, 2018, and Vice-Premier from October 11, 2017 to October 18, 2018. She was re-elected on October 1, 2018 and named ​Official Opposition Critic for the Economy and Immigration on October 22, 2018.
Until 2015, Dominique held the position of ​President and Chief Executive Officer for Montréal International, an organization responsible for attracting foreign investment, international organizations and strategic talent to Greater Montreal. She began her career in 1996 as an engineer at ​Procter & Gamble. Two years later, at just 24 years old, she was named department manager ​of a business unit ​and managed over a hundred employees. She worked at Nortel Networks in Quebec from 2000 to 2003, and specialized in the strategic management of supply chains and to forecast global markets. In 2004, she was promoted to Director of External and Governmental Affairs for Nortel Networks in Quebec. During her time at ​McKinsey & Company from 2005 to 2012,​Dominique developed a recognized expertise in the field of major organizational transformations.
Over the course of the last 25 years, Dominique's community involvement has been cited countless times. She sat on the boards of administration for over 15 organizations, including Centraide and the Sainte-Justine hospital's Foundation, as well as chaired many of them. Dominique co-founded the KANPE foundation and has received over 25 distinctions, such as the ​Bourse Émérite Desjardins award. The ​Ordre des ingénieurs du Québec also recognized her exceptional contribution to the profession through her social involvement. ​In 2014, she was named ''Young Global Leader'' by the Davos World Economic Forum.
Married and a mother of three children, Dominique was born in Montreal to Haitian immigrant parents. She holds a Bachelor's degree in Industrial Engineering from École Polytechnique de Montréal (1996) and a Master's degree in Business Administration from HEC Montréal (2003).
► About Dax Dasilva
Dax Dasilva is the creative mind behind Lightspeed, Never Apart, and Age of Union. Founded in 2005, Lightspeed develops a cloud commerce platform used by retail and restaurant customers in over a hundred countries. The company's mission is to bring cities and communities to life by powering independent business.
Lightspeed employs over 800 staff located in eight cities and has raised $292M USD from Accel Partners, iNovia Capital, Investissement Québec and the Caisse de dépôt et placement du Québec. The company went public in March 2019 on the Toronto Stock Exchange under the symbol LSPD, becoming one of Canada's top 10 technology IPOs.
In 2015 Dasilva also founded Never Apart, a cultural non-profit determined to bring about positive social change and unity through original programming with global reach and impact. Housed in Lightspeed's former offices, Never Apart cultivates a diverse following and has welcomed thousands into its 12,000-square-foot space.
Helping entrepreneurs become leaders in their communities through Lightspeed's technology and elevating artists through his work at Never Apart are fundamental to Dasilva's philosophy. He fosters cultures of innovation, promotes diverse leadership, and values different viewpoints.
Dasilva's debut book released in May 2019, Age of Union: Igniting the Changemaker, brings leadership, spirituality and environmental guardianship together with themes of identity, diversity, cultural expression, and individual empowerment to ignite the impactful changemakers that the world needs now.