Age of Union Talk III — Spirituality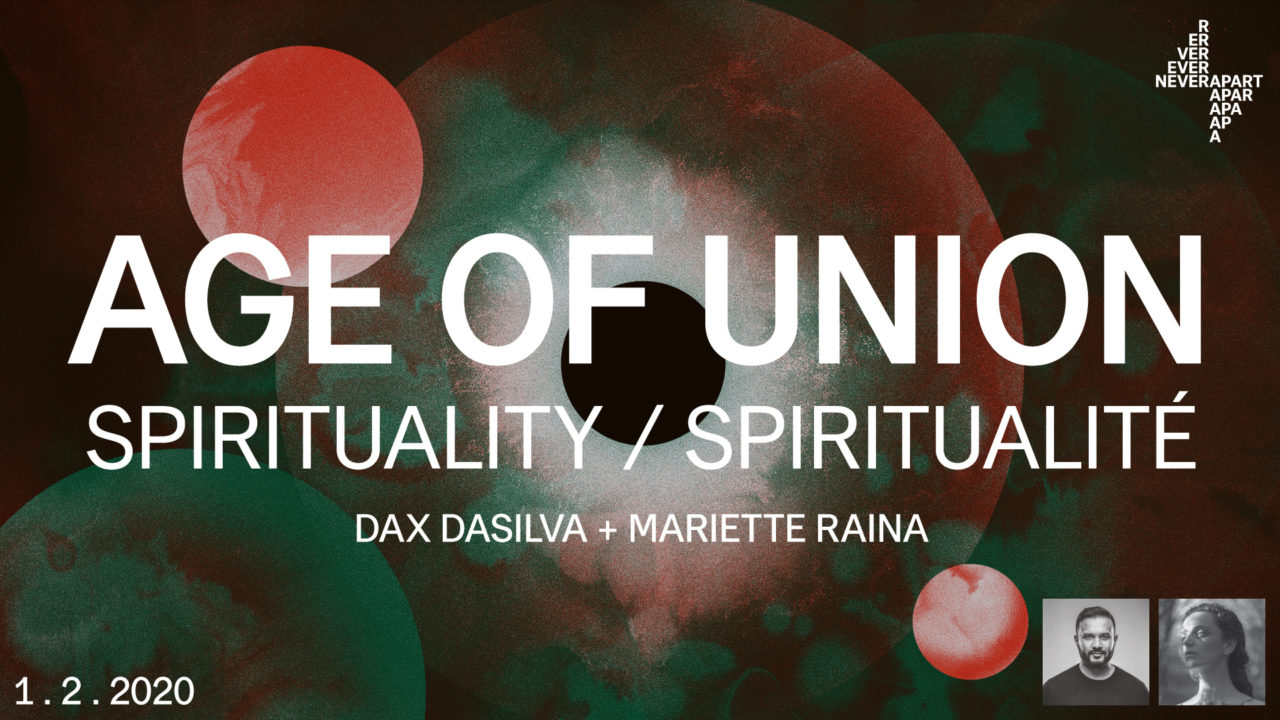 Dax Dasilva, author of Age of Union and founder of tech company Lightspeed and cultural centre Never Apart, continues his series of four Age of Union Talks with the third pillar of the book: Spirituality. For the third of four talks, Dax is thrilled to welcome special guest Mariette Raina to engage in this exciting discussion.
In this 45 minute talk lead by Dax followed by a 30 min group discussion. We will explore the meaning of spirituality and how it can connect us to our greater purpose in a modern world—no matter our individual path. We will discuss how daily actions can be elevated by infusing them with intention, and how being intentional can inform a more compassionate future in this pivotal decade for humanity and the planet.
Free entry, RSVP required:
► About Mariette Raina
First trained as an anthropologist (graduated from the University of Montreal in 2014, specialized in "anthropology of religions and spiritualities"), it is in parallel of her 6 years at University that Mariette studied kashmirian yoga and evolved in the artistic circles where she questions the act of perception, the relation to the image, as well as the body as a vehicle of expression, through photography, writing and performance. Since 2015 she has been teaching photography classes at the Activités Culturelles of the University of Montreal. She has been working at Center Never Apart in Montreal since 2016 as a writer of monthly articles and collaborated on various projects such as an exhibition and Dax Dasilva's Age of Union book. Her various activities are related to the same exploration: the understanding of human beings and Reality.
Photo credit: Stéphane Desmeules
► About Dax Dasilva
Dax Dasilva is the creative mind behind Lightspeed, Never Apart, and Age of Union. Founded in 2005, Lightspeed develops a cloud commerce platform used by retail and restaurant customers in over a hundred countries. The company's mission is to bring cities and communities to life by powering independent business.
Lightspeed employs over 800 staff located in eight cities and has raised $292M USD from Accel Partners, iNovia Capital, Investissement Québec and the Caisse de dépôt et placement du Québec. The company went public in March 2019 on the Toronto Stock Exchange under the symbol LSPD, becoming one of Canada's top 10 technology IPOs.
In 2015 Dasilva also founded Never Apart, a cultural non-profit determined to bring about positive social change and unity through original programming with global reach and impact. Housed in Lightspeed's former offices, Never Apart cultivates a diverse following and has welcomed thousands into its 12,000-square-foot space.
Helping entrepreneurs become leaders in their communities through Lightspeed's technology and elevating artists through his work at Never Apart are fundamental to Dasilva's philosophy. He fosters cultures of innovation, promotes diverse leadership, and values different viewpoints.
Dasilva's debut book released in May 2019, Age of Union: Igniting the Changemaker, brings leadership, spirituality and environmental guardianship together with themes of identity, diversity, cultural expression, and individual empowerment to ignite the impactful changemakers that the world needs now.