Collective Culture: The Power of Poster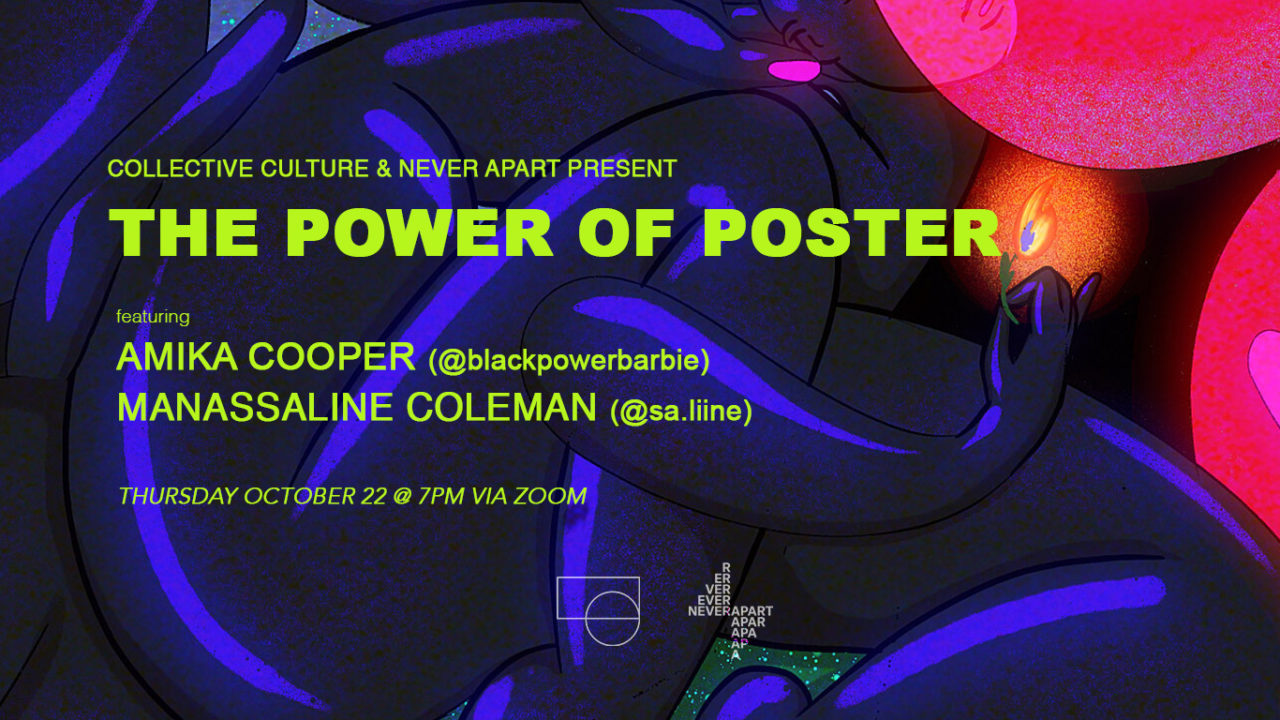 THE POWER OF POSTER will be a conversation with graphic and visual artists blackpowerbarbie (aka Amika Cooper) and Manassaline Coleman who have mobilized to create political posters and images in support of a variety of social justices causes.
We will discuss how their proliferation on apps like Instagram have invigorated current social movements. Further, we will explore themes of intentionality, identity, community (online and offline), their influences and their relationship with social media
Co-hosted by Centre Never Apart we invite you to enjoy this panel conversation moderated by CC co-founder Keesha Chung and contributor Mouna Traoré.
We would like to ask for a pay what you can donation from participants, being mindful of the very real struggles everyone is facing as a result of COVID-19. Money collected will be split between two organizations we wish to support: BUFU et Brown Art Ink.
About Collective Culture
Co-founded by Keesha Chung in 2016, Collective Culture is a platform that celebrates the voices of BIPOC creatives within and beyond Canadian borders through the collaborative development of multidisciplinary programming and content.
Keesha Chung is an emerging Toronto based filmmaker (director, writer, producer), content creator, event producer and moderator, professional model, and the co-founder of Collective Culture. After graduating from Concordia University with a BA in Women's Studies, Keesha co-founded Collective Culture. She has worked in media for over ten years and collaborated with artists and organizations from around the globe.
Some of her collaborators include: Never Apart Montreal, Route Eleven Productions, VICELAND Canada, Sephora Canada, AfrOURban, CBC Arts, BAND Gallery and Culture Centre, Scarborough Pictures, CIINEMA, Sophomore Magazine, Artscape Daniel's Launchpad, Concordia's Fine Arts Student Alliance, Sankofest + Khyber Centre for the Arts, HerDay, BlackLives Matter Toronto, Goldelox Productions, and Ryerson Image Centre. She will be graduating with honours from Humber College's Film and Multiplatform Storytelling program in December 2020
Mouna Traoré is an emerging actor, writer and award-winning filmmaker from Toronto. Over the years, she has appeared in a variety of roles including Vanessa Hastings on BET's "In Contempt", Jasmine Zane on USA's "Suits" and most recently in the Netflix original series "Self Made: Inspired by the Life of Madame CJ Walker" as Esther.
Mouna has also written and produced her own work through the company The Mini Films along with co­-founder Elizabeth Melanson. Their second short film, Adorn (2016) won the award for Best Short Film at the Montreal International Black Film Festival and is continuing to screen at festivals in Canada and the U.S.
Manassaline Coleman is a mindful living, food-loving artist living in the DMV metropolitan area. She uses impactful messages paired with bright colours that evoke action. Action to make positive change. As a designer, her focus is on elevating brands through sustainable design that cultivates meaningful human relationships.
blackpowerbarbie (Amika Cooper in real life) is a multi-faceted still and motion artist specializing in 2D animation from Toronto, currently based in NYC. blackpowerbarbie believes in the transformative and reflective power of storytelling, and approaches each body of work with sensitivity and reverence for her subjects. The backbone of blackpowerbarbie's work is an innate curiosity in the human condition, supported by research in the work of artists across disciplines who have come before her. Whether it is music videos, or live projections her art is motivated by a desire to create compassionate and creative representations of Black femmes and other marginalized communities, and to contribute to healthier futures for all.