DJ Workshop for Women, Nonbinary & LGBT+ and Panel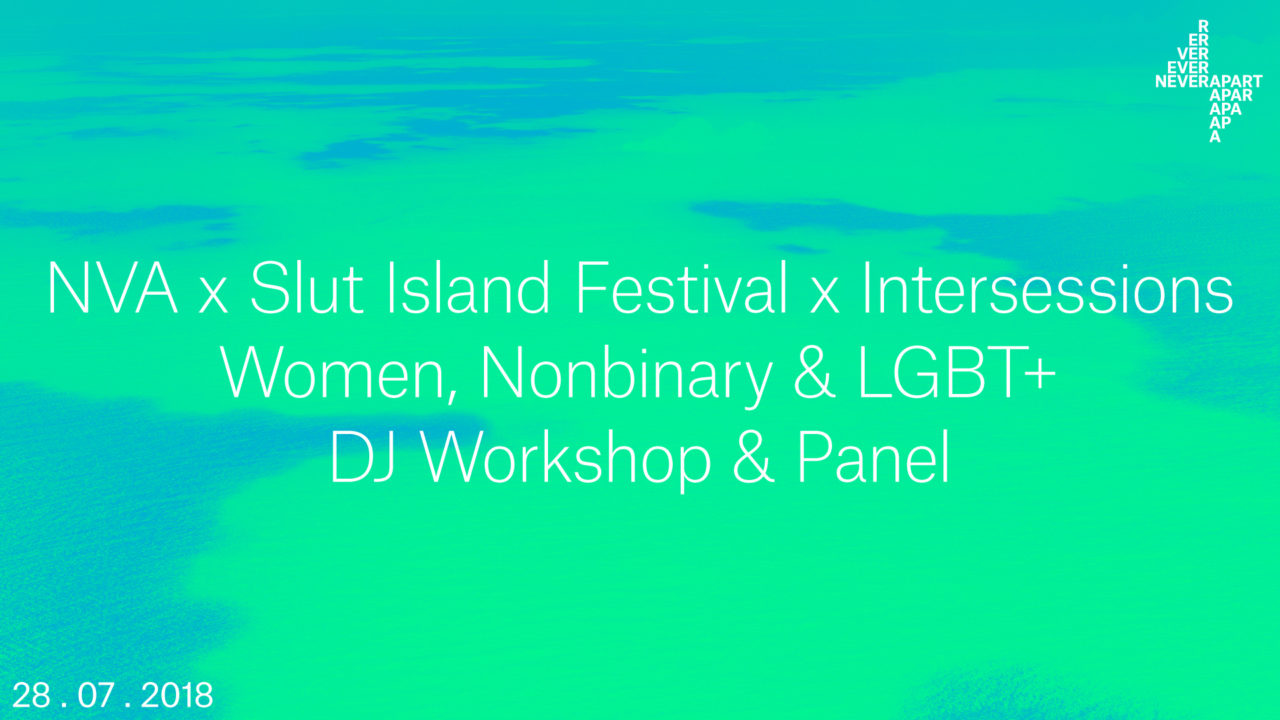 Join us to learn the basics of DJing, followed by a panel about throwing DIY events with a safer space mandate! A collaboration between Never Apart, Intersessions and Slut Island festival.
• 12 – 4PM — DJ workshop for women, nonbinary and LGBTQ+ folks •
NVA is thrilled to host Intersessions, a series of inclusive workshops that seek to create a safer space for women, femmes, LGBTQ+ folks to learn DJing and music production.
Open to everyone. Feel comfortable, invited and free to make mistakes and ask any question. All ages event. No experience required.
Come learn a thing or two and become inspired and empowered with our amazing teachers:
J'vlyn d'Ark — Traktor
Odile Myrtil — CDJs
Elisabeth Dalton — vinyl
AWWFUL & DJ Jeffany — laptop
Hosted by Chippy Nonstop
Free, RSVP required for the workshop, click here.
• 4 – 5 PM Panel — Throwing DIY events with a safer space mandate •
We are also joining forces with Slut Island festival, a community initiative that seeks to create space for marginalized artists within the Canadian cultural scene with an annual festival and year-round events.
We will we discussing the ins and outs of throwing DIY events with a safer space mandate.
Panelists:
AWWFUL and DJ Jeffany — Glitter Bomb
Frankie Teardrop — LIP / Slut Island
Ellise Barbara — Shemale Reprezent! / Mtl's Vogue Balls / Trans Amour
Moderator: Leticia Trandafir
Free. No RSVP required. Limited space, please arrive on time.
• • •
Never Apart is wheelchair accessible on the first floor, where most of this event will be taking place. We will only have the vinyl workshop upstairs in the Music Room. The introduction, Traktor and CDJ workshops, and the panel will take place downstairs.
• • •
We would like to acknowledge that the land on which we gather for this event is located on unceded Indigenous lands. The Kanien'kehá:ka Nation is recognized as the custodians of the lands and waters on which we gather today. Tio'tiá:ke/Montreal is historically known as a gathering place for many First Nations. Today, it is home to a diverse population of Indigenous and other peoples. We respect the continued connections with the past, present and future in our ongoing relationships with Indigenous and other peoples within the Montreal community.