Fierté Montreal: The Clothesline Swing with Ahmad Danny Ramadan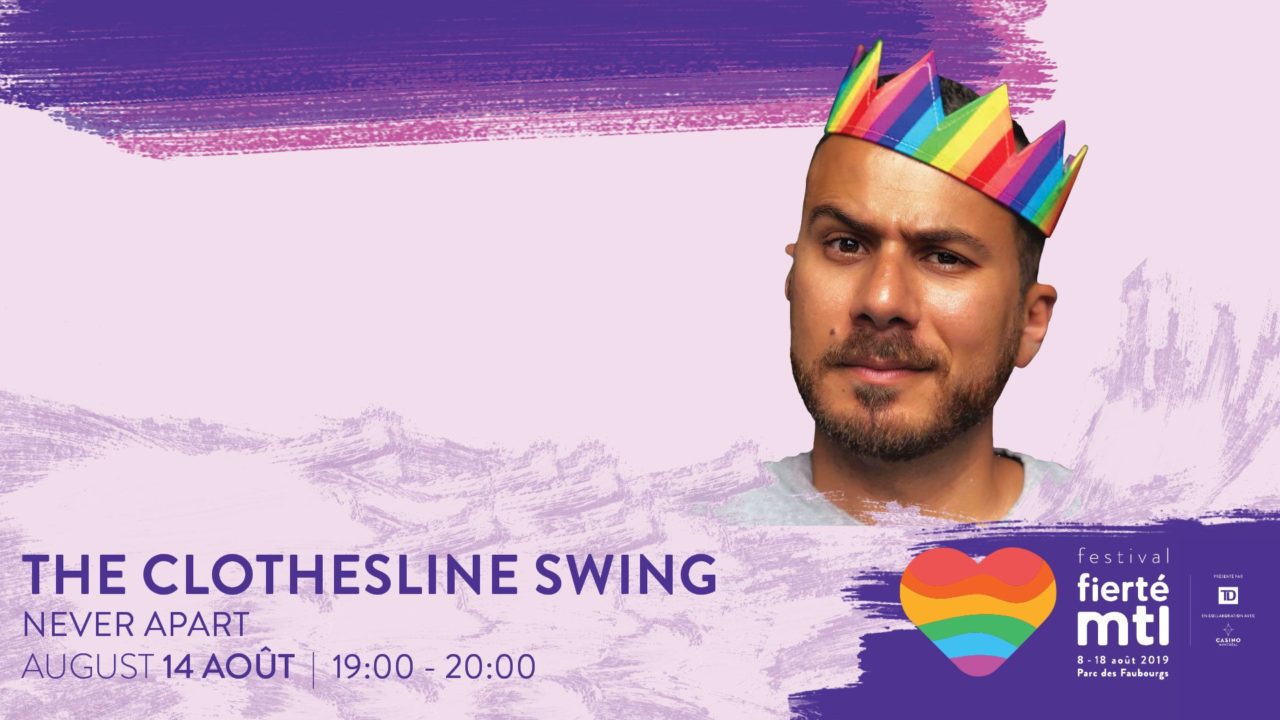 An on-stage interview with award-winning Syrian-Canadian author and LGBTQ-refugees activist Ahmad Danny Ramadan about his book The Clothesline Swing (Nightwood Editions), an epic story of two lovers anchored to the memory of a dying Syria.
This event is an official Fierté Montreal event, produced in collaboration with Never Apart. Hosted by Christopher DiRaddo.
Time: 7 PM (doors at 6:30 PM)
Admission: $5
The Clothesline Swing is also the August book club selection for the Violet Hour Book Club: https://www.facebook.com/events/448873472337496/
ABOUT THE AUTHOR ///
Ahmad Danny Ramadan is an award-winning Syrian-Canadian author, public speaker and LGBTQ-refugees activist. Since his arrival to Canada as a refugee, Ramadan published his debut novel, The Clothesline Swing. He is currently working on his next novel, The Foghorn Echoes, and a collection of short fiction, The Syrian Survival Notebook. His children book, Salma the Syrian Chef, published by Annick Press, is to be released in 2020. Ramadan was named among the Top Immigrants to Canada 2017, won the Social Activist StandOut Award, and the Independent Publishers Book Award for LGBTQ fiction among others. He is currently finishing his Masters in Fine Arts – Creative Writing at UBC and lives with his husband-in-training in Vancouver.
ABOUT THE BOOK ///
The Clothesline Swing is a journey through the troublesome aftermath of the Arab Spring. A former Syrian refugee himself, Ramadan unveils an enthralling tale of courage that weaves through the mountains of Syria, the valleys of Lebanon, the encircling seas of Turkey, the heat of Egypt and finally, the hope of a new home in Canada.
Inspired by One Thousand and One Nights, The Clothesline Swing tells the epic story of two lovers anchored to the memory of a dying Syria. One is a Hakawati, a storyteller, keeping life in forward motion by relaying remembered fables to his dying partner. Each night he weaves stories of his childhood in Damascus, of the cruelty he has endured for his sexuality, of leaving home, of war, of his fated meeting with his lover. Meanwhile Death himself, in his dark cloak, shares the house with the two men, eavesdropping on their secrets as he awaits their final undoing.
Entretien sur scène avec Ahmad Danny Ramadan, écrivain syro-canadien et militant des réfugiés LGBTQ, à propos de son livre The Clothesline Swing (Nightwood Editions), une histoire épique de deux amants ancrés dans la mémoire d'une Syrie mourante. Cet événement est organisé en collaboration avec Never Apart. Animé par Christopher DiRaddo.
Lieu: Never Apart (7049, rue St Urbain)
Heure: 19h (portes à 18h30)
Langue: Anglais
Entrée: 5 $