MUTEK x NVA: Honey Dijon, Kenny Larkin, Chloé, DJ Python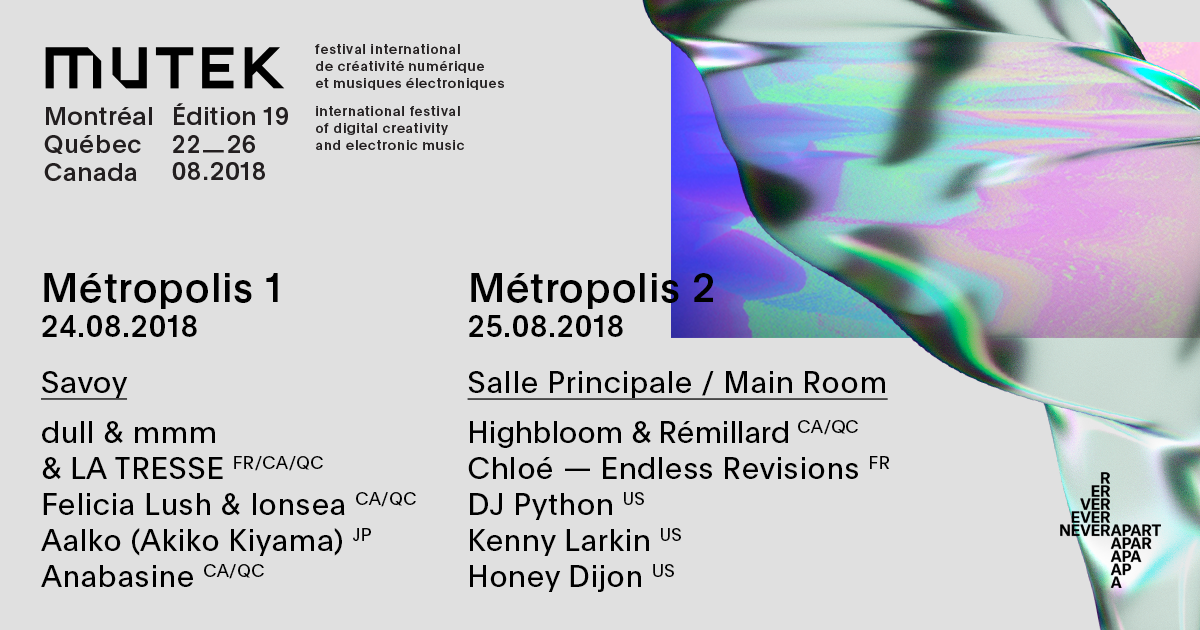 ◣ Métropolis 2 ◥
In collaboration with
Piknic Électronik Montréal and Never Apart
Main Room
━ Highbloom & Rémillard (CA/QC)
━ Chloé — Endless Revisions Live (FR)
━ DJ Python – DJ Wey (US)
━ Kenny Larkin (US)
━ Honey Dijon (US)
Savoy
In collaboration with:
Suoni Per Il Popolo
━ Klara Lewis (SE)
━ CMD (CA/QC)
━ Jaclyn Kendall (CA/QC)
━ DEBIT (MX)
Bios ➤ http://bit.ly/mutek2018-metropolis2
The crescendo of the festival, running from Saturday until 6am on Sunday, sees proceedings aimed squarely at the groove.
Jean-Patrice Rémillard, aka Pheek, debuts his jazz-leaning minimal tech collaboration with sax player Bryan Highbloom, setting the stage for French producer Chloé, presenting her latest live show—replete with her languid, composerly minimalism and visuals; reggaeton meets moody house in the live set from American DJ Python, the second wave Detroit-coloured, futuristic house of Kenny Larkin ups the dynamism, and the undeniably ecstatic selections of Honey Dijon, as the showcased big room DJ, takes it all until dawn.
The Savoy bears witness to the hard-edged beat work of Jaclyn Kendall, the dub techno of CMD and the dark post-trap and bass stylings of NAAFI's Debit, with more to come.
▬▬▬▬▬▬▬▬▬▬▬▬
$48 (tx incl.)
Full festival program
➤ bit.ly/mutek2018-program
Tickets
➤ bit.ly/MUTEK2018-box-office
Also on sale at Atom Heart, musique alternative (364 Sherbrooke E) and at La Rama (77 Bernard W)
MUTEK does not tolerate harassment, discrimination or hateful language.
DEBIT is presented thanks to the support of Agencia Mexicana de Cooperación Internacional para el Desarrollo, SRE, Consulmex Montreal, Ministère des Relations internationales
Chloé is presented thanks to the support of the Consulat Général de France au Québec