Nuit Blanche NVA x Eastern Bloc: Technofuturism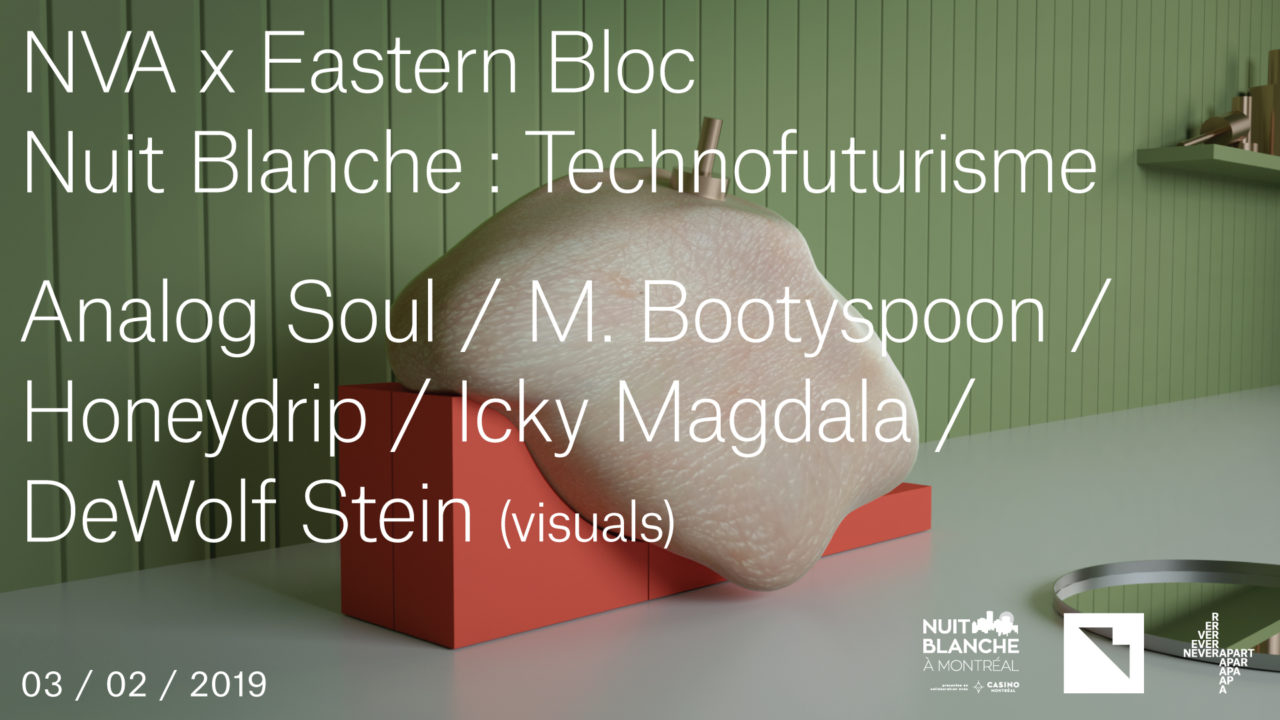 Eastern Bloc and Never Apart present "Technofuturism", their 4th collaboration for Nuit blanche à Montréal as part of Montréal en Lumière — a celebration of both technology via digital art installations, and music, with a nod to the foundational role of African diasporas in techno music in all its forms. Join us for an exploration of how these two artistic notions are linked by their visionary relationship to the future.
Free / Suggested donation of 10$
www.easternbloc.ca
www.neverapart.ca
www.montrealenlumiere.com
www.nuitblanchemtl.com
INSTALLATIONS ••••••••• 20-22h
Last night: Exposition I Femmes Futuristes – Female Futures
Renée Lamothe « Temple »
Katherina E Ilenseer « Pleasure receptors »
Anna Eye « PAN/PAN »
MUSIC ••••••••• 22h-3h
Analog Soul (DJ — NYC)
M.Bootyspoon (DJ — MTL)
Honeydrip (DJ — MTL)
Icky Magdala (Live — MTL)
Visuals: DeWolf Stein + Guillaume Roberts-Cambron
Image en arrière-plan/ Background image: Renée Lamothe
•••••••••••••••••••••••
We would like to acknowledge that the land on which we gather for this event is located on unceded Indigenous lands. The Kanien'kehá:ka Nation is recognized as the custodians of the lands and waters on which we gather today. Tiohtiá:ke/Montreal is historically known as a gathering place for many First Nations. Today, it is home to a diverse population of Indigenous and other peoples. We respect the continued connections with the past, present and future in our ongoing relationships with Indigenous and other peoples within the Montreal community.