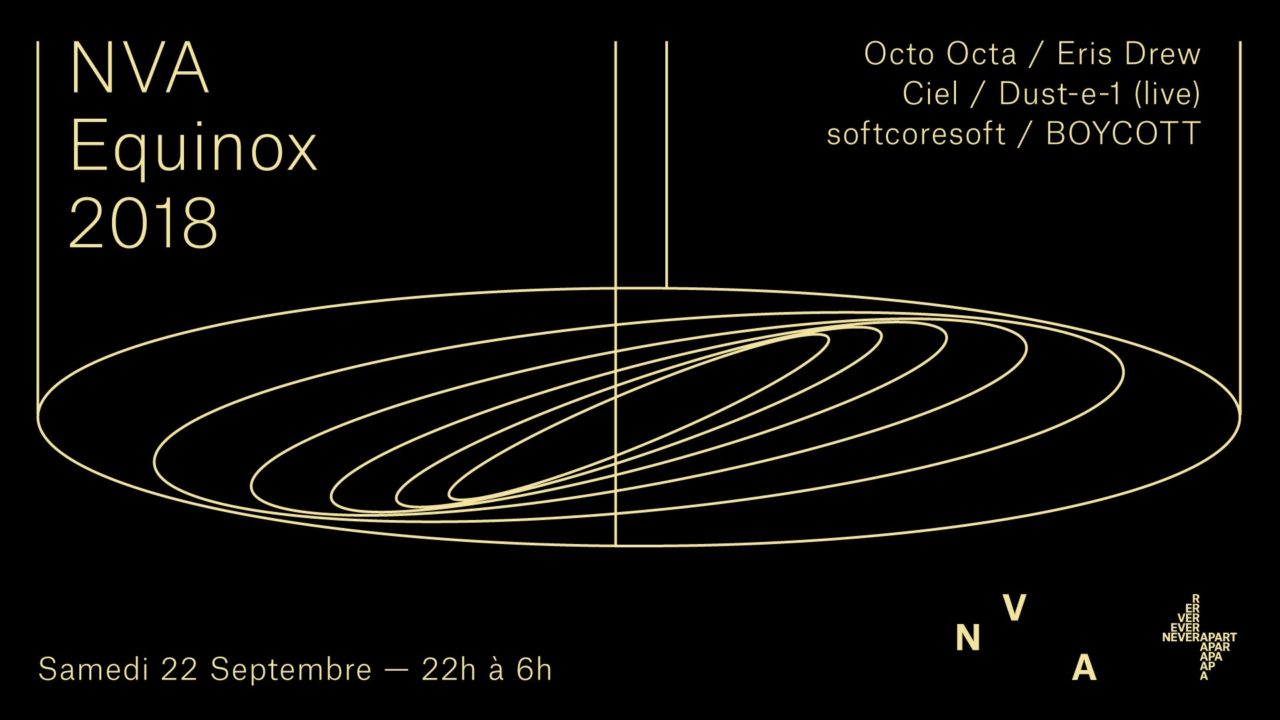 Equinox is the moment when night and day are of equal duration, the transition from summer to fall, when lightness and darkness balance each other. We celebrate this passage with our biggest NVA event of the year—dancing and musical celebration until the early morning will be de rigeur.
Octo Octa
Eris Drew
Ciel
Dust-e-1
softcoresoft
Visuals by BOYCOTT
Sound by Hell In Paradise
☾ NIGHT PROGRAM 10pm-6am
OCTO OCTA [ 100% Silk, HNYTRX | Brooklyn ]
Brooklyn-based producer and DJ Octo Octa has by now become a mainstay of modern house over the past four years, with releases on labels like 100% Silk, Honey Soundsystem's HNYTRX and Argot. Her energetic mixing style and taste for jacking grooves laced with moody pads and breakbeats make her one of the funnest DJs to dance to. She's been touring the world, with stops at Berlin's Panorama Bar, Barcelona's Sónar Festival and many more. Octo Octa will be offering up a DJ set at the peak of the night for Equinox.
ERIS DREW [ Motherbeat | Chicago ]
Eris Drew is a DJ, musician and self-identified trans mystic. She is a resident at Chicago's Smart Bar and co-founded Hugo Ball, the club's long-running polysexual Dada-inspired dance party. Eris is known for her ecstatic and intensely rhythmic sets which channel what she calls "the Motherbeat." Eris has seen her rise as a DJ skyrocket in the last few months—we will have the pleasure to experience a 3-hour strictly vinyl set of breakbeat, rave, house, bass and more for her Montreal premiere.
CIEL [ Discwoman | Toronto ]
With a music conservatory background, DJ and producer Ciel continues a lifelong journey exploring post-punk, shoegaze, acid house, techno and breaks. Championing community building in Toronto where she is based, she runs two acclaimed parties: It's Not U It's Me in conjunction with Gingy, and Work in Progress, which focuses on putting forth female identifying talent in the electronic music. Her productions have also been acclaimed, notably her Electrical Encounters EP on Shanti Celeste's label Peach Discs. Ciel will be stopping at Equinox for a DJ set inside of a busy international touring schedule.
DUST-E-1 live [ Collect Call, Lobster Theremin | Montreal ]
Canadian-based British producer and DJ who goes by Dust-e-1 recently released 'The Lost Dustplates EP' on the well-respected imprint Lobster Theremin, hot on the heels of his Dust In The Dance EP on Collect-Call Records. Dust-e-1 offers uplifting, percussive jungle workouts, as well as breaky ambient. Pushing forward a revisited taste of 90's warehouse UK raves, this up-and-comer is one to watch. He will be performing a new live set for Equinox.
SOFTCORESOFT [ Lagom | Montreal ]
softcoresoft is a Montreal-based DJ, music producer, radio host and cultural organizer. Her sonic aesthetic fuses acid, hypnotic techno, rave musics and broken beats. She's a long time collaborator of Discwoman, playing at their events and releasing a mix in Fe 2018. Softcoresoft has taken the stage at MUTEK, Piknic Électronik, Igloofest and internationally in Barcelona, Düsseldorf, Berlin, Norway, and countless raves. softcoresoft is set to release her debut EP on Lobster Theremin in the coming year.
High quality sound provided by the Hell in Paradise soundsystem.
Hell In Paradise is a DJ collective and sound system based in Montreal. In their words, it's "a love letter to the leftfield; a riotous ode to the subversive side of dance music from the past to the present."
$15 early bird / $20 pre-sale / $25 door
☀ DAY PROGRAM 6-8pm
Join us at Centre Never Apart for artist talks with Octo Octa, follwed by a keynote lecture with Eris Drew.
6pm Live Artist Q&A with Octo Octa
7pm A conversation with Eris Drew, "More Than a Party: Rave Culture, Archaic Shamanism and States of Ecstasy."
$5 at the door / FREE with Equinox Ticket
Equinox tickets available for purchase at the talks.