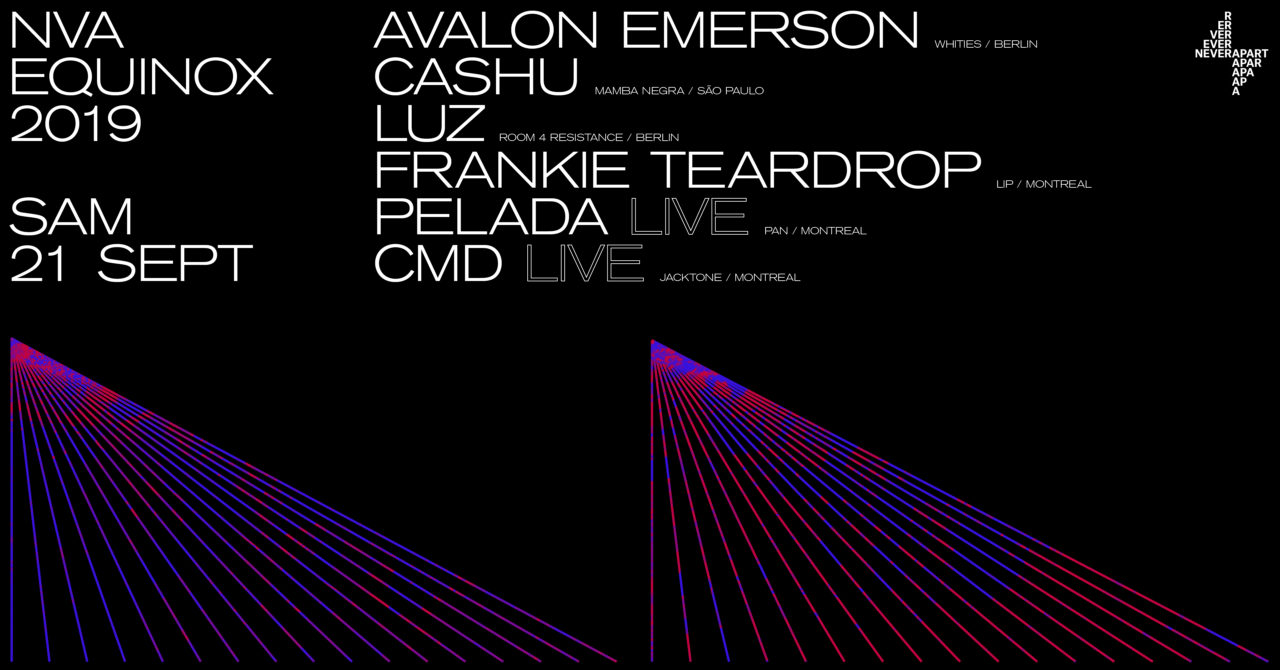 Never Apart's music division NVA is thrilled to announce the fourth instalment of its annual all-night musical event happening every fall equinox.
Equinox is the moment in the year when night and day are of equal duration, representing the transition from summer into fall. NVA celebrates this pivotal moment with artist talks, dancing and a musical celebration until the morning hours.
This happening further solidifies the centre's goal of promoting equality and igniting social change in dance music, art and culture.
Presented in collaboration with Goethe-Institut Montreal and LIP.
Avalon Emerson (Berlin / Whities)
Cashu (São Paulo / MAMBA NEGRA)
Luz  (Berlin / Room 4 Resistance)
Pelada — live (Montreal / PAN)
Frankie Teardrop (Montreal / LIP)
CMD — live (Montreal / Jacktone Records)
Ottomata – visuals (Montreal)
DAY EVENT: ARTIST TALKS
Location: Never Apart, 7049 St-Urbain
Free
15h Luz – DJ "Room 4 Resistance and contemporary queer nightlife in Berlin"
16h Cashu "Mamba Negra and the queer Brazilian techno underground"
NIGHT EVENT INFO
Location: Studio Notre Dame, 500 Alphonse D Roy
Tickets $20 / $25 / $30 door + tax/fees
https://nva-equinox-2019.eventbrite.ca
There will be tickets at the door for purchase.
Cash only for the bar and door.
No BYOB.
Bar on-site, alcohol served until 3am.
18+
Never Apart does not tolerate oppressive or violent behaviour.