NVA Off-site: Karen Gwyer, anabasine, Musique Nouvelle, VINO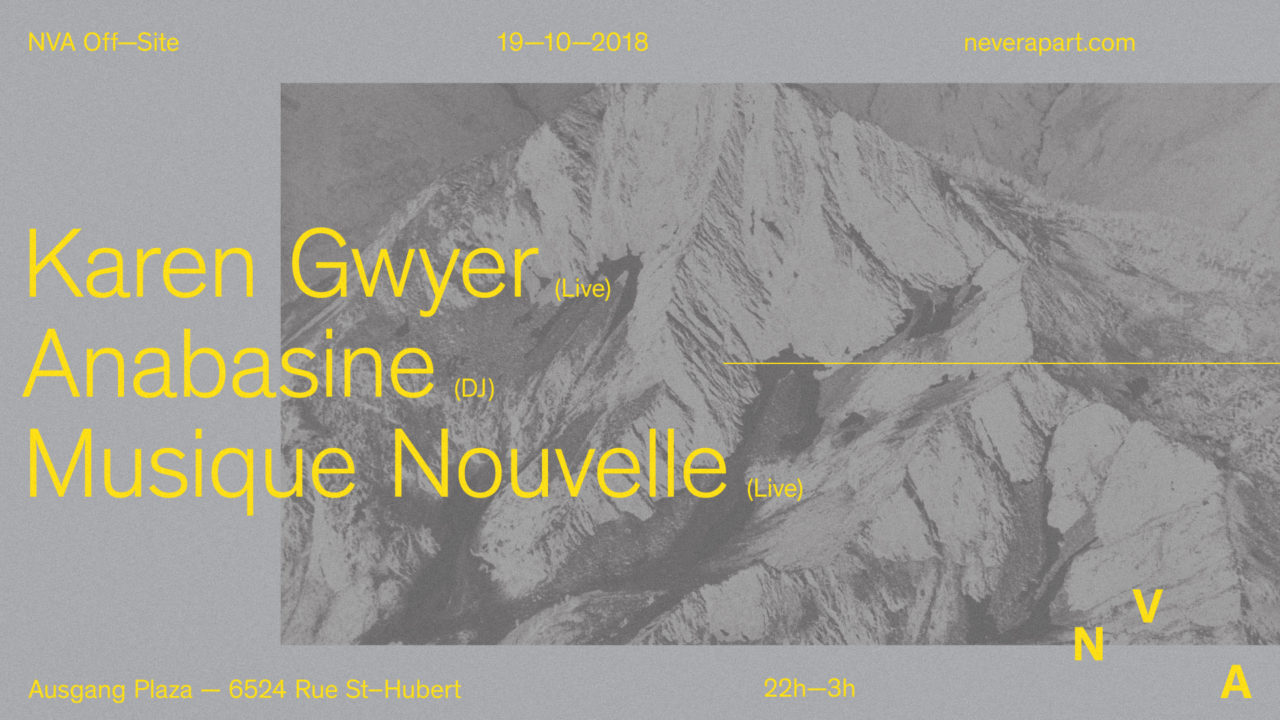 NVA presents a night of live and DJ sets on the psychedelic side of techno.
Visual design and programming by VINO.
Karen Gwyer [Don't Be Afraid , Nous Disques, Opal Tapes]
Listen here.
Karen Gwyer is an American-born, Berlin-based artist known for her hypnotic, bass-laden, acidic and techno-adjacent live hardware sets. Growing up in a family of cellists near Detroit, Gwyer was tuned in early on to WCBN's "Crush Collision"—a weekly showcase of underground techno and house. She's been releasing tapes and records since 2012, her music appearing on respected labels like Don't Be Afraid, Opal Tapes, No Pain In Pop, Alien Jams, Nous, and Kaleidoscope. Her latest full length "Rembo" secured her on myriad favorite-of-the-year lists of 2017. With an acclaimed remix album following it up earlier this year, it is clear that Gwyer's place in the dance music world is a fiercy unique one: a techno-outsider with her own approach, she is anchored both in the dancefloor and in outer space. After a passage at MUTEK Montreal in 2015, we are thrilled to welcome her again in Montreal for a live performance.
anabasine
Listen here.
Danji Buck-Moore aka anabasine is a musician, DJ, engineer and organizer based in Montreal. Buck-Moore is a founding member of the community arts space La Plante, as well as the rave collective Lagom. A hard-working organizer in the underground scene since 2011, Buck-Moore recently premiered a highly applauded live set at MUTEK Montreal, showcasing his knack for broken beats and synth explorations. His DJ trajectory began in Germany's underground techno scenes, where he also worked on Polyrhythm Technoir, an exploratory film trilogy about techno worlds, in collaboration with German artists Henning Fehr and Philip Rühr. He has since played in Berlin, Düsseldorf, Cologne, LAUT in Barcelona, Bossa Nova Civic Club in New York and many underground raves in Montreal. anabasine also hosts the monthly show Anglerfish on n10.as radio, as well as a party series by the same name. His debut studio dance-music release is currently in production.
Musique Nouvelle
Listen here.
Musique Nouvelle is the new collaborative work of Simon Chioini (DJ Voilà) and Félix Félix Gourd Gourd (Absurde). The project merges both artists' interests and specialties into techno; at times straightforward, other times deconstructed, the duo's music follows unusual structural paths. Musique Nouvelle has performed at MUTEK Mexico and MUTEK Argentina, premiering in Canada for this NVA show.
Simon Chioini got into music while studying classical percussions and through a persistent examination of the weird electronic music of the 90s and 00s. His curiosity for the medium led him to achieve his Masters in Composition at the Conservatoire de Musique de Montréal. There, his music found influences from both the electroacoustic music pioneers and from the contemporary underground scene. Today, he likes to blend genres into hybridized pieces. His practice as a DJ informs his compositional work.
Félix Gourd studied classical percussions at the Conservatoire de Musique de Montréal before shifting his practice towards digital art. His interest towards the experimental potential of 3D animation and a highly creative mind quickly brought him recognition as a VJ. Recently, his focus went back to his musical roots. Influenced by the Berlin underground scene and Detroit's classic techno, he blends continuous banging kick drums with distorted and crispy hi-hats topped with acid bass lines and Yamaha DX7 chord hits.