One Earth: Merging Environmental and Social Justice Anuradha Rao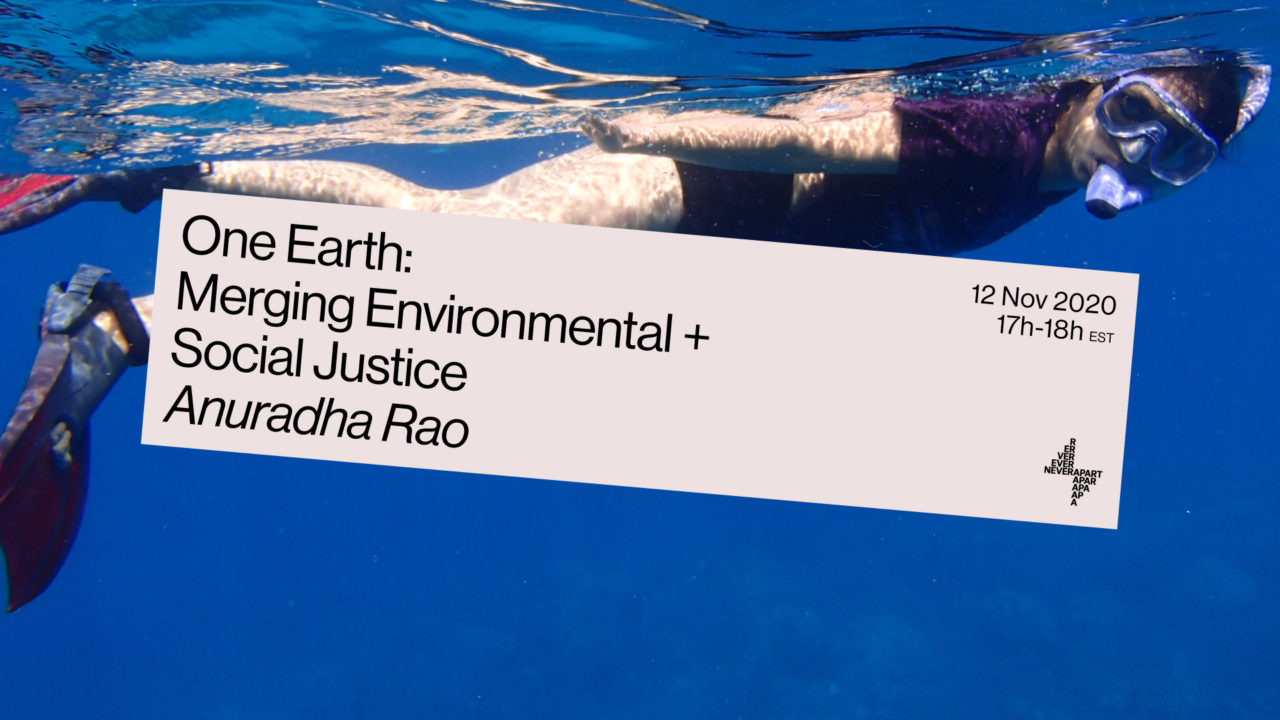 Never Apart launches a new online speaker series: Conversations in Environmental Justice. This series of lectures opens up a space to discuss ecology, plants and food, at the intersection of social and environmental justice. We kick off the series with a keynote and Q&A with Anuradha Rao, who will discuss how to merge environmental and social Justice.
Conservation biologist Anuradha Rao is the author of the book One Earth: People of Color Protecting Our Planet, which profiles Black, Indigenous and People of Color who live and work as environmental defenders. In this talk and celebration of diverse voices, Anu will discuss the intersectionality of race, culture and environment, and share tools for merging environmental and social justice as well as traditional knowledge with western science.
In English. Questions can be asked in French, the moderator will facilitate translation.
About Anuradha Rao
Anuradha Rao is a conservation biologist, writer and facilitator born and raised in the traditional territories of the Anishinabewaki, Attiwonderonk and Haudenosaunee Nations and currently based in unceded Coast Salish Territories. She has worked on research, conservation, restoration, planning and stewardship projects with communities and organizations on the coasts of Canada and in 12 other countries. Her worldview and approach to science are heavily influenced by teachings from her Hindu culture and from Indigenous knowledge holders. These teachings and the principles of ecology have shown her that everything and everyone is connected, and that we must remember this in our actions and interactions. Anu finds her happy place when she walks off a beach and snorkels among the creatures of the sea.
Photo credit: Curtis Andrews (www.curtisandrews.ca)
Land Acknowledgement
We would like to acknowledge that Never Apart is located on unceded Indigenous lands belonging to the Kanien'kehá:ka, Wendat and Haudenosaunee Nations (Source: https://native-land.ca/), who are the custodians of the lands and waters on which we gather. Tiohtiá:ke/Montreal is historically known as a gathering place for many First Nations. Today, it is home to a diverse population of Indigenous and other peoples. We respect the continued connections with the past, present and future in our ongoing relationships with Indigenous and other peoples within the Tiohtiá:ke/Montreal community, and are thankful that we are able to create, collaborate, play, and work here.