Outside the Margins: Community, Representation and Resilience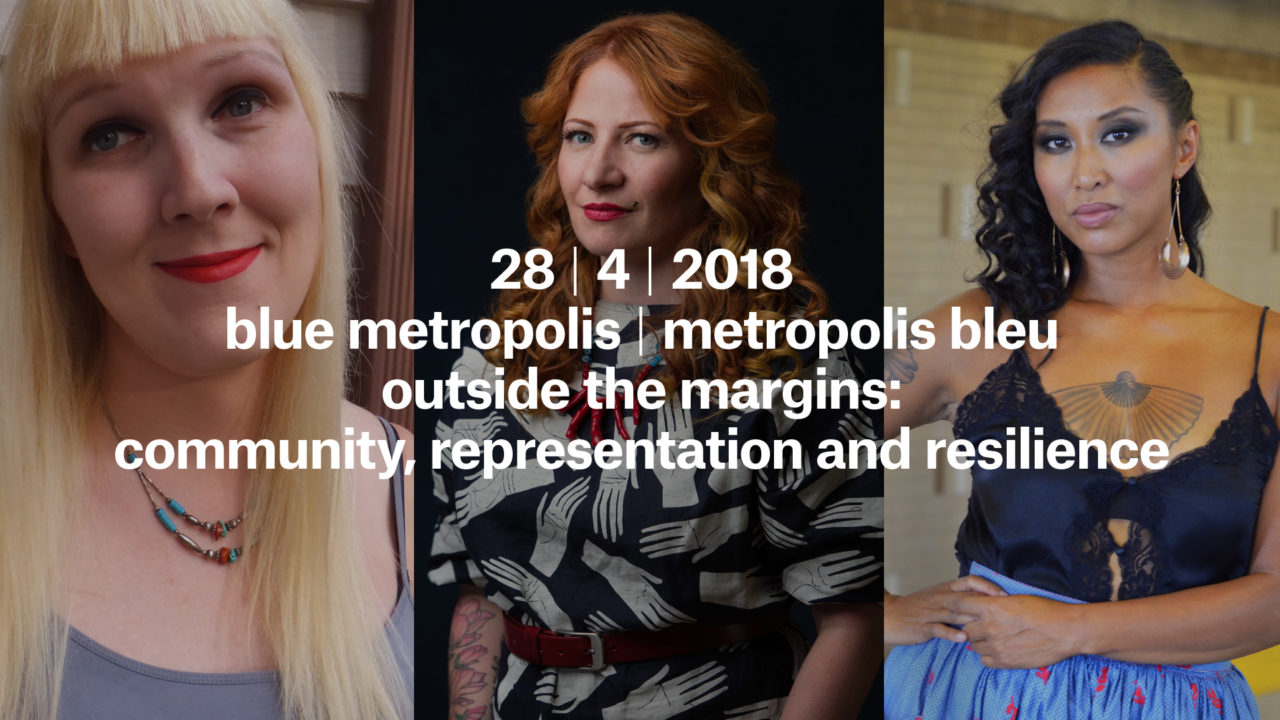 Four Canadian writers speak about their latest books and about the power they find in writing about the underrepresented. With Amber Dawn (Sodom Road Exit), Catherine Hernandez (Scarborough) and Casey Plett (Little Fish). Hosted by Shannon Webb-Campbell (Who Took My Sister?).
Part of Violet Metropolis, a special series on LGBTQ literature at the 2018 edition of Metropolis bleu / Blue Metropolis.
Other events: www.facebook.com/events/772383916300507
ABOUT THE WRITERS
Amber Dawn is the author of the Lambda Literary Award-winning novel Sub Rosa (2010), the Vancouver Book Award-winning memoir How Poetry Saved My Life (2013), and the Dorothy Livesay Poetry Prize-nominated poetry collection Where the words end and my body begins (2015). Her new novel Sodom Road Exit will be published in spring 2018. She teaches creative writing at University of British Columbia in Vancouver, and also leads several low-barrier community writing classes. Currently she is co-artistic director of the Vancouver Queer Film Festival.
Catherine Hernandez is a queer theatre practitioner and writer whose debut novel Scarborough was published by Arsenal Pulp Press in 2017. Her plays Singkil and Kilt Pins were published by Playwrights Canada Press. Her children's book M is for Mustache: A Pride ABC Book was published by Flamingo Rampant. She is the Artistic Director of b current. She lives in Scarborough, Ontario. Her first novel, Scarborough was a finalist for the 2017 City of Toronto Book Award and is long-listed for Canada Reads 2018.
Casey Plett is the author of the short story collection A Safe Girl to Love and co-editor of the anthology Meanwhile, Elsewhere: Science Fiction and Fantasy from Transgender Writers. She wrote a column on transitioning for McSweeney's Internet Tendency and her essays and reviews have appeared in The New York Times, Maclean's, The Walrus, Plenitude, the Winnipeg Free Press, and other publications. She is the winner of a Lambda Literary Award for Best Transgender Fiction and received an Honour of Distinction from The Writers' Trust of Canada's Dayne Ogilvie Prize for LGBTQ Emerging Writers. She lives in Windsor, Ontario.
Shannon Webb-Campbell is a Mi'kmaq poet, writer, and critic. Her first book, Still No Word (2015) was the inaugural recipient of Egale Canada's Out In Print Award. She was Canadian Women In the Literary Arts Critic-in-Residence in 2014 and defended Bearskin Diary by Carol Daniels for CBC Radio's Turtle Island Reads in 2017. She currently sits on CWILA's Board of Directors. Who Took My Sister? is her second book.