NVA x Fonderie Darling: Place Publique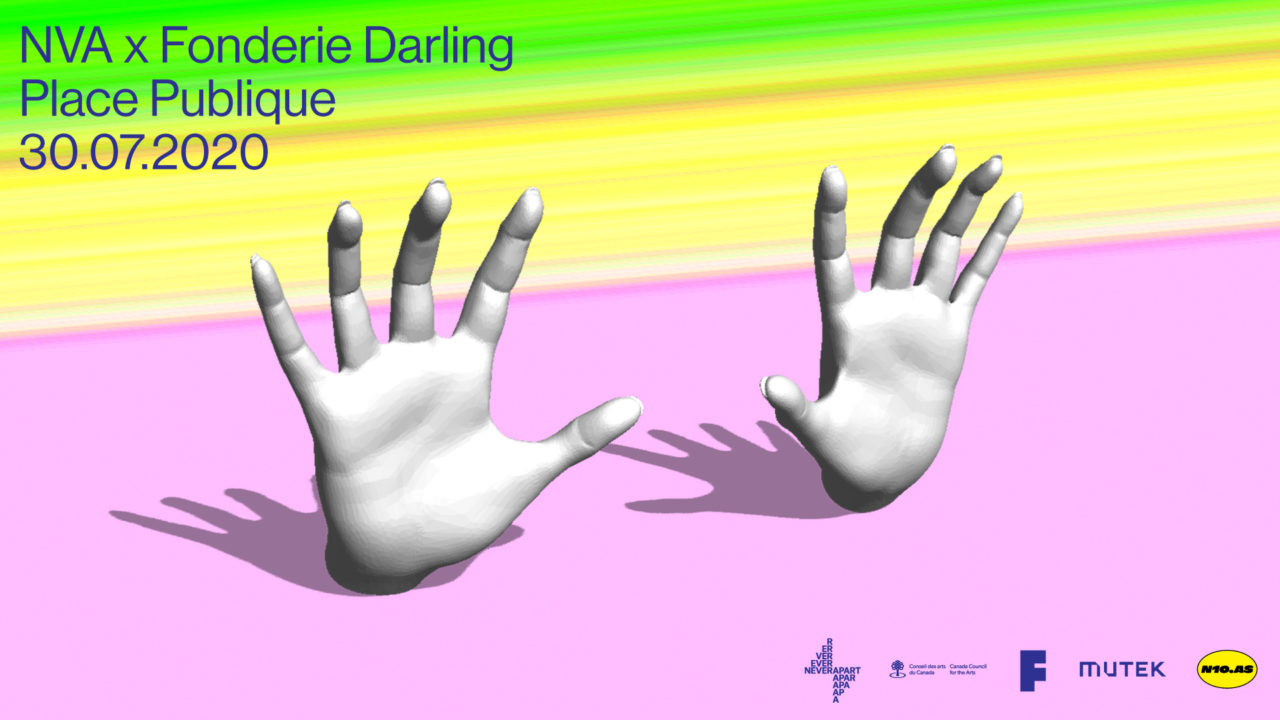 Fonderie Darling is thrilled to invite Never Apart to think up a musical program for a special event, presented on the Place Publique as part of its Allegorical Circuits for Human Software program.
For the occasion, NVA proposes 5 musical performances that tie in with the themes of Allegorical Circuits for Human Software to allow for the pursuit of feminist reflections on digital technologies, highlighting the person-machine relationship that underlies computer-assisted musical production.
Presented in a hybrid format, the performances will be broadcast as a live audio stream on N10.as community radio.
On the Place Publique, participation is limited to 50 people. Please reserve your place free of charge on Eventbrite here. 
A donation platform for the artists will be made available, be generous if you can!
Honeydrip is a DJ and producer based in Montreal. Her background in electroacoustic studies allows her to creatively blend leftfield, bass, techno, and more. Sweet like honey, yet sometimes bitter… Become entranced by her wave of selections transcending all genres but somehow still maintaining uniformity.
KALLITECHNIS is an eclectic Montreal-based singer, songwriter & dancer whose work, while speaking to her beliefs, has garnered acclaim from Complex, Highsnobiety, Okayplayer Vice & more. Her sound is as it is presented: colourful. KALLI celebrates her versatility with every release, as she does not hesitate to express herself through a variety of musical styles, ranging from soothing R&B/Soul to dynamic DnB. KALLITECHNIS has released music w/ Pusha T, KAYTRANADA, and has been mentored by Babyface. In a short time, KALLI has accumulated millions of streams, has had her music featured on TV shows and ads, played major festivals, and has sold out her own headlining shows.
Elle Barbara is a Montreal-based avant-garde singer-songwriter, song selector (TS Ellise), pinup, writer, speaker, director, performance artist, and curator whose musical output combines elements of soul, psychedelia, jazz, and underground. A lover of the odd, dark, and overlooked elements in pop music, Elle rose from artist-run spaces at the turn of the 2010s. Elle Barbara has seen their work soar to enduring acclaim in Japan and Europe, in a career whose highlights include duets with Laetitia Sadier, R. Stevie Moore, Bertrand Burgalat and Sean Nicholas Savage. In recent years, Barbara's efforts have been mainly centered around trans community organizing and event planning, including their contribution in Montreal's emerging ballroom scene as the Mother of the Idiosyncratic Meta House of Barbara. Their music group (Elle Barbara's Black Space) includes Markus Lake and Mitch Holtby, and is solely made of black musicians, thus aiming to re-center blackness and reject anti-black tropes within music and art spaces.
DJ PØPTRT is a DJ and indigenous artist from the Mohawk Nation of Kahnawake. Her passion for electronic music began at a young age when she was given her father's techno and house CDs. She's heavily influenced by the 90's rave scene and incorporates elements of her First Nations background within her sets. She hosts a weekly radio show 'PØPTRT'S PLAYHOUSE' on Kahnawake's K103.7 FM. Her goal is to bring people together and unite them through dance and music.
Montréal-based Odile Myrtil is a singer-songwriter and composer whose work encompasses electronic music. She is a resident DJ at the Moonshine parties and has played at the city's most reputable festivals such as Igloofest, Piknic Electronik and Osheaga. As a vocalist and lyricist, Myrtil has worked with local artists Ouri, Lydia Kepinski and Cri. Internationally, she has written songs for Fade To Mind's Rizzla & Hyperdub's Dj Taye. The collaborative framework in which Myrtil operates reflects her desire for an artistic identity that is fluid, complex and expansive.
Presented as part of STREAM ON, a project by MUTEK, with the support of the Canada Council for the Arts. #BringingTheArtsToLife
N10.AS is an online radio station (world wide wadio!) based out of Montreal, QC. We pride ourselves on being an accessible gateway for people at every skill-set and aim to foster confidence and creativity amongst our contributors by offering them the tools and training on how to produce their dream radio show. N10.AS creates a safe arena for people to explore their creative expression and build their networks. We are a non-profit organization run primarily on donations and the hard work of our dedicated volunteers. Listen via www.n10.as
Fonderie Darling is a visual-arts venue that was founded and is directed by the not-for-profit art organization Quartier Éphémère, which has the mandate of supporting the creation, production, and dissemination of contemporary art. A small business by nature, Fonderie Darling develops a wide range of tools for the distribution of art to a broader public. Fonderie Darling occupies 3,500 m2 in two adjoined former industrial buildings in Old Montreal. It presents exhibitions, makes studios available to local artists, and hosts international residencies, offering artists and the public fulfilling experiences in an inspiring context and with a sense of coherence that facilitates the comprehension of contemporary art. A unique institution in Montreal, Fonderie Darling has set itself the objective of bringing together the local and international art scenes through its activities.
Launched in the year 2000, MUTEK is dedicating itself to the presentation of live electronic music and real-time audiovisual performance, making it one of the rare outlets in North America for such innovations. After 20 years, the festival's future-seeking mandate has matured—and while the promise has in many ways caught up with the present—its commitment to the ongoing mutations and variations of contemporary digital creativity remain, with its eyes and ears still fixated on what comes next.
Bar on site
Accessibility: This event takes place in the outdoor space in front of the gallery and is wheelchair accessible. There is a universal bathroom inside the building, please ask one of our staff members for access.
Measures will be put in place to respect the physical distancing and public health recommendations for COVID-19:
– Bring your mask: it is mandatory inside (access to the toilets and the gallery).
– Wearing your mask outdoors is also strongly recommended.
– Gel disinfectant will be made available for hand washing.
– Tracings on the ground will indicate the distance of 2 meters to be respected.
– The capacity of the space will be restricted by a security person to ensure that the distance is maintained.
Graphic credit: Laurie Cotton
We would like to acknowledge that the land on which we gather for this event is located on unceded Indigenous lands. The Kanien'kehá:ka Nation is recognized as the custodians of the lands and waters on which we gather today. Tiohtiá:ke/Montreal is historically known as a gathering place for many First Nations. Today, it is home to a diverse population of Indigenous and other peoples. We respect the continued connections with the past, present and future in our ongoing relationships with Indigenous and other peoples within the Montreal community.