Project 10 LGBTQ+ Youth Pool Party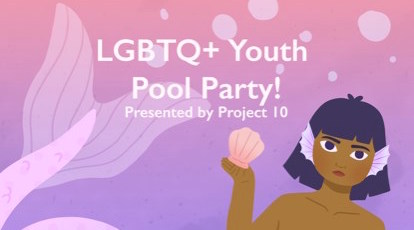 Hosted by Project 10, an organization that works to promote the personal, social, sexual and mental well being of lesbian, gay, bisexual, transgender, transsexual, two-spirit, intersexed and questioning youth and adults 14-25.
Have you been wishing for a pool party that isn't at your problematic aunt's house? Well have we got the solution for you? P10 is hosting a POOL PARTY, the 5th event part of the Stay-cation series!
If you don't feel like getting into the pool, don't worry! There will be a whole bunch of other things to do; we will have food, non-alcoholic drinks, games, and chilling, something for everyone.
There will also be (queer) lifeguards, volunteers, active listeners, food and sunscreen available and present at the event, so you've got nothing to bring except yourself! There will be non-alcoholic drinks available and snacks.
Wash all your worries away inside the cool pool at Never Apart Studio.
* FREE * BILINGUAL * BUS TICKETS * SNACKS
Full schedule here.
ACCESSIBILTY
This is taking place at Never Apart. The studio has gender neutral washrooms. There are three small steps to enter the studio. There is an access ramp to enter the space and to have easy access to enter the pool. There are 70 stairs to access the second floor, but the events will be taking place on the first floor or the pool area. The hallways are also wide enough for a wheelchair to maneuver the space.
This is an accessible link for the walking directions from De Castelnau metro to the Never Apart studio.
This is an accessible link for the 55 bus directions from De Castelnau metro to the Never Apart studio.
LAND ACKNOWLEDGEMENT
Project 10 organizes and works on the traditional territory of the Kanien'kehá:ka people. The area colonially referred to as "Montreal" is known as Tio'tia:ke in the language of the Kanien'kehá:ka. It has historically been a meeting place for other Indigenous nations, including the Algonquin people.
We firmly believe that while acknowledgement is important, it is not a sufficient response to our complicity in the violence committed against the Indigenous peoples whose territories we occupy. We have a collective responsibility to acknowledge our origins, as well as to take concrete steps to move forward, informed by the voices and lived experiences of Indigenous peoples. We do not presume to know what these needs are, however we are committed to learning. We engage to hire Indigenous people to provide us with cultural competency trainings. If you are an Indigenous person and wish to share your thoughts with us on this acknowledgement or on how we can make our services more accessible to you, please contact us at [email protected]