MUTEK Sonic Circuits Day 1
Pedals & Synth Showroom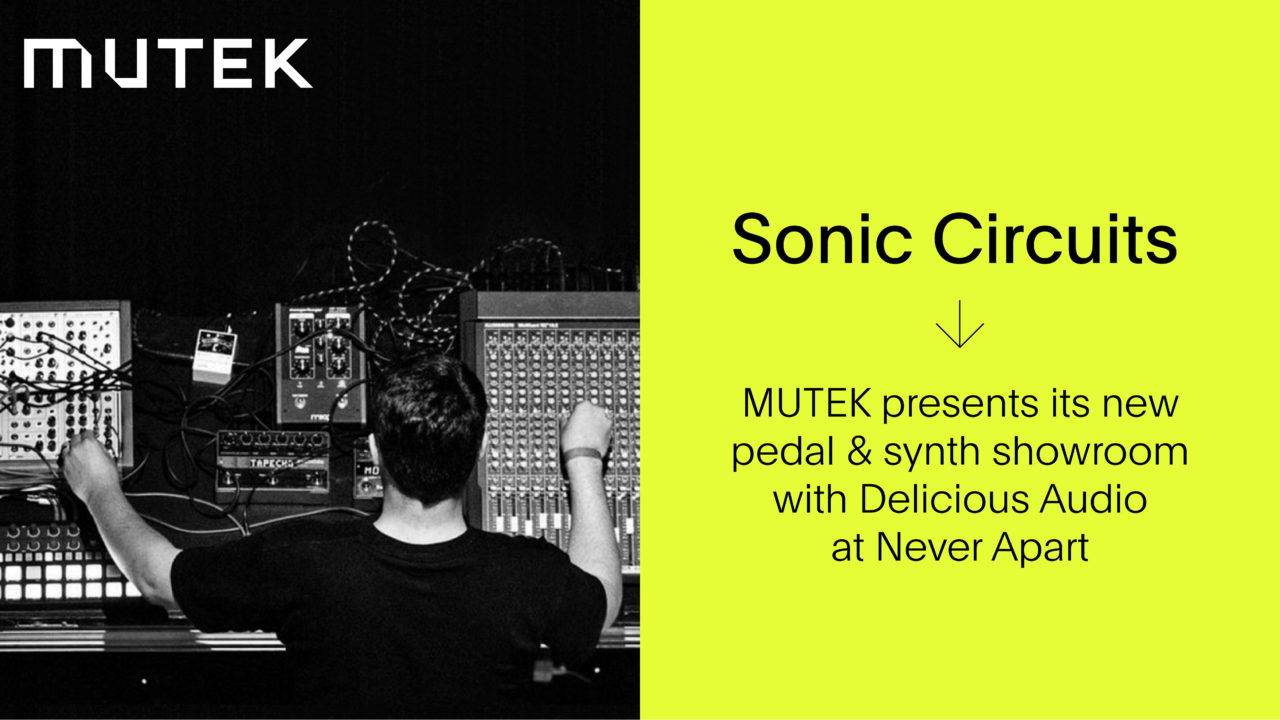 ◣ Sonic Circuits ◥
Celebrating its 20th anniversary building bridges between art and technology, MUTEK in partnership with Delicious Audio, hosts a two-day synth, pedal and modular showroom called Sonic Circuits at Never Apart, August 24 & 25.
For musicians, professionals, gear lovers, and amateurs of all musical stripes, Sonic Circuits will showcase the latest equipment from synths to pedals—featuring local manufacturers as well as international brands, offering a 10% discount on their products. In addition to the showroom,technical workshops and enlightening presentations will be given by artists, professionals and manufacturers. Representatives from all brands will be there to help you explore, and answer your questions. Guitars will be available for you to try the pedals, but do not hesitate to bring yours.
Located in the heart of the vibrant Mile-Ex neighbourhood, Never Apart is dedicated to igniting positive change through culture with regular gatherings, music, art exhibitions, discussions and workshops. The venue also features a pool, open during Sonic Circuits, so bring your swimsuit.
Entrance is free and open to everyone, but make sure you RSVP according to your main interest: synths or pedals!
Enjoy a 10% discount on participating manufacturers.
+ facebook event
Synths: Applied Acoustics Systems, Behringer, Elektron, Eventide, IK Multimedia, Korg, Modal and Universal Audio, MOOG, Novation, Pioneer DJ, Softube, Spectrasonics, Radikal, Waldorf.
Pedals: Animals Pedal, Earthquaker Devices, Emma Electronics, Eventide, Fairfield Circuitry, JHS Pedals, Keeley, Maxon, MTL Assembly, One Control, Outlaw Effects, Red Panda, SolidGold FX and Mono, TC Electronic, Teisco, TWA,Voodoo Lab.
Guitar Sponsor: Harmony Guitars 
Infos ➤ bit.ly/SonicxMUTEK
▬▬▬▬▬▬▬▬▬▬▬▬
MUTEK and NVA do not tolerate harassment, discrimination or hateful language.
Only the ground floor is accessible to people with wheelchairs and people with reduced mobility at Never Apart.