Speak Series 03 : African diaspora perspectives in Mental health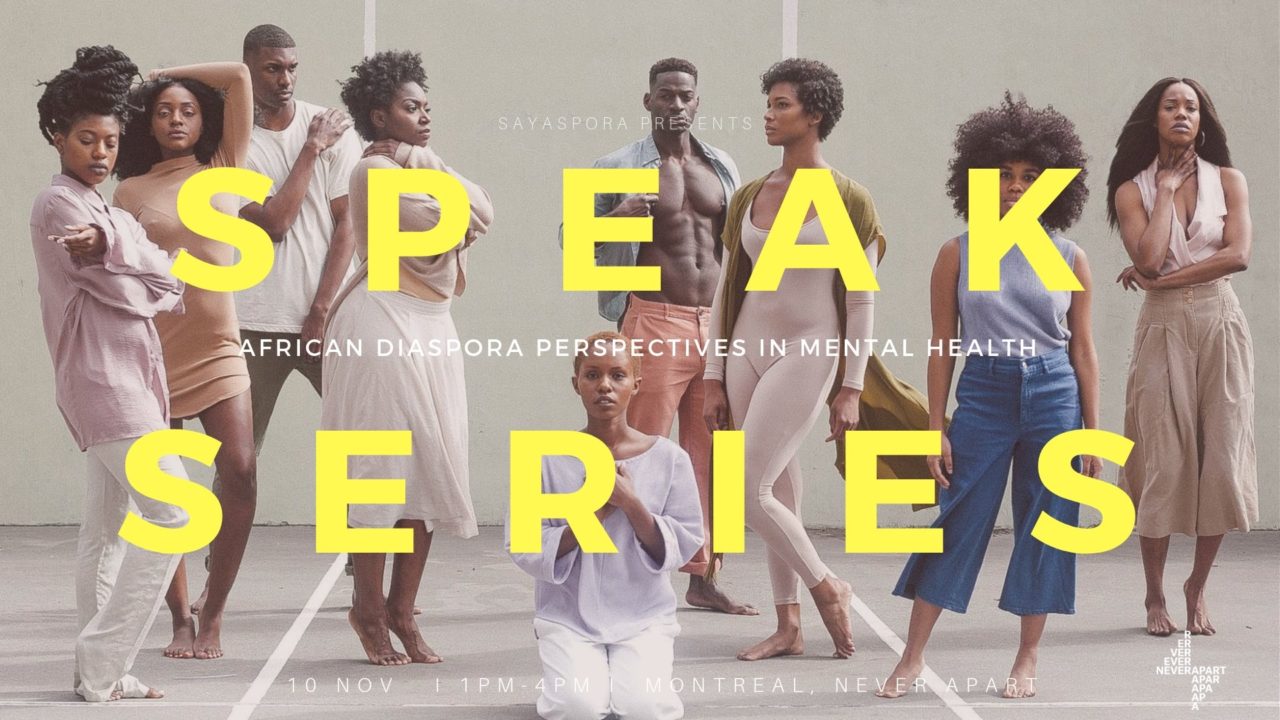 Speak Series 03 : African diaspora perspectives in Mental health
On November 10th, from 1 pm to 4 pm, join us for the screening event of the third episode of SPEAK SERIES ; A bilingual documentary series that aims to share conversations between young people from the African diaspora.
The event will be held at Never Apart, a non-profit organization in Montreal that aims to bring a social change and spiritual awareness on a global scale through its cultural programming.
Exhibition | Projection | Moderate discussion | appetizers
This third episode deals with the mental health of the African diaspora, the importance of consulting and the obstacles to the various forms of help available. We will also discuss our belonging to a minority group and the influence this has on our mental health. It is therefore in a context of exchange, sincere and committed conversations that this episode comes to take root.
Timetable:
1PM – 2.30PM: Spoken Word poetry, Exhibition, bites
Exhibition
The exhibition is organized by the collective "The Deranged Collection". This group is made of young African poets from Zimbabwe, Senegal, Nigeria and many other countries.
2.30 PM: Screening of the episode, followed by a discussion open to all.
Bilingual event. Free. Limited capacity.
RSVP: https://www.eventbrite.ca/e/speak-series-03-african-diaspora-perspectives-in-mental-health-tickets-51623334784
Accessibility details will be sent to you shortly.
Nb. This episode will be in English but the discussion and the event will be bilingual (EN).