Summer Exhibitions Opening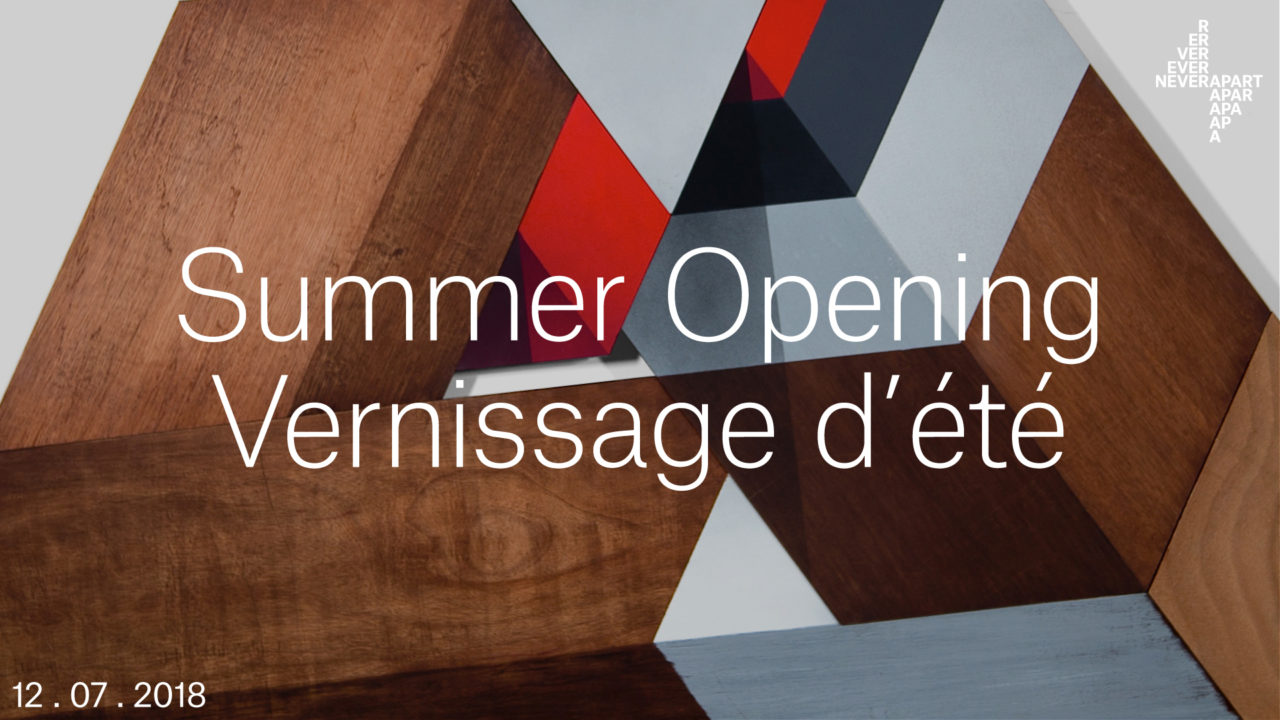 Summer Exhibitions 2018
July 12- September 22nd
Summer ripens with new ideas, declarations of resilience and environmental consciousness.
Joins us for the vernissage of our Summer programming, we are launching several new exhibitions by Austin Young, Jeffrey McNeil & Dayna Danger with Christie Balcourt and Isaac Murdoch, Ekaterina Antonova, Justin Mencel, Michael Venus for Never Apart and Never Apart TV.
Free entry.
Music by Felicia Lush & Fake_Electronics [Hushlamb]
Succeeding over five years of creation and collaboration together, Jesse and Alicia reconnect once again under their own experimental monikers, Fake Electronics and Felicia Lush. Each with their own fantastical perceptions of rhythm and sound, the outcome of this convergence is a boundless, innovative and elusive live performance.
• • • •
EXHIBITIONS
• "Portraits"
Austin Young
Gallery A
Austin Young presents images from his long and celebrated career in portrait photography. Young is more accurately described as an image-maker: his projects illustrate the sublime qualities of character that make celebrated people unique. Based on a nuanced visual language of pop-culture iconography, his trademark style and techniques have captured a broad palate of musicians, artists and celebrities. Young confuses personality and identity issues in confrontational and unapologetic image-making of people who often mix gender roles or otherwise confound stereotypical constraints of socially-constructed identities.
• "Two-Spirit Man/Two-Spirit Woman Call Home the Salmon w/Help"
Jeffrey Mcneil Seymour
Dayna Danger
with Christie Balcourt and Isaac Murdoch
Gallery B + C
Two-Spirit Man/Two-Spirit Woman Call Home the Salmon w/Help is a telling from the frontlines of two-spirit resurgence and resistance form the heart of Secwepemcul'ecw. Tk'emlups (Kamloops, BC) is ground zero – a residential school still haunts the landscape. It's the exact point where Two-Spirit people were denied strong feelings of belongingness and attachment, roles and responsibilities have been lost. This installation confronts that reality. It creates opportunity to witness this visual record of grounded performance as ceremony for future Secwepemc two-spirits – forcing an interruption in the erasure and silencing by Traditional gatekeepers and of overrepresentation of two-spirit youth in forthcoming statistics around homelessness, substance misuse and suicide in so-called British Columbia.
Two-Spirit Man/Two-Spirit Woman Call Home the Salmon w/Help is a declaration of resiliency, a way-finding home for Salmon and two-spirit. It is a declaration that Two-spirit people help hold the frontlines, represented, captured and generously offered to this project in the accompanying prints by artists Christie Balcourt and Isaac Murdoch's banner project for the resistance against tar-sands expansion and Kinder Morgan's Trans Mountain pipeline. Artists Jeffrey McNeil Seymour and Dayna Danger offer their Sundance Skirts to stand sentinel for this call-to-action of all those who witness to carry forward this storytelling. With Cedar Blessings our prayer is to transform.
• "Canadian Animalize"
Ekaterina Antonova
Upper Gallery A +C
This is the second Animalize collection which features colorful majestic animals with eyes that inspire. To animalize means to arouse sensuality found in nature. By connecting with these animals, the viewer is invited to experience intimacy, discover a close affinity with them and their own animal nature.
• "Trinità"
Justin Mencel
Upper Gallery Display Case
The underlying theme in my work is to explore the distance between presumption and certainty. By presenting a dimensional arrangement on a flat plane, it demonstrates an observer's inability to see beyond the face a subject puts forth. When viewed in this way, the singular vantage point offers no allowance for full comprehension of an individual's nature. The aesthetic of my subject matter is largely influenced by the innocence of primitive children's toys, free of prejudice, and reflective of unsullied curiosity.
Executed as a hybrid of sculpture and painting, multiple cradled panels are fabricated from wood in assorted shapes and sizes as the start of my process. These substrates lock together to form the various sections of the overall silhouette, and the construction is designed to precisely match the anticipated contour of the final painting. Compositions take form by relating narratives to numbers and allowing the geometry to unfold.
• "Canadiana Icons"
Michael Venus for Never Apart
Upper Gallery D
Celebrating Canadian Identity, Icons and contemporary Montreal artists is the inspiration behind this project. Never Apart's Executive Director Michael Venus has hand picked ten queer Montreal artists to embody ten Canadian icons. This photography project was ignited by the 10×10 photography project which is also currently on display at The Gladstone in Toronto.
• "Never Apart TV Season 1, Episodes 1-6"
Never Apart
Theatre
Never Apart TV is an arts and culture news program giving a much needed voice to queer artists. Through artist visits, profiles and interviews we get to hear their unique stories and learn about their work on each half and hour episode.
• • • •
We would like to acknowledge that the land on which we gather for this event is located on unceded Indigenous lands. The Kanien'kehá:ka Nation is recognized as the custodians of the lands and waters on which we gather today. Tiohtiá:ke/Montreal is historically known as a gathering place for many First Nations. Today, it is home to a diverse population of Indigenous and other peoples. We respect the continued connections with the past, present and future in our ongoing relationships with Indigenous and other peoples within the Montreal community.