Transindia by Meera Darji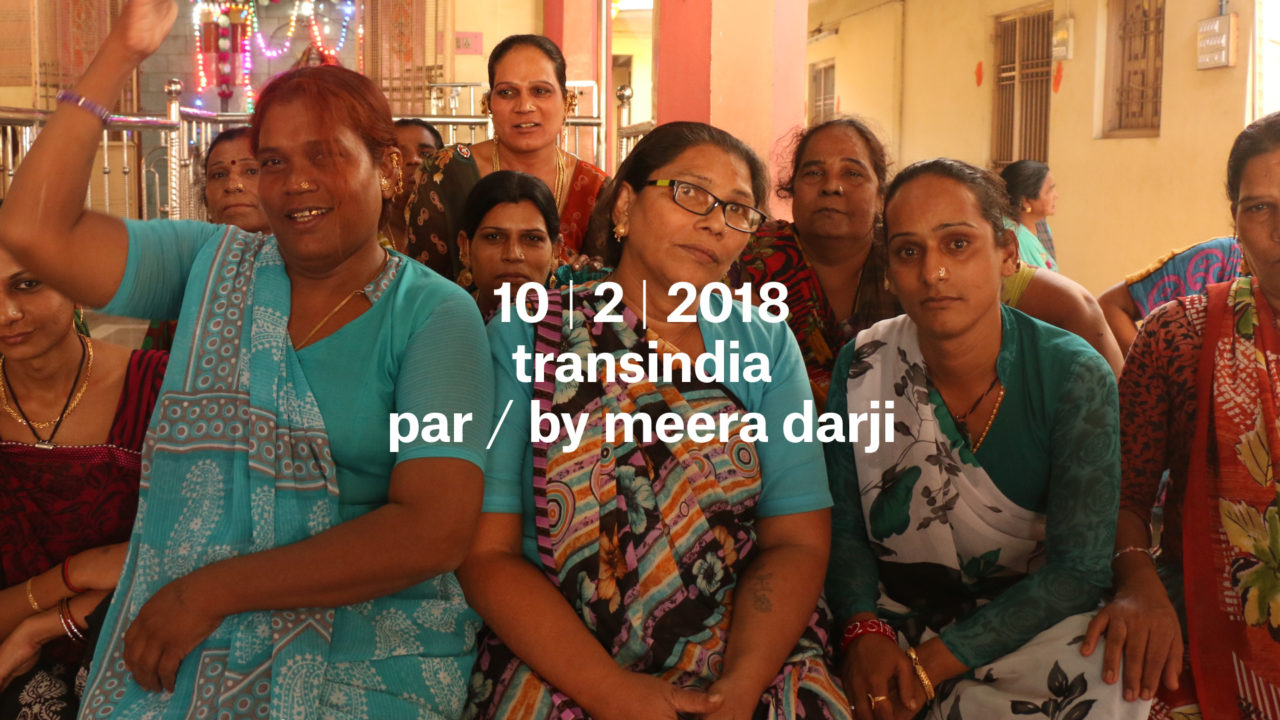 Transindia by Meera Darji
Documentary projection (30mins), followed by Q&A
TRANSINDIA is a moving documentary exploring the Transgender community (Hijras) in Ahmedabad, India. Many years ago, in India, Mughal Empire accepted Hijras in society; they earned a good sense of respect and were found in ancient Hindu scriptures.
However, when the British colonised India in the 18th Century, the British Raj introduced a new law. Section 26 of The Criminal Tribes Act 1871 (Act XXVII) classified all Hijras as criminals, stating
'Any Eunuch so registered who appears, dressed or ornamented like a woman, in a public street or place, or who dances or plays music, or any public exhibition, may be arrested without warrant, and shall be punished with imprisonment to two years, or with a fine, or with both.'
The 1871 Act was repealed in 1952, where the Indian Government replaced it with the Habitual Offenders Act, hence releasing the lists of Eunuchs. Despite, the Indian Supreme Court recently recognising the Hijras as the official 'Third Gender' (2013), negligence in society still remains. Since the criminalisation of Hijras, they have gradually become ostracised and are Intuitionally disenfranchised by society.
Transindia takes you on a journey through their eyes, capturing a real perspective on the Hijra community, portraying the ultimate truth on a forgotten and neglected community.
DIRECTOR BIO
I am an ambitious filmmaker, with a passion for telling real stories of voiceless communities and people living on the margins of society. The medium of films has the power to capture morals, messages and escapism. As a filmmaker, my desire is to move an audience, to create an impact on society and to an extent, the world. I aim to produce films that not only take the audience on a journey but to create audiovisuals that break conventions and boundaries. My purpose is to tell the purest form of truth through cinema.
My past Documentary projects have been acclaimed at international Film Festivals, including winning the Royal Television Society Award Best Factual, Best Short Documentary at the Kashish Mumbai LGBT Festival, Grierson Award nomination and several additional international awards and official selections. I have continued to dive into the world of film by producing several documentaries, experimental audiovisual pieces and have interests in immersive practice and sensory ethnography.
I am a First Class Honours Graduate in Media Production (BA) Honours Degree and Masters in 21st Century Media Practice at Coventry University. I am currently working as a freelance filmmaker and a Lecturer at both Coventry University and De Montfort University.
3pm to 3:45 : curator's tour
4pm to 4:30 : screening of Transindia by Meera Darji.
4:30 to 5pm discussion
This event is part of a series of presentations related to the exhibition "Traces of Life, a journey from Canada to South Asia".
For more information on the project and the exhibition, visit the curator's website: marietteraina.com