Two-Spirit Man/Two-Spirit Woman Call Home the Salmon w/Help Panel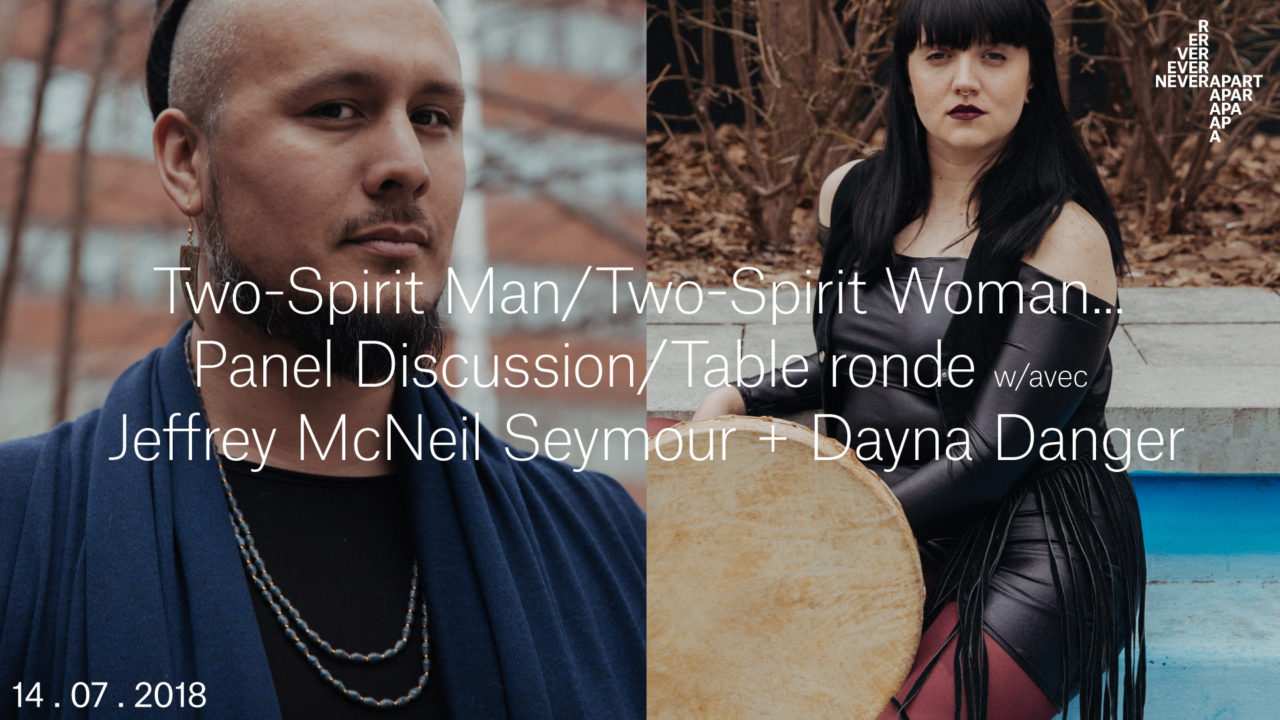 Two-Spirit Man/Two-Spirit Woman Call Home the Salmon w/Help Panel Discussion
With Jeffrey McNeil Seymour and Dayna Danger
"Storytelling is not only a way to pass on teachings and cultures, but is also significant in the healing of mental imbalances in the context of holistic understandings, which include all aspects of a person and their interconnectedness with everyone and everything around them."
(Baskin, 2016. Pp198)
"My boy…It was people like you, who would take care of things, when our women had their restrictions…I have a ceremony that you must do…At sunrise, you will enter the water with the sacred cedar branch bundle with the salmon bones in it that come from this river…its how they find their way home."
We exist as the collectively "woke" in epoch – a period of time in which striking things happen. We witness the last of seemingly omnipresent misogynies of heteropatriarchal tactics of normative and perpetual imbalance claw at anything and everything as it wanes. From anti-spawning mats and the collapsed salmon run of Secwepemcetkwe (South Thompson River) to undemocratic processes of #Crudeaux's recent purchase, we must engage Nk'alk-stut – to transform into another being. Who are you? Where are you from? Why are you here?
Two-Spirit Man/Two-Spirit Woman Call Home the Salmon w/Help is a telling from the frontlines of two-spirit resurgence and resistance form the heart of Secwepemcul'ecw. Tk'emlups (Kamloops, BC) is ground zero – a residential school still haunts the landscape. It's the exact point where Two-Spirit people were denied strong feelings of belongingness and attachment, roles and responsibilities have been lost. This installation confronts that reality. It creates opportunity to witness this visual record of grounded performance as ceremony for future Secwepemc two-spirits – forcing an interruption in the erasure and silencing by Traditional gatekeepers and of overrepresentation of two-spirit youth in forthcoming statistics around homelessness, substance misuse and suicide in so-called British Columbia.
Two-Spirit Man/Two-Spirit Woman Call Home the Salmon w/Help is a declaration of resiliency, a way-finding home for Salmon and two-spirit. It is a declaration that Two-spirit people help hold the frontlines, represented, captured and generously offered to this project in the accompanying prints by artists Christie Balcourt and Isaac Murdoch's banner project for the resistance against tar-sands expansion and Kinder Morgan's Trans Mountain pipeline. Artists Jeffrey McNeil Seymour and Dayna Danger offer their Sundance Skirts to stand sentinel for this call-to-action of all those who witness to carry forward this storytelling. With Cedar Blessings our prayer is to transform.
• • •
Never Apart would like to acknowledge that the land on which we gather for this event is located on unceded Indigenous lands. The Kanien'kehá:ka Nation is recognized as the custodians of the lands and waters on which we gather today. Tiohtiá:ke/Montreal is historically known as a gathering place for many First Nations. Today, it is home to a diverse population of Indigenous and other peoples. We respect the continued connections with the past, present and future in our ongoing relationships with Indigenous and other peoples within the Montreal community.