Virtual Tour : MESSIAH 2.0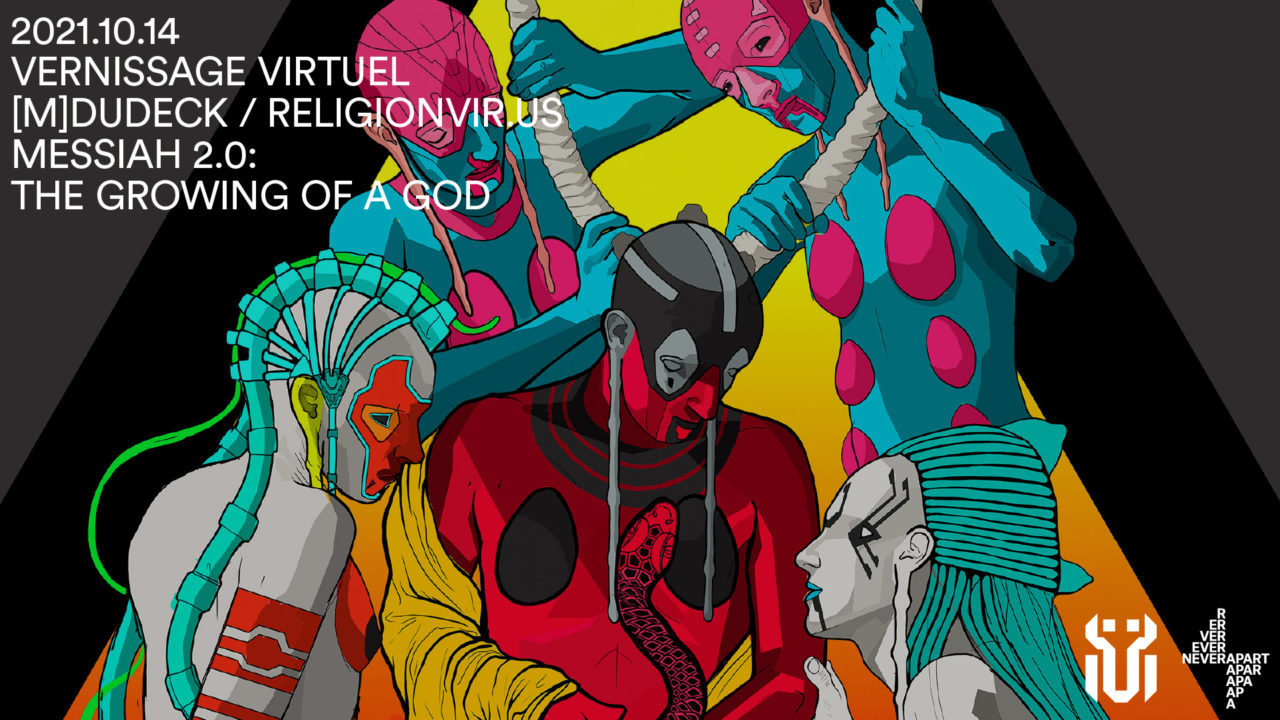 Never Apart launches its Fall 2021 exhibitions in the form of virtual tours every Thursday at 6 p.m. from Oct 14 to Oct 21. The link to each virtual opening will be shared across Never Apart's social media.
EXHIBITION
MESSIAH 2.0: THE GROWING OF A GOD
[M]DUDECK / RELIGIONVIR.US
Michael Dudeck
MESSIAH 2.0 is the second transmission from the fourth mutation of [M]Dudeck's queer religion and space opera, RELIGIONVIR.US. It features a series of transmedial hypericons centered around a messianic figure from the Fourth Age of their sci-fi mythology.
RELIGIONVIR.US stems from the conception of religion as a viral agent, capable of replicating within the living cells of its host. RELIGIONVIR.US transmissions, mutations and  transmedial variants have thus far been performed, exhibited, screened and published in over twenty-five countries worldwide.
Dudeck decodes dominant Judeo-Christian iconographies, and re-mixes them into hybrid scriptures, (hyper)icons, technosermons and liturgies that seek to radically expand the category of the sacred. Their mythology centers around protagonists hosting alternate sexualities, alien genders, and a vast range of genitals, while practising interspecies sex with various sentient lifeforms in hybrid ecologies from an ancient future.
MESSIAH 2.0: THE GROWING OF A GOD chronicles the genesis, deliverance, tetrifixion and apotheosis of a genetically engineered messiah, through a sequence of audiovisual (hyper)icons woven together to produce a queer sci fi temple.
https://www.neverapart.com/exhibitions/messiah-2-0-the-growing-of-a-god-religionvir-us/
More info about the Fall exhibitions:
https://www.neverapart.com/exhibitions/
LAND ACKNOWLEDGEMENT
We would like to acknowledge that Never Apart is located on unceded Indigenous lands belonging to the Kanien'kehá:ka, Wendat and Haudenosaunee Nations (Source: https://native-land.ca/), who are the custodians of the lands and waters on which we gather. Tiohtiá:ke/Montreal is historically known as a gathering place for many First Nations. Today, it is home to a diverse population of Indigenous and other peoples. We respect the continued connections with the past, present and future in our ongoing relationships with Indigenous and other peoples within the Tiohtiá:ke/Montreal community, and are thankful that we are able to create, collaborate, play, and work here.