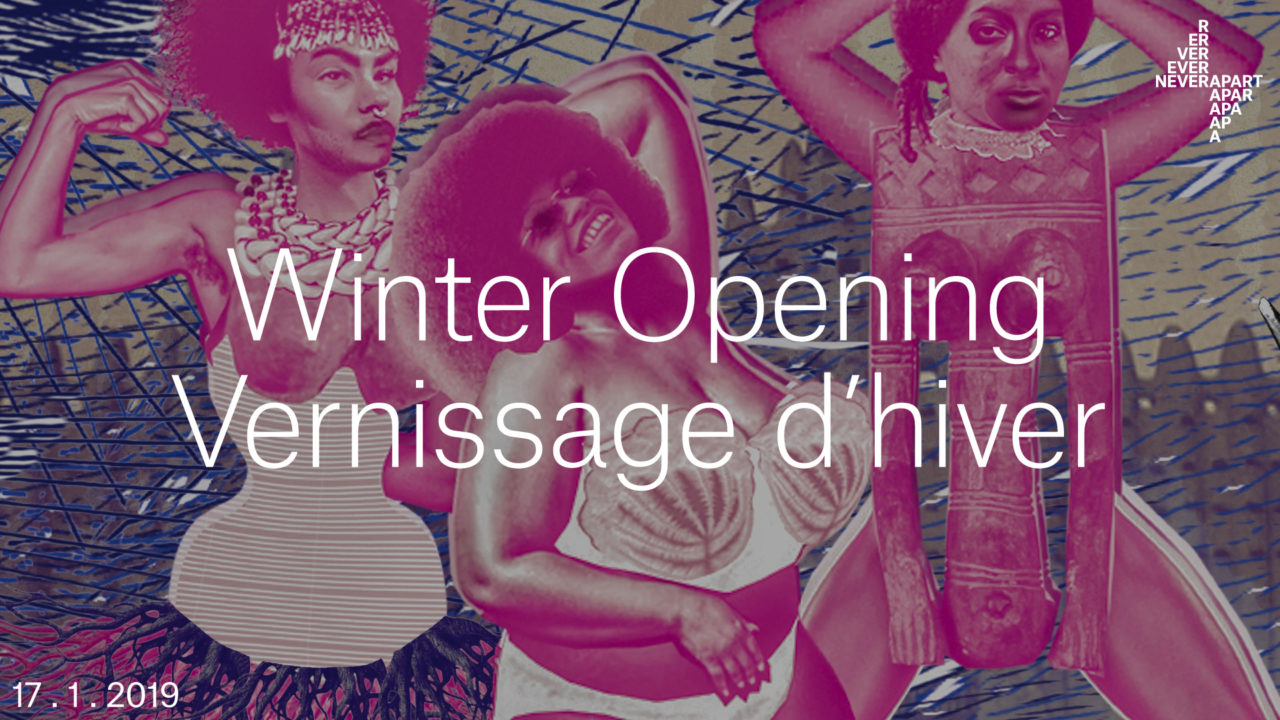 Join Never Apart for the opening of five new exhibitions and the launch of our Winter 2019 programming!
The Winter exhibitions will run from Thursday, January 17th until Saturday, April 6th.
With DJ Empress Cissy Low
Free entry.
Bar on-site, cash only.
_________________________
➤ Michael Chambers Photography
Shadows to Silver/Nuance
"As an artist, I use my camera as a tool to look at people and my surroundings again for the first time. My objective is to celebrate the various aspects of the human condition, defying categorizations. Being truly motivated by the camera's ability to capture a moment in time, I am therefore portraying stories in a single image frame. I became fascinated with documenting moments of stillness, the distortion of shapes and the reflection of light echoing visions of solitude. I find that my quest for harmony and the impact of life's repeatedly curving path have informed the course of my creative expression.
I am here and we are present as history walks by our side as the future stands before us.
My wish is to capture fantasies that ponder moments of life's distractions. To distort, reshape and dance in the reflection of light that echoes the sound of silence is my ultimate goal. The camera..
I have chosen to photograph subjects whether it be in black and white or with the kaleidoscope of characters that is colour, setting them against a stark background, or the juxtaposition with tumultuous skies. Capturing our vulnerable forms against the harsh environment is a celebration of human survival. Light and shadows being key elements in my work, it establishes a relationship, and with that comes conflicts and perhaps even contradictions.
As I challenge the concept of storytelling in a single frame, I want to invite the viewer on my journey of emotions. This evolves from the darkness of our fears and desires which moves toward the light that reflects our interpretations."
➤ Kamissa Ma Koita
TransFormation
Massimadi Montréal · Festival des films et des arts LGBTQ afro
''From a queer and decolonial perspective, I question the channels of social domination and the various forms of control in modern societies, focusing primarily on the condition of subordinated groups. My experimental and undisciplinary practice is fueled by my socio-political context, feminisms, alterglobalization movements, and pop culture. My intersubjective approach leads me to either collaborate or work in a collective as I reflect on social entity as creative material.
The TransFormation series addresses the legitimacy and self-determination of the decolonization genre, as collage aims to be a tactic of self-preservation and resistance. Cut up. Segment. Deconstruct to reassemble. The subversive notion of these collages' representations is enhanced by the genre's agency as an instrument of social transformation. This becomes a way to create our own world, a space and time where we can be recognized as full human beings rather than abominations. ''
➤ Tobi Aremu
Negotiation
Massimadi Montréal · Festival des films et des arts LGBTQ afro
Réalisateur / Dir: Tobi Aremu
Interprètes/ Performers: Quenton Stuckey & Keith Alexander
Durée / running time: 6:33 min
Année / year: 2017
Pays / country: USA
An experimental art film that showcases a poetic, abstract, and physical exploration of black masculinity through contemporary movement and archival audio.
In collaboration with the 11th edition of Massimadi: An Afro LGBTQ+ Film & Art Festival, this film will be projected in the screening room for the duration of the winter exhibition.
➤ Rojin Shafiei
I wait for the time / J'attends le temps
Rojin Shafiei is an Iranian artist living and working in Montreal. In her videos, art is a vehicle for the translation of cultural messages and is used to present diverse feminine subjectivities. She presents these themes both through a literal documentary style and as symbols. She is particularly inspired by the observation of routines, on both of individual and of cities.
Rojin received her BFA in Intermedia from Concordia University in 2017 and has screened her work at les Rendez-Vous du Cinéma Québécois (Montreal), Mzansi Women's Film Festival (Johannesburg), Limited Access Video Festival (Tehran) and Josiah Media Festival (San Antonio). She won the grand prize of Startupfest, Artup section in July 2018.
➤ Rihab Essayh
Délusions botaniques
Rihab Essayh's project Délusions botaniques presents a virtual figure attempting to attract the viewer into her botanical environment which is sterile, ambiguous and artificial. The project is addressing the subject of unsustainable utopias, where nature and technologies seem to exist in a symbiotic state for the purpose of nurturing an ideology of futuristic living, as in the experiment of Biosphere 2 during the 1990's in Arizona.
This project is composed of the following art piece Jardin Automate, Jane, and Bionautes presenting a botanical environnement made out of diverse elements out of Mylar and projections, putting forward a female figure and her peers.
Automaton Garden mimics the structure of plants found in a botanical garden, yet its transparent and artificial materiality is inspired by the digital. Viewers are enveloped in a technological environment, experiencing nature in the contexts of future technologies and artificial intelligence. Essayh's inspiration for this environment came from questioning how plants are rendered through digital animation technologies—a crisscross of flat images, so to speak—and strategically harnesses unnatural materials like Mylar, acetate, coroplast, and acrylic.
Jane is a "tableau vivant" greeting the viewers into her dwelling. This wall size projection presented as an artificial muse positioning a spokesperson as an emblematic figure. The figure leers at the viewer in a hollow matter. Rendered in a linear aesthetic mirroring the synthetic atmosphere of its environment. Accompanied with Bionautes, nymph like figures inhabiting the gallery space.–
➤ House of Venus
Wiggle 25 Year Anniversary Retrospective
Wiggle Rétrospective 25e anniversaire
The House of Venus is a Canadian multidisciplinary art collective formed in late 1992. The mission of the collective is to create positive energy through arts and culture. In the early years, the "Venus Kids" started putting on theme parties, fashion shows and performances in the Windsor/ Detroit area before moving to Vancouver in 1995. There, they grew their mission by exploring new performance and media pursuits including the formation of a formal drag house and creating multiple films and videos. After over 25 years of enhancing underground Canadian Queer culture, they celebrate their milestone in this exhibition with artefacts from their quarter of a century effort to change the world we live in.
The Wiggle Festival
Conceived by The House of Venus in 1994 with the Arts Council of Windsor, "Wiggle" was born as an annual runway and performance event where artists and designers created wearable art. The collective was hugely inspired by designers like Thierry Mugler and Jean Paul Gaultier, The Warhol Factory and the drag, vogue and club kid scenes in New York. The annual affair then moved with the house to Vancouver where it became an annual fundraiser and legendary event on the West Coast for almost 2 decades. After 20 years, Wiggle began a new chapter with Centre Never Apart in Montréal and in 2019, the festival will celebrate its 25th anniversary at The Museum of Beaux Arts.
_________________________
We would like to acknowledge that the land on which we gather for this event is located on unceded Indigenous lands. The Kanien'kehá:ka Nation is recognized as the custodians of the lands and waters on which we gather today. Tiohtiá:ke/Montreal is historically known as a gathering place for many First Nations. Today, it is home to a diverse population of Indigenous and other peoples. We respect the continued connections with the past, present and future in our ongoing relationships with Indigenous and other peoples within the Montreal community.