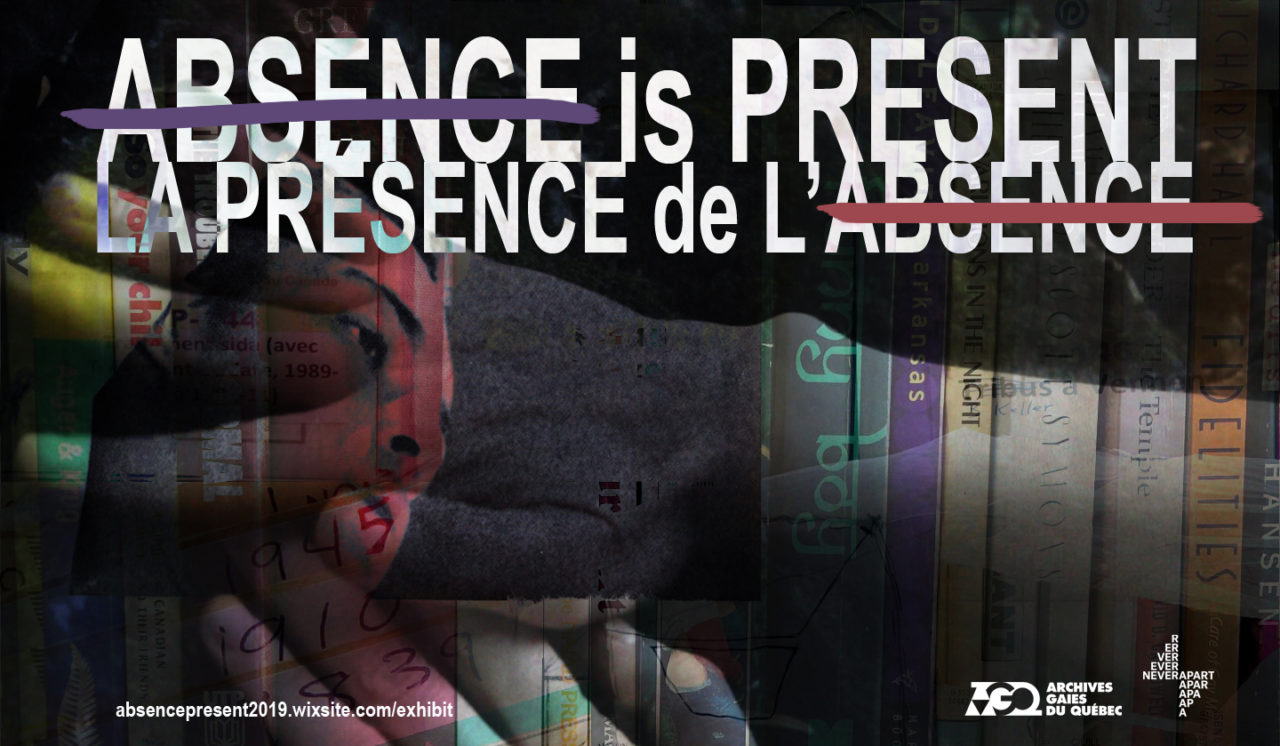 Absence Is Present: LGBTQI+ Affective Memories
Exhibit—Workshops—Colloquium
A proposition from Véronique Boilard and Virginie Jourdain, with the support of kimura byol—nathalie lemoine.
"Absence is Present" is a partnership between artists, archivists, and activists aiming at initiating an experimental dialogue on the crucial question of the restitution and constitution of our memories by taking into account non-authoritarian affects and narratives. We wish to collectively embrace the presence of absences, holes, silences, and omissions that make up LGBTQI+ stories. Eleven new works have emerged from this research, carried out in partnership with the Archives Gaies du Québec.
The question of absence of memory besets us because we know the political consequences. So, although this year celebrates 50 years of Pierre-Eliott Trudeau's Omnibus Bill, we do not wish to commemorate, but rather to suggest a time for common reflection on the years of struggle, celebration, and love of a community fighting against institutional violence (historical, cultural, legal, police, and medical…) because every political and social advance is made at the cost of a collective mobilization that is often ignored or erased.
This project supports the work of artists as well as professional and/or activist archivists, and community organizations that take care of the fight against the oblivion and invisibility of our lives and social engagement. It recognizes the critical role of activists and individuals who perpetuate the memory of their loved ones (alive or gone) seeking to preserve and document queer lives, loves, cultures, struggles, and perspectives, by experimenting with questioning history's hegemonic construction.
Through a process of individual and collective research, artists are invited to explore the treatment of subject knowledge and the making of cultural representations. Through experimentation and transdisciplinary works, they summon empathic subjectivities and encourage dialogue on the necessary "transmission" of the struggles and stories of our communities.
We wish to sincerely thank the Archives Gaies du Québec, the Conseil des Arts de Montréal, and Never Apart for their support.