Boy Wives & Female Husbands + Silicone Sunset & Eclectic Identity + 2050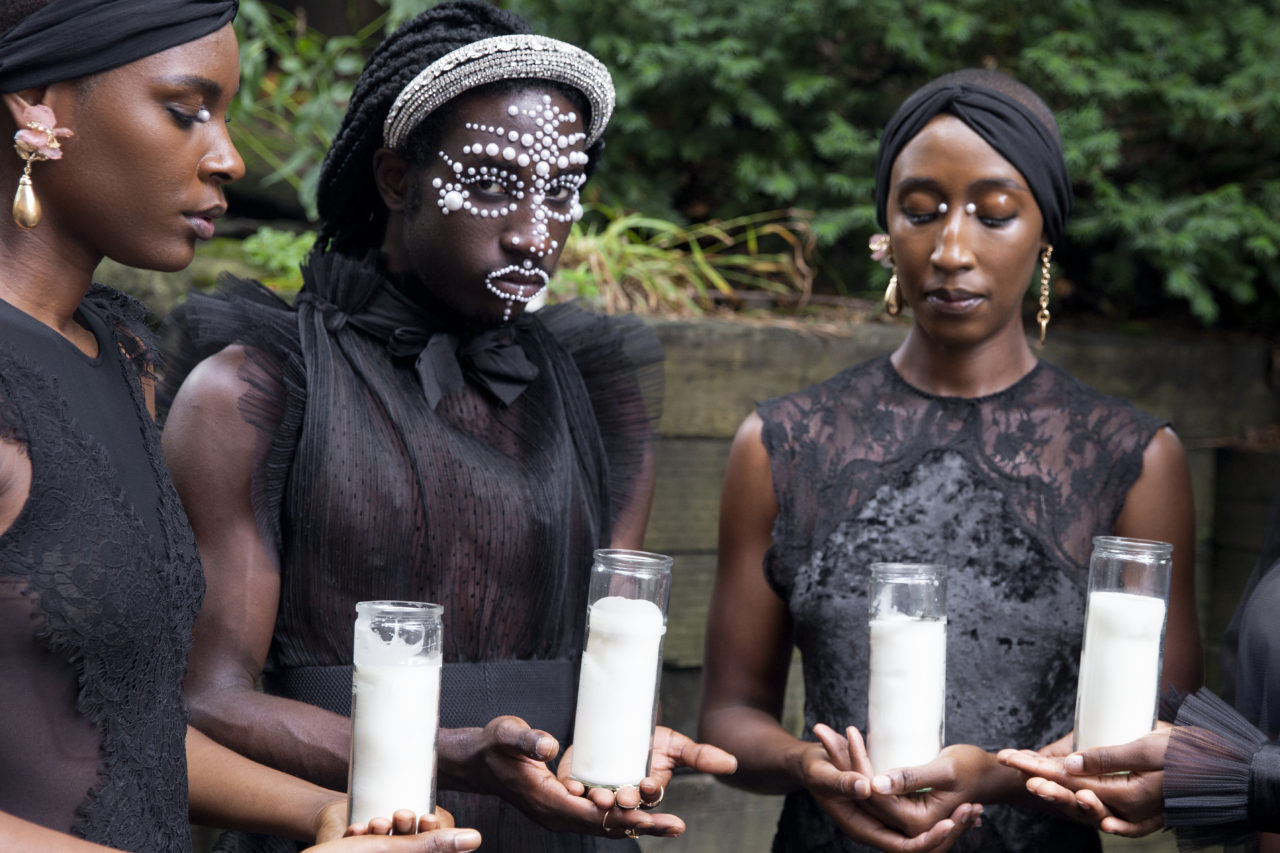 Data Thieves
What Our Archives Tell us
presented by Massimadi and Nigra Iuventa
The exhibition Data Thieves: What Our Archives Tell Us, takes a look at time and History. The characters depicted in the works of artists Yannis Davy Guibinga and Syrus Marcus Ware establish strong connections between identity, gender fluidity and futurism. These characters, at times in tangible spaces and at other times in uncertain places, give us some clues as to what our future holds. Hoping to give us the information we need to move forward in the present, they cross eras and send us archives of our past. They are hybrid beings, data thieves, for whom time is no longer an enemy but rather a learning tool.
Data thieves, figures created by the Ghanaian artist and writer John Akomfrah, can't be defined. Like timeless beings, they have neither genre nor precise era. They materialize in many forms, that of a child or an adult showing us
how to protect ourselves
how to take care of us
how to celebrate
how to unite
how to support yourself
how to survive our grief
and commemorate us.
Virtual opening Thursday February 4th at 6pm EST on Never Apart's social media (Facebook, Instagram, Twitter).
Enter the virtual viewing room: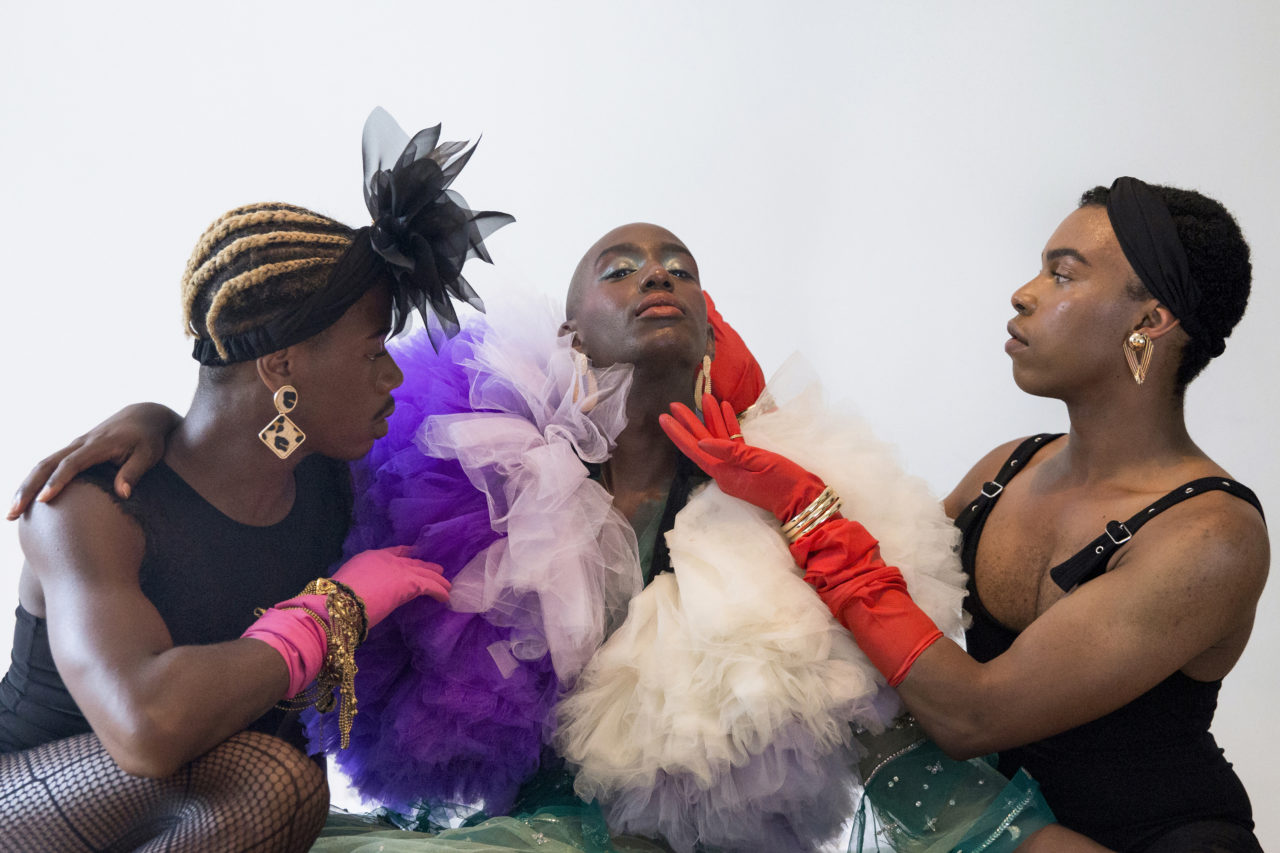 Yannis Davy Guibinga
Boy Wives & Female Husbands:
"Boy Wives and Female Husbands" explores the trans and non-binary communities that have existed across the African continent. This series seeks to examine the place these individuals held in their societies and the manners in which they expressed their genders beyond the binary system. Past and present are brought together in this collection to promote positive change by inspiring reflection on how these same communities are currently treated on the African continent and around the world.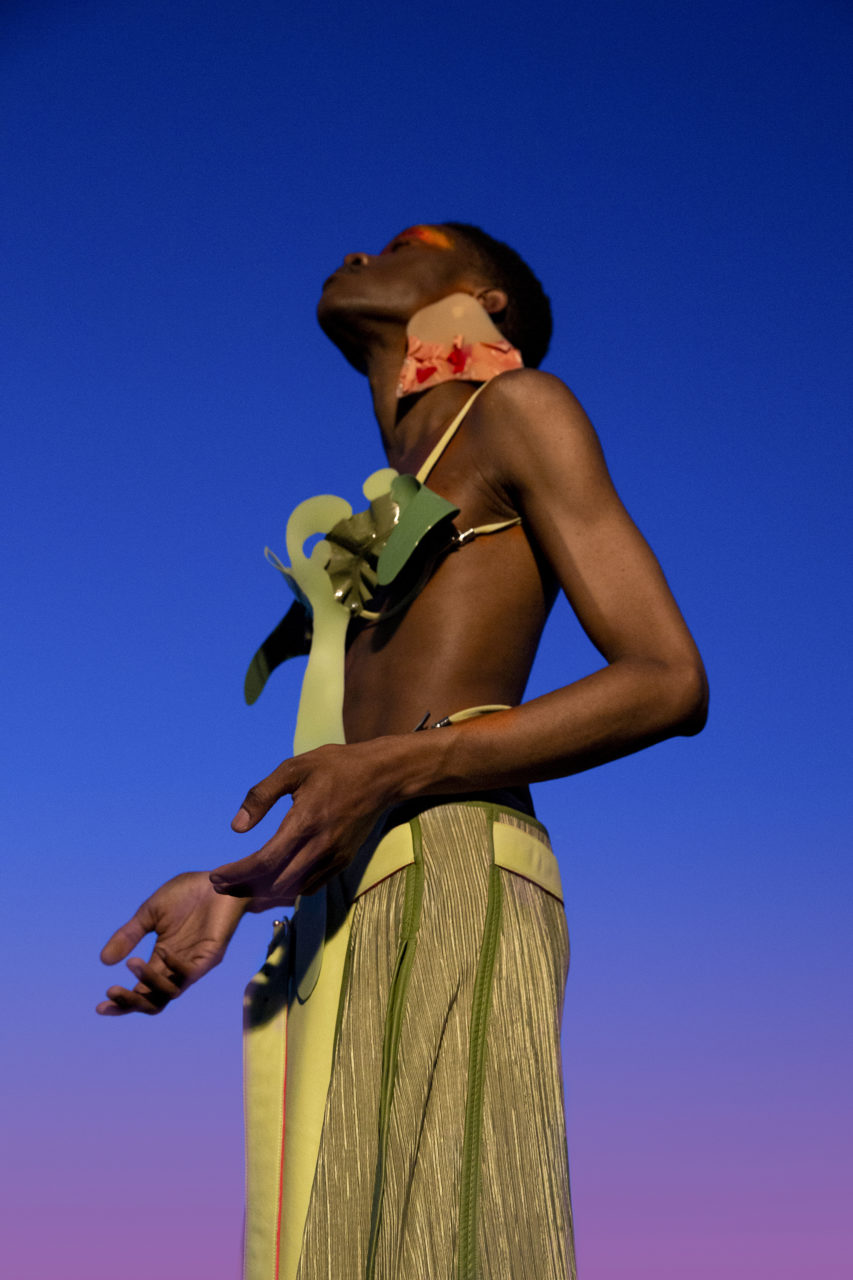 Silicone Sunset & Eclectic Identity
"Silicone Sunset" and "Eclectic Identity" are the result of a collaboration between the artist and Montreal designer Olivia Bretheau. Both collections explore the notions of masculinity and femininity through fashion design. In these series, we seek to provide current and future generations with greater fluidity in their identity construction.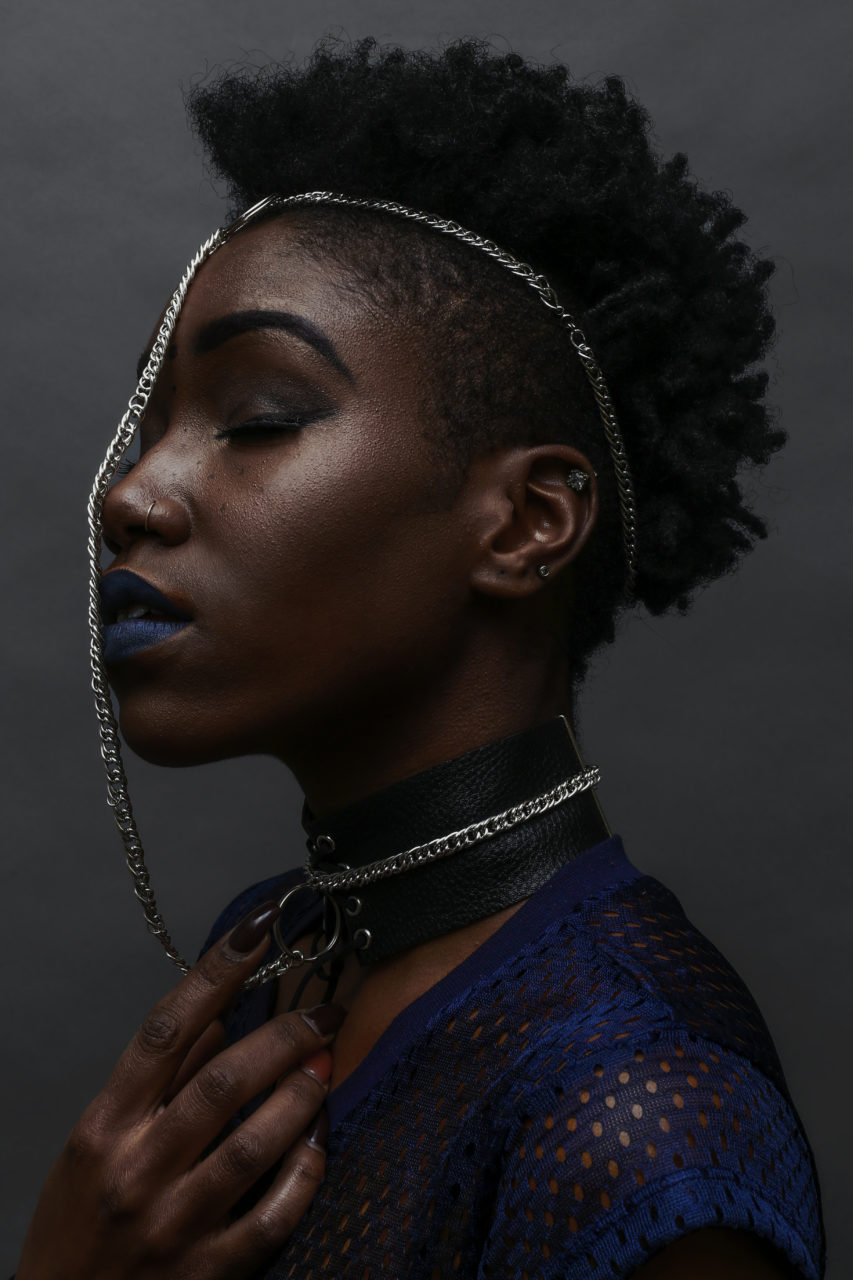 2050
"2050" strives to imagine what black women might look like in the future. By exploring issues of identity, femininity and beauty through a futuristic lens, 2050 is a series aimed at showing viewers that black beauty remains timeless.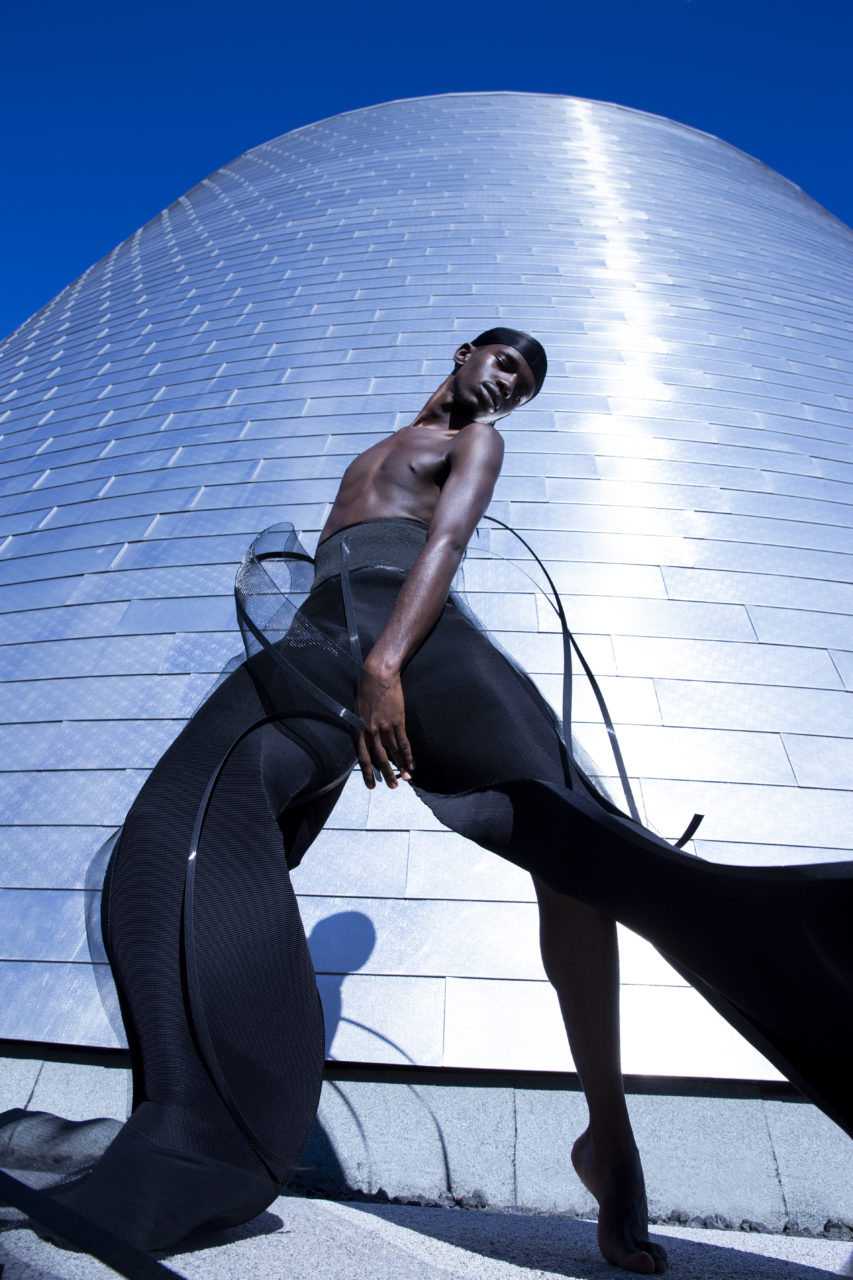 Many still consider the negative stereotypes ascribed to the African continent before, during and after the colonial era as factual; the assumption that the continent has remained primitive and underdeveloped continues to influence the way people think about and interact with Africa. In a bid to bring about a change of narrative, Yannis Davy Guibinga uses photography to not only celebrate, but also document and represent the many cultures and identities of the African continent and its diaspora.
His portraits chronicle a new generation of Africans, brazenly embracing their many identities and cultures in the face of globalization and Western cultural imperialism. His work also focuses on highlighting the diversity of African identities and the ways in which these identities are created through the intersection of different factors such as gender, culture, and socio-economic status. By letting each image tell a different story and illustrate a unique experience, viewpoint, and perspective, Yannis Davy Guibinga uses colors, shapes, and shadows to create a world of powerful, beautiful and dignified Africans of every gender, class, and sexual orientation.
Boy Wives & Female Husbands:
Photography/Creative Direction: Yannis Davy Guibinga
Assistant: Kano Kano
Styling: Tinashe Musara assisted by Haji May
HMUA: Jess Cohen
Models: Mashoga: Uwayo Dushime, Chris Marlot, Arnaud Rose
The Shaman: Toshiro Kam, Grapes Mars, Haji Maa, Elvira Georgine
Eclectic Identity:
Featuring: Atlas Hapy
Designer: Olivia Bretheau
Silicone Sunset:
Designer: Olivia Bretheau
Featuring: Loïk
MUA: Jess Cohen
2050:
Stylist: Aziza Brown | Creative Director: Dakota Seales | Hair Stylist: Ego | Clothing/Designers: AnnaFora and Neoteny Apparel | Jewelry: Backwordspoetry | Models: Cynna , Jannai Goddard, Kalifa Ehkko, Dakota Seales