15 Questions with Candis Cayne: Lina Bradford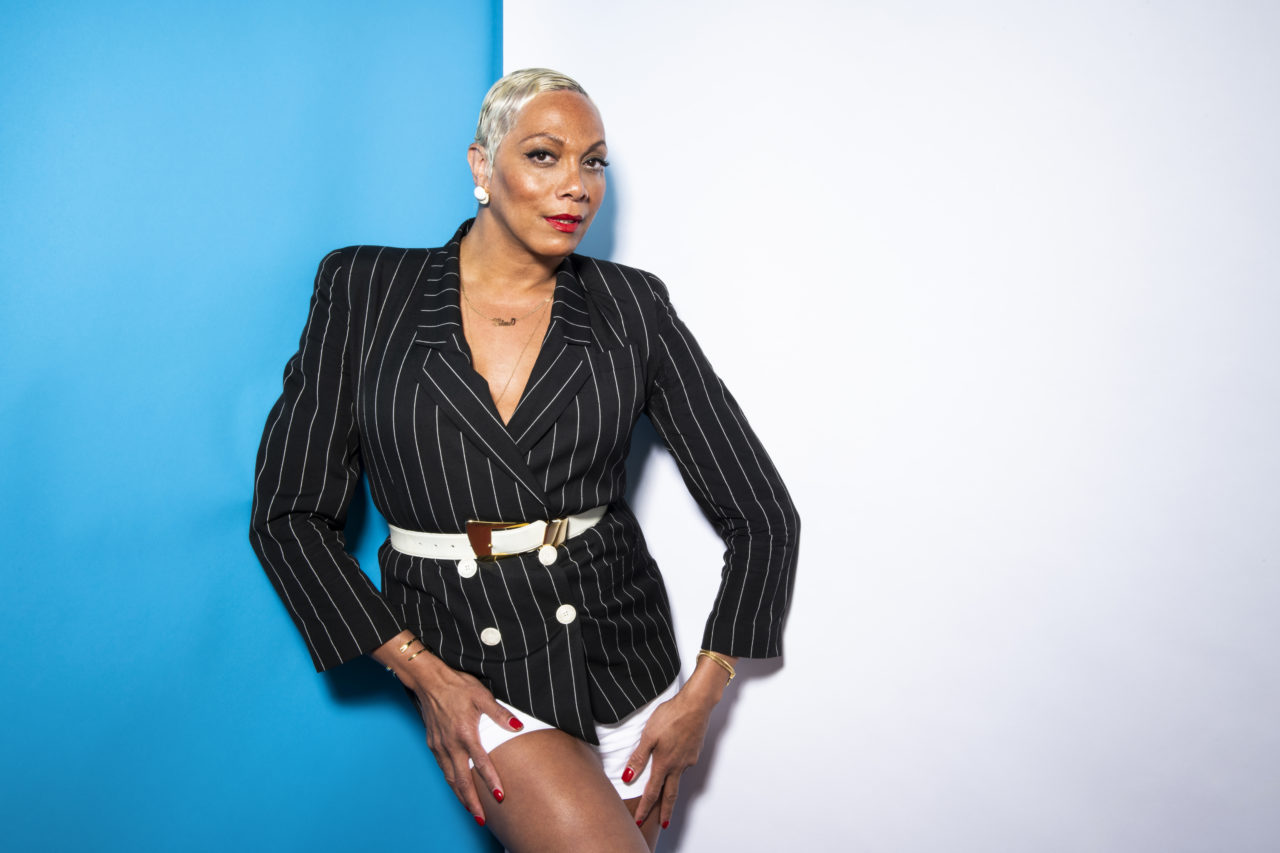 Hello my Dolls! Candis Cayne here. I wanted to start a monthly column featuring influential Trans women that I know and love, women who are changing the world and the greater acceptance of our community by being perfectly out, open, and themselves.
The first contributor to this series is my friend and sister Lina Bradford, whom I've personally known for over twenty-five years. We grew up (our 20s) in New York City where we found solace and acceptance in the downtown culture, discovering our tribe and chosen family that helped protect and guide us. It was tough work being a part of the LGBTQIA+ community and fighting for our rights back then, so all of us relied on each other for strength.
As you can imagine when I met Lina in a club one night, we were destined for sisterhood. Lina is a force of nature who has been casting her spell on everyone she meets since the early nineties. She is a world-famous DJ but also an actress, activist, dancer, and all around quadruple threat.
I hope you enjoy a little moment into the life of…… LINA BRADFORD!
Does being Trans make you an amazing DJ? How?
I've always felt labels are what we wear on our back—so me being a woman and music being one of my traits has everything to do with me being a dynamic DJ.
What is your first music memory?
I would listen to Michael Jackson's Ben album. I played it on repeat over and over, it really spoke to me.
Who are your biggest influences?
I've always felt my biggest influences are the ones closest to me, like my grandmother, my mother, and my best friend and sister Candis Cayne! You may know her lol!
What are your passions outside of work?
I've always been a Barbie collector, spending time with my friends and family, creating looks and music are therapeutic for me!
Fashion is a big part of your life, how do you explain your fashion sense?
I've always been into creating visuals. It has everything to do with how you feel. I've always been a chameleon when it comes time to that. So it all depends on how I feel and what my mood is.
What advice do you have for someone getting into the business?
I always say: know your music. When you do, you can take them on a journey and you're gonna know when to bring in the song and come out of the song. There's nothing more disturbing than an ADD DJ! Meaning they only give you just a second of the song and then they're bringing in another one so quickly. It's all about taking them on a journey.
If you could pick one song as your theme song what would it be?
That's a very hard question. I keep it organic with every experience, each time is different and I create a different vibe so I couldn't ever say that there's one song that always gets played because I make it different every time with genres.
Did you have any fear about transitioning? If so what?
I didn't. I felt like I was always there and it was also around the same time as my sister Candis so we had each other. And I remember the first time I took my Gelfling—that's what we call it, the hormones!—it just felt like everything was finally where it needed to be. When it settled in, it was very cathartic and beautiful: everything smelled different, looked different, everything was just where it needed to be!
What's the best part of your work? And the worst part?
I would say bringing people together. It's always been the one thing that I excel at and makes me the happiest, and I don't have a part that I dislike. I love everything that is what I do and how I bring light and energy together.
What's a normal day in the life of Lina look like?
I usually get up at 5:30 AM, jog, spend time with my two Yorkies, and my boyfriend of seven years. I go over my work schedule with my assistant, work on music, style clothing, and then I see what the rest of my day has in store. I always make time for meditation and a disco nap!
What's your favorite color?
My favorite color is pink because I love Barbie but a second close is orange as it's very therapeutic and healing!
What's the best thing about being raised in NYC?
I would say the history and being a part of it is one of the best gifts; and experiencing all the wonderful nuances that New York possessed back then. Growing up with such an amazing family in and out of the club added to my backbone!
What do you feel most proud of?
The relationships that I've made and how I've managed to always stay grounded and grow while still being me.
Why is it important to include Trans Women of Colour into the BLM movement?
Being a biracial child, I never experienced racism or separation until I changed schools in high school. There was a group of Black kids who said that I thought that I was better than them because I'm light-skinned and have good hair, whatever that's supposed to mean. Later on, we ended up becoming friends and I helped them understand that they only set themselves back by excluding what doesn't look like them, and that you can't do that within your own.
That being said, you don't get to pick and choose who is a part of Black Lives Matter when you're Black. It doesn't work like that, when you start excluding brothers and sisters within your own tribe, it makes it that much more accessible for your oppressor to do. If you're fighting and going through it within your own community, it looks broken to them, they can just come in and separate and destroy you all. That's why it's key and important for all minorities to be together because at the end of the day, gender has nothing to do with it, how you present yourself and how articulate and educated you are. It has everything to do with who you are and that's how you should be judged!
There was a real sense of family in the '90s, do you think it's different now?
Like I was saying earlier, it was the best time coming up in New York, having the sisterhood, it was our social media, every single night and it was amazing, and thank God there were no phones and Internet. We were very present, we were very creative, and you can't touch that.
It is very different now in a lot of ways, I always find a way to keep things positive and fresh. Obviously, the separation of people getting to know each other on a more grounded real level is what I miss but I keep it 100% with the people that come in contact with me. I'm saying in general, people are more into the presence that they have online and how many followers, some of it seems very vapid and unrealistic and lonely. You can't farce somebody when they're in front of you but you can definitely pull a lace front over somebody's face online! So I say remember to talk to your brothers and sisters when you're in public and don't be on an app when you're trying to meet somebody, your best friend or your lover could be standing right next to you!
Blessings, love, and light and I love you so much sister Candis. Xoxo Lina
Follow Lina Bradford on Instagram.