Conversations with Our Relations: Lou Lou la Duchesse de Riere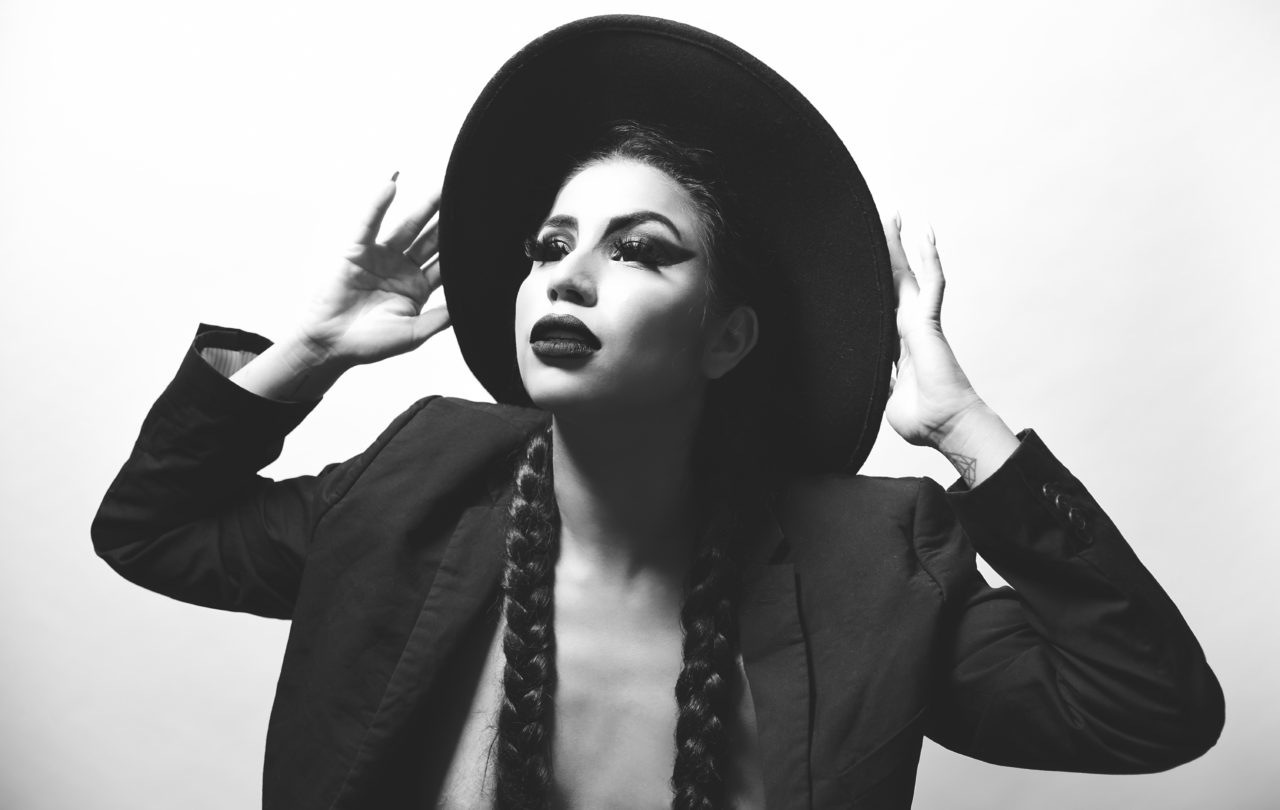 (Photo c/o Lou Lou la Duchesse de Riere )
Aani! Dolly Berlin ndizhinikaas.
(Hello! My name is Dolly Berlin)
I am a burlesque showgirl and event-producer-on-pandemic-hiatus based in Tkaronto (Toronto).
A proud Indigiqueer/Bi+ mixed Ojibwe woman, I am very excited and honoured to collaborate with Never Apart to bring you this column highlighting Two-Spirit and Indigequeer folks making waves in the arts.
Not to be too comfortable in my wheelhouse, but I really didn't want to wait to chat with another burlesque star who, without the stage, has been beading up a storm over the last year. This month I'm chatting with Lou Lou la Duchesse de Riere, Kahnawake & Montreal's decorated Afro-Indigenous showgirl.
I first met Lou Lou years ago at "the Greatest Masquerade on Earth," Theatre Bizarre.
Lou Lou the person is easygoing, funny, and real, and it's been wonderful to see Lou Lou the performer build a large fanbase and win awards over the years.
Watching her headlining performance at the Toronto Pride burlesque stage in 2018 is a beautiful but somehow distant memory, and I only realized during this conversation that the last time I saw her in person was later in October of that year, again amidst the bustling carnival that is Theatre Bizarre.
Since then she has accomplished some amazing things, including launching Skywoman Creations, which features her beadwork and sewing prowess. Let's get to chatting about it.
Hey, Lou Lou! Introduce Yourself to us!
My name is Lauren Ashley Jiles, also known as Lou Lou la Duchesse de Riere. I am a burlesque dancer and beadworker from the Mohawk Territory of Kahnawake in Quebec.
Can you break down your stage name for the Anglos?
It translates to "the Duchess of Ass," if you're nasty.
Lou Lou is just an extension of my birth name. I always joke that I picked my stage name under duress. I didn't think of a stage name but I had a show and maybe 5 minutes before I went on they were like, "we need your stage name" so I just said "Miss Lou Lou." I was Miss Lou Lou for about 5 years and then it was Satan's Angel who fully named me. Satan's Angel is a burlesque legend who we lost a few years back. She was amazing, definitely a firecracker. I feel like everyone has a fun story about her.
We were drinking whiskey outside of a venue and smoking. I had taken a class with her earlier and she goes "I really want to compliment you, I think you have a lot of talent, but I want to talk to you cause your name is shit!" I told her "but that's my name, it's what my family calls me" and she says "Nobody cares. Look, you're French so it should be la Comtesse or la Duchesse." I told her I'm Mohawk and started giving her a history lesson but she says "you're from Canada, everyone will assume you're French. Do a spin for me." So I do a spin for her and she tells me "well, your tits are kinda small but you've got a really great ass!" Derriere.
(We laugh. This story is very, very Satan.)
It's a long name, it never fits on any poster and every emcee hates it, but I love that story so I will never change it.
Despite the heavy year, you seem to have kept very busy and positive.
In the last few months I've really had to pick myself up by the bootstraps, like everybody. I do have a small child, and I feel like I don't have the option to get too down. In the beginning it reminded me a lot of the ice storm in the 90s. In Quebec it was really bad, specifically the rez that I grew up in didn't have power for over a month. I was thinking about that a lot at the beginning of the pandemic and thinking about my mom dealing with us kids with no power. We had a wood stove at my grandfather's house, so it was basically all my aunts and uncles and cousins at my grandparents house. For me it was the best time of my life; we played games, we told stories, and I felt very connected to my family and protected and safe. I have a beautiful memory of my mom bringing hot water and a broom out to the yard and making an ice rink for us. It never seemed like anything was wrong. Thinking about how I would deal with that…I would be losing my shit! No cellphone! No Instagram!
My mom being able to do that with two babies, it helped me mentally think "ok, I can do this!" People have lived through this before, it's all about perspective.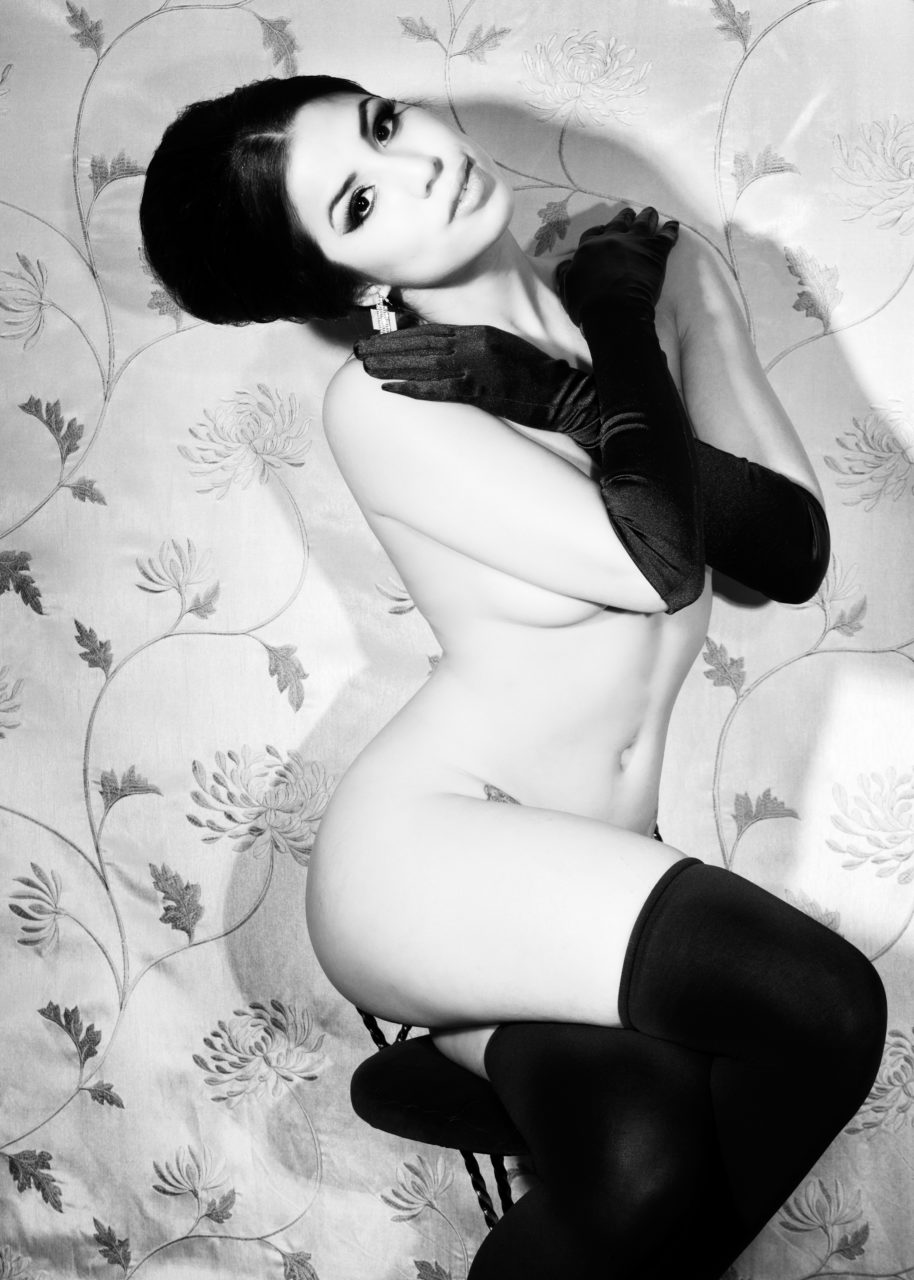 I really want to chat about your beading work. You have been sharing your personal beading projects with your online followers for some time, but launched Skywoman Creations in 2020. Was this always the plan or was this born out of the pandemic?
Pandemic! I love sewing but beading has always been challenging because it is so time consuming. I was on the road almost every other week before last year, and lived out of a suitcase. When I'm home I'm just with my daughter. So having all this time to just "be" was a little unsettling for me. I have a bit of anxiety and at the beginning it was something to do with my hands and just focus. It helped the time go by but as I started making things I felt bad knowing I wasn't going to wear all this stuff. I have nowhere to go! My husband really encouraged me to put things up and sell them.
I'm home-schooling so I don't have full days to commit to things but every month I try to do a small collection, and they normally sell out in an hour. I feel very grateful. It's been very refreshing because I've been doing burlesque for so long and before that doing musical theatre, so I'm very comfortable on stage and naked in front of people. I don't have a lot of performance anxiety, but as an artist it's sometimes important to have fear. I know that sounds messed up, but having the fear of sharing something with a new audience ultimately has been very rewarding, and I feel very supported.
When did you learn to bead and sew? 
I've been sewing for most of my life. I would watch my aunts make dresses, and always wanted to sew. At about 5, grandmother handed me a needle and thread and taught me to make clothes for my Barbies.
When I was older, I wanted a machine but my mom said I was too accident prone. So I asked my aunt to train me so I could show my mom and maybe get her to buy me one. For two years I didn't get to sew anything but would pin and mark all of my aunt's patterns, and it really taught me about the mathematics of pattern design. Beadwork was something that my community has been really great about. Iroquois people have a specific style, we do raised beadwork. In our school system we had cultural activities so we would do soapstone carving, basket weaving and beadwork. So I had done it as a kid, then not  touched it for years until I started pow-wow dancing and picking up more.
Do you pre-plan pieces or is it a bit more organic? What is your process for starting a piece? 
Normally I just lay out all my materials. I love everything gothy, my personal tastes are very alt fashion, so the last collection I did was Bauhaus inspired with all-black-everything and spikes. I like naming them so each earring was named after a new wave song that I like. I did stuff for Halloween.
(The candy candy corn earrings are a personal favourite!)
The next collection is going to be all spring pastels, like an Easter egg collection with opulent purples and greens.
I'm making a hat band right now, and it's 27" long, the size of a belt.
Every piece is a labour of love. Doing beadwork really feeds this part of my soul. I am often hyper creative and need to just do things, get them out, and be done with it. If I could do this full time, I would do earrings every single day. I don't like to repeat a lot of stuff, so it's nice the way I'm doing it. Even in dance I've always been afraid of repetition. I explore different themes and movement styles, so that's consistent with this art form as well.
I work with a few people pretty religiously. Another Kahnawake woman named Jessica Herdandez I've known my whole life has an amazing beading and accessory store Nicia's Accessories. And I started working with another BIPOC person with a company called Pourfection who make hand-painted cabs. Every piece is unique and some of the most beautiful pieces I've made have been working with her cabs.
Are you doing custom work now as well?
Sometimes I get requests. I have two pieces right now that I am working on for custom orders. But earrings can be tricky with getting supplies. I only purchase supplies from First Nations or BIPOC people. I am working with small quantities so generally I just put them up and it's first come, first serve.
Do you have any tips for beginner beaders who may just be starting out?
I feel like a bit of a dinosaur when it comes to technology. But TikTok is a great resource, there's a lot of great beadwork on TikTok with tutorials and a lot of virtual communities too where you can craft with other people. Most of the techniques I used were taught to me by other First Nations people just sitting in a circle with them. When I danced pow-wows we would make our regalia sitting in a circle. That's how I learned to make a moccasin. People are really generous with their teachings.
I'm part of a collective of First Nations performance artists coming from different dance disciplines and someone said something very beautiful at our last session. They said "make sure your knowledge doesn't die with you." It's so much fun to bead and also to do it with someone else.
I recently saw a photo of a costume collaboration that involved some very beautiful beadwork by you. Can you share what these pieces are for?
Yes, one of the acts that I do really centers around decolonization of Indigenous sexuality. It's a celebratory act with a lot of light in it. I wanted to do something with the costume and revamp it with more physical elements of my culture and nation. There's a lot of purple in the act because it's the colour of wampum and it's also a mourning colour so it's a signal of death. The act is about grieving and rebirth and regrowth so purple is a very big colour. I beaded some larger floral appliques and sent them to Christina Manuge, a costume designer who is the best in our industry. We've been working together for many years and this is the most collaborative we've ever gotten. She fastened the appliques to a body cage which will sit underneath my costume. And then there are other beaded elements that will be added on. All of my worlds are slowly merging, and I'm ok with that!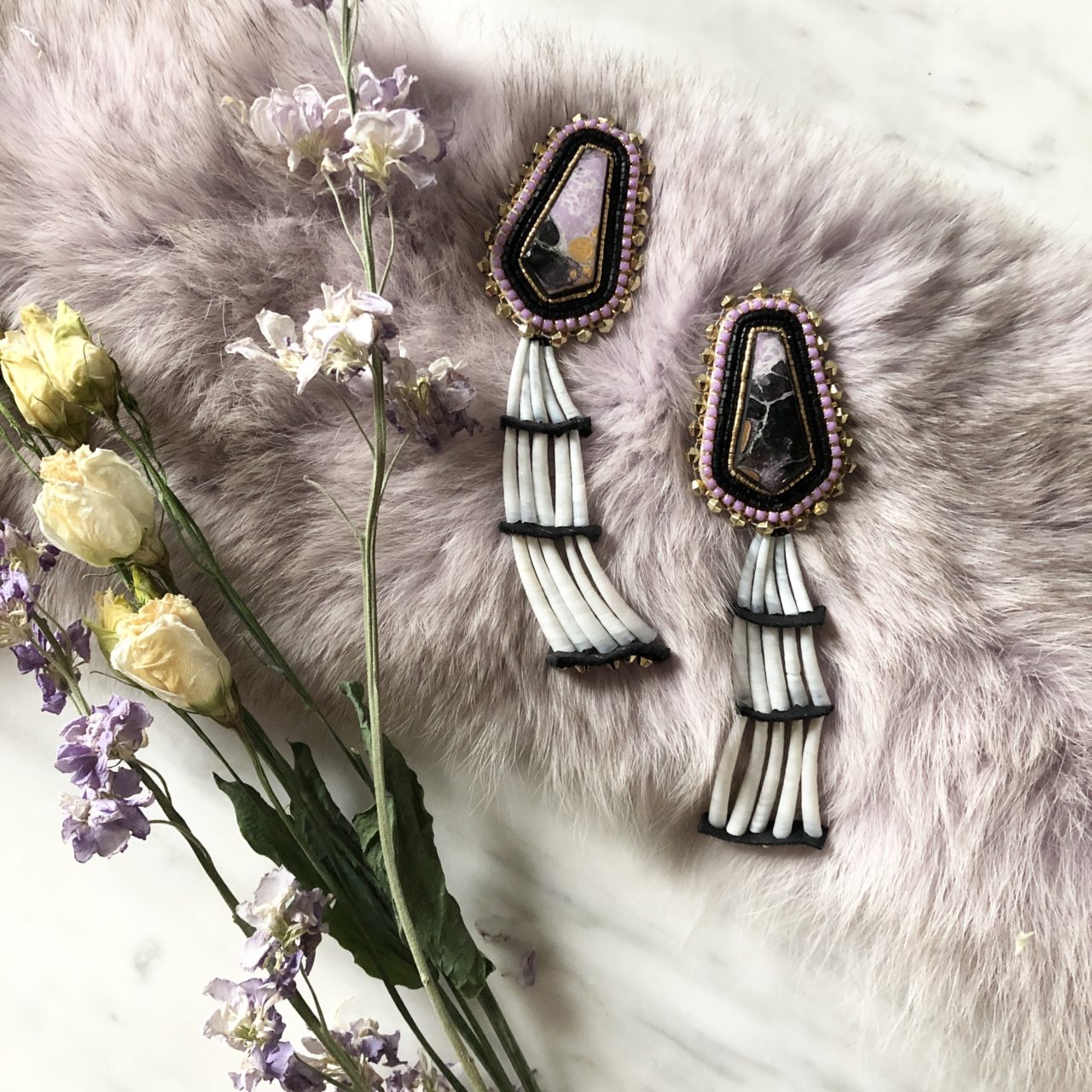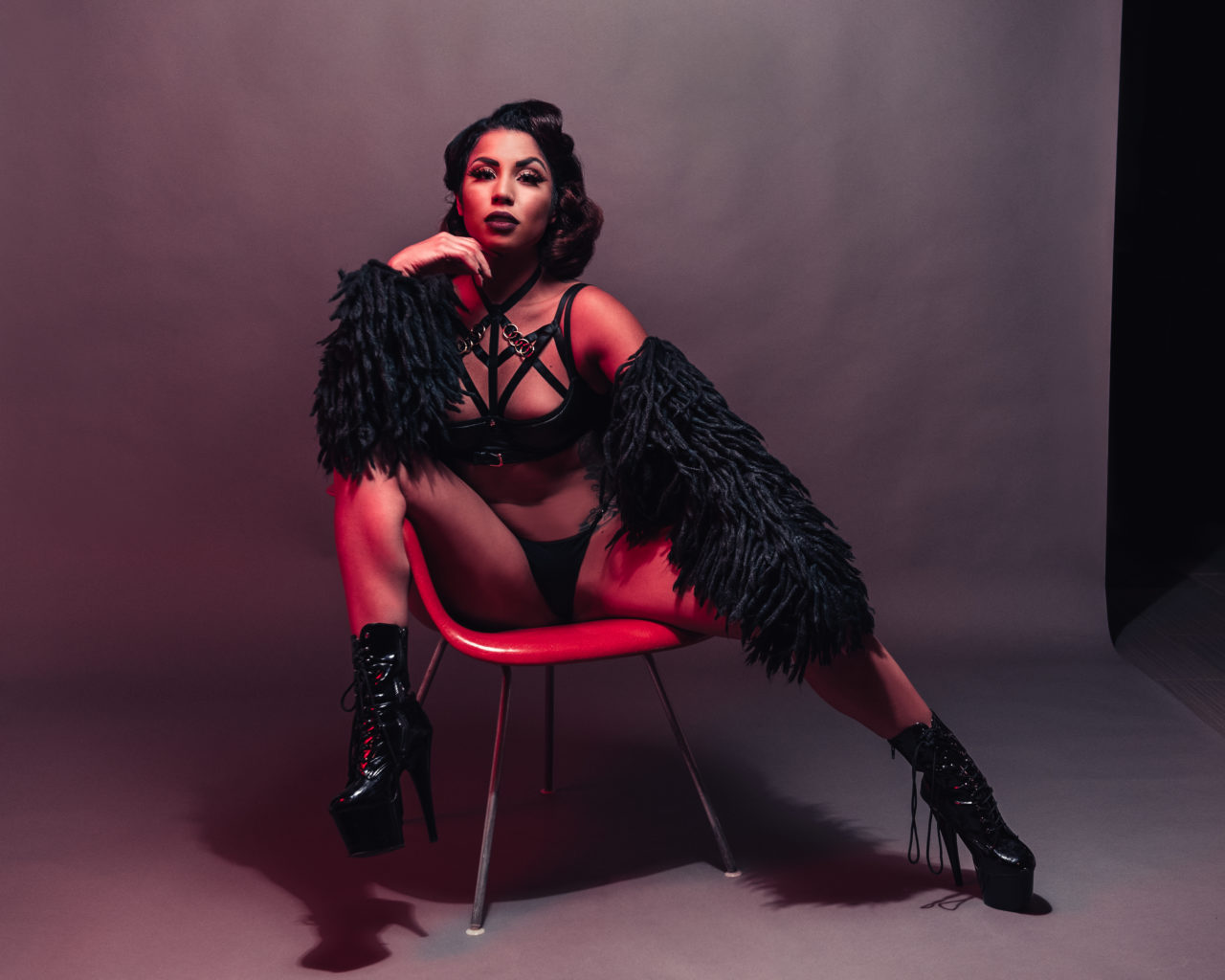 I love seeing more Indigenous performers wearing beadwork and culture-inspired pieces on stage.
I think it's really important too. They're worlds apart, pow-wow dancing and burlesque dancing. In pow-wow my spirit feels so light and there is a lot of pride. Part of the pride comes from embellishing your body, showing pride for your nation. I feel very confident when I put on my mocs and my leggings. It's a long process to get ready to dance, it is heavy and you're sweaty at the end of the day but it feels so good. That's something that was maybe missing for me in burlesque. Very "alright you got 5 minutes to get on!" *snaps*
Specifically, this act has elevated things on an emotional level for me and having the regalia to reflect that has been very important.
Do you think your daughter has an interest in dance?
She doesn't fully understand the extent of what I do. During one of her online classes, she told her teacher "my mom used to make lots of money to dance on stages but now she's tired all the time." Accurate, but it was a deep cut!
She loves dancing but she doesn't want to dance with me, she wants me to sit and watch. I'm looking forward to when she can go to an actual dance class. She has a beautiful artistic mind and approaches things with a softness. She's creative but she's going to do her own thing.
Let's chat a bit about your performance life leading up to lockdown. You were crowned Queen of Burlesque in 2018 at the New Orleans Burlesque Festival, then 2nd Runner Up and Most Innovative at the Burlesque Hall of Fame in 2019. What was that experience like!?
BHOF in our industry is like the Olympics so getting on that stage is an honour. The act I was selected to compete with at BHOF was the act I won Queen of Burlesque with; an opulent, gothy, spider number. It was nerve wracking because the original act was 11 minutes long and you have to condense it into 4 minutes. I do aerial straps in the act so I trained four times a week for 6 months just to do the original 2 minute section in 30 seconds. Basically the same act, just done really fast.
I really loved that 2019's "court" (also including Runner Up RedBone and Reigning Queen Frankie Fictitious, both of San Francisco) were all women of colour! Did you have time to connect with them, or was it all a whirlwind?
It's always busy, that year especially. I hadn't been since the year that I had debuted, when I was just coming into this pageant scene. (Best Debut is a category for performers who have not previously performed in the competition).
Funny enough we had all competed together at Viva Las Vegas in 2017 and then the month after BHOF we had all been booked to do a show together with Adele Wolfe in Oklahoma. She had booked us to co-headline six months before that!
You've actually been performing for quite some time and then really seemed to hit the pageant circuit in the last 5 years. What inspired you to start performing in the competitive realm? 
Honestly I think having a child really propelled me. I've always been passionate about performing but the pageant circuit is definitely different. I wasn't necessarily drawn to the idea of winning anything but I saw it as a marketing tool. I was frustrated with my local scene. Now Montreal is very diverse, but at the time I was frustrated with the lack of diversity and opportunity. I felt that I was more recognized outside my community, and I think that has a lot to do with internalized racism in Quebec; not wanting a brown woman to be the star.
I started performing 5 months after I gave birth and did my first competition that year. I gave myself a window of time and decided to go all-in. No more "for exposure" stuff. I used that uncertainty to just give'r. You see people that are younger or have more time or more economic resources but I told myself "just because you are not creating a new act every month does not mean you are not doing good work." Every piece I make I try to really make worth it as a fully formed concept.
I did have a shit-disturbing sentiment behind it as well. Because it was difficult to have success as a woman of colour, as it is in many vanity-based industries, my whole idea was sort of "it'll be hard to say no to me with a crown on my head" and when I give you my rate, you'll respect me because I do have the credentials.
I started straps 2 years before I debuted the spider act. I have another act where I do pole, which was less training because I knew how to do pole from being in debt.
(I cackle.)
I have a lot of acts that have other physical components and I enjoy the idea of collaborative work with other dancers and other disciplines. For one act I met with a choreographer named Gerrard Rise. He taught me tutting hand movements which is really just visual storytelling and reminded me of mens traditional dancing. Finding inspiration with other dancers has always been part of my creative process.
And so you've been very busy! Even last summer, wasn't there a brief stint of live shows in Montreal?
There was some live performance. I sat that out but did do one show performing outdoors at a drive-in theatre. It was produced by Foxy Lexxi, Robin Westhaver, and Elle Diabloe. It was really safe and I felt really good about doing that. Other than that just a lot of stuff in my house.
What has that been like?
I don't care too much with how I'm perceived although sometimes I do wonder! When I started doing online shows I would get comments like "this is really funny!" and I mean I'm not a comedian but I never take myself too seriously. I project a false image of glamour on stage but I'm not really a glamorous person in real life.
In one of the first home acts I did, my daughter was at her dad's house so I had just a few hours to film. I live in a tiny apartment with a staircase and I got some candles and red lights and I lit the house and did a striptease walking up the staircase, dancing on my table and jumping in my sink to give myself a sponge bath. It's so ridiculous but it's low brown art at it's finest. There's something really ironic and humbling and funny about it. The challenge is not how many rhinestones you have or your hair, it's about using your space creatively. It's a more intimate level of performing than we are used to; "look at me..naked..in my house..online." But talk about keeping the hope, and joy and flame alive!
A Toronto performer Miss Paige who recently moved to Montreal also reached out to me and asked if I wanted to teach a virtual workshop. I teach 3 one hour classes within her program; musicality, choreography and concept. I feel forever young, but even still we're in a new generation of burlesque and it's so removed from when I started. I realize that I am a part, we all are, of the shifts that have happened. There are people I'm teaching that have a completely different outlook on burlesque. It's fascinating being part of something that's always changing.
So what's next for you!?
I plan on finishing this hat band!
Teaching and beading, and teaching my daughter. And working with my collective, which has been a really wonderful reprieve. My body is really craving movement. The first meeting we had we moved for four hours and afterward I had such a visceral reaction of heavy tears. It felt like I was taking a drink of water for the first time in a year. I don't imagine I will be travelling before my community is vaccinated, so get at me in the virtual space!
You can see the "clean version" of Lou Lou's sink sponge bath in the online festival "The Noire Pageant" happening March 12 +13 on thenoirehalloffame.com.
Lou Lou La Duchesse on Instagram
Lou Lou's beadwork on Instagram