Conversations with Our Relations: Midnight Wolverine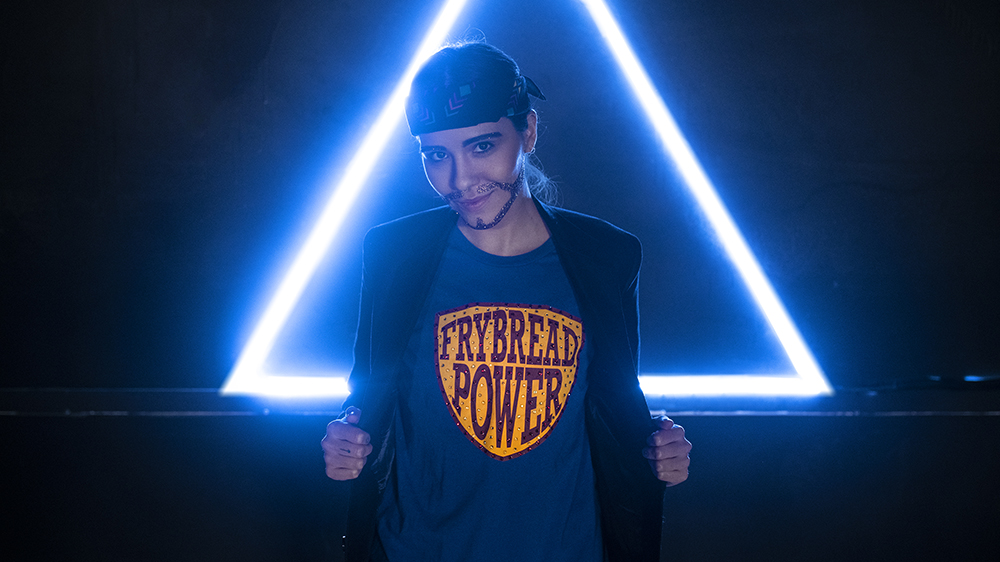 Photo: Lucius Dechausay
Aanii! Dolly Berlin ndizhinikaas.
(Hello! My name is Dolly Berlin)
I am a burlesque showgirl, event-producer, and proud Indigiqueer/Bi+ mixed Ojibwe woman based in Tkaronto. Since the start of 2021, I have been collaborating with Never Apart to bring you this column highlighting Two-Spirit and Indigiqueer folks making waves in the arts. And after a summer break, with so many things in life in flux, I am overdue to dive into the life of Dene/Métis artist Midnight (sometimes MX) Wolverine. 
I met Midnight Wolverine at the Fierce! Festival in 2018, after they roused a standing ovation (I believe dancing to a Halluci Nation track). Midnight/MX, has a natural ability to play up vastly different personas on stage while always being very much themselves. How can you not deeply appreciate somebody who will portray an uncanny drag version of Evan Adams' already campy character 'Thomas' from cult classic "Smoke Signals," and then switch gears to a political striptease inspired by pipeline conflict in beaded domme-chic gear? Their tagline  the "late night tease, trickster and shapeshifter" is certainly apt. 
Mx Wolverine had a very busy Pride season, presenting a new drag performance video "Boujee Indigiqueers," shot in the Underpass Park in front of a mural by Cheif Lady Bird (which you can find me lurking in too). Beyond the stage, they have published a book of poetry, have launched a successful advocacy campaign, and, as I learn, have more writing and tricks in the works.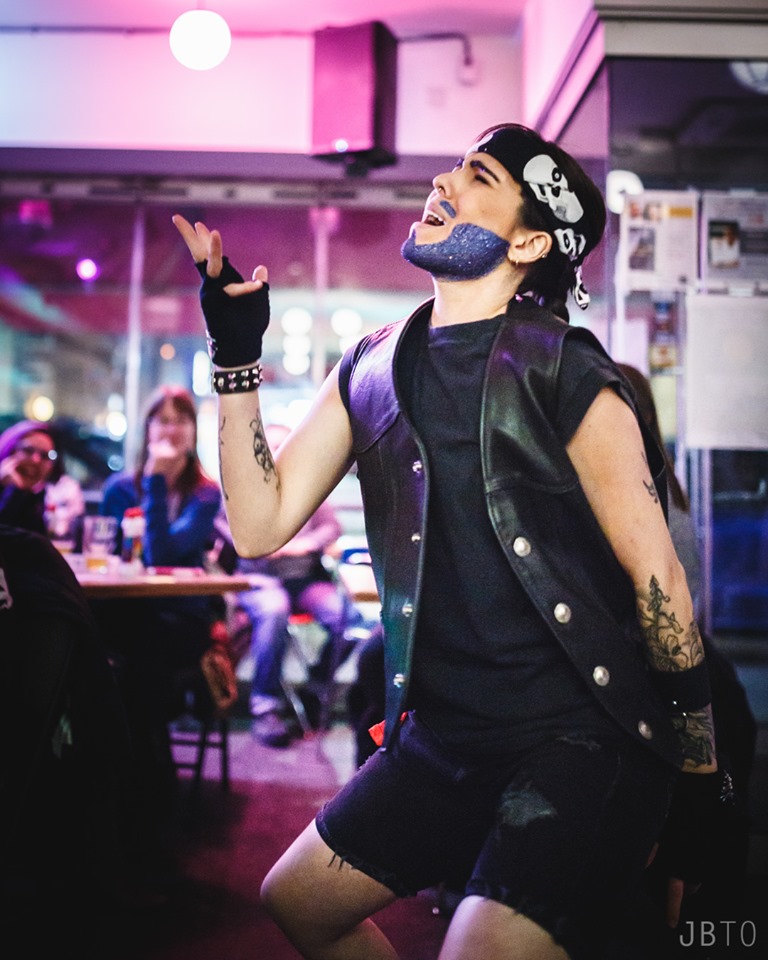 Hey Midnight, Introduce Yourself!
My performance name is Midnight Wolverine, I also go by Mx Wolverine. I am an Indigiqueer and 2-Spirit drag king and burlesque artist here in Tkaronto (otherwise known as Toronto). 
"In real life" I am also a performer, writer and speaker. All of my art and work tends to center themes of Indigiqueer resistance, joy, gender identity, and sexuality from a place of reclamation. And ultimately, I think, a resurgence of Indigiqeer bodies and narratives.
So I know you are originally from the Northwest Territories. I'd really love to start there and chat about the art and queer community there. Is there one? 
Growing up in the NWT, there was absolutely no queer community, or people that I knew of at the time. There was absolutely no visibility of queerness. Growing up as a closetsed Indigiqueer person, it didn't even seem like an option or thing that existed. It wasn't until I left the north that I became more introduced to queerness and things really began to make sense, and I started to come into my identity as a 2 -Spirit person. So it was tough growing up in the north, because it was so isolated and there was a lack of opportunities, beyond what was in school. But I did a little bit of drama and performance and dance.
What I credit the north for is my connection to the land and the territory. And so a lot of my art and my writing and work utilizes elements of land to tell the stories that I want to tell. I have a strong connection to the land itself; the waters and the trees and the animals of the north. Even my name "Wolverine" is an animal that is in the territories I grew up in. The wolverine is a central animal character or being in Dene culture. So even taking the name of Wolverine was a way for me to stay connected to the north. And I would say that all of my strength and creativity comes from feeling connected to something bigger than myself, which is ultimately that traditional territory and my ancestral connection. 
What inspired the decision for you to move to Ontario? 
As soon as I turned 18 I was like "get me out," and it sucks because the north is so beautiful, but being a young person, there weren't many opportunities to see and experience the world. I came to Ontario for university and ended up staying. I had always had a mind that was open and wanting to know what the world was about and to experience that. So I felt like I had to leave home and it was incredible because from there I did travel quite  a bit internationally and see quite a bit of the world. 
Now for the work that I want to be doing, specifically the creative work, those opportunities still don't exist there, so this is where I need to be even if it's not necessarily where I want to be. My hope is that eventually there are opportunities for young folks to engage in more creative practises and art in their home communities. For now urban centers are it. 
I came to Toronto after living in Guelph, mainly to find the bigger queer community. And that's exactly what happened as soon as I moved. I found the drag and burlesque community and that's what has held me here in the city ever since.
As somebody who has lived in a city my whole life, it can be easy to create an idyllic picture of life outside the hectic city life. Do you have a preference for one or the other?
It's definitely a different way of living. I'm not a city person, I never thought I'd end up here. I love wide open spaces and being around trees and animals. And I need that; the city doesn't inspire me. It doesn't spark any sort of creative ideas; that all comes from time not being here. I need to go back North to be inspired and rejuvenated and to have fresh ideas. And then come back and implement those. But what the city does give me is a sense of community, specifically queer community, and closer access to burlesque and drag. If I could split my time 50/50 I would.
With performing, is that something you always thought you would do? How did that start?
I had no idea what drag or burlesque was, had this curiosity or fascination around it. When I moved the first thing I did was seek out burlesque classes, and I absolutely fell in love with it and knew it was something that I wanted to do. And from there drag just came very naturally. I don't even know how, I guess I got introduced to the idea of drag kings and began playing around and got connected with a local King and ended up having my first ever drag performance on the Pride Toronto stage a few months after. There was no looking back!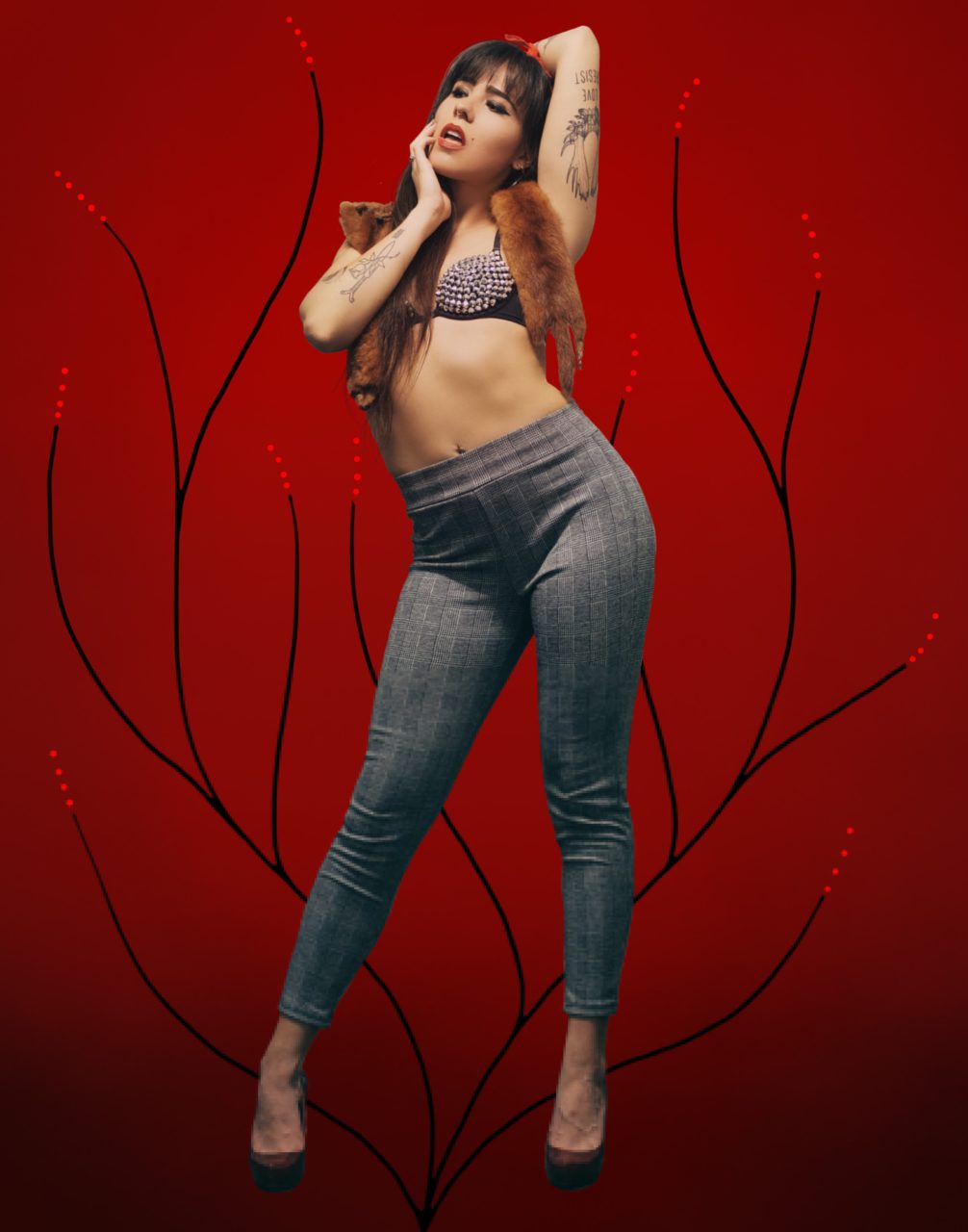 Did anybody mentor you with drag? Or did you piece things together yourself?
I didn't really know anybody in the city when I moved here. I just googled drag king shows and came across the "Kings and Classics" monthly and went by myself solo to a show at Buddies In Bad Times. It was the first time I ever saw drag kings. I stood in the back behind everyone who I now know, and was like "this is something I need to do." And I went home and tried drag makeup for the first time. I can't remember how we connected but Pretty Rikki (the producer of Kings and Classics) was pretty instrumental in my drag evolution because of the monthly he was running and being so open to new performers. 
Even in a city with a bustling nightlife and queer performance industry, seeing Kings celebrated on stage can be so rare, in comparison to Queens. 
It's very segregated with queen shows and king shows, and it is people like Pretty Rikki and ZacKey Lime and Alexandher Brandy (the latter two co-created House of Kings) who are like "there's nothing for us, so we will create a show or nights for us." They started banding together with folks like Glad Day Bookshop, saying "we need a space for kings," doing open mic nights for new performers to get introduced to the scene. But in terms of kings and queens sharing a stage together, that's still not something that exists. I was invited to perform at a drag show on Church street and I think it was 16 queens and I was the only king. It was such a different world performing there instead of king-specific spaces. I would even compare to say Vancouver, where they have a very established king community and have for a while, that Toronto is still not there yet even with folks generally in the city knowing that there is a pretty strong king community in the city. I don't know what it would take for it to get bigger and be more open to kings and gender performers.
What advice do you have for anyone that might be curious about wanting to get into gender performance or drag and not knowing where to start?
I was there; I had no idea where to start. Because of the pandemic there have been so many virtual shows, and I think they'll continue. What's amazing about virtual shows and performances is that it brings performers together from across the country and beyond. So even if you're up north for example, you can tune into a drag show now. Seek out shows. I learned makeup from Youtube tutorials and finding drag kings and gender performers on Instagram that I found inspiring. Follow a bunch of performers to see their makeup and costumes. Reach out to them; I've found many performers are open to corresponding with newer performers. Ask for tips. We're especially open to bringing BIPOC folks into the scene. And just have fun and play and explore in your bedroom in front of a mirror, that's what I did!
The look of Kings has changed. It's nice to see more variety.
Especially with younger folks coming up now who are genderqueer and gender diverse, they are influencing the scene and saying "no, we don't fit into these binaries, even within the drag scene," and really pushing what that looks like. It's taking drag and gender performance to a whole other level. 
Your video shoot for this year's Pride was so fun! I've seen you in many digital engagements over the last year and a half. Have you enjoyed the shift to online performance?
Yes and no. It was hard because I love live performance and the audience. I feed off the energy of the room and the energy of the community space. So it kind of lost that magic for me. I find it really hard to perform virtually without energy to feed off of. Being my busy introverted self, having show nights was a space where I could show up and know that I'm going to bump into someone who I know and am excited to see. I miss being able to keep in touch, because unless you are active on social media it's hard to stay in the loop. But it's been really cool in creating a new form of performance; being directors and cinematographer and choreographers. People have been creating legit music videos for drag so it has taken it to a different level. And accessibility. That said, I do miss performing! 
Can we chat a bit about what you do on an everyday basis?
I did start "We Matter," which is a national campaign and organization dedicated to Indigenous youth mental health. That was something I was doing for many years. Last year I stepped away from my role and responsibilities to pursue a full time artistic career, so now I am a full time freelance writer and artist. It's scary and amazing because whereas before I was working a full time job, I have time and space now to put towards my creative endeavours. In addition to being a drag king and burlesque performer I'm also an actor and I'm writing for film and television. I do a lot of advocacy and public speaking around Indigenous youth and 2-Spirit representation.
What's cool about "We Matter" is that it's still going, it's a full team of Indigenous folks running things. I did the labour to get it off the ground and now other folks are running the show which is awesome. It's all about visibility and specifically, positive representation showing young folks that there is a future for them beyond pain and loss. 
Ok and poetry! You have a book, "Fireweed". How did it come to be that you decided to publish your work?
I have always written poetry, and that book to me already feels so old! I wrote "Fireweed" in 2016. And it didn't get published until 2019. It was quite a process. It was first written for myself, I was just writing poetry after having not written for a long time. After writing all this poetry, it worked out putting it into a book format, and it was something I felt that I needed to share with the world, because of representation, visibility, healing; all these important conversations. From there it was quite a process in terms of finding a publisher. It's really cool to see it still circulating and people asking about it, talking about it and buying it. It's really amazing and goes to show how important it is for Indigenous creators to be able to put their work out there, because other people are going to want to watch it and be a part of it.
In my opinion, writing is one of the most vulnerable forms of art, I'm in awe of anyone putting it out there.
It's so scary; that book is all of my deepest darkest bits from the first 23 years of my life. But I knew I wanted to put it out there because I knew it would resonate with other people and that's what was important to me. 
So, what is next for you? 
I'm working on lots of exciting projects that I can't necessarily mention much about. Definitely TV/Film; I'm in that world now and my hope is to help bring authentic Indigenous and Indigiqueer stories to the screen. I feel we're in this revolution right now of Indigenous content being created; there is so much in production right now from Trickster to Reservation Dogs to Rutherford Falls, all of this stuff is starting to come out. The Indigenous queer perspective and stories still have yet to make it to screen, and I want to find a way to center the stories of drag kings and gender performers becasue that is something that we have yet to see on screen. My long term goal is to merge drag and burlesque with mainstream media content.
I can't wait!
For now, follow Midnight Wolverine here.