Conversations with Our Relations: Thirza Cuthand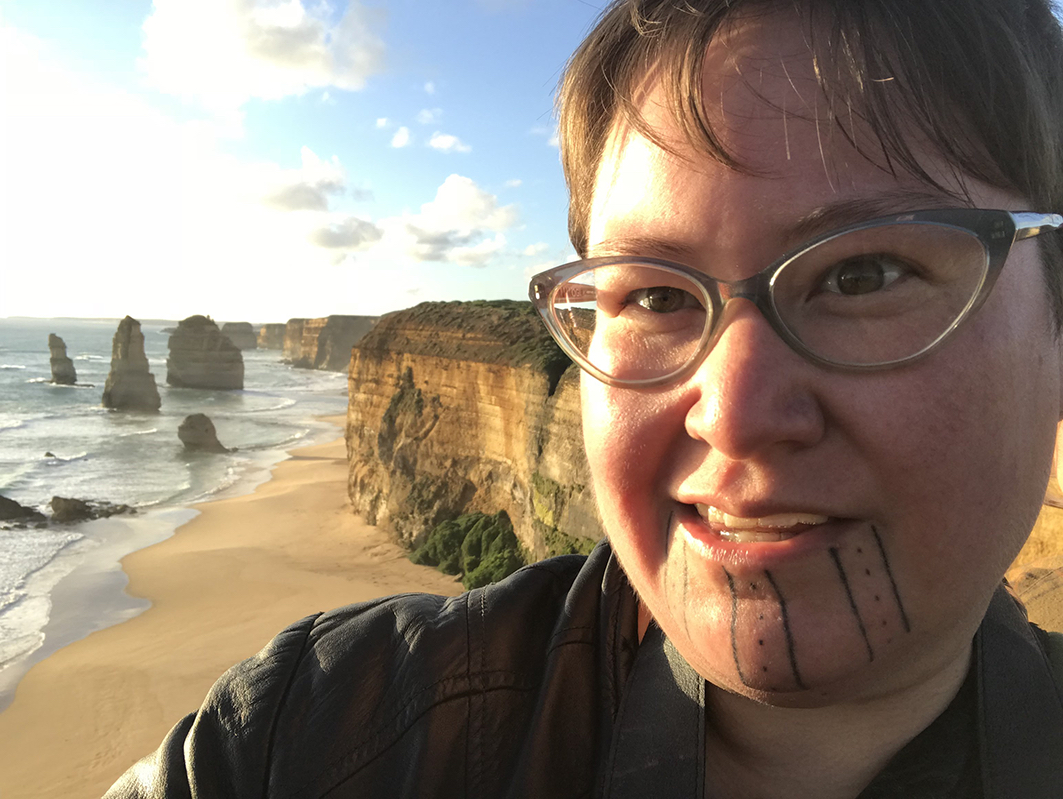 Aani! Dolly Berlin ndizhinikaas.
(Hello! My name is Dolly Berlin)
I am a burlesque showgirl and event-producer-on-pandemic-hiatus based in Tkaronto (Toronto).
A proud Indigiqueer/Bi+ mixed Ojibwe woman, I am very excited and honoured to collaborate with Never Apart to bring you this column highlighting Two-Spirit and Indigequeer folks making waves in the arts.
This month I reached out to speak with Thirza Cuthand, a filmmaker credited with coining the term "Indigiqueer." I personally came across this term a few years ago, I'm pretty sure on Instagram (so millennial), and it just clicked! I love that language is always evolving, both traditional languages that are still living, and English. Now based in T.O., Thirza had originally used it to title the Vancouver Queer Film Festival's Indigenous/two-spirit program in the early 2000's, spelled "Indigequeer."
In her words, Thirza is a "video artist/filmmaker who has made videos which can roughly be described as experimental, but which I think are also entertaining and leaning more towards narrative." I have always been intrigued by and had an appreciation for film and video art, but these days especially I know a lot of artists have a renewed respect for those with experience creating work that is shared in a digital format. A person who has been part of many festivals and film events as an artist and curator, I am excited to chat with her.
Hey Thirza, Introduce Yourself to Us!
My name is Thirza Cuthand, I'm Nehiyaw and Scottish from Saskatoon. Originally my people are from Little Pine First Nation in Saskatchewan. I've been making videos since 1995 about gender, sexuality, and Indigenous stuff.
So let's start from the beginning. How did you come to start filmmaking?
I came out very young, I was 14. There was no representation of teenage lesbians in the early to mid '90s, so the first video I did was about being a teenager and a lesbian looking for other teenage lesbians and how I couldn't find them. It was made as part of a workshop that was with a queer film festival that was in Saskatoon for only one year. They brought in a seasoned video artist to teach us how to make videos, and that was how I got started. It got picked up on the festival circuit because nobody was talking about being a teenage lesbian except for maybe Sadie Benning. My parents were artists so I always wanted to do film or some kind of art. And then when I got into film, that was it.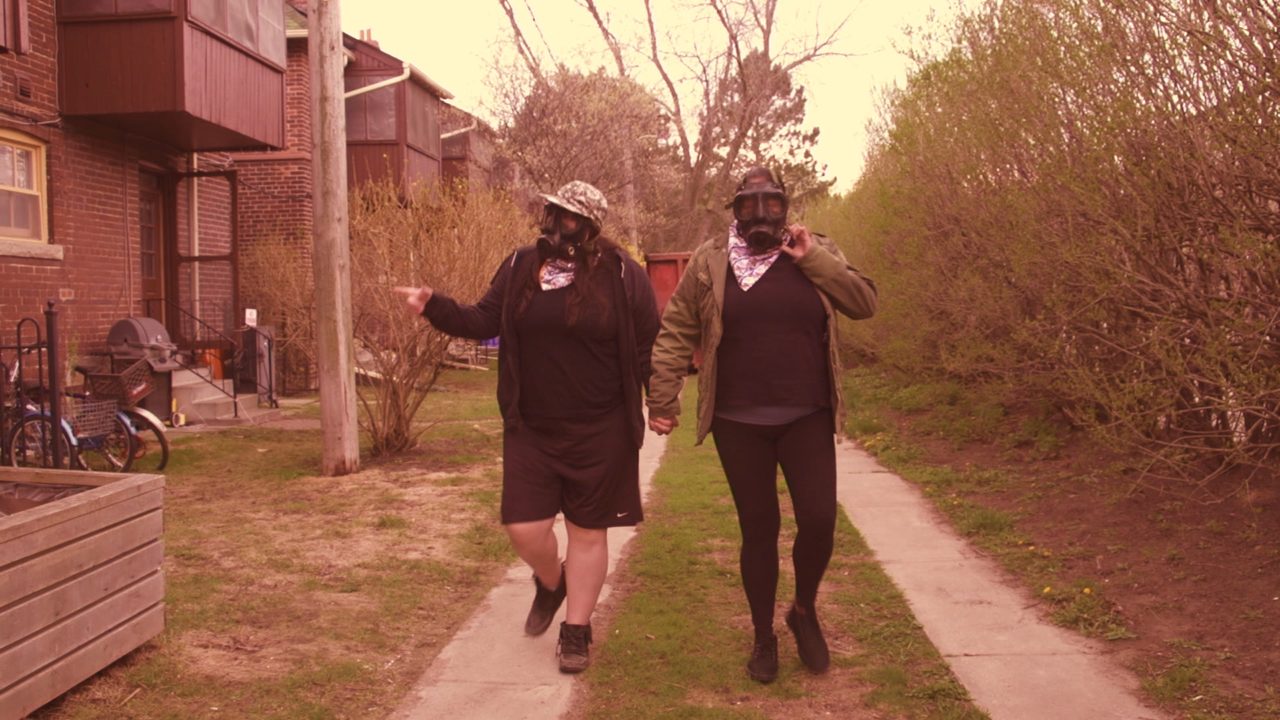 What did your parents do?
My dad is a sculptor and my mom has done a bunch of things. She's a visual artist but she does beading now, she beads viruses.
So cool!
It's the question that is starting to feel a little bit like a drag of a topic but I have to ask, how have things changed for you over the last year with the pandemic?
I haven't worked with people as much. There was one shoot I did that was more industry-focused. We did it when there was a dip in cases, but we still had to follow all of the covid rules that they've brought into film. But mostly I haven't had a lot of shoots and did things with stock footage, or anything I was shooting was just me and a camera; a bit of a lonely year.
You've explored dystopian topics pre-pandemic. Does it feel ironic now? Is this a topic you think will continue to explore?
It's interesting because two of my more recent videos had gas masks in them so people have said "oh you picked up on gas masks before this thing kicked in," it was just kind of a fluke.
The dystopia is kind of what we are living in already, so if you make art about today it's going to be dystopic. I think I'm interested in trying to find hopeful things in the dystopia though. I was trying to do that with Reclaimations and I'm still interested in that.
With things I'm working on now, we're getting into production on a feature about violence against Indigenous women. That's dystopic but that's our reality right now.
You've screened your work all over the world and spent time living in different regions. How does the reception to your work vary in different areas?  
Yeah, I find there's some weird racism in England…
Oh. "Weird." Ha.
I think it's more that they don't understand that we are still existing and still here today.
I heard in the early days when I had some more edgy work that something was screened in South America and didn't go over very well because I was completely nude in it or something.
Generally there are some conservative areas where it's just a bit different. The prairies are hard, knowing how racist it can be there. But generally the audiences who come out to see my stuff are not.
I tuned in to see you in Racoon Clan Readings in Slut Island Festival, I remember finding it really funny. Have you ever done comedy or considered live performance adaptations of your work?
I've done performance art, more on the arty side for galleries or performance art audiences. I'm kind of terrified of stand up comedy because I hear it can have a lot of toxic masculinity running through it. Maybe I'd write a funny book though, or a memoir.
The narrative aspect of your shorts feels very much like a monologue, or like a poem that then has visuals tied in with the film. In your process, is the monologue or the building block for each project or do you build the narration around the visuals?
Almost always it's been starting with the monologue and then getting visuals based off that, and audio clips. I remember I took a sound class and my final project was a video where I was just talking and there weren't any sound effects, and it was like, "that's not a soundtrack!"
So ever since then I've tried to make it a little more interesting than just me talking.
Sometimes it starts with visuals; I'll think of an image that really pulls me towards it and I want to use that. But mostly the monologue.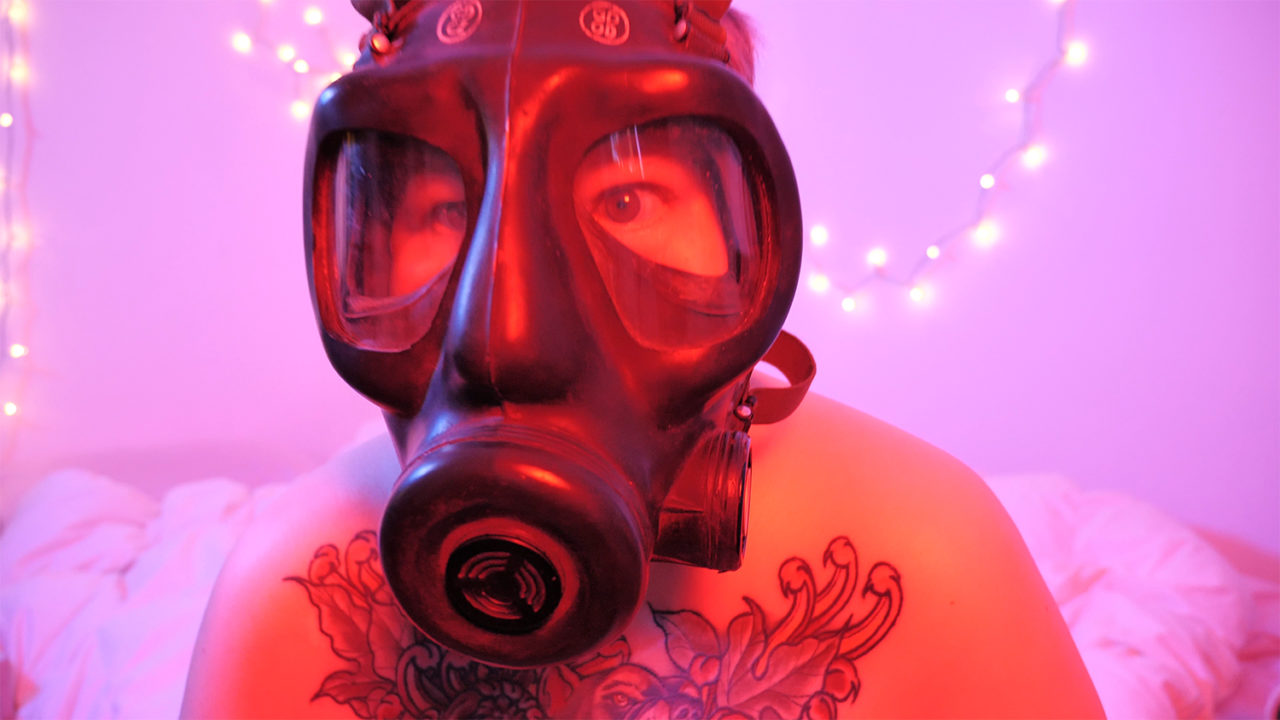 Do you have new work or digital showings coming up? 
I have an installation coming up, called Medicine and Magic. It was commissioned by imagineNATIVE and shown last year, and it's showing in Berlinale in June, so there's a debate..should I go? Should I not go? I've had my first vaccination, but at the same time… (Thirza nervously groans).
I'm in Doc Fortnight with COUSIN Collective at MoMA with a film I made about trying to deal with being in the Whitney Biennial; there was some shady stuff going on with the board of directors. I have some work in the Toronto Queer Film Festival this year.
So that's going on and in January we just finished a short film based on the feature we're working on. It's about an Indigenous woman who gets in a cab and the ride goes sideways, but she gets this power to save herself. It uses fire and stunts and car driving; the fanciest shoot I've ever done. We're finding a festival to premiere it at.
What are your favourite festivals you've been a part of?
Berlinale. I was in it last year and it was a fun festival; it's one of the big ones with celebrities and events. It was really interesting. And there's been some DIY queer punk ones; one that used to be in Berlin on a squat in a little park. Another one in Austin, Texas called Outsider Fest was also really fun and also queer, and has performance art, visual art, and video/film.
Can you tell us more about the feature film?
It's about an Indigenous lesbian who'se got the power to set fires with her mind. A fireball in the sky gives her this power. It's kind of based on a true story because one night my friend and I were driving in the country and we saw this green fireball in the sky. I thought "there's something I don't understand in this world!" We're finishing the drafts and will apply for production funds in the fall.
Let's chat about the term "Indigiqueer." I read your blog post about it and I wanted to say thank you for this term! How are you interacting with it these days?
I tend to use two-spirit more often, but I alternate. It's weird because I never considered it as an identity when I originally started using it. But I do appreciate it and use it a bit more now that I know other people are using it.
I've also seen it recognized because of the title of Joshua Whitehead's book "Full Metal Indigiqueer". Have the two of you met?
We did meet, I think in Vancouver. He thanked me for the word being out there. He's really nice, and we follow each other on Twitter.
Some of your work also explores the topic of mental health, and I notice an increase in the use of "madness" when speaking about that. Do you have any feelings about that that you are comfortable sharing?
I mean, when I first got diagnosed as bipolar there was, and still is, a lot of stigma around it because it's one of the mental illnesses that people find kind of scary. One of my friends who was also a mad activist or psychiatric consumer (I don't know how she wants to identify), she introduced me to other people who had been dealing with mental illness services. Sometimes when you access services for mental health the service providers have some judgement and you can feel it, which was weird to discover. But at the same time there's this camaraderie that happens when you meet other people who have also been in a psych ward. So it was like discovering another community and another way of thinking about the world.
I haven't made too many videos about mental illness but the ones I have made are to get rid of the stigma and help people realize they can talk about those things.
Have you gotten the opportunity to connect with community during the pandemic?
Most of my friends in Toronto are two-spirit people so I've been keeping in touch with them or meeting in parks. There was a two-spirit pow wow gathering (online) in San Francisco that normally happens in person, so I went to that and they had two-spirit speed dating which was really cute. It was nice to talk to people from across North America. In some ways there's been opportunities to talk to people further away that I don't think we had before.
Any else you can share about connecting the intersections of your identity to filmmaking?
There's always something new I'm interested in exploring. There was a time where I was trying to do IVF to make a baby and it didn't work out so I'm making a film this year about that experience and how alienating it is to be at the fertility clinic when you're a single person and there's all these couples around you; how weird it is to go through that experience alone.
A lot of us are consuming art in new ways, is there anyone you'd like to shout out who has been entertaining you these days? 
I curated a kink program for Fairy Tales (Fairy Tales Queer Film Festival) that's going to be showing soon. It's mostly bipoc creators. It's got some pretty edgy stuff in it, some triggering stuff, but should be interesting! Everybody in that program would be worth checking out.
She tells me the title of the Fairy Tales program is "Blood, Cum, Spit and Leather." I'm looking forward to following these upcoming projects, and looking out for screenings of Medicine and Magic, Extractions, Less Lethal Fetishes and other works by Thirza.