Mark Kenneth Woods – Proud of Pride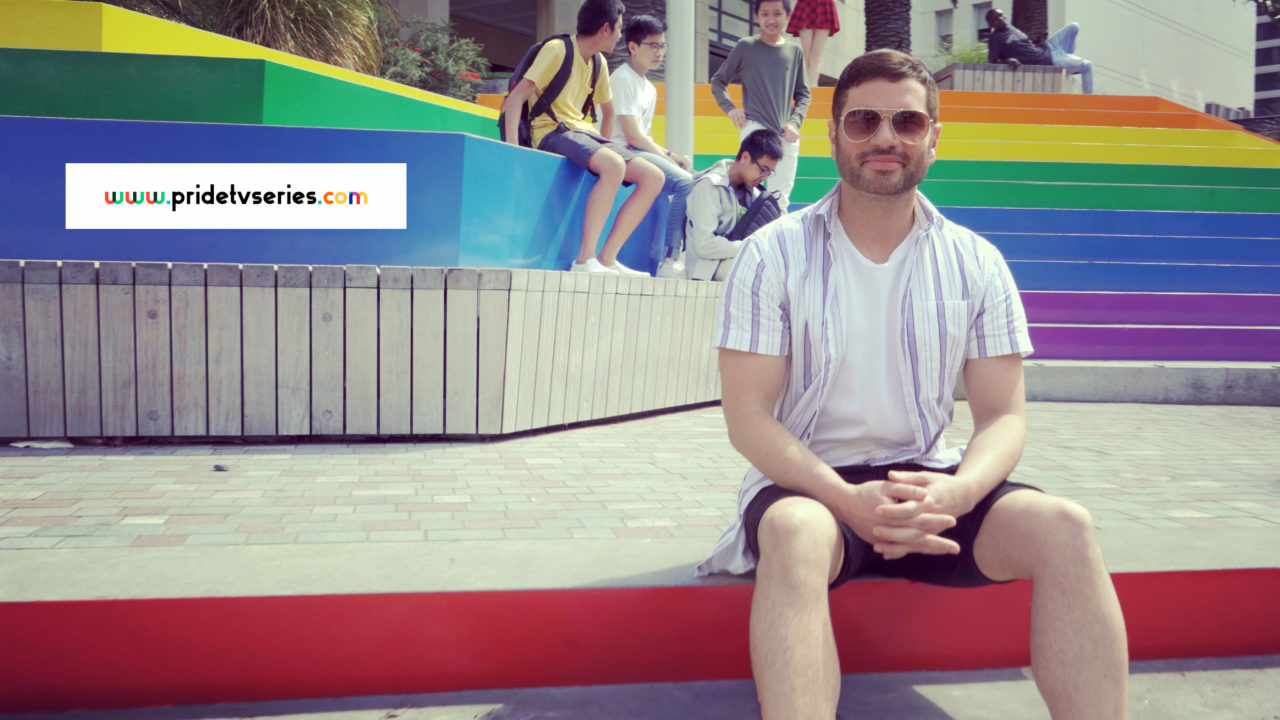 Auckland. Berlin. Calgary. Halifax. Hong Kong. Johannesburg. Manchester. Miami. New York. Palm Springs. Salt Lake City. San Francisco. These are just some of the urban environments featured in Mark Kenneth Woods' PRIDE, his LGBTQ+ series launching its second season on OutTV, and on-line at OutTVGo.com this June for the Virtual Pride Season. Co-directed with longtime collaborator and producer Michael Yerxa, this globe trotting series weaves personal present-day and historical stories told by gate-keepers, historians and archivists.
Initially inspired by the 50th anniversary of Stonewall, PRIDE continues to follow Woods and his crew as each encounter unveils emotionally individual stories, blending equally with the many layered histories of each of the locations they traveled to. "I think what really inspired me in making the first season was how you can pick almost any place and time and uncover queer history", explains Woods. "Of course you are going to find queer history in New York and San Francisco in the last 50 years, but it can also be found in ancient China, pre-colonial Calgary, or 19th century Utah. We are really drawn to lesser-known history, and in Season 2 we explore that further. We really want to help give voice to the lesser-known aspects of our community's past and present. That's how we end up in places like Johannesburg and Halifax in the same season."
In addition to the Stonewall celebratory event, the 50th anniversary of the (partial) decriminalization of homosexuality in Canada was coming up in 2019, which got Woods and his crew thinking about how little most of us know as queer people about our collective past. "I was certainly not taught about the Stonewall Riots or Everett George Klippert in school, and I realized that any limited knowledge I have about queer history came from either self-directed research or speaking with elders," explains Woods. "Our collective history has largely been ignored, demonized, censored or erased altogether, and it's not always easy to find, but it is everywhere. It also goes back far further than 50 years! I think there is so much power in knowing that 'we', or what we consider queer people today, were always there." Woods feels it is the perfect time to release a history series that fully celebrates LGBTQ2+ heroes of the past, and ties that past to our communities' issues today, so that we might all better understand each other.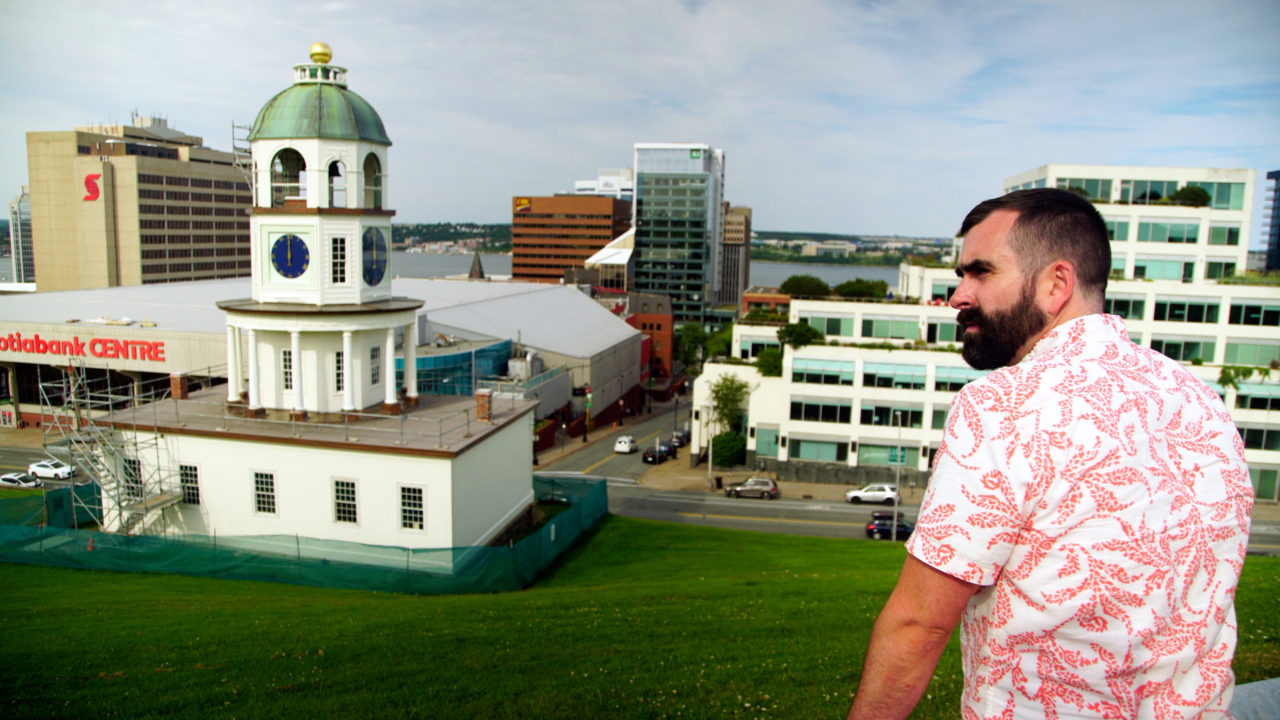 For over 20 years, Woods has also has had an illustrious career in front of the camera as a multi-character performer, writing and producing sketch comedies prior to documentaries and the PRIDE series taking center stage. Perhaps playing so many different characters has allowed him to tap into being a natural when it comes to meeting and interviewing such different types of real people. "Is 20 years of rejection illustrious or even a career?", he jokingly asks. "Seriously though, I've mostly been ignored by mainstream TV, film and arts so funding projects is always a challenge. Still, working with limited budgets has meant that I have had to wear many hats, and that is a blessing for a series like this. I can pick up a camera, get on a plane, shoot, edit and make an entire episode with a crew of 1, which is exactly what happened for the Hong Kong episode. Thankfully, I have Michael Yerxa and a few great crew members to rely on most of the time. But, I'm realizing with this project that the skills I've accumulated that enable me to do this, come from struggle and rejection. I think that experience has also fueled empathy which is hugely important when reaching out to and interviewing people for the show."
Geography, timing, the costs associated and more, all play into Woods and his crews' choices of destinations, but their main focus is to find interesting LGBTQ+ history. "I think there is a misconception that LGBTQ+ history is relatively new and only exists in New York or San Francisco", states Woods. He furthers, "it really is almost everywhere, so we want to look at that history on a global scale and throughout history. We also love finding such history in unexpected places, so we mix it up. We also like to focus on cities that might hold some form of alternative LGBTQ+ event beyond a traditional Pride, such as 'The Sparkle Weekend', the world's largest free-to-attend celebration of all-things-trans and gender non-binary, in Manchester, when we look towards the future."
Woods and crew don't always pick cities based on contacts, although they certainly have made many new friends along the way. "We tend to research some interesting history, reach out to potential interviewees via email, social media, etc., to gauge interest many months ahead and see where it takes us. It hasn't always lead to an episode, but we have a long list of potential destinations for future seasons." Some of the most interesting things Woods discovered through PRIDE are, that the story of the first night of rioting at Stonewall could be attributed to a lesbian of colour; that a king of England in the middle ages had several male lovers; that Mormons loved to watch a drag queen perform in the late 1800's; that the African continent was actually super queer before European colonization; and the list goes on.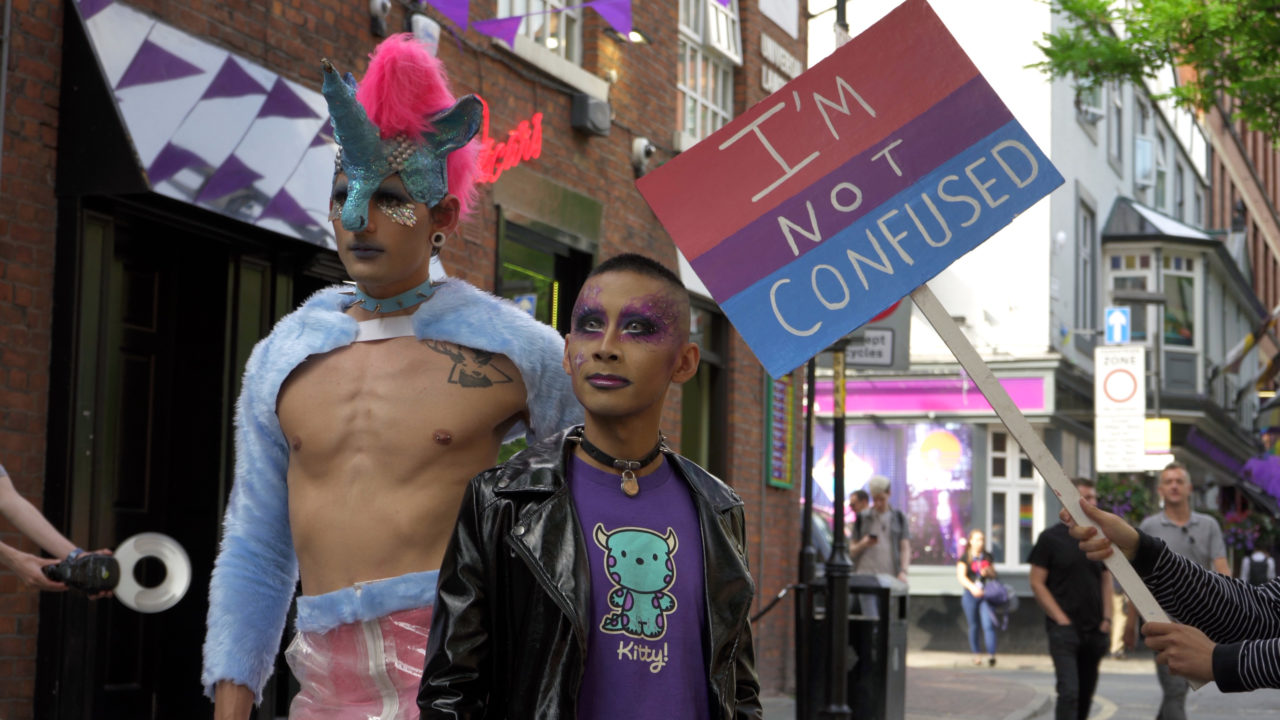 Although mostly autonomous by nature, as well as by necessity, when it comes to being available to leave at a moments notice and able to tackle all sides of production single handedly, for the majority of Woods' performative and documentary work have had the presence of two very steadfast friends and collaborators. Michael Venus, prior to his current role as Director of NVA, go back quite a bit further, where they mostly collaborated as either actors or directors on experimental shorts and comedy, including the world's first (and apparently cheapest) LGBTQ+ sketch series, "The House of Venus Show" (2015-2019), and 2 seasons of "The Face of Furry Creek" (2013-2014). Their creative partnership has blossomed into entertaining and educational documentaries consistently focusing the glamour light on shared histories and heroes of the past, as well as fascinating contemporary queer artists and influencers of the now. Through his collaborations with Michael Yerxa, an established producer and creator in his own right, the PRIDE series is a wonderful extension of their consistently prolific productivity. Yerxa and Woods also worked together on an OUTtv documentary about LGBTQ+ in Canadian Sports, called "Take Up The Torch" in 2014, before embarking on their 2016 multi-award winning feature documentary film "Two Soft Things, Two Hard Things", about pre-colonial Inuit sexuality and family structure. "They are both so different," Woods shares about working with the two Michaels. "Yet my experience working with both of them is quite similar. They have very different skill sets than I do so we compliment each other nicely in a collaboration. We have the same passions, but they will always look at things in a different way or with a different focus than I might have and the work is 100% better for it. Aside from work, I also just genuinely have fun with each of them and laugh…a lot."
And it shows. After decades of working so closely with a regular team has allowed Woods to grow as a performer, producer and documentary filmmaker, which is inspiring for younger audiences and queer artists who are just beginning. "I think the only advice I can offer is what I alluded to previously in my own experience, and that is: there will be failure. Probably lots of it, and that's not a bad thing. You'll get criticized, you'll get rejected, you'll self-criticize and have regrets. But, as the saying goes, you don't learn from your successes. There is definitely a lot of truth to that. It's not always easy, but look at every step back as an opportunity to grow personally and in your artistic practice. And be persistent! Go after what you want because nobody is going to hand it to you," he encourages.
Wise words, after the years and miles traveled pursuing his varied passions connecting with so many different human souls. Having worked in documentaries for years myself, there is definitely something to be proud of when sharing the final result of hours of research, interviews, uncovering historical facts, and discovering new information to audiences hungry for that kind of knowledge. Woods' own adventures making documentaries have taught him as much as sharing what he's learned with audiences along the way. "My doc work has taken me to so many places and I love experiencing stories that are so vastly different from my own," shares Woods, yet he can relate to each person he has talked to in this series. "The people I've met have collectively inspired me to find pride in our history, and to be more involved in our community's march forward. They've also inspired me to look beyond my own needs and to listen more, and I hope the viewers get that from the show. The series is really about finding pride, not in a specific event, but in our community's collective stories of struggle, resilience and joy."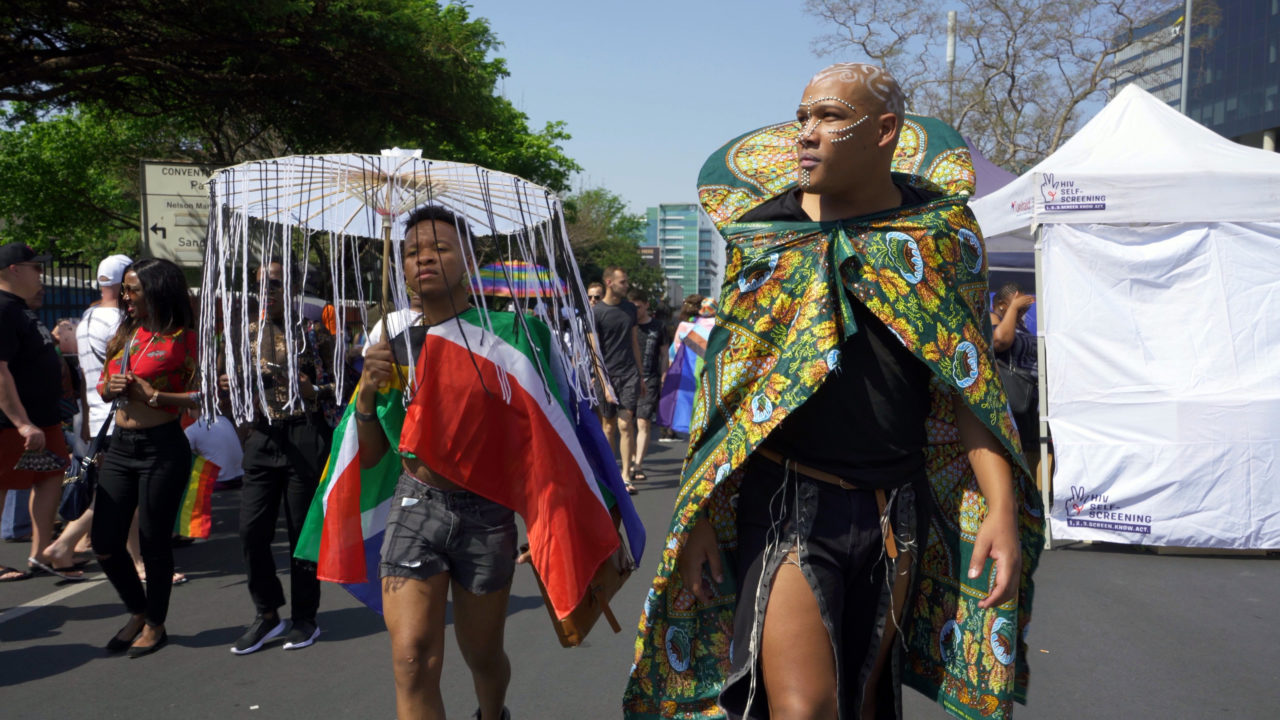 Pride – Season 2
OUTvGo.com and OUTtv channels on Amazon Prime and Apple TV: June 1 (all episodes)
OUTtv TV Broadcast: Thursday, June 4 at 8pm, with new episodes every Thursday at 8pm ET/PT