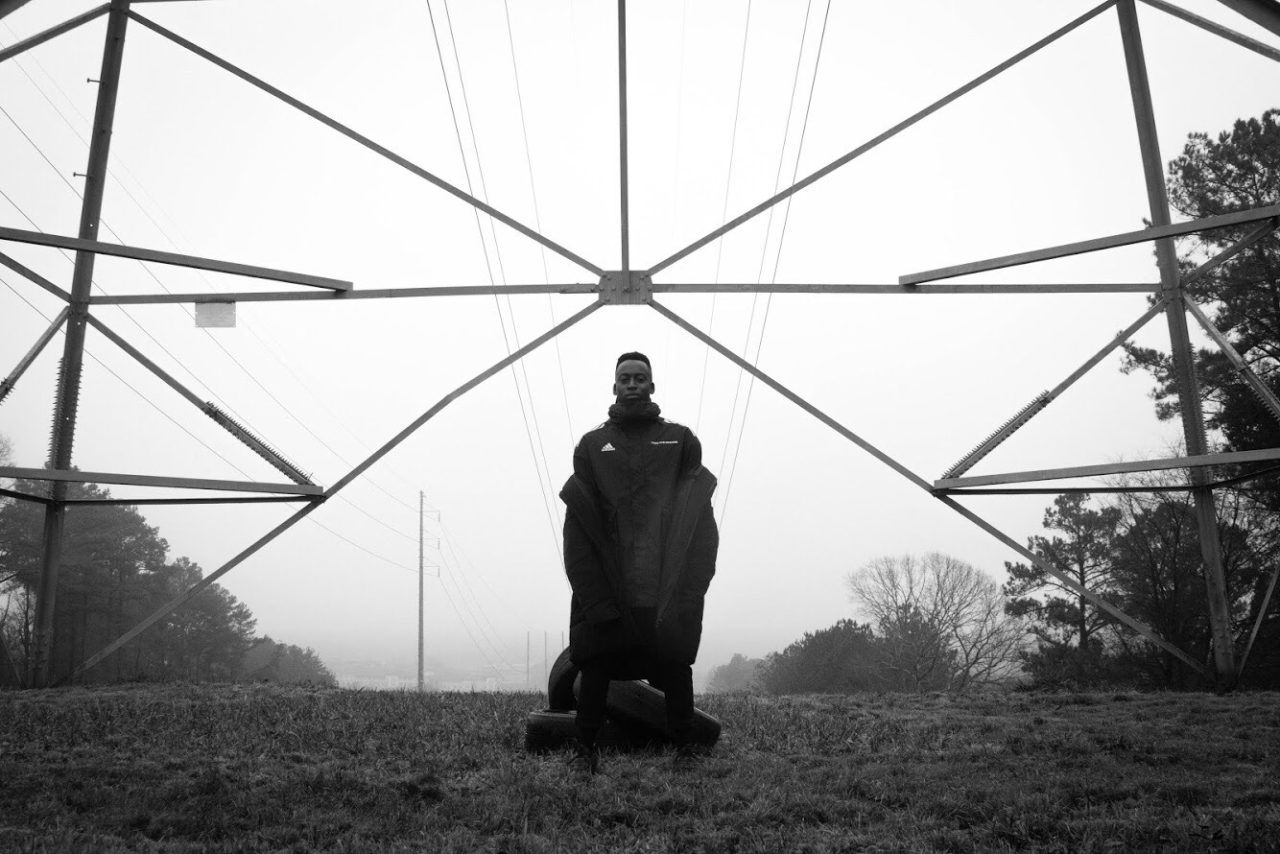 The Massimadi Festival once again graces the Never Apart environment with a series of culturally delicious exhibits and creative offerings. Tobi Aremu's film 'NEGOTIATION' is a perfect fit, screening in the Cinema Space opening during the 2019 winter season.
Sumptuously filmed in black and white, two virile male dancers sleekly mirror and mock one another's movements throughout this powerful six and a half minute piece. With simple spot-lighting and camera moves, the viewer is captivated and enthralled by the striking synergy articulated throughout Dionna Pridgeon's sinewy choreography. With the use of rhythmically repeated night-time jungle sounds of crickets, bugs, animals and breathing, Aremu conveys a dark and richly unspoken dialogue portrayed flawlessly by dancers Quenton Stuckey and Keith Alexander.
Designed to literally take the audience's breath away, the physical display of power dynamics illustrates deeply layered narratives of black masculinity, vulnerability and systemic power struggles within society. Audio passages echo eras of previous human right's movements, with words still most relevant today. Aremu's narrative depicts how modern this tale is, while also reminding of how far back these stories of struggle and resilience go.
As a filmmaker and video artist currently based out of Brooklyn, home for Aremu rests in many locals. "I was born in London but haven't been back since I was 3," he offers. "I was raised in Johns Creek which is a suburb of Atlanta, but I often told people that I'm actually from 'Atlanta', I guess to make myself seem cooler? I've lived in Brooklyn for almost 9 years, and have grown so much in that time period that it's hard for me to not consider it my home now. I guess for me home is whatever place, space, or time that I feel connected to."
This is Aremu's first time participating with the Massimadi Festival, admitting to initially discovering it online while researching for various places to showcase his work. "I honestly came across them through some open submissions, but once I took a deeper look into their festival and what they stand for, it felt like a perfect match", shares Aremu. This is also his first time premiering his work at Never Apart. "Same thing with Never Apart! My work is political and is created with the intention to further social change, which aligns seamlessly with Never Apart's mission."
From a very young age, Aremu has always been interested in filmmaking, though only recently has begun to explore the more specific medium of Video Art. "It's exciting to me because it opens up infinite ways to probe and excavate a chosen subject," he reveals. NEGOTIATION initially started as a concept, and, as he says, the visual identity quickly emerged from there. "I was able to collaborate with the incredibly talented choreographer Dionna Pridgeon, who helped to translate the themes and ideas surrounding the project into movement. My biggest inspirations for the film are Steve McQueen's art film 'Bear' and basically anything by Robert Mapplethorpe." Some of the other heroes and creative producers Aremu would like to collaborate in the future are Ava Duvernay, Shonda Rhimes, Roxane Gay, Ryan Coogler. "Honestly, there are so many creative people that I admire that it's impossible for me to list them all!"
Aremu's wonderful use of sound design is a distinct character in the film unto itself, and he knew going into production how integral an element it would be. "From the very beginning I knew sound was going to be critical within the piece. One of the initial hooks I had was that it was going to be a movement piece with no music, only the sounds of the performers breathing, moving through the space and interacting with each other which would be recorded at the shoot. When we came into the edit room my sound designer and co-editor, Lilleth Glimcher, helped bring it to another rich layer of sound design."

An additional essential element to the overall sound design is the layering of vocal references, which help to further Aremu's vision. "All of the archival audio used in the footage was sourced from various videos and found footage. The Tupac clip "we hungry we need some food" is from one of my favorite interviews with him from 1994. Throughout the whole interview he's dropping gems, but that particular sequence has stayed lodged in my mind for years. I think it is the combination of his wit and his melody singing the chant, as well as the impact of the actual message he's preaching, being so tired and fed up with the System that has oppressed black people since the dawn of our current civilization, that you just gotta bang down the doors, is fucking dope and justified. The song 'Mad', by Solange, also encapsulates that emotion for me. The Will Smith clip is from the infamous episode of Fresh Prince where his father comes back into his life only to disappear shortly after. There's something about the pain in his voice that stings and reverberates. The audio of Michael Richards screaming "he's a nigger" from a botched stand up set over a decade ago has also always stuck with me. It's as if the pleasant white mask gets ripped off and suddenly he's naked and bare with his hatred. It's been there the whole time and we know it…now it's just out in the open."
Cinematically, NEGOTIATION stands out due to Aremus's richly layered use of simple lighting and camera techniques, creating strikingly timeless black and white visuals. He shares how challenging it was blending choreography with the technical aspects of rehearsals and filming. "The combining of lighting and choreography was what gave me the most anxiety going into the shoot, because the simple fact is we didn't have the time or resources to rehearse both at the same time until the time of shooting. We filmed the full piece in one shot, which was insane of me, and a physical toll on our performers Keith and Quenton. That, coupled with the fact that the actual movement piece lasted 10 minutes, both Keith and Quenton could only run through the entirety of the piece about 4 or 5 times before they were exhausted. So, we truly only had a few chances to get it right, which luckily we did."
NEGOTIATION is a moving and provocative contemporary dance performance woven with elegant imagery bound to encourage discussions about its deeper themes and narratives. "I don't like to put any sort of expectations on people when they watch my work," admits Aremu. "The only thing I want them to experience is their own truth in the moment."
The Massimadi Festival is an afro LGBTQ+ Film and Art Festival, proud to celebrate its 11th edition, with a new event this year – a special MASSIMADI LIVE! at Never Apart, with an open mic and artistic performances from queer artists of color in Montreal, as well as a collaboration with Never Apart for the winter exhibition to present Montreal artist Kamissa Ma Koïta.
For more information on the Massimadi Festival go to:
https://www.facebook.com/massimadi
Photography by Jordan Bradley.