The Story Behind Collective Culture, a Platform Elevating BIPOC Voices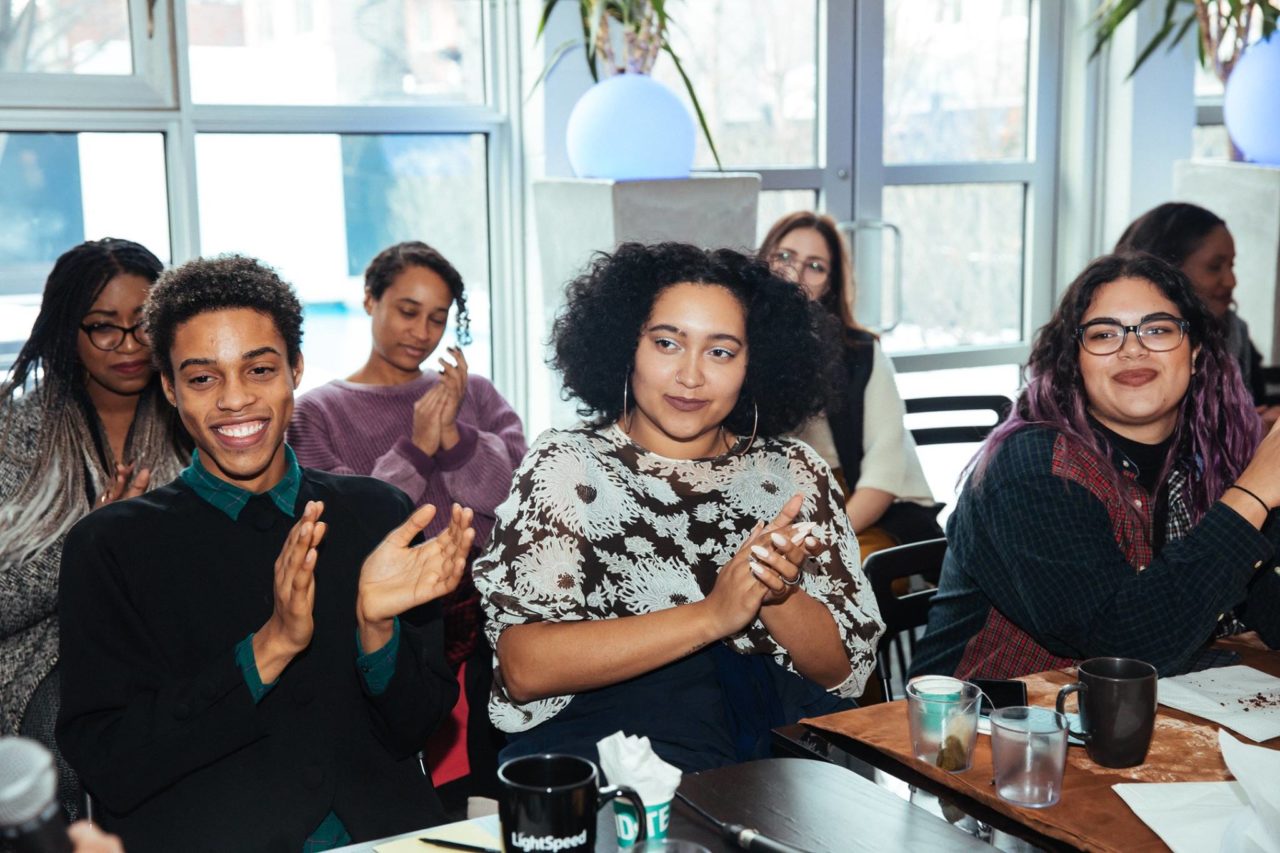 My name is Keesha Chung. I am a director, content creator, model, and the co-founder of Collective Culture. As of this month, Collective Culture will have a column in Never Apart's magazine titled CC: Column. Read below for more information about Collective Culture, our journey with Centre Never Apart, and what to expect from this new collaboration!
Collective Culture's Story:
Collective Culture is a platform that prioritizes the voices of BIPOC through content development and programming.
Collective Culture was founded in 2016 by myself and nènè myriam konaté. nènè and I met while majoring in Women's Studies at Concordia University. Our goal was to bring conversations in our classrooms (about feminism, race, the embodied experiences of racialized people) to more accessible spaces. Initially, we wanted to create one event: an open dialogue around the hypervisibility, and (in)visibility experienced by BIPOC living in Canada. But, the more we brainstormed, the more ideas we had for how this could take shape. Quickly one event snowballed into two, and then three, and eventually, a three-day festival titled CC: MTL was born.
Although we both had experience in event production, we had never done something on this scale. We knew it would require a strong team and group of collaborators to pull it off. We put together a list of venues, artists, and organizations to reach out to. And, although it was a long shot, Never Apart was at the top of our list. We created a proposal, set up a meeting, and pitched our idea to the Never Apart Team. And, to our surprise, they said yes!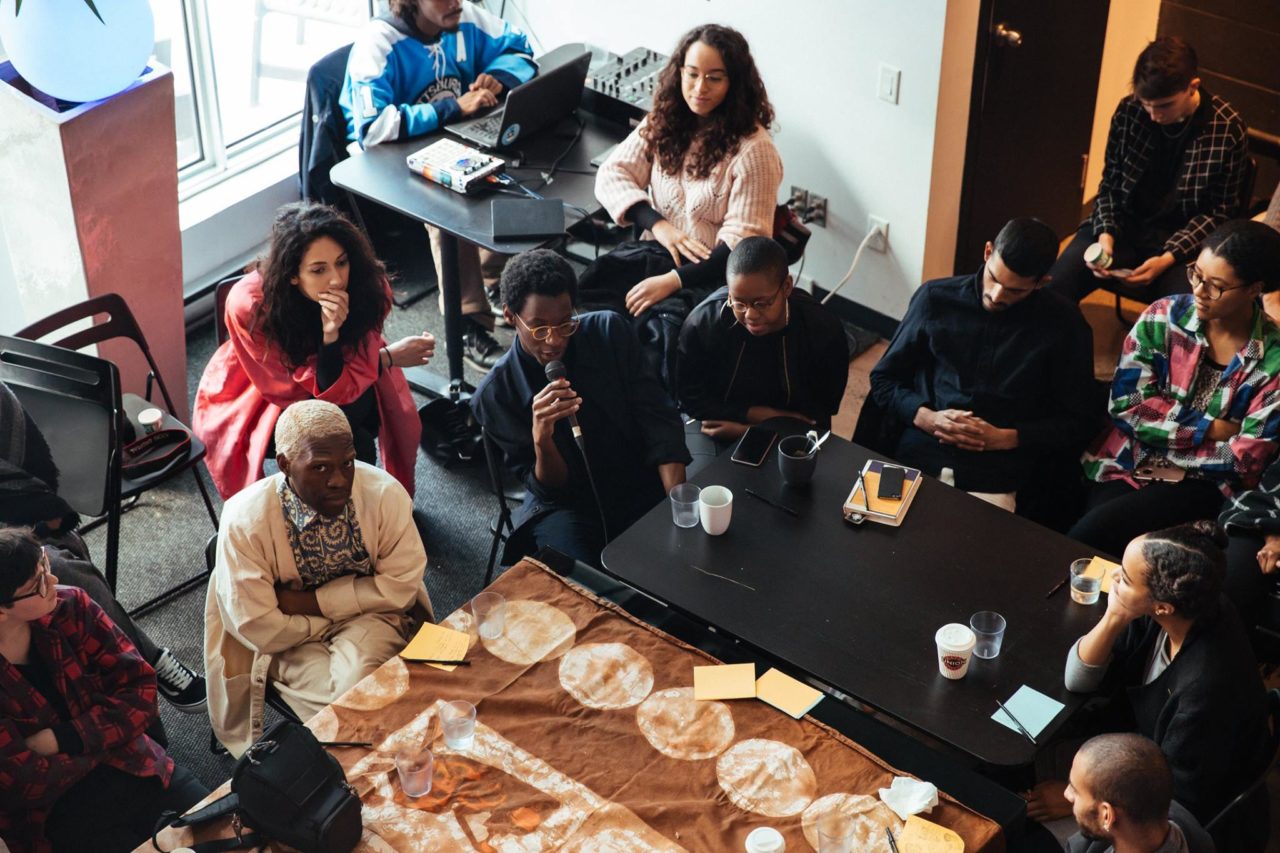 After many months of planning and hard work, CC: MTL happened from Friday, August 19th – Sunday, August 21st, 2016. The festival consisted of 9 events and included 28 creatives from Montreal and Toronto. CC: MTL was a testament to the power of community and collaboration. To date, it is one of Collective Culture's most significant accomplishments, and I am so honoured that Never Apart took a chance on us.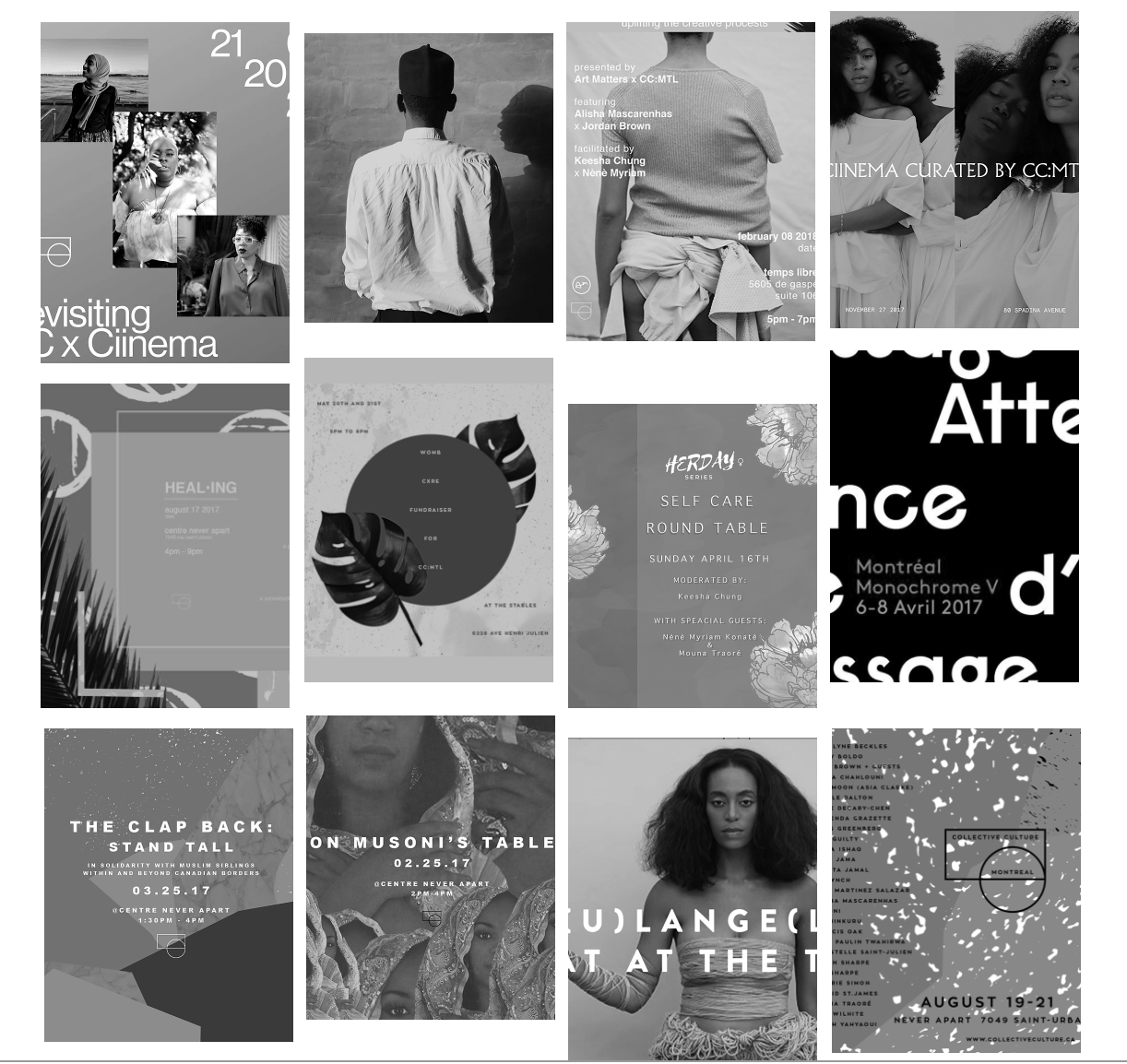 Since CC: MTL, we've done 11 events and projects – six of which were done in collaboration with Never Apart. Our projects and events have included workshops, art shows, panel conversations, open dialogue based events, and (as of this summer) online panel discussions. We've collaborated with artists based in Africa, the United States, Canada, and Europe. Needless to say, Collective Culture has come a long way since our 2016 festival.
In the spring of 2019, nènè and I decided to part ways, and Collective Culture officially became my platform. Although nènè is no longer a part of CC, we would not have grown with the same level of authenticity and vibrance if not for nènè, and I am forever grateful for what we built together.
During the summer of 2019, I decided to move away from events and focus on building Collective Culture's online platform. I started two interview series:  Creative Conversations and GET CULTURED!. These series highlight different BIPOC creatives whose work also amplifies other BIPOC voices and talent. The interviews have been a great way to expand our community and solidify the purpose of the platform. But, it was a lot of work for one person. I knew moving forward, I would need to bring others on board. 
CC awarded me the ability to create without bounds and connect with my community. I wanted to build a strong team, but more importantly, I wanted people who needed an opportunity to explore their creativity and evolve their craft. Fast forward to February 2020, where I brought together a team of three writers, two copy editors, and three social media members. This team has been a joy to work with, and in July 2020, we launched our first batch of content as a team.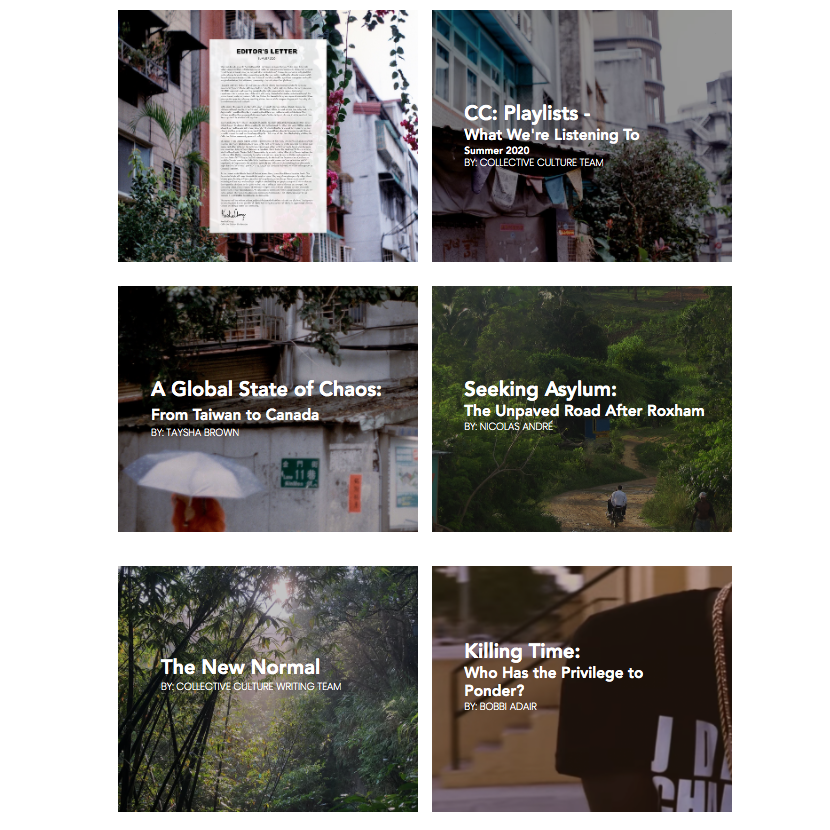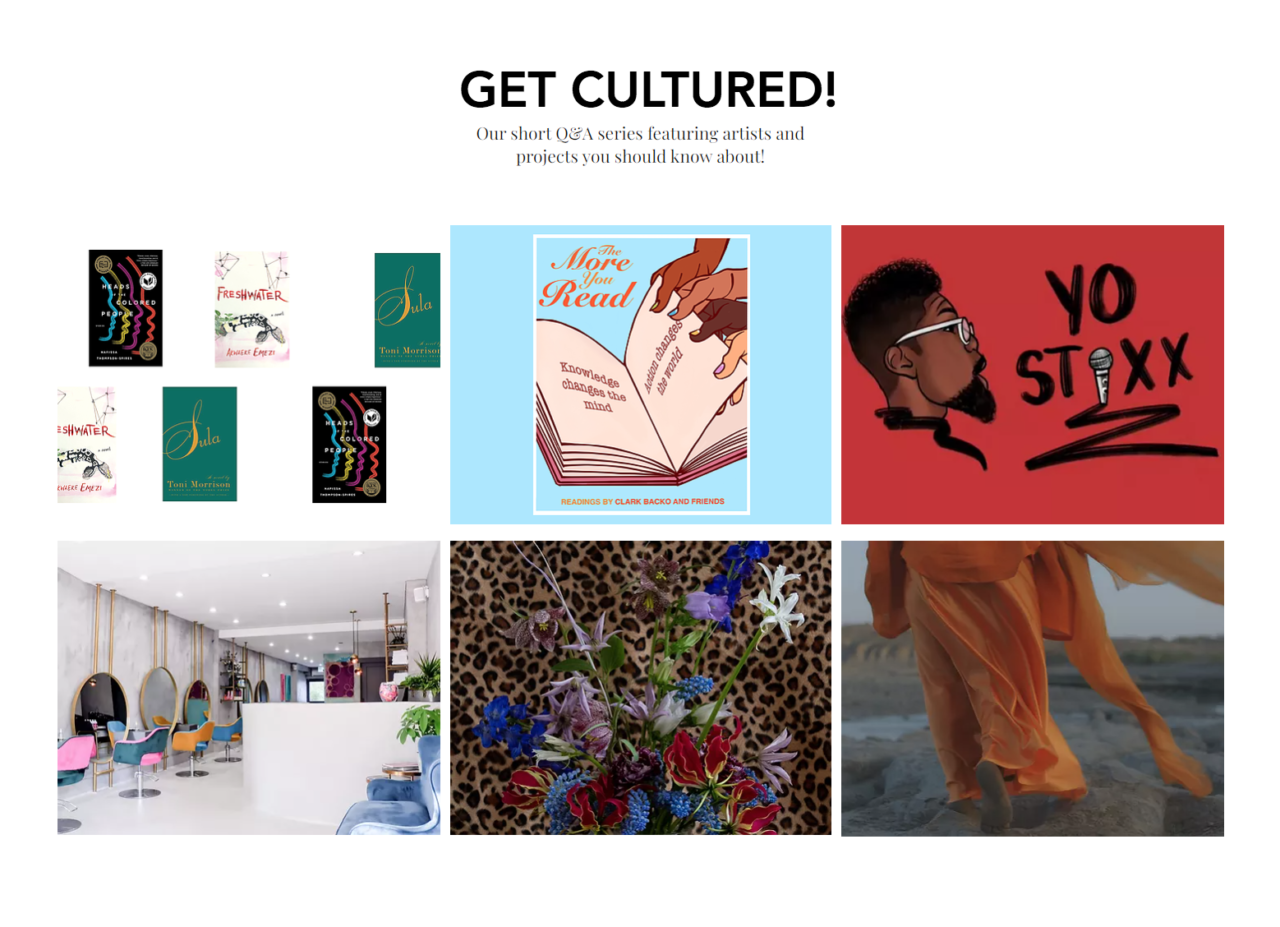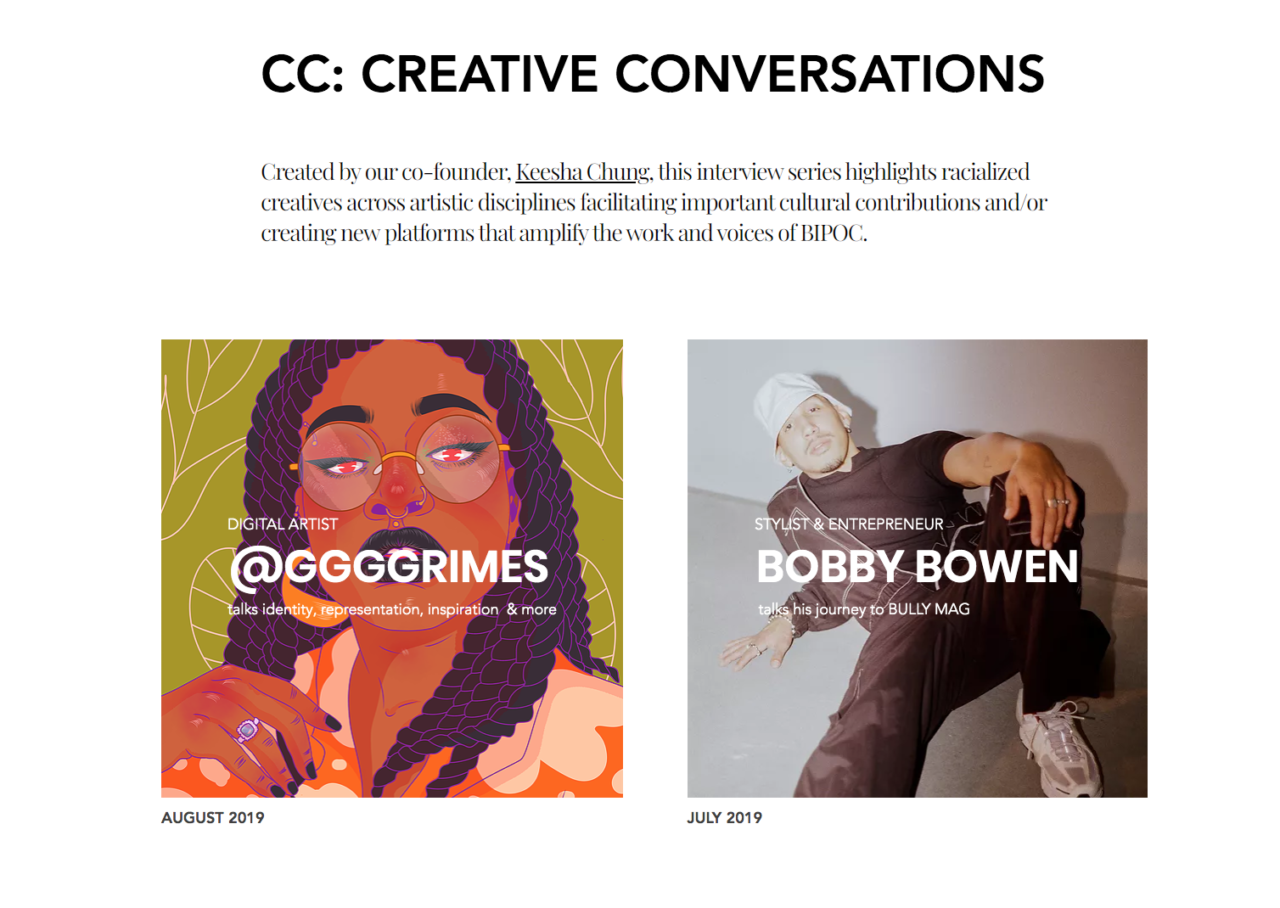 /
CC: Content Summer 2020 focused on COVID-19, community, and knowledge sharing. In total, we had: 
Collective Culture has grown in ways I could never have imagined. This platform's success and evolution would not have been possible without Never Apart taking a chance on us four years ago. Never Apart has been a consistent support system for us, and we are thrilled to be partnering with them for this monthly column.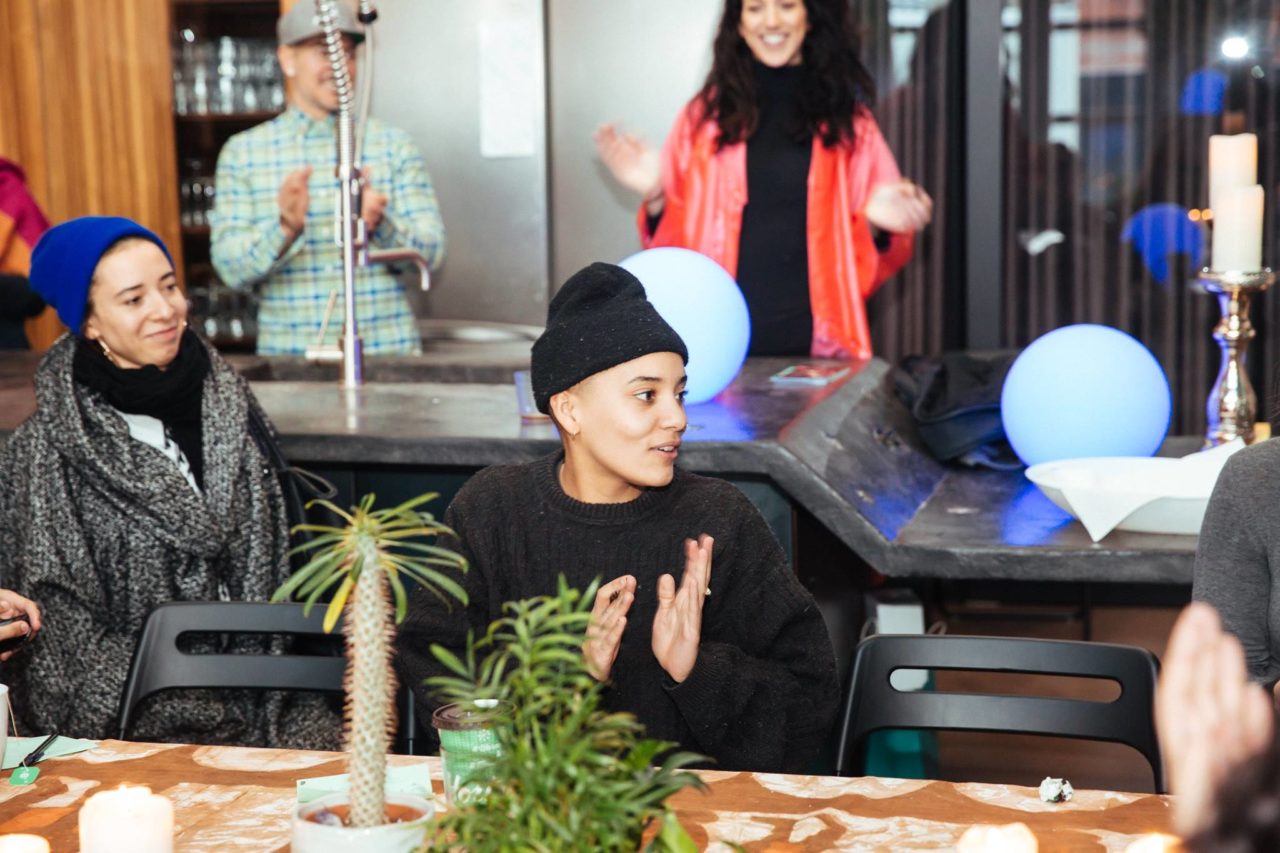 CC: COLUMN 
This column will allow the Never Apart audience to learn more about the Collective Culture community and the people who inspire us. There will be pieces by our writers, collaborators, and contributors. Although the themes will vary, they will all focus on BIPOC stories and experiences. 
My hope is that this column, along with the work by Never Apart, and Collective Culture can bring some light to the dark moments of uncertainty we've been experiencing. I'm reading a book by Charles Eisenstein called The More Beautiful World Our Hearts Know is Possible. Eisenstein believes that our personal choices contain transformative power. When we choose to practice the principle of interconnectedness, we become more effective agents of change.
Now more than ever, we have a collective responsibility to interrogate our behaviour. This includes understanding the way collective ideologies and beliefs have impregnated our perceptions of one another. The ways we have been taught to prioritize the individual over the collective. The ways we have been trained to fear difference rather than see the power it holds. We must unlearn the story of separation. In exchange, practice the principle of interconnectedness by honouring the truth that nothing exists in isolation. It is up to us to build communities that reflect our versions of connection and equity.
Collective Culture has been a blessing in my life, and I am overjoyed by this new opportunity. To learn more about Collective Culture and our team, visit our website, follow us on Instagram and Facebook, and stay tuned for what's to come.
Keesha Chung insta: @keeshachung
CC Insta: @collectiveculture__