Never Apart Debuts First-ever Artupfest Winner During Its Winter Exhibitions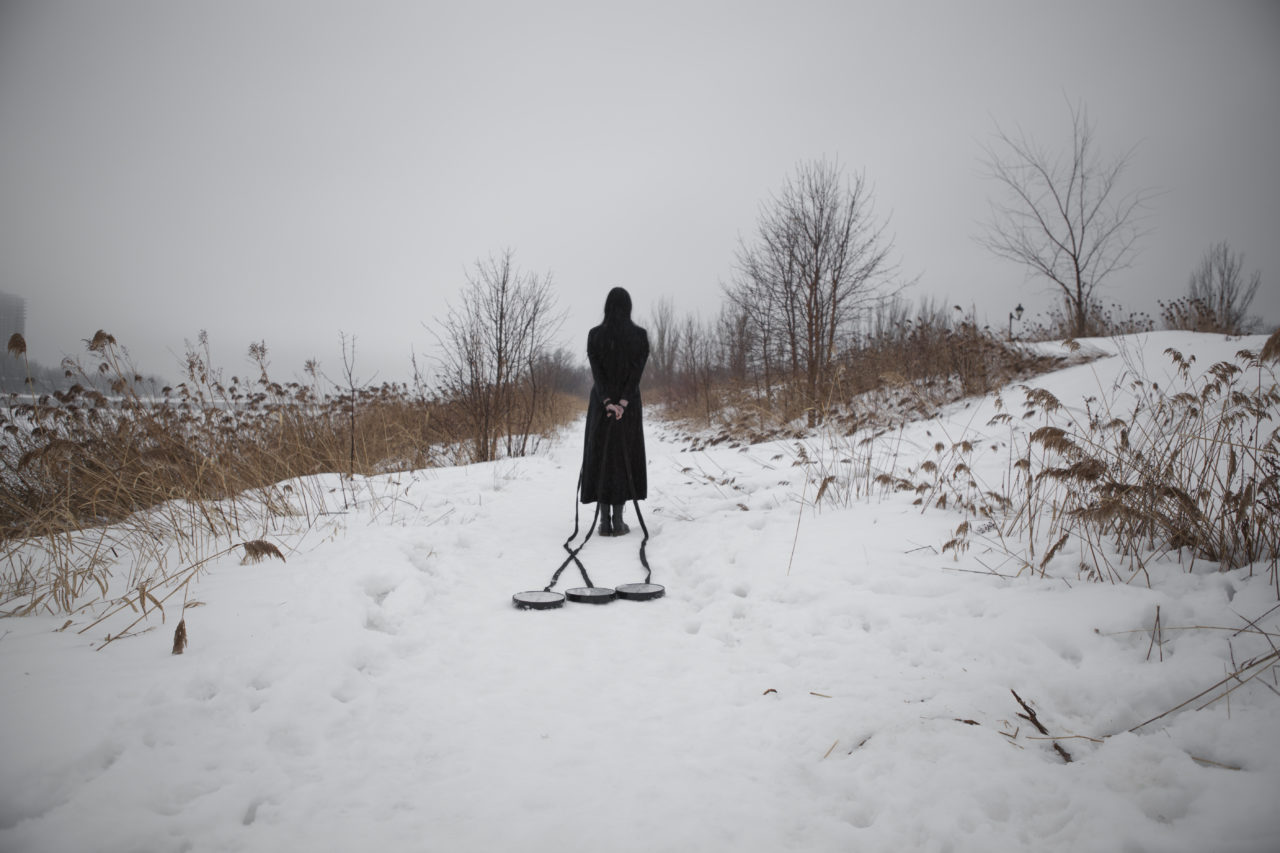 Rojin Shafiei's installation entitled "J'attends le temps" explores the notion of time resulting from her immigration to Canada
Montréal, Québec (Wednesday, December 5, 2018) – Never Apart is pleased to welcome the 2018 ArtupFest winner, Rojin Shafiei, during its 2019 Winter showcase. Debuting on January 17, 2019, Rojin's installation explores the idea of time by featuring three fixed clocks to three monitors. Participants are invited to grab the clocks, to witness the visuals and feel the sound through the vibrations.
"When I immigrated to Canada, I felt that the time had been stopped and it did not go forward. I did not feel the time during that time," says Rojin Shafiei. "Time, freezing and feeling the sound are the fundamentals of the installation. I create an environment where participants can interact with video, sound and vibration to experience time in a whole new way," she adds.
"It was a natural fit for us to be an important sponsor of Startupfest's inaugural ArtupFest pitch competition where ten talented artists presented," says Dax Dasilva, Never Apart's Founder. "Rojin's unique perspective combined with her artistic approach, enables us to collaborate on something special for Never Apart's visitors. Also being the CEO of a technology company, I am always very interested in how artists use technology to express themselves."
"Artists and technology startups live very similar realities," says Nathalie Hazan, Artistic Director of Startupfest and Producer of ArtupFest. "Like startup entrepreneurs, artists are often seeking new ideas, funding and visibility. Dax's dedication and financial contribution to the initiative proved invaluable, not to mention the winner having the chance to premiere their work at Never Apart. The new generation of artists definitely appreciated this new addition to ArtupFest."
ABOUT ROJIN SHAFIEI
Rojin Shafiei is an Iranian artist living and working in Montreal. For her, art is a vehicle for the translation of cultural messages and is used to present diverse feminine subjectivities. She presents these themes both through a literal documentary style and as symbols. She is mainly inspired by the observation of routines, on both individual and cities. Rojin received her BFA in Intermedia from Concordia University in 2017 and has screened her work at les Rendez-Vous du Cinéma Québécois (Montreal), Mzansi Women's Film Festival (Johannesburg), Limited Access Video Festival (Tehran) and Josiah Media Festival (San Antonio). She won the grand prize of Startupfest, Artup section in July 2018.
ABOUT NEVER APART
Established in 2015, Never Apart is a non-profit organization in Montreal, Canada, determined to bring about social change and spiritual awareness through cultural programming with global reach and impact. Founded by tech CEO, Dax Dasilva, the Centre features 12,000 square feet of creative space with seasonal art exhibitions, two permanent installations (the Sun Room and the Moon Room), live music events, artist talks, and film screenings. Most recently, it premiered a TV series that can be seen worldwide on OUTtv and OUTtv Go. Never Apart has welcomed thousands of visitors and has collaborated with over 300 artists. Follow Never Apart's latest developments and read the monthly online magazine by visiting neverapart.com. Also, tune in on Facebook, Instagram and Twitter: @neverapartmtl
ABOUT ARTUPFEST
ArtupFest is a premium event that takes place at the annual Startupfest event in Montreal's old port. For its first edition, ArtupFest supported over 100 artists in exploring the infinite possibilities of what can positively change our world – in a way that no one else dares to imagine. ArtupFest is a gathering for artists, designers, creative innovators, technologists, and the curious on-lookers that bridges the worlds of startups and artists in order to contribute to a better future. Artists learn to pitch, exhibit their work, meet like-minded visionaries, join a hackathon and some are eligible to win a $10,000 cash prize and the opportunity to exhibit at Never Apart.
INFO FOR CALENDAR EDITORS
WHEN: January 17, 2019 to April 6, 2019
WHERE: Centre Never Apart, 7049 St Urbain St, Montreal, QC H2S 3H4
ADDITIONAL ARTISTS: As with each new season, Never Apart collaborates with a variety of artists that are showcased within its seven spaces at the Centre. Additional artists and expositions will be announced in the coming weeks.
Finally, We would like to acknowledge that the land on which we gather for this event is located on unceded Indigenous lands. The Kanien'kehá:ka Nation is recognized as the custodians of the lands and waters on which we gather today. Tiohtiá:ke/Montreal is historically known as a gathering place for many First Nations. Today, it is home to a diverse population of Indigenous and other peoples. We respect the continued connections with the past, present and future in our ongoing relationships with Indigenous and other peoples within the Montreal community.
For interviews, high resolution photos and RSVP:
Bradley Grill
[email protected]
514 616 2000