JAY'DORE: At Home In House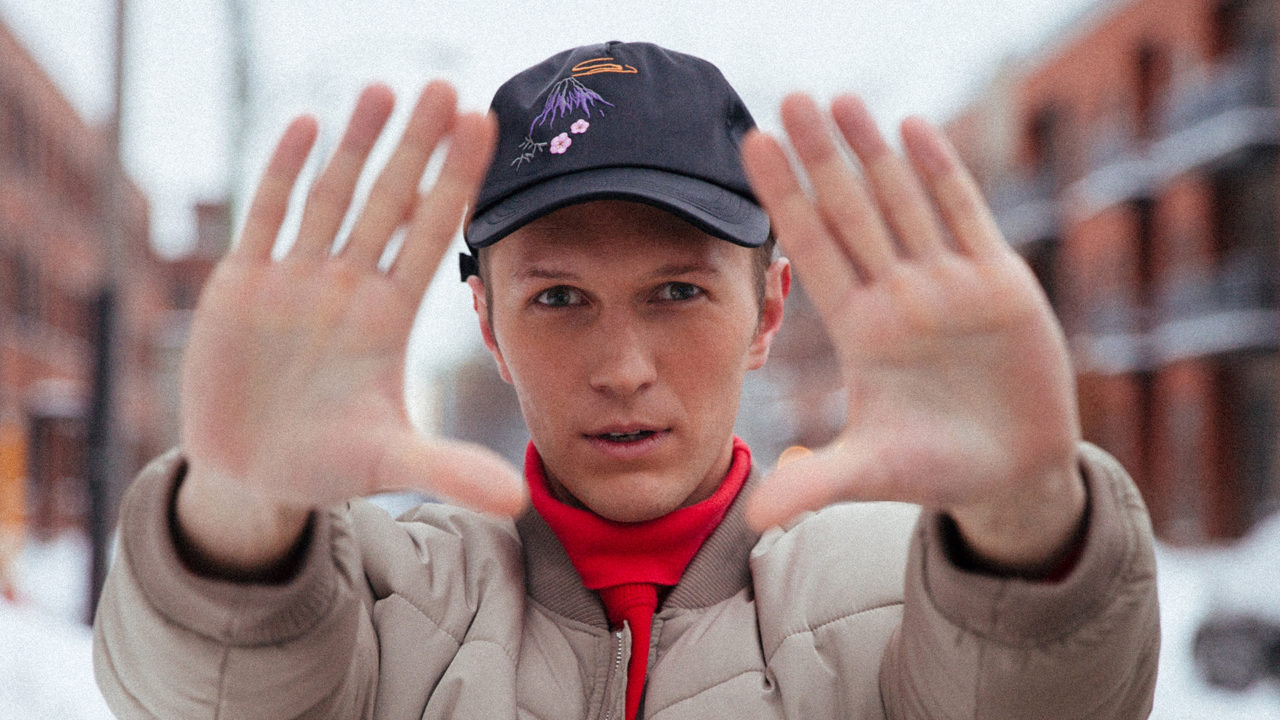 "My debut EP 'Carrie Bradshaw' is available now on iTunes, Apple Music and Spotify – I'm so excited! It's house-pop-electronic. My vocal is rap, song and monologue. 'Carrie Bradshaw' is definitely a party EP. Sassy, confident, and feeling flawless."
This past summer's knockout fashion and art-stravaganza WIGGLE at Never Apart brought together a supercharged community of audience and performers, at times challenging to know which was which. JAY'DORE was one such creative soul I recall as he and his bevy of incredible back-up dancers transformed themselves through the magic of hair, makeup and costume into superhuman superstars. Before it was my turn to go on, I snuck a peak as the crowd jumped to their feet when JAY'DORE and his crew took to the stage. That is how to work a room. And that is a tough act to follow!
Flash forward and JAY'DORE presents the release of his brand new debut 5-track EP 'Carrie Bradshaw', the title track a nod to the smartly stylish lead character from Sex And The City. "It's house music," says JAY'DORE. "Poppy, tough, gay, and I'm really proud of it". His use of layered and rhythmically harmonic vocals and minimal beats creates an infectious combination. As vocalist, MC, performer, recording artist, rapper and songwriter, JAY'DORE often films and edits his own visuals as well. Starting off making songs more in the hip-hop/pop genres, JAY'DORE was inspired by the club scene and has transformed his sound into grooving dance music with up-tempo beats, in addition to super catchy vocal lines. "I find listeners are usually most responsive to the flow and tone of the vocal as compared to the lyrical content. I'll be singing at a venue of mostly straight guys and girls, about a boy or gay relationship, and I don't think the audience always realizes what I'm singing about, or they just like the sound. That's cool. Or maybe they like the sound and understand the story and love it. That's the goal. If you like my song but then catch the content and suddenly don't, then I don't want your ears anyway." JAY'DORE also enjoys MC-ing beside the DJ, like at a recent afterhours event where he was reclining on a couch behind the booth reciting a monologue about high-culture. "People thought it was the record, and couldn't tell the vocals were live. I love that. Wouldn't that be the dream, 'The Couch Tour'!"
JAY'DORE regularly collaborates with his best friend Leah McFly on videos, performances, clubbing, and often go on vacations together. "Every week we talk about our projects, what's going wrong, what's working, what we can do better. She's a one of a kind dancer and her fashion is the best in Montreal. Leah is featured on the EP on 'Bwoya', a dark house track with a one-word sample from a Pusha T intro. We shot some footage this summer when we were in Barbados and will be releasing a clip very shortly. My boyfriend and Leah have family there. It's probably my favourite place to visit. Being able to work with my best friend professionally has always been positive, and she really challenges me."
It's obvious the amount of thought and vision that goes into JAY'DORE's performance, which was on vivid technicolour display at WIGGLE. "Yes, that show was everything. WIGGLE was dope. So much fashion, so many headpieces, so much confidence. I met so many different artists and kinds of performers. I can't wait for next year, who'll be booked for musical guests, and especially the designers. Visually we were so edible weren't we? Rainbow road show! My dancers were the girls from IHOW (Imperial House of Waacking). I've worked with all those girls before on different projects but never all at once. It was such a treat to add a dancing element to my show and will do so whenever possible. All of our outfits, choreography and hair were created and produced by Leah. It's a show, so give them something…splash them with the rainbow! I really feel like a pop star in performances like that." It wasn't JAY'DORE's first time at Never Apart, having visited prior for exhibits and events. "The whole mission is working, isn't it? The space, the articles, the events. Such great content in the online mag too. My boyfriend knows the work of Dr. Jane Goodall, so that was fun for him to read in October's issue."  
The release party for 'Carrie Bradshaw' is planned for early in 2017, with JAY'DORE's new live set featuring all the tracks from the EP, dancers, visuals, as well as new music he's currently completing. "You can expect to hear Ponsolo spin, who produced the majority of the EP, as well as a special guest DJ who I will wait to reveal." Immersed in the Montreal gay, dance and art scenes, JAY'DORE's musical tastes have landed him right at home in house, deep house, and tech house. "I love to write raps and sing over fast beats. Over all kinds of music, but I think I have found my sound best in house. I got my start from being really social. It's not forced, though I have always been gregarious. I've rapped and sang for producers in bathrooms in order to get a collaboration, but I'm always polite. Anyone I ever wanted to work with or show I wanted to play, if I wasn't offered, I made it happen. If you're confident in your product, push it. Make it happen, honey."
Coming up next for JAY'DORE, is the latest music video he recently completed for the track 'Papi', off of the EP. "It's a Dexter's Laboratory/Outerspace themed love story. My first green screen video! Definitely the funnest thing visually I've done so far, and can't wait to share it!"
JAY'DORE's debut 5-track EP 'Carrie Bradshaw', with tracks produced by Ponsolo, Adrien Mitchel, and Dris Scali. 
Tracklist:
1. Papi
2. Carrie Bradshaw
3. Westmount Wife
3. Bwoya
5. Step Lightly
You can catch a first look of JAY'DORE and 'Carrie Bradshaw' at the Belmont for their monthly Mec Plus Ultra, 12:30am Saturday, December 17th, 2016.
«Carrie Bradshaw, mon premier enregistrement EP, est maintenant disponible sur iTunes, Apple Music et Spotify – Je suis très excité! C'est du house-pop-électro. Mes vocals sont du rap, du chant et du monologue. Carrie Bradshaw est définitivement un EP de party. Insolent, assuré et se sentant tout à fait au point. »
WIGGLE, l'incroyable événement de mode et d'art qui a eu lieu l'été dernier à Never Apart, a réuni une communauté suralimentée d'interprètes et de fans, parfois difficiles à différencier entre eux. Parmi ses âmes créatives se trouvaient JAY'DORE et sa troupe de danseurs, qui se sont transformés superstars super humaines grâce à la magie de la coiffure, du maquillage et des costumes. Avant que n'arrive mon tour, j'ai jeté un oeil à la foule en délire quand JAY'DORE et sa troupe ont pris la scène d'assaut. Pas facile de suivre une prestation pareille!
Nous nous retrouvons maintenant quelques mois plus tard et JAY'DORE présente le lancement de son tout nouveau EP Carrie Bradshaw, qui compte 5 pistes. La chanson-titre fait bien sûr allusion au personnage principal bien fringué de Sexe à New York. « C'est de la musique house, » explique JAY'DORE. « Pop, dure et gaie et j'en suis très fier. » Son usage de voix harmonieuses superposées et de rythmes minimalistes crée une combinaison accrocheuse. En tant que chanteur, MC, interprète, rapper et auteur-compositeur, il arrive fréquemment à JAY'DORE de créer ses propres effets visuels. Ayant fait ses débuts dans les styles pop et hip-hop, JAY'DORE a été inspiré par le milieu des clubs et a transformé son son en une musique dance aux rythmes enlevés et aux paroles très accrocheuses. « Je remarque que les auditeurs sont habituellement plus sensibles au ton et au débit des vocalises plutôt qu'aux paroles. Je peux être devant un auditoire constitué majoritairement d'hommes hétéros et de filles et chanter à propos d'un garçon ou d'une relation homosexuelle et je ne pense pas que l'auditoire se rende compte toujours de ce que je chante. Ou bien ils aiment simplement la musique; c'est cool. Ou ils aiment la musique, comprennent l'histoire et l'adorent. C'est le but au fond. Si vous aimiez ma chanson, mais ne l'aimez plus après en avoir saisi le sens et bien je ne veux pas de vos oreilles de toute façon. » JAY'DORE aime aussi faire de l'animation aux côtés de DJs, comme lors d'un récent événement afterhours où il était allongé sur un canapé situé derrière la cabine du DJ et récitait un monologue au sujet de la haute culture. « Les gens ont cru qu'il s'agissait d'un enregistrement, ils n'arrivaient pas à déterminer si ma voix était en direct. J'adore ça. Quel rêve, la tournée Canapé! »
JAY'DORE collabore fréquemment avec sa meilleure amie Leah McFly sur des vidéos, des prestations et des apparitions en boîte et vont souvent en vacances ensemble. « Chaque semaine, nous discutons de nos projets, de ce qui ne va pas, de ce qui fonctionne, de ce qu'on peut améliorer. Il n'y a aucune autre danseuse comme elle et elle a le meilleur style à Montréal. Leah est présente sur Bwoya, une chanson house sombre qui échantillonne un mot d'une introduction de Pusha T. Nous avons tourné quelques scènes lorsque nous étions à la Barbade cet été; nous lancerons une vidéo sous peu. Mon petit ami et Leah ont de la famille là-bas. C'est sans doute un de mes endroits préférés à visiter. Pouvoir travailler avec ma meilleure amie a toujours été une expérience positive; elle me pousse à aller plus loin. »
On ne doute pas de l'ampleur de vision et de réflexion que nécessite une prestation de JAY'DORE, comme celle en technicolor présentée à WIGGLE. « Oui, WIGGLE était incroyable. Tant de costumes, de coiffes, de confiance en soi. J'ai rencontré une si grande variété d'artistes de toutes sortes. J'ai du mal à attendre l'an prochain, pour savoir qui seront les invités musicaux, quels designers seront présents. On étaient tous croquants, non? Un véritable spectacle haut en couleur! Mes danseurs étaient les filles de IHOW (Imperial House of Waacking). J'avais déjà travaillé avec chacune de ces filles sur différents projets, mais jamais toutes en même temps. Quel plaisir d'ajouter un élément de danse à mon spectacle – je compte le refaire. Tous nos costumes, nos chorégraphies et nos coiffures ont été créés et produits par Leah. C'est un spectacle, il faut leur faire voir l'arc-en-ciel eu grand complet! Je me sens vraiment comme une vedette de la pop lors de prestations comme cell-là. » JAY'DORE avait déjà mis les pieds à Never Apart par le passé, afin d'assister à des événements et des expositions. « La mission fonctionne à fond, non? L'espace, les articles, les événements. Et le contenu web qui est vraiment super. Mon petit ami est familier avec le travail de Dr Jane Goodall, alors il a aimé lire le numéro d'octobre. »
Le lancement de Carrie Bradshaw est prévu pour le début 2017, avec la nouvelle prestation en direct de JAY'DORE qui inclut les 5 pistes du EP, des danseurs, des visuels et des nouvelles chansons sur lesquelles il travaillent présentement. cers, visuals, as well as new music he's currently completing. « Ponsolo, qui a produit la majorité du EP, se produira, de même qu'un DJ-invité spécial dont je ne révèlerai pas le nom tout de suite. » Immergé dans les milieux gais, de danse et d'art montréalais, les goûts musicaux de JAY'DORE l'ont fait sentir chez lui dans le house, le deep house, et le tech house. « J'adore écrire des raps et chanter sur des rythmes rapides, sur toutes sortes de musique, mais je pense que le house me va le mieux. J'ai eu ma chance parce que je suis vraiment social. Ce n'est pas forcé, même si j'ai toujours été grégaire. J'ai rappé et chanté dans des salles de bain pour des producteurs, de manière à obtenir des collaborations, mais je reste toujours poli. Toutes les personnes avec qui je souhaitais travailler ou les spectacles auxquels je voulais participer, et bien si on ne me les a pas offert, c'est grâce à moi que ça s'est concrétisé. Si vous croyez en votre produit, faites-en la promotion. À vous de déclencher les choses, mes chéris. »
À suivre pour JAY'DORE est le vidéoclip qu'il a récemment complété pour la chanson Papi, provenant du EP. « C'est une histoire d'amour façon Dexter's Laboratory/Outerspace. Ma première vidéo faite devant écran vert! C'est définitivement la chose la plus amusante que j'ai faite visuellement et j'ai très hâte de la partager avec le public! ».
Carrie Bradshaw', le premier EP à 5 pistes de JAY'DORE, avec des pistes produites par Ponsolo, Adrien Mitchel et Dris Scali.
Liste des pistesTracklist:
1. Papi
2. Carrie Bradshaw
3. Westmount Wife
3. Bwoya
5. Step Lightly
Voyez JAY'DORE et 'Carrie Bradshaw' en primeur au Belmont pour leur soirée mensuelle Mec Plus Ultra, samedi le 17 décembre 2016 à minuit et demi!