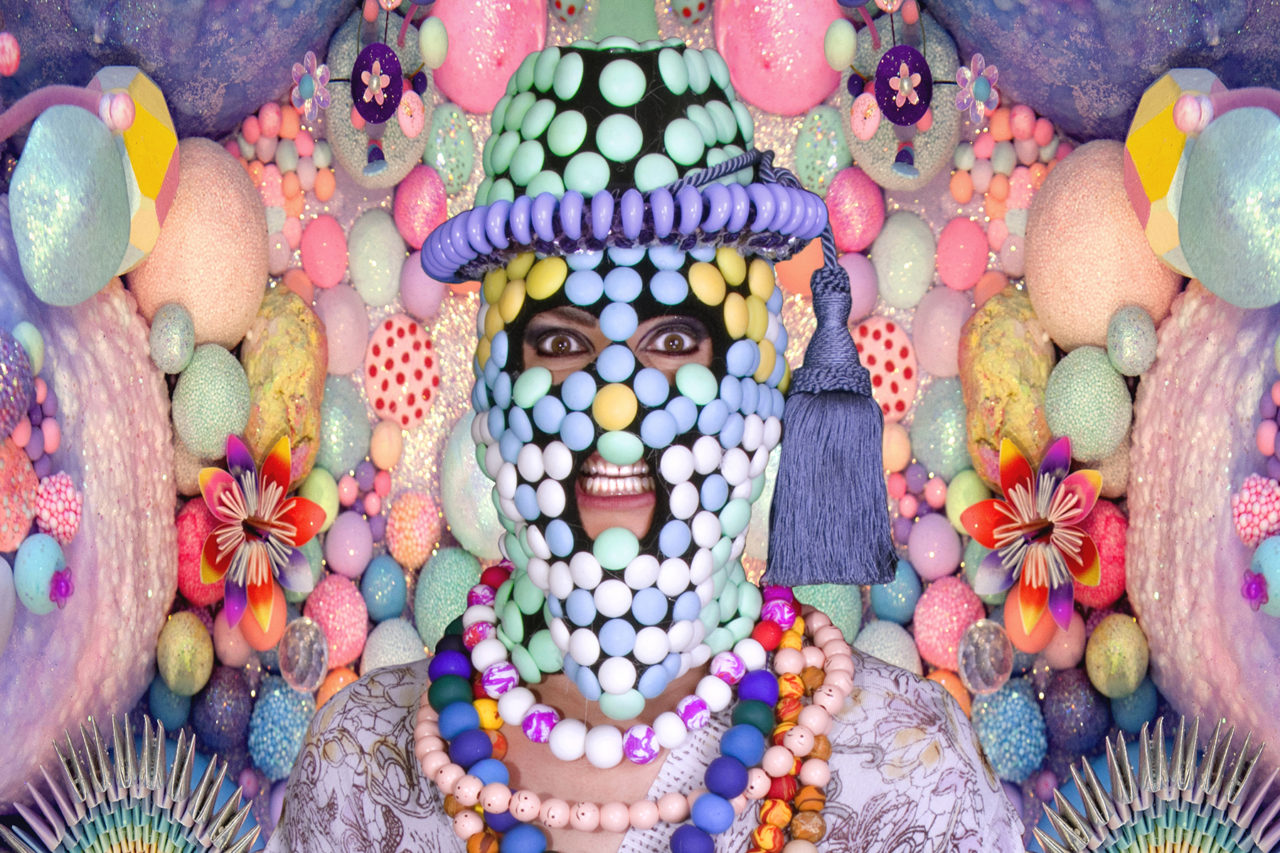 Wiggle is a wearable art and performance extravaganza celebrating all forms of expression and creativity, and two decades later it remains a vital platform for new and emerging as well as established artists, stylists, designers and performers, all woven into one otherworldly annual event. With Never Apart's executive-director Michael Venus at the helm, House Of Venus celebrates Wiggle's 21st anniversary on May 21st, for the very first time in Montreal.
Beginning in the early 90's as a fundraiser in Windsor, Ontario, the House Of Venus crew eventually relocated to Vancouver in 1996, creating glamorous chaos every year uniting many of the cities' brightest creative lights together in the spirit of imagination and the form of a wig! Making something magnificent from recycled objects or earth bound things not normally incorporated into headgear, fabulously made and created out of seemingly nothing, equals the glam-alchemy of Wiggle. Rapturous audiences who turn out every year are often walking pieces of art themselves, giving everyone a chance to feel part of the show. Artists, designers and stylists are encouraged to contribute creations in the fashion element by submitting cutting-edge wig and ensemble pieces.
Originally manifested out of a need for a forum where young people with non-conventional creative ideas could be showcased, over the event's long lifespan it routinely attracts diverse crowds including rock stars Michael Stipe of R.E.M., Alanis Morrisette, writer/artist Douglas Coupland, and Blondie's very own Debbie Harry. Wiggle has also boasted some of the world's leading stars of drag royalty to grace its stage, like Lady Bunny of Wigstock fame, Miss Guy (The Toilet Boys), Perfidia (Patricia Fields), and television superstar Candis Cayne (Dirty Sexy Money/I Am Cait).
With a desire to create change, Wiggle and The House of Venus have been pushed and nurtured by Michael Venus, who from the beginning envisioned making it to year 20, and beyond. The goal has always been to take viewers away from the mundane lives of everyday and give them a chance to be inspired by a place without limits based on fashion, art and fantasy, where gender is fluid and performances are purely innovative. Once the Wiggle spark was lit, it magically blossomed beyond expectation and is always the hottest ticket in town. Through the constant support of the many talents and fans of the show, Wiggle continues to evolve and flourish.
Having modeled and performed several times myself on Wiggle's stages over the years, I can attest that backstage is just as much a performance as the main stage. An army of make-up artists, hairstylists, dressers, performers, wigs and costume designers, sound and tech crews, all on the same mission to share and support one another's talents. The endless hours of dedication, creative excellence and a love of glama-drama has elevated the House Of Venus' initial vision to a galactic level of progressive and inclusive community building.
To learn more and watch past shows visit:
http://www.vimeo.com/wigglefestival
http://www.facebook.com/groups/wigglefestival
To submit a creation, get involved, or for press information contact:  [email protected]
Photos by Robert-John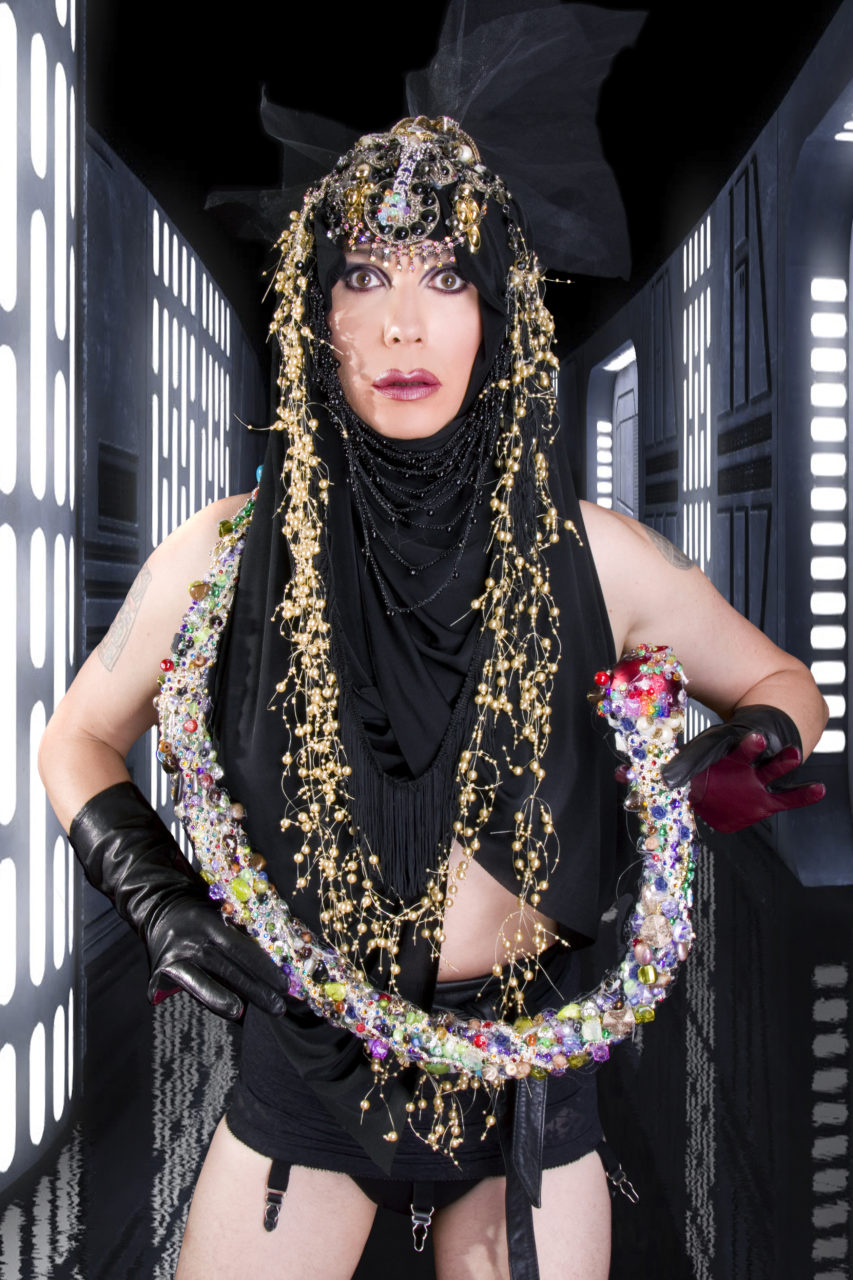 Wiggle est un festival extravagant d'art portable et de performance célébrant toutes les formes d'expression et de créativité. Deux décennies plus tard, il demeure une plate-forme vitale autant pour des artistes émergeants que pour des stylistes, des designers, des interprètes et des artistes établis, étant tous réunis dans un événement annuel extraordinaire. Avec Michael Venus, directeur général de Never Apart, aux commandes, House Of Venus fête le  21e anniversaire de Wiggle le 21 mai, pour la toute première fois à Montréal.
Inaugurée à Windsor en Ontario comme soirée de levée de fonds aux débuts des années 90, l'équipe de House Of Venus s'est finalement relocalisée à Vancouver en 1996, créant chaque année un chaos franchement glamour en réunissant plusieurs des esprits créatifs les plus brillantes de la ville dans l'esprit de l'imagination et sous la forme d'une perruque! La création de quelque chose de magnifique à partir d'objets recyclés ou de choses liées à la terre rarement incorporés à  une coiffe, fabuleusement réalisé et conçu à partir de quasi presque rien, représente la glam-alchimie de Wiggle. Les spectateurs enthousiastes qui reviennent chaque année sont souvent eux-mêmes des oeuvres d'art sur pattes, donnant ainsi la chance à chacun d'Avoir la sensation de faire partie du spectacle. Les artistes, les designers et les stylistes sont encouragés à contribuer à des créations dans le volet mode en soumettant des perruques et des pièces d'ensemble avant-gardistes.
Initialement né du besoin d'un forum où des jeunes avec des idées créatives non-conventionnelles pourraient être mis en valeur, Wiggle attire depuis ses débuts une foule diversifiée incluant des rock stars telles que Michael Stipe du groupe R.E.M., Alanis Morrisette et Deborah Harry, tête d'affiche du groupe Blondie. Wiggle peut aussi se vanter d'avoir accueilli quelques-unes des figures marquantes du drag, comme l'habituée de Wigstock Lady Bunny, Miss Guy de The Toilet Boys, Perfidia de Patricia Fields et la vedette de la télévision Candis Cayne qu'on a récemment vue dans Dirty Sexy Money et I am Cait.
Avec le désir d'inciter le changement, Wiggle et House of Venus ont été encouragés et soutenus par Michael Venus qui, depuis le début, avait prévu que cet événement se rendrait jusqu'à une vingtième année, et même au-delà. Le but a toujours été d'offrir aux spectateurs un échappatoire à la réalité banale du quotidien et de leur donner la chance d'être inspirés par un endroit sans limites, basé sur la mode, l'art et la fantaisie, et où les genres sont fluides et les prestations sont purement novatrices. Une fois l'étincelle de Wiggle allumée, il a prospéré comme par enchantement au delà de toutes attentes et est toujours l'événement le plus couru en ville. Grâce au soutien constant des nombreux talents et des amateurs du spectacle, Wiggle ne cesse d'évoluer et de s'épanouir.
Ayant moi-même pris maintes fois part à Wiggle en tant que mannequin et interprète au cours des différentes années, je peux témoigner du fait que les coulisses sont tout aussi spectaculaires que ce qui est présenté sur la scène principale. On y trouve une armée de maquilleurs, de coiffeurs, d'habilleurs, d'interprètes, de perruquiers, de costumiers et d'équipes techniques qui ont tous la même mission de partager et d'appuyer les talents de chacun. Les innombrables heures de dévouement, d'excellence créative et d'amour pour le glamour haut en couleur a élevé la vision initiale de House Of Venus à un niveau galactique de développement communautaire progressif et inclusif.
Pour en apprendre plus sur Wiggle et visionner les éditions précédentes, prière de visiter:
Vimeo: https://vimeo.com/wigglefestival
Facebook: https://www.facebook.com/groups/wigglefestival
Pour soumettre une création, s'impliquer ou obtenir un communiqué de presse, contactez: [email protected]