Fall Exhibitions Opening 2019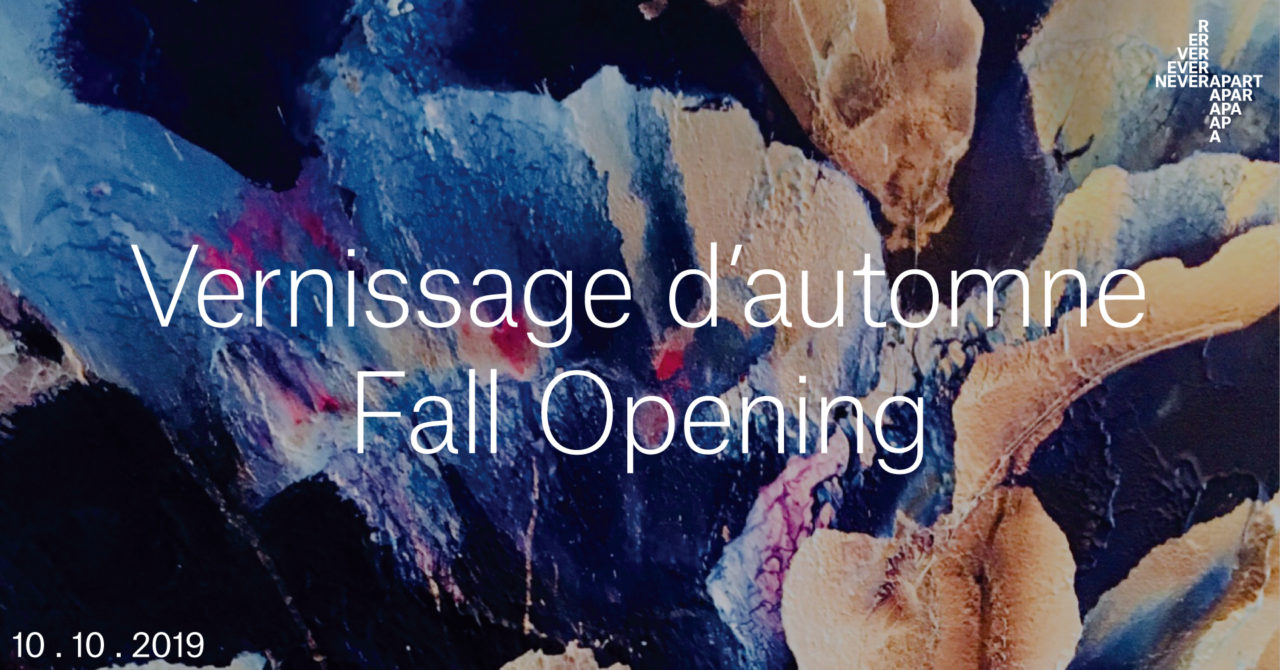 Join us for the launch of our new fall season at Never Apart's gallery.
Fall 2019 Exhibitions and programming: Oct 10th to Jan 4th 2020. Free entry.
DJ: Zeina
Bar on site, cash only.
► EXHIBITIONS
Cosmic Manifestations
Arielle
Gallery A /Galerie A
At night, we become in some ways the adventurers of our own minds. By plunging deeper into the meanders of our imagination we learn to tame the Other, the Unknown. The series Cosmic Manifestations and ONEIROS are the result of researches and dreamlike visions transmitted through dreams and meditative visions. These series aims to immerse the viewer in a universe similar to a waking dream, where consciousness and reality intertwine with the imaginary. My work travels through worlds awakening reflection on the connection between Universe and humankind.
Infinite Light
Kiran Ambwani
Gallery A / Galerie A
Light has obsessed humans since the dawn of time and as a photographer I find myself constantly observing, exploring, and playing with light. A lightstalker, I'm intrigued by different light sources, each with its unique qualities & characteristics. Light is at the core of this photographic ensemble, with the play of light and mirrors creating infinite reflections. A meditation on the zen notions of infinity and emptiness, this series is an exploration of a seemingly infinite space.
FemCan Paintings
Leanne Davies
Gallery B and C / Galeries B et C
Six stylized portraits of some of Canada's most notable female musicians. Recognized for their talent and for their complex approach to making music, the subjects of FemCan are trailblazers, teachers and activists, paving the way for artists of the future.
PYOTR495
Blake Mawson
Theatre / Théâtre
Set one evening in present-day Moscow, 16 year-old Pyotr is baited by an ultra-nationalist group known for their violent abductions and attacks bolstered by Russia's 'gay propaganda' law, but Pyotr has a dangerous secret.
Imaginaires Collectifs / Collective Imaginations
MAPP MTL
Upper Gallery and Vitrine / Galerie supérieure et vitrine
MAPP_MTL is exhibiting micro-mapping works of all forms – sculptural, filmic, installation art, augmented reality, immersive or responsive. The juxtaposition of these video mapping art works is non linear, and non formal, but sensual. The artists are invited to use light as their brush. They collectively augment the gallery space to transport us into the intimacy of their imagination. They transform our perception of digital art practices from the technical and hermetic to bring us to a more sensuous perspective. The exhibition makes us question the multiple spaces we occupy both individually and collectively, to invoke our Collective Imaginaries.
Artists:
​OXO​ ​Beatgender
Collectif OXO (BE)
Maud Sertour, Samy Barras, Yasmine Yahiatene, Amandine Vaccaielli, Lauraline Michel
​Objet interactif ​| no 2
Collectif Blackbox (CA)
Mathieu Désilets, Mathilde Joanny, Salim Lounis, Alexandre Lustigman, Jean-Claude Macena, Mariléa Rabbat, Xavier Tremblay
Asile
Fred Trétout (CA)
​ReRites
David Jhave Johnston in collaboration with Anteism Books (CA)
Isochrone
​Manuel Chantre (CA)
Human refractions
​Aurélien Lafargue AKA Nature Graphique
Sound design : Mourad Bennacer
The Snows of Ruskin
John A. Schweitzer
Upper Hallway Gallery / Galerie du couloir supérieur
2019 marks the bicentenary of the birth of the Victorian scholar John Ruskin[1819-1900]. In honour of his cultural contribution to science and art, Montreal artist John A. Schweitzer presents The Snows of Ruskin series, a narrative amalgam of two anecdotal episodes from 19th century London art circles.
Launch of Permanent Collection Salon
We are thrilled to launch our new salon style setting showcasing works from our collection in a comfortable environment designed for dialogue and community interactions.
► ACCESSIBILITY
For our guests with reduced mobility: the talks will take place on the ground floor in the kitchen area, which can be accessed in a wheelchair. There is a wooden floor ramp for the main entrance step, and a large bathroom.
If you need more information or further assistance during your visit, please let us know in advance by writing to [email protected]
► LAND ACKNOWLEDGEMENT
We would like to acknowledge that the land on which we gather for this event is located on unceded Indigenous lands. The Kanien'kehá:ka Nation is recognized as the custodians of the lands and waters on which we gather today. Tiohtiá:ke/Montreal is historically known as a gathering place for many First Nations. Today, it is home to a diverse population of Indigenous and other peoples. We respect the continued connections with the past, present and future in our ongoing relationships with Indigenous and other peoples within the Montreal community.