Conference: Affective memories, strategies and approaches in the creation of LGBTQI2+ archives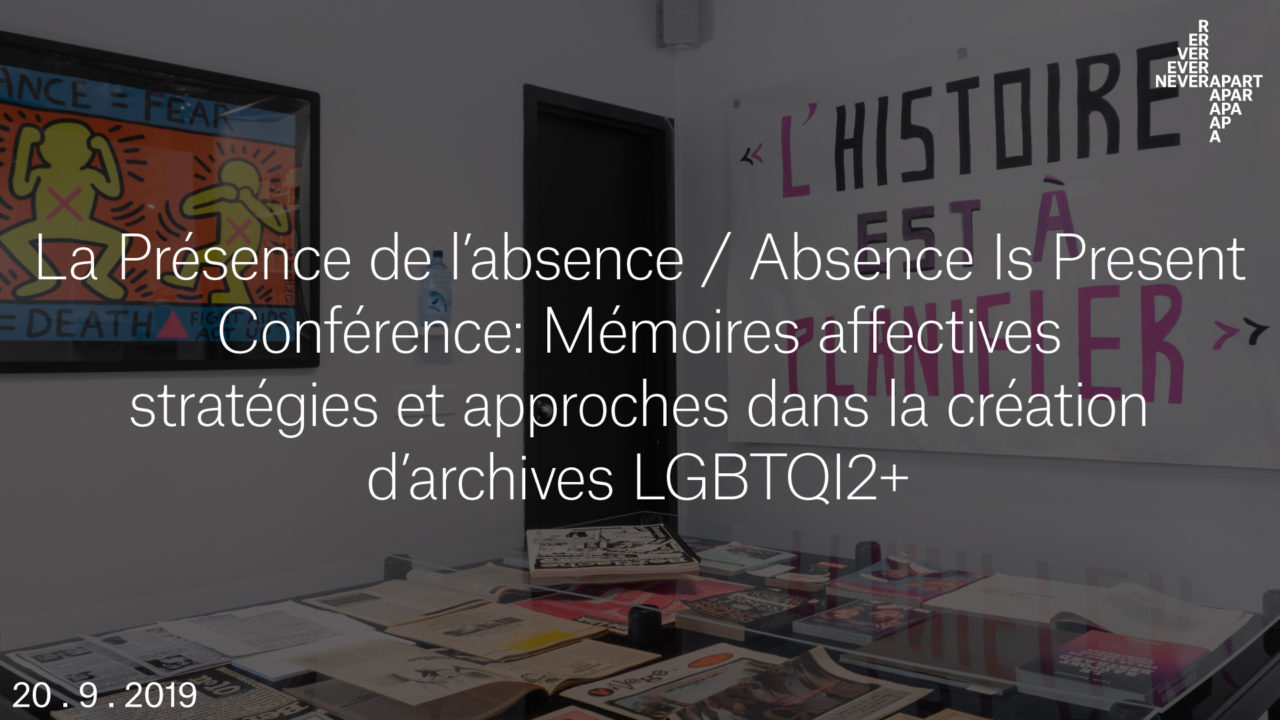 Mémoires affectives / Affective Memories LGBTQI2+
Conférences – présentations d'artistes
Conferences—Artist Talks
FR & ENG: bilingual event / événement bilingue
Gratuit / Free Entrance
Avec / With :
Volet recherche/archives:
Line Chamberland (Uqam), Jessica Hébert (Artexte), Fabien Galipeau (Archives gaies du Québec)
Volet art/archives:
K.g Guttman (artiste), Jamie Ross (artiste), Nelson Henricks (artiste)
…………………………………………
Line Chamberland
Line Chamberland, Ph. D. sociologie, Département de sexologie, UQAM
Titulaire, Chaire de recherche sur l'homophobie
Directrice, Projet de recherche partenariale SAVIE-LGBTQ
FR
Des mémoires lesbiennes et des mémoires LGBTQI+
"Mon travail de thèse sur les expériences lesbiennes dans les années 1950-1970 était informé par un questionnement sur la répression du lesbianisme et sur les pratiques sous-culturelles, notamment les rôles Butch-fem qui choquaient bien des lesbiennes féministes de ma génération. Au sens propre, le travail de reconstitution du passé est d'emblée impossible car les traces en sont forcément fragmentaires et sa fabrication, imaginée – que le langage soit scientifique ou artistique. Par contre, l'absence de transmission mémorielle facilite l'effacement de nos luttes passées et limite l'univers des possibles pour chaque nouvelle génération LGBTQI+. Après avoir identifié quelques pistes pour la conservation des traces, j'aimerais plaider pour une multiplication des traces orales et des artefacts, et non seulement des traces écrites."
EN
Lesbian memories and LGBTQI + memories
" My thesis work on lesbian experiences in the 1950s-70s was informed by a questioning about the repression of lesbianism and subcultural practices, including Butch-fem roles that shocked many feminist lesbians of my generation. In the true sense, the work of reconstituting the past is immediately impossible because the traces are inevitably fragmentary and its making, imagined – in using either scientific or artistic language. On the other hand, the absence of memory transmission facilitates the erasure of our past struggles and limits the possibilities for each new LGBTQI + generation. After having identified some tracks for the conservation on traces, I would like to plead for a multiplication of oral traces and artifacts, and not only written ones."
…………………………………………
Nelson Hendricks
FR
Nelson Henricks est diplômé du Alberta College of Art and Design en 1986.
En 1991, il s'est installé à Montréal où il a obtenu un baccalauréat en cinéma de l'Université Concordia.
Henricks a récemment terminé un doctorat à l'Université du Québec à Montréal.
Henricks a enseigné en histoire de l'art et en arts visuels à l'Université McGill, à l'UQAM et à l'Université de Montréal.
Il est présentement chargé de cours à l'Université Concordia.
Artiste et commissaire, Henricks est mieux connu pour ses vidéogrammes et ses installations vidéo, qui ont été présentés à travers le monde.
Une rétrospective mi-carrière de son travail a été présentée à la galerie Leonard et Bina Ellen à Montréal en 2010.
Ses oeuvres sont dans la collection du Musée des beaux-arts du Canada, du Museum of Modern Art (New York), du Musée des beaux-art de Montréal, du Musée national des beaux-arts du Québec, le Musée d'art contemporain de Montreal, entre autres.
Pour sa présentation, Henricks discutera trois de ses projets––Document XXL, A Lecture on Art and Life Session–– qui font appel aux archives et à la culture queer. Pour plus d'information sur Henricks, www.nelsonhenricks.com
EN
Nelson Henricks graduated from the Alberta College of Art in 1986.
He moved to Montréal in 1991, and received a BFA from Concordia University.
He recently completed a PhD at Université du Québec à Montréal.
Henricks he has taught art history and studio art at McGill University, UQAM and Université de Montréal.
He is currently a part-time professor at Concordia University.
A curator and artist, Henricks is best known for his videotapes and video installations, which have been exhibited worldwide.
A mid-career retrospective of his work was presented at the Leonard and Bina Ellen Gallery in Montréal in 2010.
His work is in the collections of the National Gallery of Canada, the Museum of Modern Art (New York), the Montréal Museum of Fine Arts, the Musée national des beaux-arts du Québec, the Musée d'art contemporain de Montreal and Others.
For his presentation, Henricks will discuss three of his projects––Document XXL, A Lecture on Art and Life Session––that engage archives and queer culture.
For more information, go to www.nelsonhenricks.com.
…………………………………………
Jessica Hébert (Artexte)
FR
Artexte, est une bibliothèque et centre d'exposition situé à Tiohtià:ke (Montréal). Fondé en 1980, Artexte est un organisme à but non lucratif qui a pour mandat principal la documentation des arts visuels contemporains de 1965 à aujourd'hui. Leur mission est
de soutenir des initiatives de recherche, d'interprétation et de diffusion visant à élargir l'influence et l'appréciation des arts visuels contemporains.
Bibliothécaire et artiste, Jessica Hébert travaille depuis 2014 chez Artexte comme spécialiste de la collection imprimée. Elle détient un baccalauréat en arts visuels de l'Université Concordia et une maîtrise en science de l'information de l'Université McGill.
Dans son travail de bibliothécaire elle explore des questions autour de la documentation, la préservation et l'accès aux pratiques artistiques issues de la contreculture dans les bibliothèques et les centres archives.
EN
Artexte, is a library and exhibition centre located in Tiohtià:ke (Montréal). Founded in 1980, as a federally chartered, non-profit organization whose main mandate is the documentation of contemporary visual arts from 1965 to the present day. Artexte
supports research interpretation, and dissemination initiatives in order to broaden the influence and appreciation of contemporary visual arts.
Jessica Hébert is a visual artist and librarian, who has been working at Artexte, as the print collection specialist since 2014. She holds a Bachelor of Fine Arts in Photography from Concordia and a Masters of Library and Information Studies from McGill University.
Her work as a librarian engages with questions around the documentation, preservation and access of underground art practises in libraries and archives.
…………………………………………
k.g. GUTTMAN
FR
Artiste et chercheuse basée à Montréal, k.g. Guttman est actuellement candidate au doctorat en art (recherche artistique) de l'Université Leiden et à la Royal Academy of Art de La Haye, aux Pays-Bas. Sa recherche, recevant le soutien du Conseil de recherches en sciences humaines (CRSH), porte sur les relations entre la territorialité, la chorégraphie et l'interventions in situ.
"Ma présentation analysera ma récente exposition Visiting Hours à la galerie TPW de Toronto.
Pour cette exposition, six artistes avec lesquels j'ai entretenu des relations m'ont partagé des images illustrant leurs performances et leurs recherches antérieures. J'ai ainsi traversé ces images et créé des moyens de les re/visiter en utilisant des techniques de performance afin de guider le spectateur vers des manières de regarder qui sont incarnées. Les principales questions que je vais aborder sont les suivantes: Quelles relations sont impliquées ou sont créées avec les archives? Comment se passe la visite des archives d'un autre espace institutionnel queer? Comment faire participer tout le corps du visiteur au processus de consultation des archives?"
EN
k.g. Guttman is an artist, educator, and research candidate in the PhDArts program of Leiden University and the Royal Academy of Art in the Hague, the Netherlands. Her work, funded through SSHRC, (Social Sciences and Humanities Research Council of Canada), considers how territoriality and choreography are intertwined in site-situated practices. Guttman is currently based in Montreal, Canada.
"My presentation will analyze my recent exhibition Visiting Hours at TPW Gallery Toronto.
I cultivated relationships with six artists who contributed images to the exhibition that documented their past performances and research. I then negotiated and created ways in which I could visit these images, using performance techniques that guided the viewer in embodied ways of looking. My main questions that I will address are: What are the relationships that are involved or get created with the archive? How does visiting the archives of another queer institutional space? How to engage the whole body of the visitor in the process of looking at the archive?"
…………………………………………
Fabien Galipeau
FR
Fabien Galipeau est détenteur d'une maîtrise en sciences de l'information de l'Université de Montréal et a effectué un stage dans le cadre de ses études aux Archives gaies du Québec. Durant sa formation, il s'est spécialisé en archivistique et a un intérêt particulier pour les archives LGBTQ+ et les archives littéraires.
"Les Archives gaies du Québec existent depuis 1983 et ont été fondées par Jacques Prince et Ross Higgins dans la volonté de rassembler le patrimoine québécois francophone LGBTQ+, de le conserver et de le valoriser. Elles détiennent à ce jour plus de 160 fonds d'archives. En plus de ces fonds, on peut y trouver également des périodiques, des photographies, des affiches et bannières, des documents audio-visuels, des coupures de presse, des objets, des livres, des dossiers onomastiques et thématiques, et ce en grand nombre!"
EN
Fabien Galipeau holds a Master's degree in Information Science from the Université de Montréal and completed an internship as part of his studies at the Archives gaies du Québec. During his training, he specialized in archival science and has a particular interest in LGBTQ + archives and literary archives.
"For their part, the Gay Archives of Quebec have existed since 1983 and were founded by Jacques Prince and Ross Higgins in the desire to bring together the LGBTQ + French heritage, to preserve and enhance it. They hold to date more than 160 archival fonds. In addition to these fonds, one can also find periodicals, photographs, posters and banners, audio-visual documents, clippings, objects, books, onomastic and thematic files, and in large numbers !"
…………………………………………
Jamie Ross
FR
Jamie Ross est un artiste contemporain qui a fait son éducation en dehors de l'université, un enseignant préscolaire et un sorcier. Il est un divinateur de cartes professionnel, un consultant en sorts et a été le premier aumônier païen des prisons fédérales au Québec jusqu'en 2018. En tant qu'artiste visuel, il crée et documente des communautés queer fondées sur les traditions artistiques de ses ancêtres culturels et biologiques, ancré dans une pratique fondeé sur la recherche. En dépit de son mode de vie assez fagabond, Jamie vit et travaille à Montréal.
EN
Jamie Ross is a contemporary artist educated outside the university, a preschool teacher and witch. He works as a professional card diviner, a consulting spellworker and he was the first Pagan chaplain for federal prisons in Quebec, working inside until 2018. As a visual artist, he creates and documents queer communities grounded in the artistic traditions of his cultural and biological ancestors and an independent research practice. Despite wide fagabondry, Jamie lives and works in Montreal.
____________________________________________________________
La présence de l'absence / Absence is Present
Une proposition de /A Proposition by:
Véronique Boilard, Virginie Jourdain
With the support of : kimura byol — nathalie lemoine