IMAGE+NATION: queerment québec
Celebrating Montreal image-makers, Queerment Québec features an eclectic and entertaining mix of emerging and established talent. Proving our city is a hotbed of queer creativity, these local filmmakers do not disappoint, offering up dazzling stories that speak of and to uniquely Québécois cultural perspectives.
queerment québec 1
Kim Kielhofner  2014 | Canada | 6min | english
Constructed from personal and public image collections, this video moves back and forth through memories.
Jean-Marie Villeneuve  2015 | Canada | 6min | french
Gilbert, a quirky young man, is out for a Sunday jog in the forest. When a muscular, athletic man passes him at tremendous speeds, Gilbert is left confused, curious and ultimately aroused by his secret.
Françoise Doherty  2015 | Canada | 8min | english
Two girl bunnies separated by outer space, meet on a block of ice, become romantically smitten and look for a way to cross the galaxy. Songwriter-filmmaker Françoise Doherty presents the 4th entrancing film from her world of queer bunnies.
Giovana Olmos  2015 | Canada | 5min | french s.-t.a
Without hesitation, 17-year-old Cynthia immerses herself in an intimate relationship with her best friend. When she faces her family's hostility, she realizes that her main ally lives within her like blood lives in the veins.
Jonathan Lemieux  2015 | Canada | 6min | french
I manipulate my past. I analyze my present. I prepare for my future. I have long followed these steps in my art. I naively thought I understood everything.
Jackie Gallant  2014 | Canada | 2min | english
In Pain's An Illusion, the second offering of Gallant's Chosen series, Jodie Foster delivers a scathing monologue from her 1980 film, Foxes.
André Pelletier  2015 | Canada | 16min | french s.-t.a
Yannick's existence is seemingly mundane: no passion, no trouble. He's a reasonable man. Living above his mother's apartment, the two have created a universe without clear boundaries. When she discovers that Yannick has a rich and intense love life she's not aware of, Yannick has no option but to come out.
Carol Fernandes  2013 | Canada | 10min | english
Nobody wants to tell nine-year-old Skye what's happening in her family. Feeling isolated and confused, she clings to memories of being driven around to sleep as she tries to make sense of what even adults find confounding.
Anne Golden  2015 | Canada | 2min | no dialogue
A reworking of footage featuring a witch.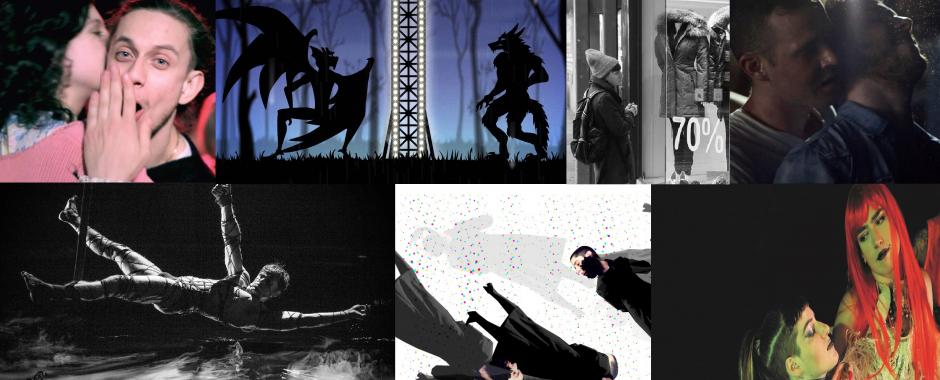 queerment québec 2
Marie-Michèle Cyr  2015 | Canada | 9min | english
Hannah and Antonio are lovers and performers. He is a veteran Drag Queen, she is a performance artist. Blush is the portrait of their gender-blending relationship.
Jules de Niverville  2015 | Canada | 5min | no dialogue
An experimental performance video that combines contemporary dance, contortion and acrobatics, Twitch is an ode to overcoming dark energies that lie within; confronting fear and the journey to self-acceptance.
Shayo Detchema  2014 | Canada | 4min | no dialogue
Inhabited by multiple bereavements due to a long journey with HIV/AIDS, characters parade in a perpetual winter. Different moving tableaux evoke possible deliverances.
Glenn Gear  2014 | Canada | 4min | no dialogue
Created in a striking silhouette animation style, Cry of the Loup-garou is a modern-day gothic romance between a remorseful werewolf and an enchanted gargoyle. Agitated emotion and bestial desire emerge from the backlit city gloom.
Kristin Li  2014 | Canada | 15min | english
A sexy, Surrealist queer espionage film reimagining the biblical tale of Samson and Delilah.
Marc-Antoine Lemire  2015 | Canada | 24min | english & french
Two young men meet in a bar, and the evening concludes in a one-night stand. But perhaps under the sheets, when skin touches skin, one can feel the most alone. In this ephemeral swirl of flesh and interchangeable/generic/anonymous men, everyone is trying to be someone.
Jenny Cartwright  2015 | Canada | 6min | french | s.-t.a
Like It is a short film reminiscent of another era. It was written, shot and edited on an impulse – three days. Starring the French singer Douce angoisse, it is the melancholic journey of a woman full of doubts – from the suburbs to the city. It rains.