NVA Off-Site:
v1984 / Jesse Osborne-Lanthier / Cecilia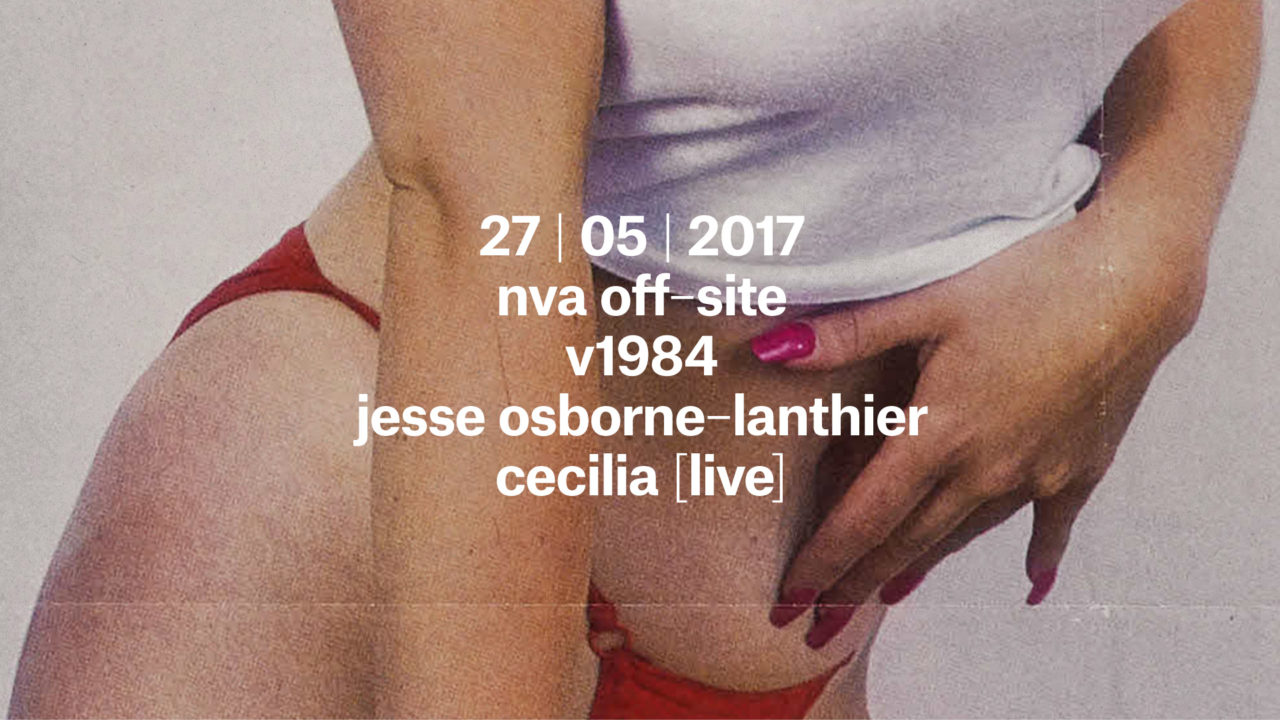 Perhaps our most ambitious venue choice to date, we are excited to bring NVA's Off-Site series to one of Montreal's most iconic spaces: CINÉMA L'AMOUR. The oldest active adult cinema in Canada has reached legendary status both in our city and abroad, with a history steeped in folklore and tales of risqué behaviour for those whose curiosities have compelled them to visit. Established in 1914 as "Le Globe", its transition into showing exclusively adult films in 1969 as "The PussyCat", and finally as Cinema L'Amour in 1981 cites it as one of the many landmark sites in Montreal that has contributed to the city's rather hedonistic reputation…
XXX theatres have long been considered male-dominated spaces which promote themes of oppression and sexual violence: the idea for this evening is to inhabit such a space with music and members of the community whose very presence seeks to subvert this narrative.
V1984 is Columbus-based Christopher Ramos, whose debut last year on Glacial Industries is a gobsmacked rendition of bleary-eyed neo-classical, leftfield, and ambient. His most recent EP on Kuedo's Knives label is an homage to his Korean/Filipino roots, showing a side of him that blurs the lines between hip-hop and grime. It makes sense that he's something of a phenom behind the decks, with his 'Pansori' EP and a plethora of romantic rap edits to his name speaking to more club-oriented roots: perfect for a night out at Cinema L'Amour.
Jesse Osborne-Lanthier is a conceptual electronic music producer whose most recent work, 'Unalloyed, Unlicensed, All Night!', was released by the legendary raster-noton label. The Halcyon Veil affiliate describes his process as an exploration in generating "clashes of mood, expectation, and technique". As such, and perhaps beyond what others might typically expect of JO-L, we have commissioned him to perform a freestyle DJ Set that speaks to the more sensual rap/hiphop side of his musical lexicon.
CECILIA is the "dissociative metamorphosis" of DJ/Producer BABI AUDI. Her 21-minute continuous EP 'Charity Whore' is out now on Yves Tumor's label Grooming. Given this event is taking place in a cinema, it seems fitting that we begin the evening with a screening of her accompanying short film to 'Charity Whore': a hallucinogenic trip across the recording's vast soundscapes.
A portion of this evening's proceeds will be donated to Les ami(es) de Stella, whom provide aid to female sex workers in Montreal.
v1984
Jesse Osborne-Lanthier
CECILIA [Live]
+ visuals by: susy.technology