NVA x Suoni Present:
Helena Hauff / Sleazy / M. Salaciak / Void Republic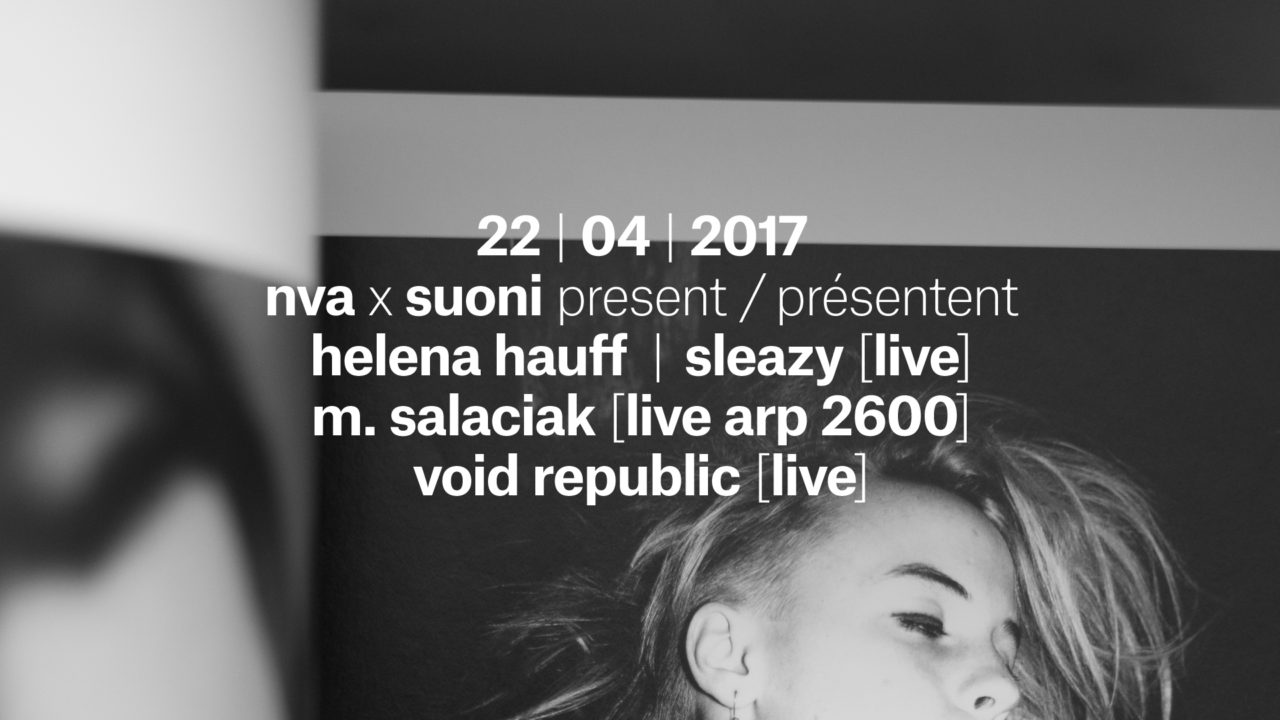 Helena Hauff's rise over the past few years cannot simply be traced through her musical output alone: a few scant releases on labels such as Actress'Werkdiscs and Bunker sub-label Panzerkreuz. It takes a remarkable DJ to overshadow music as impressive as her's, but that just speaks to her ability and formidable taste behind the decks. Helena cut her teeth as a resident at Hamburg's now legendary Golden Pudel club, which allowed her to flex the breadth of her musical lexicon the likes of EBM, new wave, acid, electro, and more. Not one afraid to push boundaries or throw in a surprise here and there, she has quickly become tapped as one of the world's foremost underground DJs. No further introduction needed.
SLEAZY is the persona of Montrealers Marie Davidson and Ginger Breaker. Having performed only a handful of times over the past year or so, their live show combines Marie's knack for trippy sequences and clever vocal hooks with Ginge's maniacal percussion. Running the gamut between 100-140bpm, their project is an ode to both the rural and suburban Quebec experience combined with underground electronic dance culture, resulting in what they've dubbed 'Suburban Techno'.
M. Salaciak is one quarter of the venerable Montreal-based Temple Records. A killer DJ and Producer in his own right, we've commissionedMatthew to perform a special one-off Live Set incorporating none other than the iconic ARP 2600 synthesizer.
Void Republic is a live electronic project combining post punk influences with minimal synth and cold wave. It is as honest, powerful, and visceral as live shows get in an era of oversaturation and pastiche.
Helena is one of today's most in-demand DJs, and as such, it has taken us nearly two years to bring her for her debut Montreal appearance. We're beyond excited to present this in collaboration with Suoni Per Il Popolo, alongside a stellar cast of world class locals at Bloc 66, the intimate side room of the former Espace Reunion.
This venue is wheelchair accessible.