Art Souterrain: Satellite Path Special Event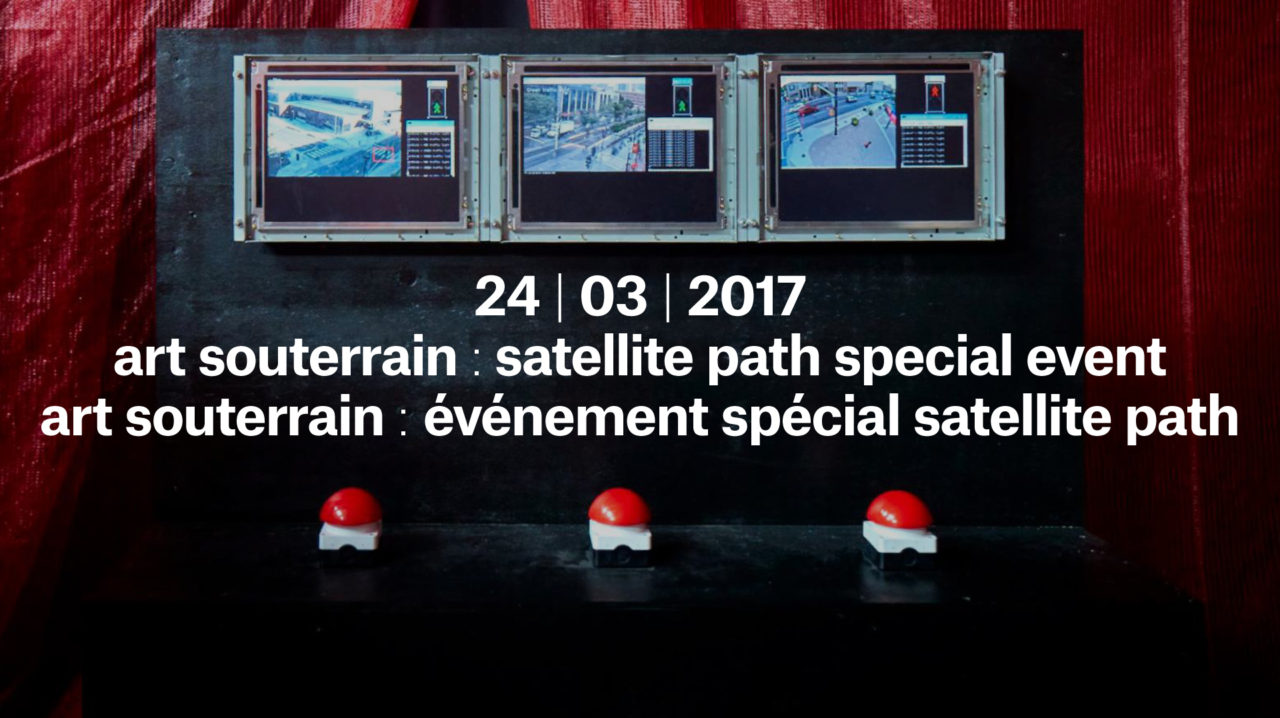 Dries Depoorter: Jaywalking
In association with Art Souterrain
Assembling, sharing and experimenting with private data of himself and random people found on the internet, digital artist Dries Depoorter tackles in a thought-provoking way issues like social identity, big data sharing, encryption and (the lack of) protection of our online privacy.
" Art Souterrain presents the 9th edition of its eponymous contemporary art festival, under the theme "Play and Distraction", from the 4th to the 26th of March, in nine buildings of Montreal's underground network and in seven satellite venues in Montreal. "
With a very special artists talk featuring Dries Depoorter about his career and current exhibit "Jaywalking" at 7pm with Never Apart Executive Director Michael Venus.
Come and celebrate with music and cheer while enjoying all of the exhibitions on display at Centre never Apart!
Also on Display:
Kali Spritzer – An Exploration of Resilience
Beaver Sheppard – Chefs I've Worked For
Massimadi Festival
Josué Azor – Erotes : Love, Sex, Magic.
Mikael Owunna – Limit(less)
Akosua Adoma Owusu – Reluctantly Queer
Black Heritage – Curated by Andy Williams
Sandra Brewster – Assemblage
Maxine Walters – Serious Things A Go Happen: Three Decades Of Dancehall Street Signs
Dries Depoorter: Jaywalking
En collaboration avec Art Souterrain
En assemblant, en partageant et en expérimentant les données privées de personnes trouvées au hasard sur internet, ainsi que ses propres données personnelles, l'artiste digital Dries Depoorter, aborde d'une façon stimulante des questions sur l'identité sociale, le grand partage de données, le chiffrage et (le manque de) protection de notre vie privée en ligne.
Art Souterrain : 4> 26 Mars (Evénement du lieu satellite Never Apart, Vendredi 24 Mars de 18h à 22h)
Art Souterrain présente la 9e édition de son festival d'art contemporain "Jeu et Diversion", du 4 au 26 mars dans les 9 édifices souterrains de Montréal et dans 7 lieux satellites.
Également à l'affiche :
Kali Spritzer – An Exploration of Resilience
Beaver Sheppard – Chefs I've Worked For
Massimadi Festival
Josué Azor – Erotes : Love, Sex, Magic.
Mikael Owunna – Limit(less)
Akosua Adoma Owusu – Reluctantly Queer
Black Heritage – Curated by Andy Williams
Sandra Brewster – Assemblage
Maxine Walters – Serious Things A Go Happen: Three Decades Of Dancehall Street Signs