Summer 2019
Exhibitions Opening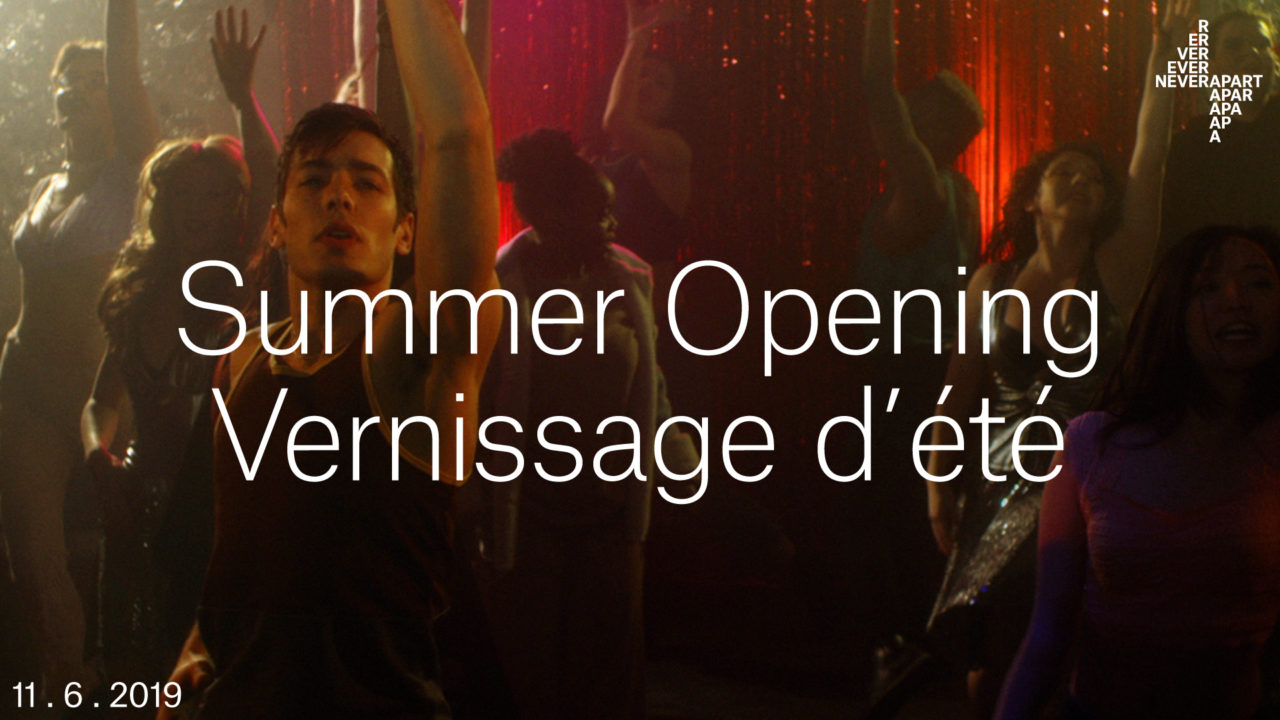 Never Apart invites you to the opening of its summer exhibitions, whose themes align with the 50th anniversary of the Stonewall riots, exploring LGBTQI+ liberation and memory, indigenous masculinities and more.
Summer 2019 Exhibitions from July 11th to September 28th
DJ: dull
Free entry / Cash only at the bar
Exhibitions
► ABSENCE IS PRESENT
LGBTQI+ Affective Memories
A proposition by Véronique Boilard and Virginie Jourdain with the support of kimura byol-nathalie lemoine.
ABSENCE IS PRESENT is a partnership between artists, archivists, and activists aiming at initiating an experimental dialogue on the crucial question of the restitution and constitution of our memories by taking into account non-authoritarian affects and narratives. We wish to collectively embrace the presence of absences, holes, silences, and omissions that make up LGBTQI+ stories. Eleven new works have emerged from this research, carried out in partnership with in partnership with the Archives Gaies du Québec.
With the support of Archives gaies du Québec, the Conseil des arts de Montréal, and Never Apart.
Artists:
Eloisa Aquino et Jenny Lin
Jen Leigh Fisher
Raphaële Frigon
Danny Gaudreault
Lamathilde
Soleil Launière
Kinga Michalska
Candace Mooers
François Lalumière and Andrew Tay
Florence Yee
► For Whom Masculinities Matter
Lacie Burning and Léuli Eshraghi with asinnajaq and Dayna Danger
Curated by Adrienne Huard and Lindsay Nixon for gijiit
Curated by Lindsay Nixon and Adrienne Huard for gijiit, "For Whom Masculinities Matter" asks, what has gone unsaid about NDN masculinities? What can radical tenderness and fluid gender teach us about consciousness-raised, anti-colonial, tender Indigenous masculinities?
► Queer as German Folk
Goethe-Institut Montreal
On the night of June 27 into 28, 1969, queer people vehemently resisted a police raid on the Stonewall Inn bar. For many LGBTQIA communities around the world, the days of the uprising around Christopher Street in New York mark the beginning of the queer revolt. As a joint project of the Goethe-Institut, Schwules Museum Berlin, and the Federal Agency for Civic Education, this exhibition takes the 50th anniversary of the Stonewall Riots as an opportunity to offer an insight into the history of queer movements in the Federal Republic of Germany, the German Democratic Republic, and reunited Germany since the 1960s. Particular emphasis is placed on the manifold relations with US movements. Under the title Queer as German Folk, in the summer of 2019, the exhibition will tour the Goethe-Instituts in Canada, the United States, and Mexico, and will also be presented at Schwules Museum Berlin; beginning in 2020, it will travel to other cities and countries worldwide.
► After Hours Chez Madame Arthur
Curated by Julianne Pidduck
With Suzanne Girard, MP Grenier, Lynne Trépanier
After hours Chez Madame Arthur conjures the poetry, the seduction, the politics, and the fierceness of Montreal lesbian bars of the 1970s and 1980s. Jules Pidduck and the Mediaqueer.ca Database present an installation evoking the legendary bar Chez Madame Arthur (1971-1975), alongside never-before-seen photographs by Montreal photographer Suzanne Girard.
► Kaya: Taste of Paradise
Paul Warner
Movie • 25 min 52 sec • Drama, Musical
An original movie musical set In 1979, about a young South African immigrant, Kaya, who defies her older brother and fights for her American dream at the disco. But all that glitters isn't gold in this
coming of age story set in the streets and havens of New York City.
Land Acknowledgement
We would like to acknowledge that the land on which we gather for this event is located on unceded Indigenous lands. The Kanien'kehá:ka Nation is recognized as the custodians of the lands and waters on which we gather. Tiohtiá:ke/Montreal is historically known as a gathering place for many First Nations. Today, it is home to a diverse population of Indigenous and other peoples. We respect the continued connections with the past, present and future in our ongoing relationships with Indigenous and other peoples within the Tiohtiá:ke/Montreal community.