Two-Spirit Sur-Thrivance and the Art of Interrupting Narratives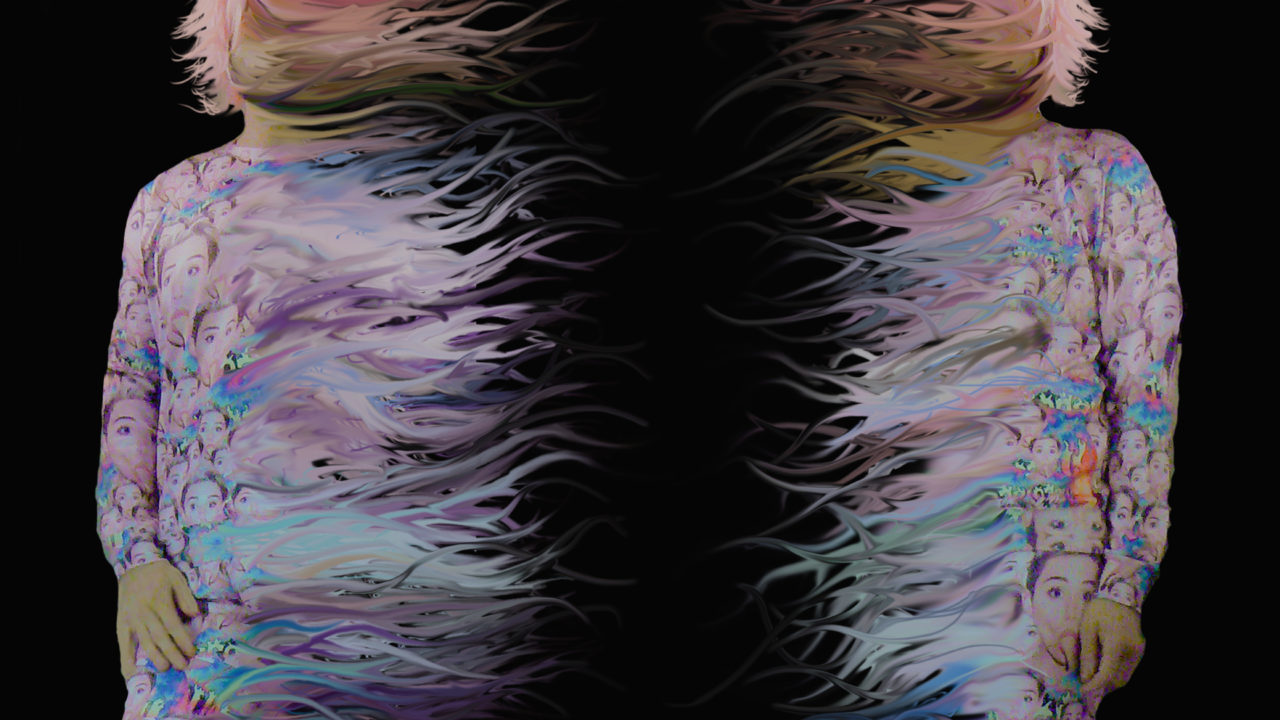 Never Apart recognizes that it is located in Kahnawake Mohawk Territory on the island of Tiohtiake (Montreal). We are uninvited guests. In a time of celebrating 150 years of Canadian confederation and Indigenous responses to festivities using #Resistance150 – it's important to nurture the confluence of Settler and Indigenous resistance.
Sites of resistance are found in many forms, spaces and places – oft deployed from the shadows, haunting the chasms of service and solidarity between diverse marginalized communities interests and struggles and successes for/of their assertion for equality and equity – one such emergent community in Canada are Two-Spirit people. Two-Spirit is an umbrella term used to encapsulate diverse lived experiences of gender fluidity and sexualities as they intersect with Indigenous bodies, spiritualities, communities, relationships, and land and water in this place called Canada. Two-Spirit is markedly different than LGBTQ.
In thinking about the moments of encounter between the Settler and Immigrant body with the Indigenous one, Two-Spirit Sur-Thrivance and the Art of Interrupting Narratives seeks to unsettle ongoing moments of settler/trans*/queer settler colonialism, homonationalism and reconciliation discourses through heartfully calling people in to conversations that include building relationships with, reciprocity, respect and celebration of Two-Spirit resurgence. As a gesture of reconciliation, Never Apart in partnership with Two-Spirit artists, force an interruption in racist, homophobic, and transphobic geopolitical undercurrents and pinkwashing of Canadian national imaginaries of settlement and Canadian Indian reserve communities. Encounter and thus reconcilliation is not a one time event. You are changed, touched and transformed. Two-Spirit Sur-Thrivance and the Art of Interrupting Narratives seeks to facilitate dialogue and consciousness raising through 6 Two-Spirit artists, lecture and artist panel as sites of resistance.
Two-Spirit Sur-Thrivance and the Art of Interrupting Narratives avec Dayna Danger, Jeffrey McNeil-Seymour, Kent Monkman, Preston Buffalo et Fallon
Two-Spirit, traduit en français par bispiritualité, est un terme générique utilisé pour décrire diverses circonstances de fluidité de genre et de sexualité, dans leurs interactions avec les corps, la spiritualité, les communautés et les relations autochtones, et la terre et l'eau dans ce lieu qu'on appelle le Canada. Two-Spirit est sensiblement différent de LGBTQ.
En réfléchissant aux rencontres entre les groupes d'immigrants et de colonisateurs et ceux d'autochtones, Two-Spirit Sur-Thrivance and the Art of Interrupting Narratives cherche à déstabiliser des moments courants de colonialisme cis, queer et trans, d'homonationalisme, et à promouvoir un dialogue de réconciliation qui bâtit des liens de réciprocité, de respect et de célébration avec une résurgence bispirituelle. Comme geste réconciliation, Never Apart collabore avec des artistes bispirituels pour forcer une interruption des sous-courants géopolitiques racistes, homophobes et transphobes et le « pinkwashing » de l'image que les Canadiens ont du colonialisme et des réserves amérindiennes. Une telle rencontre, et par le fait même la réconciliation, n'est pas une opération ponctuelle.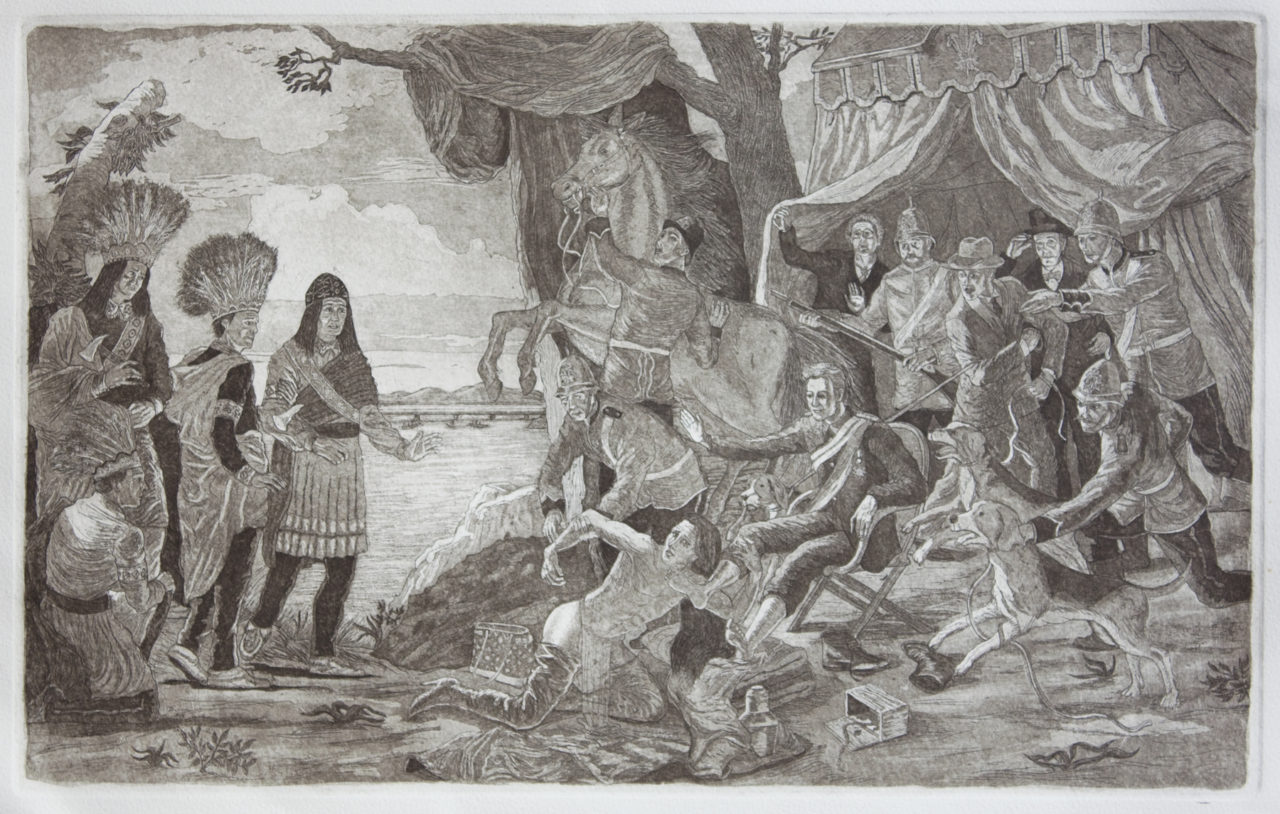 Kent Monkman
Shame and Prejudice: A Story of Resilience provides a searing critique of Canada's colonial policies in response to celebrations of Canada's 150th birthday. The exhibition visits the harsh urban environment of Winnipeg's north end, contemporary life on the reserve, and the period of New France and the fur trade.  As Monkman explains, "The last 150 years—the period of Modernity—represents the most devastating period for First Peoples, including the signing of the numbered treaties, the reserve system, genocidal policies of the residential schools, mass incarceration and urban squalor."
Shame and Prejudice: A Story of Resilience offre une critique cinglante des politiques colonialistes canadiennes en réponse aux célébrations liées au 150e du Canada. L'exposition explore le milieu urbain hostile du quartier North End de Winnipeg, la vie quotidienne dans la réserve et la période de la Nouvelle-France et du commerce des fourrures. Comme Monkman l'explique, « les 150 dernières années, ou l'époque de la modernité, représentent la période la plus dévastatrice pour les membres des Premières nations, car elle compte la signature des traités numérotés, le système des réserves, les politiques génocidaires des écoles résidentielles, l'incarcération massive et l'insalubrité urbaine. »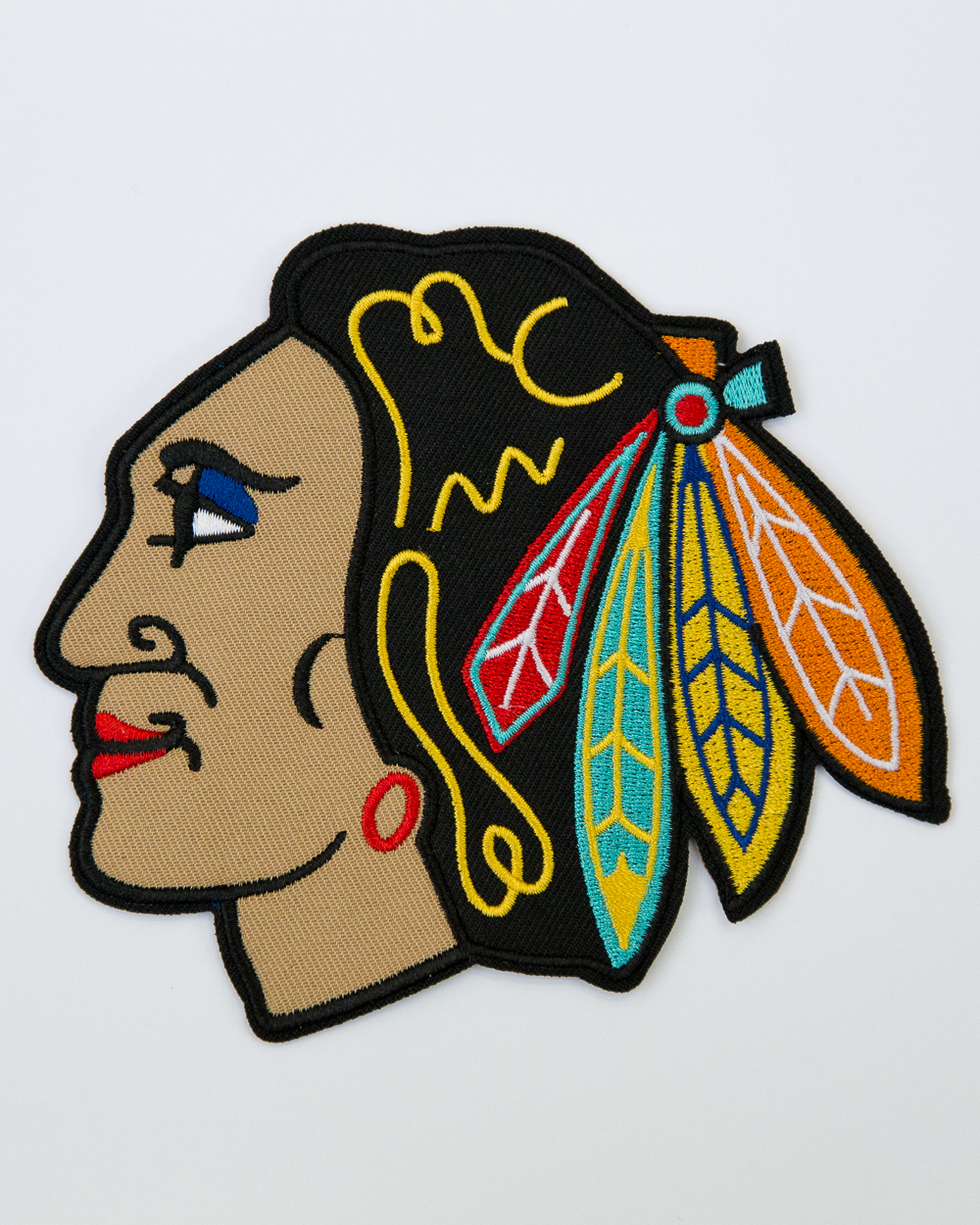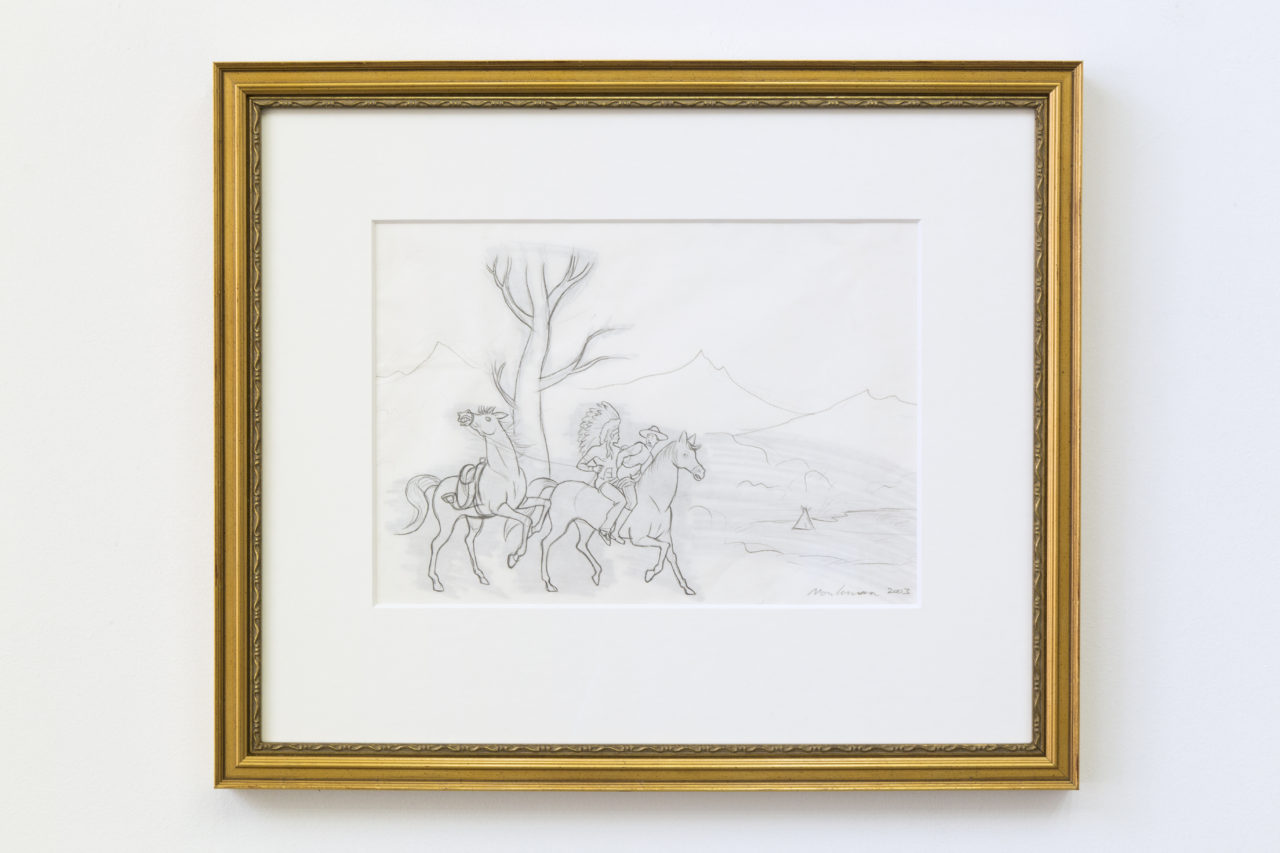 Dayna Danger
Utilizing photography, sculpture, performance and video, Dayna Danger 's practice questions the line between empowerment and objectification by claiming space with her larger than life scale work. Danger asks audiences to acknowledge relationship frameworks and to create a dialogue around the power dynamics intrinsic within our relationships to one another. Danger's current use of BDSM and beading leather fetish masks references the kink community. Exposing hidden dynamics of our relationships through crafting community, claiming space, masks, and antlers. This is a space to explore complicated dynamics of sexuality, gender, and power in a consensual and feminist manner.
Dayna Danger is an emerging 2Spirit/Queer, Metis/Saulteaux/Polish artist raised in Winnipeg, MB. Danger is currently based in Montreal, QC. She obtained her Graduate degree in Studio Arts from Concordia University in March 2017. Danger held a Visual Arts Studio Work Study at the Banff Centre and participated in Candice Hopkins and Raven Chacon's thematic residency, Trading Post. Danger has exhibited in Santa Fe, Winnipeg, Montreal, Peterborough, North Bay and Banff. Danger currently serves as a
board member for the Aboriginal Curatorial Collective (ACC/CCA). Danger is currently making new work for her upcoming solo in Edmonton June 2017, Big'Uns.
Par le biais de la photographie, la sculpture, la performance et la vidéo, les œuvres de Dayna Danger remettent en question la limite entre l'émancipation et l'objectivation en revendiquant de l'espace par leurs tailles plus grandes que nature. Danger demande au public de reconnaître les structures relationnelles et d'ouvrir un dialogue centré sur la dynamique du pouvoir intrinsèque aux rapports que nous avons les uns avec les autres. Son utilisation de BDSM et le perlage de masques fétiches en cuir fait référence à la communauté kink. Révéler la dynamique cachée de nos relations en créant une communauté, des masques et des panaches et en revendiquant de l'espace. Voici un endroit où explorer la dynamique complexe de la sexualité, des genres et du pouvoir, d'une manière consensuelle et féministe.
Dayna Danger est une artiste émergente queer et bispirituelle d'origine métisse, saulteaux et polonaise qui a grandi à Winnipeg, au Manitoba. Danger réside actuellement à Montréal et a obtenu un diplôme d'études supérieures en arts plastiques de l'université Concordia en mars 2017. Danger a occupé une alternance travail-étude en arts visuels au Banff Centre et a collaboré à Trading Post, la résidence thématique de Candice Hopkins et Raven Chacon. Les œuvres de Danger ont été exposées à Santa Fe, Winnipeg, Montréal, Peterborough, North Bay et Banff. Danger est membre du conseil du Collectif des Conservateurs Autochtones(ACC/CCA). À l'heure actuelle, Danger travaille sur Big'Uns, son exposition solo qui aura lieu à Edmonton en juin 2017.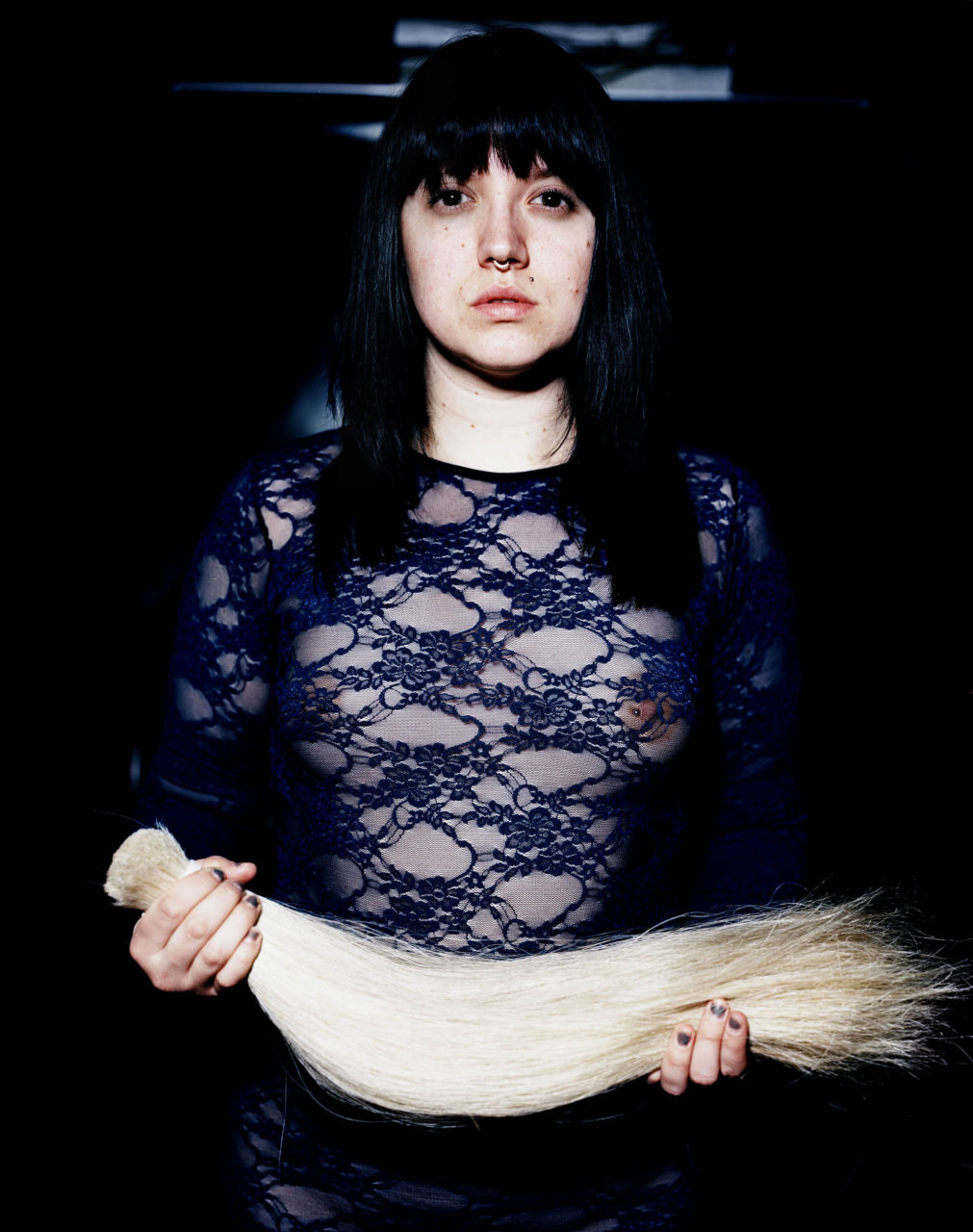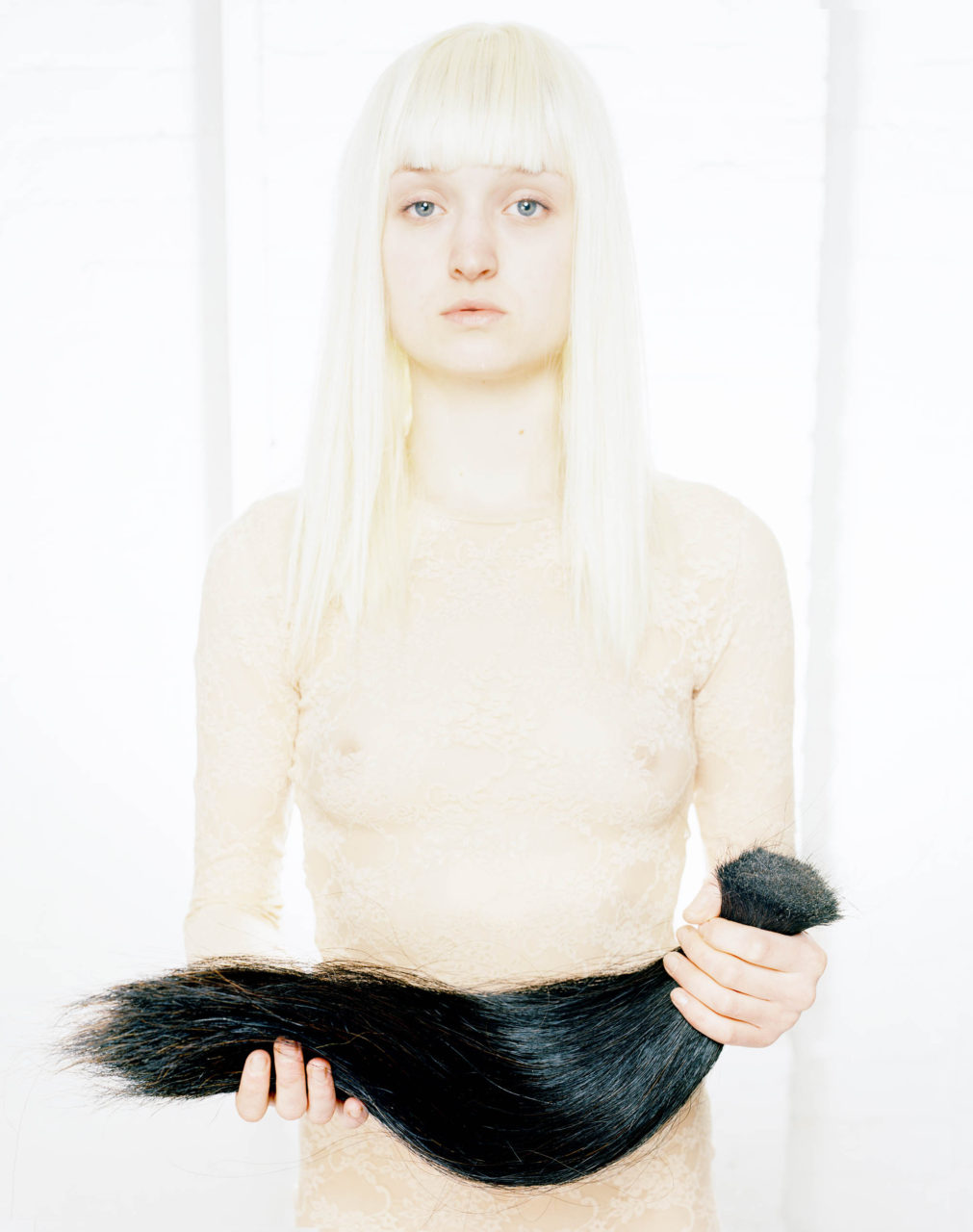 Jeffrey McNeil-Seymour
Unsettl(er)ing: This "dress" was born out of Jeffrey's response to Metis artisits Jaime Blacks's "Redress Project" and the ongoing issue of missing and murdered Indigenous women and girls – and the importance of raising awareness to racialized and gendered violence. All to often when speaking on terms of gender inequality the issues seem to be ruled by gender binary's. When we look at the Highway of Tears in so-called British Columbia for instance, it is rare to hear names like Faye Paquette or Gary Bone enter the dialogue, as these murdered persons were Indigenous gender fluid beings. It is critical to remember as evidenced in the case of Faye Paquette and Carrie Bone – that terms such as transgendered, gay, and homosexual are imposed settler terms and therefore should be recognized as agents of the necropolitic agenda of Canada. It is important that when engaging in activisms around inequality, erasure, silencing and death, that we remain vigilant to ensure that we as activists are creating space for all racialized and gendered beings of diverse sexuality's to have voice – to be remembered.
This dress has been constructed to compassionately interrupt binaries, heteropatriarchy, and queer/trans settler colonialism's and stands entirely for the spirit of healing and solidarity. The ethereal nature of the fabric is to represent haunting and invisibility, the tunic style of the top of the dress is to trouble gendered notions around 'covering up' as the bottom was realized from the men's 'Sundance skirt'. In addition to this piece traditional raw hide leggings hold space for bodies against skirt-shaming. It was important to decolonize our ideas of the new colonial configurations of the landscape and reveal traditional territorial boundaries of the First Nations across Turtle Island and honour the ancestors in the contemporary negotiations and navigations of our present National Canadian and Indigenous imaginary's. The strands of hair on the back of the dress represent the missing and murdered that parallels the Secwepemc belief that when one has an abortion, she wears that child's spirit for the rest of her life and so, as agents of (re)imagining Nationhood, we collectively are responsible the longer we remain silent about the issue or just pass off $10 million to the police to look after "those that are already there (on Vancouvers Down town Eastside)", as gifted to the VPD by "Honorable" Premier Christy Clark. When taking into consideration the features of the dress and the strands of hair, we begin to see that the issue of the missing and murdered persons are intrinsically linked to the colonial HIStory of 'North America'. – we all are called to action.
Unsettl(er)ing: Cette « robe » est née en réaction au Redress Project de l'artiste métis Jaime Blacks et à la question des femmes autochtones assassinées ou enlevées, de même qu'à l'importance de la sensibilisation à la violence raciale et genré. La question d'inégalité des sexes est trop souvent dominée par le concept de binarité des genres. Lorsque le sujet de La Route des Pleurs en Colombie-Britannique est abordé, des noms tels Faye Paquette ou Gary Bone font rarement partie de la conversation, puisque ces personnes assassinées étaient des autochtones au genre fluide. Il est important de retenir, comme on a pu le voir dans leurs cas, que des mots comme transgenre, gay et homosexuel sont des termes coloniaux imposés qui doivent être considérés comme des agents du programme nécropolitique canadien. Notre devoir en tant qu'activistes luttant contre l'inégalité, l'effacement, les pressions réductrices et la mort est de demeurer vigilant pour veiller à la création d'un espace où tous les êtres sexospécifiques et racialisés de diverses formes de sexualité peuvent être entendus et remémorés.
Cette robe a été fabriquée de manière à interrompre avec compassion les binaires, l'hétéropatriarcat et le colonialisme de peuplement queer et trans ; elle prend à cœur l'esprit de solidarité et de guérison. La nature éthérée du tissu représente la hantise et l'invisibilité ; la partie supérieure de style tunique sert à chambouler les notions sexospécifiques exigeant « qu'on se couvre », et ce, dû au fait qu'elle ait été créée à partir d'une jupe d'homme dédiée à la danse du soleil. De plus, des jambières traditionnelles en cuir brut maintiennent l'espace pour les corps opposés au jugement lié au port de la jupe. Il était vital de décoloniser nos notions des nouveaux paramétrages coloniaux du territoire, de révéler les frontières territoriales traditionnelles des Premières nations à travers l'île de la Tortue, et de rendre hommage aux ancêtres dans le courant des négociations et de la navigation de nos imaginaires canadien et autochtone. Les mèches de cheveux au dos de la robe symbolisent les personnes assassinées ou disparues et établissent un parallèle avec la croyance Secwepemc qui veut qu'une femme ayant subi un avortement porte l'esprit de l'enfant pour le reste de sa vie. En tant qu'agents de la (ré) imagination du concept de nation, nous sommes collectivement responsables, aussi longtemps que nous gardons le silence ou refilons 10 millions de dollars à la police pour veiller sur « ceux qui sont déjà là (dans le Downtown Eastside de Vancouver) », somme allouée au service de police de Vancouver par « l'honorable » Première ministre Christy Clark. Une fois les détails de la robe et les mèches de cheveux pris en considération, nous commençons à voir que l'enjeu des personnes assassinées ou disparues est intrinsèquement lié à l'histoire coloniale de l'Amérique de Nord. Nous sommes tenus d'agir.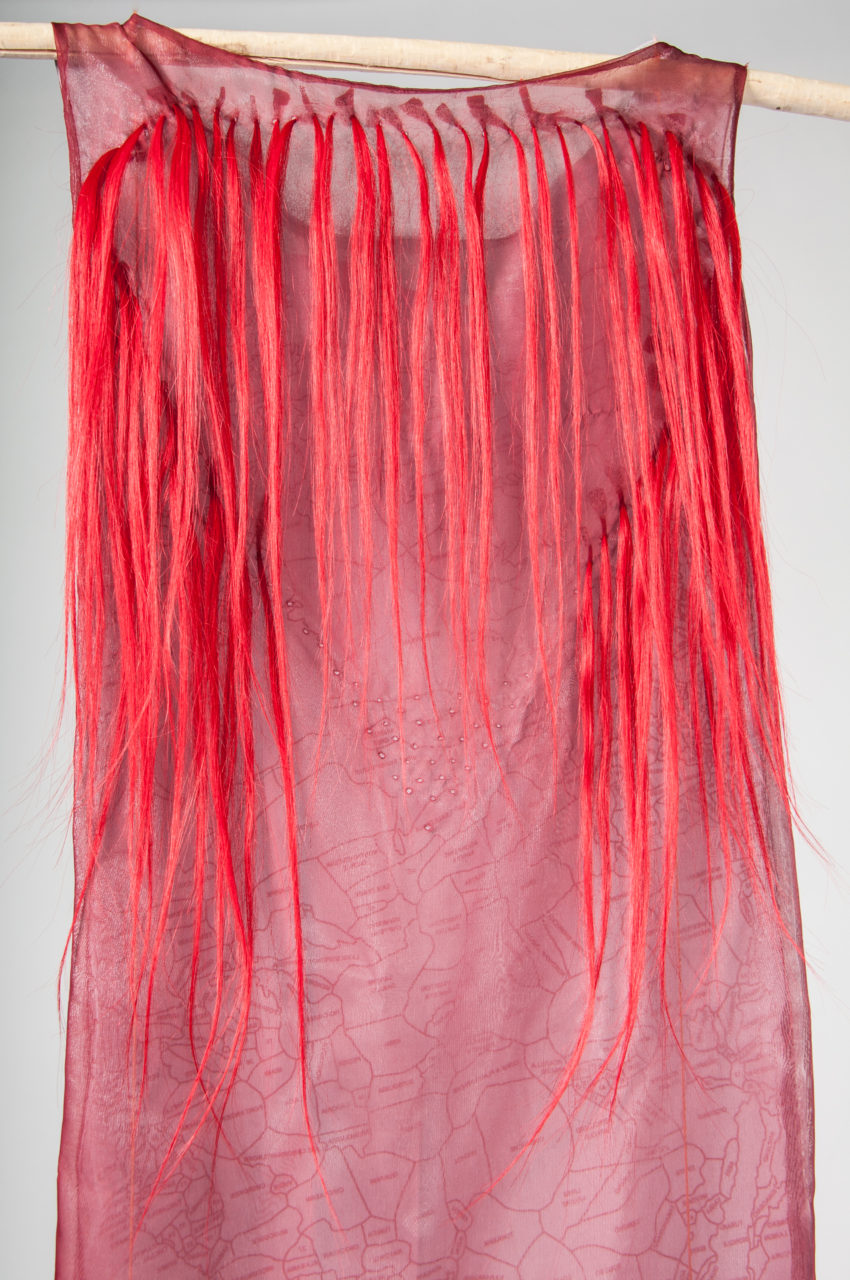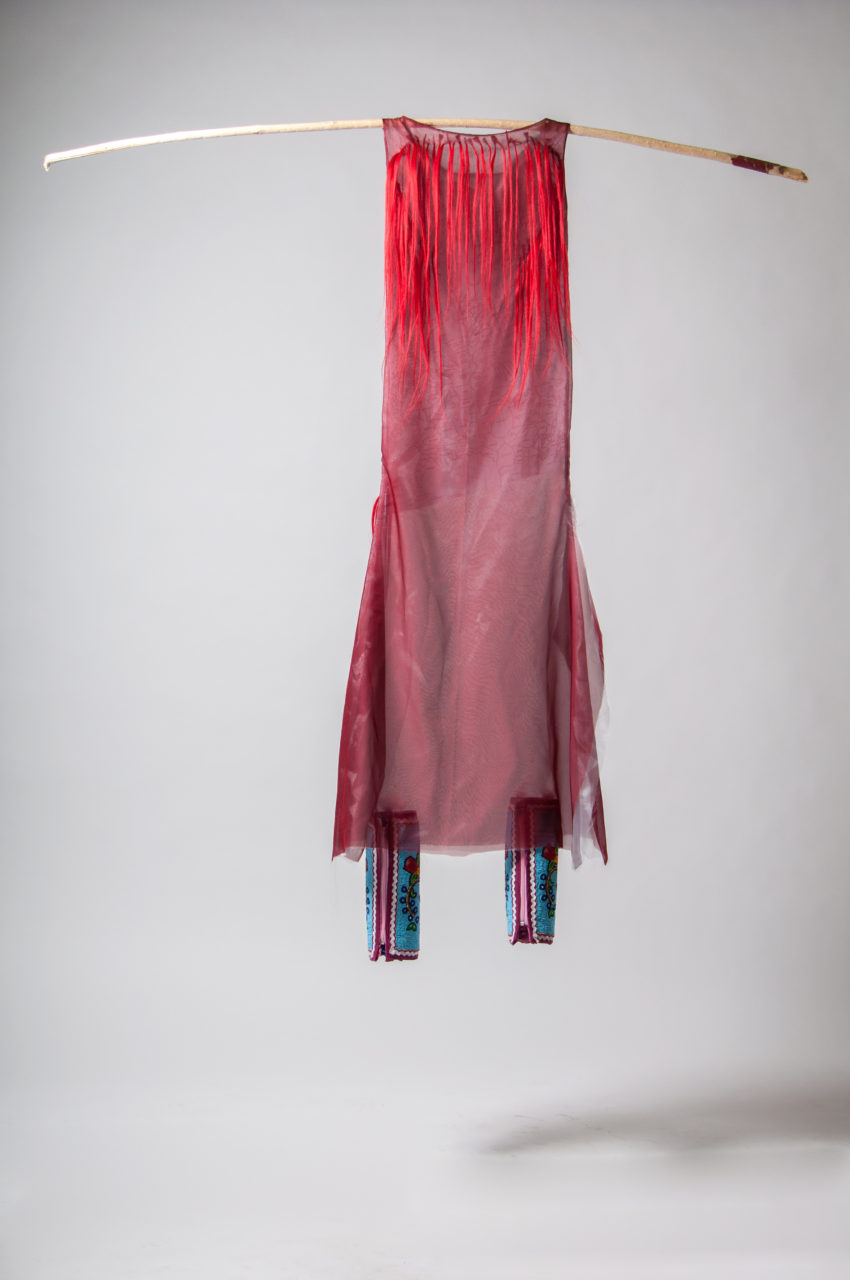 Fallon Simard
TerraNullius5000, is a poor quality video made of a low resolution animated photograph that my mother took in Treaty 3. I extracted this photograph from her Facebook page. The video creates a dialogue for how a disconnection from land creates poor mental health for Indigenous bodies. TerraNullius5000 translated as "nobodys land" 5000 is meant to intensify this disconnection from land.
Mercury Poisoning, is a poor quality video made of a low resolution animated photograph that my mother took of the shoreline that encapsulates Couchiching First Nation, our home territory. Couchiching is downstream from a paper mill that continues to poison Rainy Lake with mercury. Many Indigenous children use this lake to establish a connection to land, however, Mercury Poisoning in the lake disrupts this connection and causes many other health afflictions.
TerraNullius5000 est une vidéo de mauvaise qualité faite à partir d'une photographie animée en basse résolution que ma mère a prise à Treaty 3. J'ai puisé cette photographie à même son profil Facebook. Cette vidéo suscite un dialogue sur la façon dont un éloignement de la terre entraîne des problèmes de santé mentale chez les autochtones. TerraNullius5000, traduit en tant que 'territoire sans maître' 5000, a pour but d'intensifier cet éloignement d'avec la terre.
Mercury Poisoning, est une vidéo de mauvaise qualité faite à partir d'une photographie animée en basse résolution que ma mère a prise du littoral qui regroupe Couchiching First Nation, notre territoire. Couchiching se situe en aval d'une usine de papier qui continue d'empoisonner le Lac à la Pluie avec son mercure. De nombreux enfants autochtones se servent de ce lac pour établir un lien avec la terre, mais le niveau de mercure du lac perturbe cette connexion et entraîne beaucoup d'autres problèmes de santé.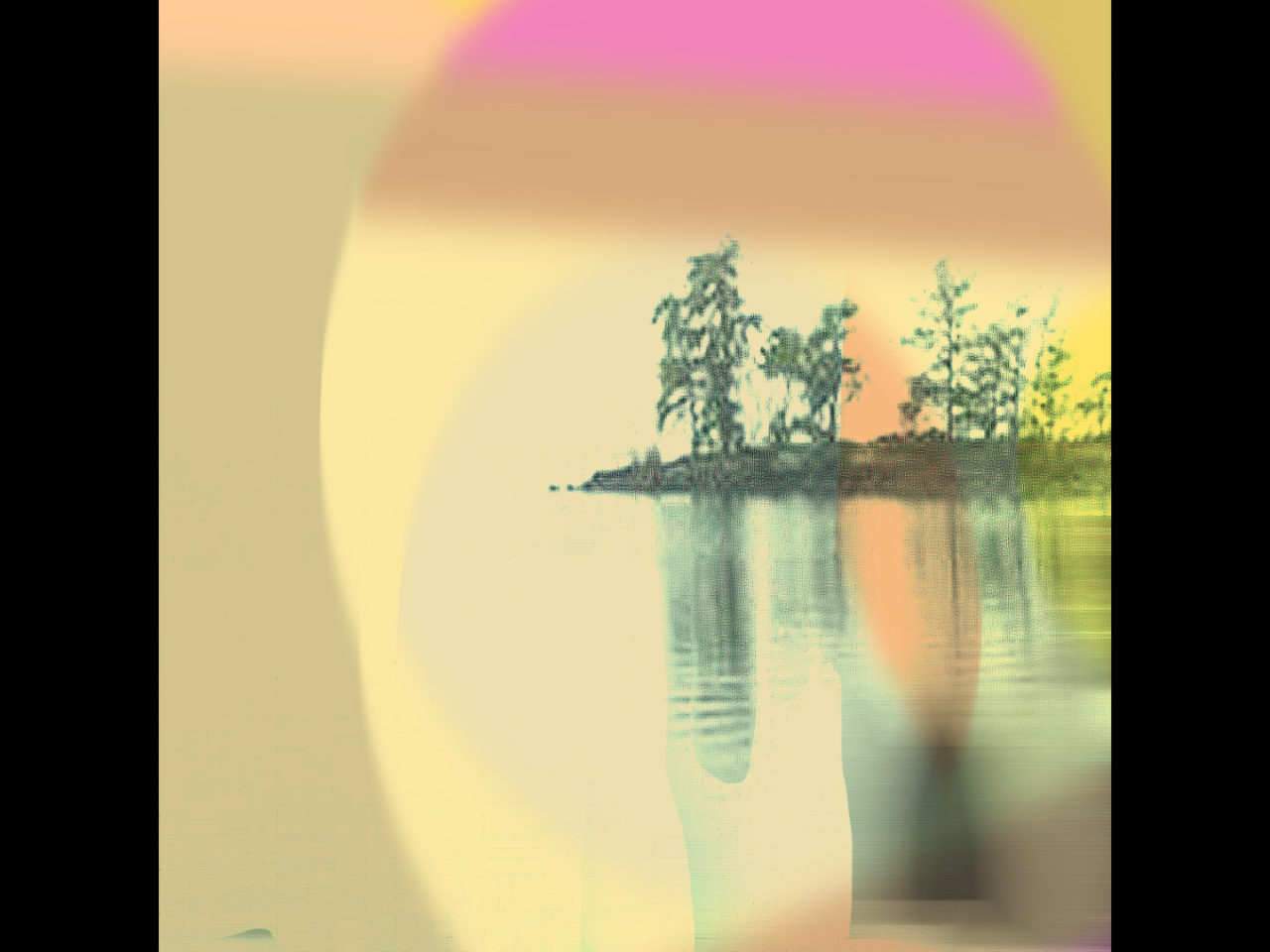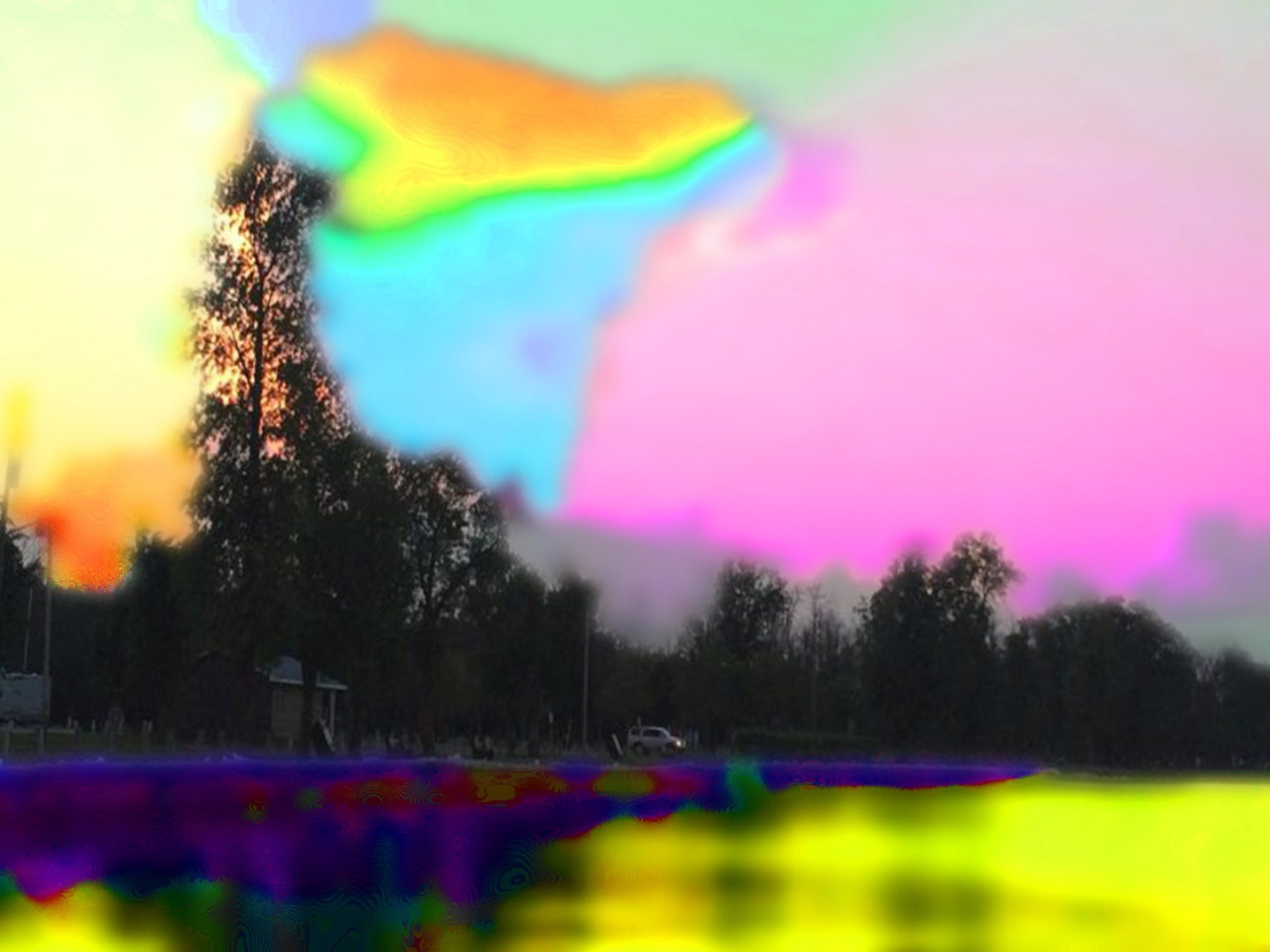 Preston Buffalo
Preston Buffalo is a two-spirited Cree artist who lives and loves in the unceded traditional territories of the Coast Salish peoples (Vancouver). His work straddles performance, textile and photography, and often situates itself within the intersections of hyphenated identities.
Preston Buffalo est un artiste cri bispirituel qui adore et vit sur les territoires traditionnels non cédés du peuple Salish de la côte (Vancouver). Ses oeuvres mêlent la performance, les textiles et la photographie et se situent fréquemment à la croisée d'identités hybrides.