Kali Spitzer: Exploring Resilience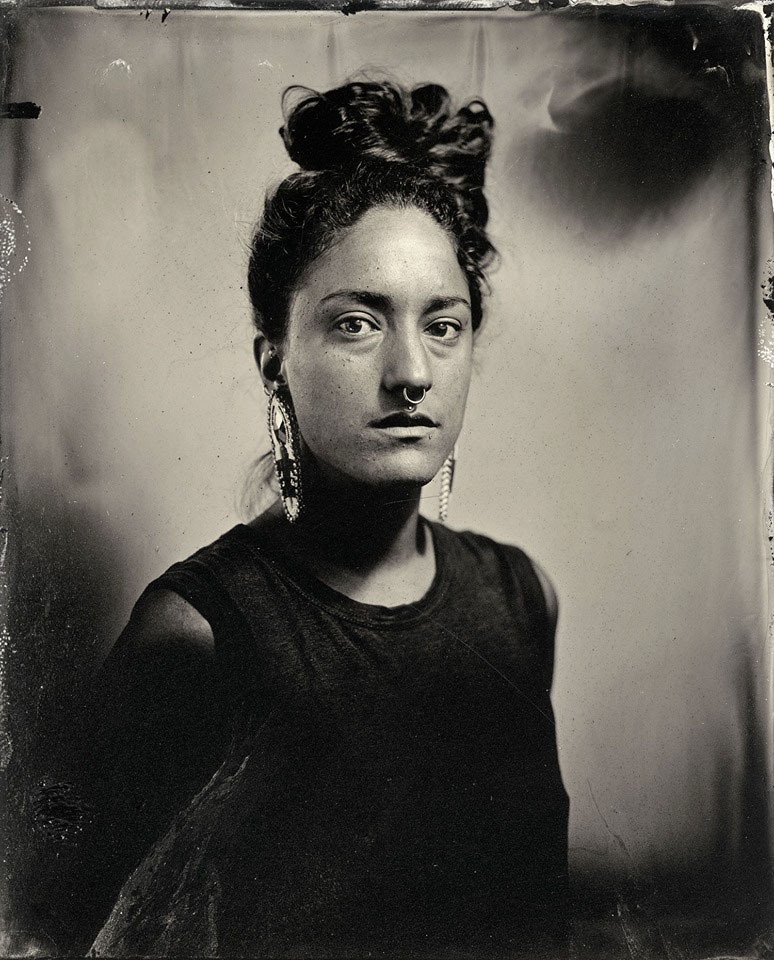 Kali Spitzer's photography exhibit, 'An Exploration of Resilience', is just one of the exciting happenings at Never Apart starting off this bright shiny new year of events, classes and openings, with its Winter Exhibition Vernissage opening Thursday, January 26th, from 6-10pm.
Spitzer's stunningly beautiful imagery braids identity, culture, strength, vulnerability and love together, while touchingly celebrating resilience. Investigating different facets of people and revealing how they explore themselves, Spitzer photographs her community of mostly indigenous and mixed heritage people while challenging pre-conceived notions of race, gender, and sexuality. "My work touches upon how we can become more empathic, empowered people despite the hardships that we have endured," shares Spitzer. "Every photograph, every person, has a story to tell, and I am telling it through their portrait. I hope the viewer can recognize the different sides of these stories, including the pain, but most of all, the subject's spirit and perseverance." Spitzer's specific intent is to take the most honest portrait of each subject, believing that the images she creates is a mutual collaboration between the individual and herself. "I wouldn't be able to create the images I do without trust, which makes trust an essential element of my work. All of the images in the exhibition are archival pigment prints made from original 8×10 Tin Types I have made."
Originally from the Yukon, Spitzer is Kaska Dena on her father's side, and Jewish from Transylvania, Romania on her mother's side. The Kaska Dena are a First Nations people of the Athabaskan-speaking ethnolinguistic group living mainly in northern British Columbia and the southeastern Yukon in Canada. Having earned a Diploma in Professional Photography from the Western Academy of Photography, Spitzer studied at the Institute of American Indian Arts in Santa Fe, New Mexico and at the Santa Fe Community College. She often works with film (35mm, 120 and large format), and has developed a newfound love for the wet plate collodion process using an 8×10 camera. Her work includes portraits, figure studies, and photographs of her people, ceremonies, and culture, and has also exhibited and gained recognition internationally. At the age of 20, Spitzer returned north to spend time with her Elders learning how to hunt, fish, trap, tan moose and caribou hides, and bead. Spitzer documents these practices with a sense of urgency, highlighting their vital cultural significance. She focuses upon cultural revitalization through her art whether in the medium of photography, ceramics, tanning hides, or hunting. She views all of these practices as art and as part of an exploration of self. "I also grew up in Victoria, BC, although I've been living in New Mexico for the last 4 years. I bought my first camera at about age 13, a Canon 35mm film camera, and completely fell in love with photography. I can't really remember my life without art. I have always been around it and or making it. It doesn't feel like a choice, it's just a part of who I am. It's been almost 10 years since I went to photography school, yet it was exciting to learn something new I had been interested in for years." It's important to Spitzer that her work compels people to feel and think, with the hope that participants are able to have a glimpse into these peoples' lives and feel the stories she tells through the use of portraiture. "I want them to be able to connect, empathize, and see these people in front of them as well as the struggles and beauty their lives have taken them through. As indigenous women and people we are too often overlooked, objectified and stereotyped. I want to create a vision and audio space where we are seen and heard. And through making these raw, honest, and large scale portraits, I hope to achieve this."
Having only been to the NVA space once before when a former partner was performing with Carole Pope during her gig last year gracing the environment, Spitzer was immediately intrigued by the space as well as the work on display at the time. "I contacted Michael Venus, who I adore. We started talking about having a show and now here it is! I think the gallery promotes beautiful, impactful work that is making social change and bringing awareness of different cultures. This is the kind of space I want to be apart of!" One of Spitzer's mentors is Will Wilson, head of the Photography Department at Santa Fe Community College, New Mexico, and she often cites one of the most important things she learned from him being "to be generous in what I learn and do, to stay creative and passionate for my work, and to keep evolving. He is a prolific artist himself, a very humble, passionate, patient person. All qualities that are great to have in a teacher."
Spitzer is excited for the opportunity to exhibit her work in the NVA gallery, as well as seeing the other artists' work and being shown at the same time as them. She is deeply inspired by her community and the many social changes she observes happening in the world right now. "It's our communities' fight, perseverance and power that inspires me most. The Kaska people inspire me to document our people, culture, land and traditional ways of life. I want to tell our peoples' stories, to make others really look and see us as indigenous women and people, and not as stereotypes or in the past, or as objects. See us for who we are now, see how resilient our spirits are."
L'image de la persévérance
Parmi un grand nombre d'activités excitantes que Never Apart réserve pour cette nouvelle année d'événements, de cours et lancements commençant le jeudi 26 janvier de 18 à 22h avec le vernissage de l'Exposition d'Hiver, on retrouve An Exploration of Resilience, l'exposition photo de Kali Spitzer.
Les magnifiques images de Spitzer rassemblent identité, culture, force, vulnérabilité et amour, tout en célébrant la persévérance d'une façon touchante. Explorant différentes facettes des gens et révélant comment ils font leur introspection, Spitzer photographie sa communauté, constituée majoritairement de personnes autochtones et d'hérédité mixte, tout en remettant en cause les notions préconçues de race, de genre et de sexualité. Mon travail aborde la façon dont nous pouvons devenir un peuple plus empathique et responsable, malgré les épreuves que nous avons endurées, explique Spitzer. « Chaque photo, chaque personne, a une histoire à raconter et je la raconte à travers leur portrait. J'espère que le spectateur pourra reconnaître les différents côtés de leur histoire, notamment la douleur, mais surtout leur volonté et leur persévérance. » L'intention spécifique de Spitzer est de faire le portrait le plus honnête de chaque sujet; elle considère que les images qu'elle crée sont une collaboration mutuelle entre elle et l'individu. « Je ne pourrais pas créer ces images sans leur confiance, ce qui fait de la confiance un élément essentiel de mon travail. Toutes les images de l'exposition sont des tirages pigmentaires faits à partir de ferrotypes originaux 8×10 que j'ai créés.
Originaire du Yukon, Spitzer est, du côté de son père, Kaska Dena et juive de Transylvanie, en Roumanie, du côté de sa mère. Les Kaska Dena sont les membres d'une Première Nation du groupe ethnolinguistique parlant les langues athapascanes et vivant principalement au nord de la Colombie-Britannique et au sud-est du Yukon, au Canada. Ayant obtenu un diplôme en photographie professionnelle de la Western Academy of Photography, Spitzer a étudié à l'Institute of American Indian Arts de Santa Fe, au Nouveau-Mexique, et au collège communautaire de Santa Fe. Elle travaille fréquemment avec du film (35mm, 120 et grand format) et s'est découvert une passion pour le procédé au collodion humide à l'aide d'une caméra 8×10. Ses oeuvres incluent des portraits, des études anatomiques et des photographies de son peuple, de leurs cérémonies et leur culture et ont été exposées et reconnues à l'échelle mondiale. À l'âge de 20 ans, Spitzer est retournée dans le nord canadien pour passer du temps avec les aînés de sa tribu et apprendre à chasser, pêcher, trapper, tanner des peaux d'orignal et de caribou et à faire du perlage. Spitzer documente ces pratiques avec un sentiment d' urgence, en mettant en évidence leur importance culturelle. Elle met l'accent sur la revitalisation culturelle à travers son art, que ce soit par la photographie, la céramique, le tannage de peaux ou la chasse. Elle considère toutes ces pratiques comme de l'art et comme faisant partie du processus d'auto-exploration. J'ai aussi grandi à Victoria, en Colombie-Britannique, bien que je vive au Nouveau-Mexique depuis 4 ans. J'ai acheté mon premier appareil photo, une caméra Canon 35mm, à l'âge de 13 ans, et suis complètement tombée amoureuse de la photographie. Je ne me souvient pas d'une vie sans art. Soit que j'étais toujours été entourée d'art, que j'en créais. Ça ne m'a jamais paru comme un choix, ça fait partie de qui je suis. Je suis allée à l'école de photographie il y a de cela 10 ans, mais c'était excitant d'apprendre quelque chose de nouveau sur un sujet qui m'avait passionnée pendant des années. Il est important pour Spitzer que ses oeuvres donnent un aperçu de la vie de ses sujets et poussent les spectateurs à réfléchir et à ressentir les histoires qu'elle raconte grâce à l'art du portrait. Je souhaite qu'ils puissent voir, connecter et sympathiser avec ces personnes devant eux, tout comme avec les épreuves et la beauté que leur vie les ont fait traverser. En tant que personnes et femmes autochtones, nous sommes trop souvent négligées, objectivées et stéréotypées. Je veux créer une vision et un espace sonore où nous sommes vues et écoutées. En faisant ces portraits bruts et honnêtes à grande échelle, j'espère atteindre cet objectif.
Bien qu'elle n'ait visité NVA qu'une seule fois auparavant, lorsqu'un ancien partenaire s'y est produit l'an dernier avec Carole Pope, Spitzer a immédiatement été intriguée par l'espace et les oeuvres à l'affiche. J'ai contacté Michael Venus, que j'adore. Nous avons commencé à parler d'une exposition et la voilà! Je pense que la galerie promeut des oeuvres superbes qui ont un impact social tangible et qui sensibilisent les visiteurs à d'autres cultures. C'est le genre d'espace dont j'ai envie faire partie! Will Wilson, Chef du département de photographie au collège communautaire de Santa Fe, au Nouveau-Mexique, est un des mentors de Spitzer. Elle cite souvent une des choses les plus importantes qu'il lui a apprise: D'être généreuse dans ce que j'apprends et ce que je fais, de rester créative et passionnée dans mon travail et d'évoluer sans cesse. Il est lui-même un artiste prolifique, une personne très humble, passionnée et patiente. Toutes des qualités fantastiques à trouver chez un professeur.
Spitzer se réjouit de l'opportunité de présenter ses oeuvres à la galerie NVA, tout comme de voir les oeuvres des autres artistes avec qui elle a le plaisir de partager les galeries. Elle est profondément inspirée par sa communauté et les divers changements sociaux dont le monde est présentement témoin. C'est la lutte, la persévérance et le pouvoir de nos communautés qui m'inspirent le plus. Les gens Kaska m'inspirent à documenter notre peuple, notre culture, nos terres et nos pratiques traditionnelles. Je veux raconter les histoires de mon peuple, faire que les gens nous regardent et nous reconnaissent comme des femmes et des personnes autochtones, et non comme des stéréotypes ou des objets, comme nous l'avons été par le passé. Nous voir pour qui nous sommes maintenant, voir à quel point nos esprits sont résilients.