Ahead of his headline performance for us this weekend at LANDR, trend-defying, Grammy-nominated Montreal mainstay Mike Silver, aka CFCF, is the latest in our Six Pick series.
Despite not even being 30, CFCF has already had a long and prolific career for himself, running the gamut of all things house music (and more recently, experimental). Since 2009, he's released six LPs (!) on labels such as Paper Bag and more recently, 1080p, and has also put out 12″ singles on imprints as varied as Acéphale, UNO, and International Feel, not to mention countless remixes on the cream-of-the-crop like DFA, Tigersushi, Turbo, and Deutsche Grammophon. His latest project, a collaboration with Montreal-based pianist Jean-Michel Blais, premiered during Red Bull Music Academy in October, and speaks to the breadth of Mike's ability as a musician and his influences as a devout music lover.
What was interesting to note during his Six Picks session was his instinct to gravitate towards records that NO ONE would even think about touching (I'm looking at you, Goa Trance)— which I think speaks volumes about his approach in seeking out the music he loves.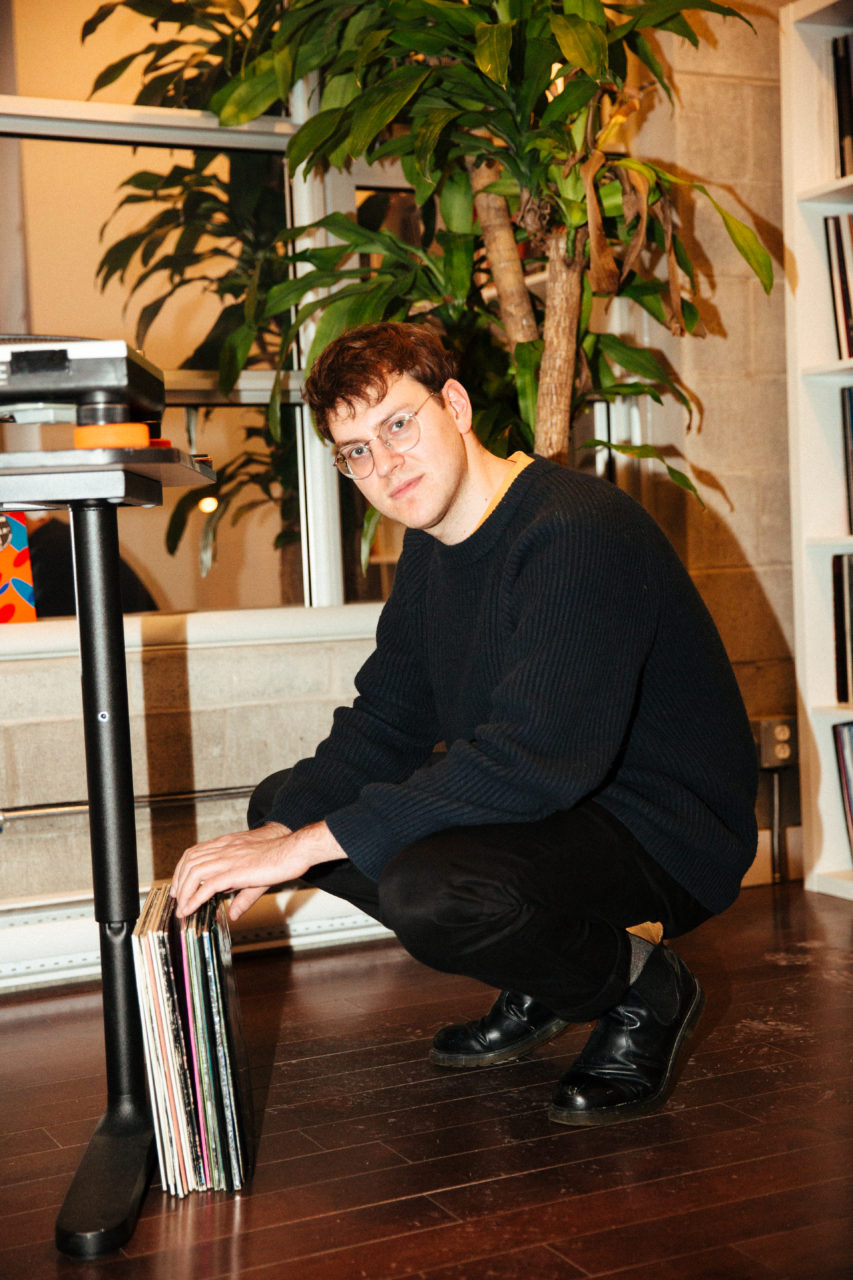 I was pretty overwhelmed by this collection. Brought back painful memories of walking into Inbeat as a dumb electronica loving 13-year-old and being so intimidated by all the records and styles I knew nothing about. Today my knowledge is only slightly deeper, but instead of being intimidated I try to be confident in my voice as a selector and anchor my choices in my personal history and whatever is currently inspiring me creatively. It can be daunting to try to know about everything at once, so framing my sets around the music I'm currently working on allows me to focus more sharply on the music that is meaningful to me.
Curious mix of elements here – a clumsy vocal sample, tons of congas and pounding drums that eventually give way to an unexpectedly emotional synth coda. It does what all my favorite dance tracks do – patiently leverage an intense dancefloor experience with a subtly stirring chords. This song rips!
Had to pull this the second I saw the Moving Shadow sleeve. Obviously jungle & dnb is having a resurgence at the moment, and honestly I'm surprised it took so long. There's always been something really deeply satisfying about tracks like this – the crunch of the drums and the liquid synths are pure ear candy. 
I just noticed Leticia already picked another track from this for her Six Picks haha. The rest of this 12" is some really cool leftfield electro (in particular the track she picked, "Juicy Fruit"), but I obviously gravitate toward the track that balances an anchoring 303 loop with some understated, unnerving pads.
The beginning is a bit dicey but this eventually builds into a pretty cathartic, fast, kind of angsty rave track with beautiful choir chords. The first track on this 12", "New Age Heartcore" (fantastic title) also had a wonderful, almost rock/electronica vibe with distorted acid lines mimicking grungy guitars.
I knew this was going to be in my wheelhouse from the moment I heard the opening pads. The ultra-bare label told me this was going to be something special. Some really lovely and lush techno trance from '93.
This track is kind of stupid, and kind of undeniable, but I've been weirdly fascinated with 1998-2000 era French touch again like this, Cassius, Motorbass, in all its glitzy, phasered, bitcrushed glory. More than conjuring images of underground Parisian dancefloors it makes me think of Levi's adverts, MTV interstitials and fashion magazine spreads – its totally usurpation by commercialism makes it really unfashionable which of course, because I am annoying, means I want to drop it in sets and rehabilitate it.
Ed: Mike chose 7 so I'm allowing a bonus 😉
Super spacey and surprisingly fast track from the I:Cube side project, very 'organic' sounding – bonus points here for the B-side being a series of locked groove loops from the track with the tagline "Build your own."