Summer Exhibitions Vernissage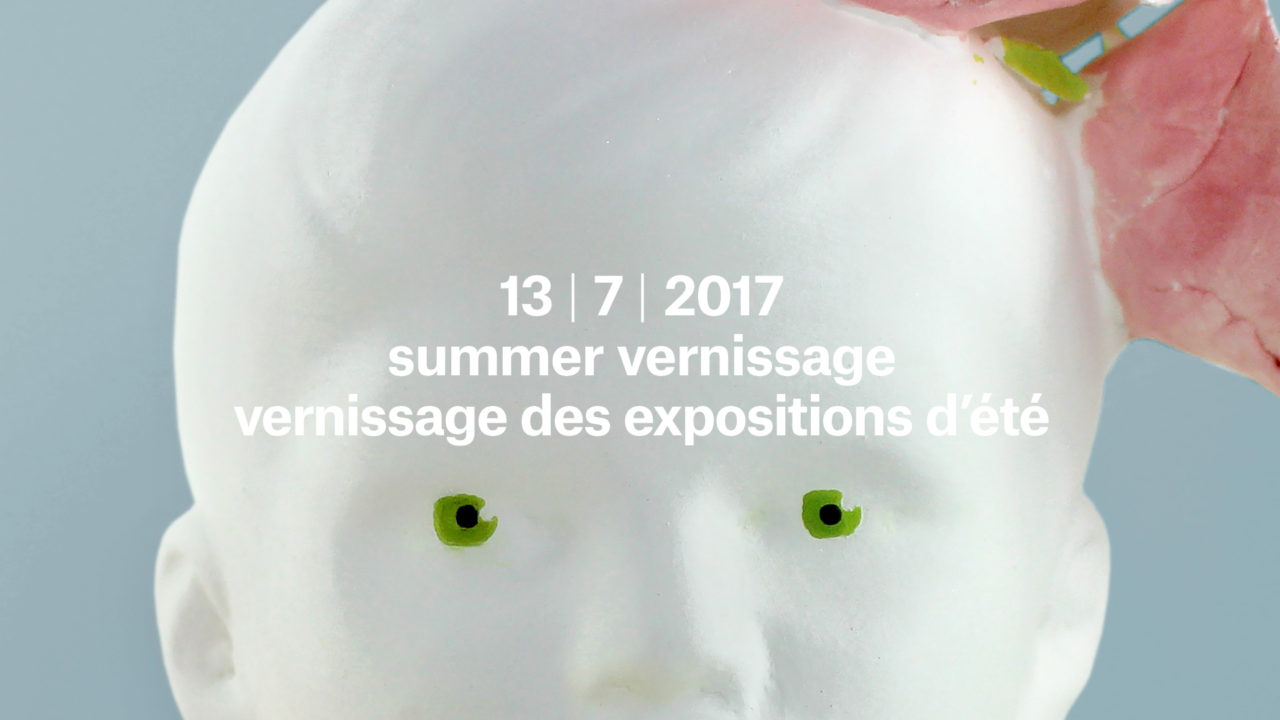 We are excited to launch our Summer Exhibitions and seasonal programming with our Vernissage on Thursday, July 13th!
We have six new exhibitions going up that explore different mediums through many different lenses with sixteen international and local artists.
We are excited to work with such a diverse group of people and some of the city's premier festivals and organizations who share a similar vision!
Exhibitions:
Gallery A, B +C
Femme Realness
A Celebration of The Effeminate Gay Male
Artists: George Stamos, Pansy Ass Ceramics, Nicholas Contrera, John Simone,Jihef Portelance
The intention of this exhibition is to celebrate the poof, the sissy and the peacocks of the LGBTQ2+ community.
Stereotypes depicted over the past century established a dominant narrative that all gay men were "nelly". In our misogynist and heterosexist culture, we have been taught that men whom are flamboyant and feminine are lesser than, unattractive and not "real men". In attempt to disprove the stereotype, aspects of gay culture slowly began to embrace and fetishize mainstream masculinity. From uniforms to sports to body hair, a more masculine aesthetic began to take over gay culture and the girlie boys were, once again, stigmatised. Only this time, it was within our own culture and that hierarchy continue today, both outside and inside of the LGBTQ2+ community.
The queer movement has come a long way but it is still not safe for many folks to simply be whom they are. These unapologetic "queens", like many other visible minorities, generally endure ridicule, bullying and discrimination at various points in their lives. Yet "queenie" portrayals are not something to be looked down upon but, instead, highlighted as a powerful archetype within our diverse rainbow of humanity. We want to celebrate the style makers, the eccentric visionaries, the innovators and the brave individuals who are often ahead of their time and are not afraid to be their authentic selves in the face of adversity.
Femme Realness puts these magical and colourful beings on a pedestal, where they belong, with the intention of creating dialog and finding greater understanding within our community and society at large. Got to be real!
Upper Gallery
G.R.O.S.S.
Art POP and Never Apart present G.R.O.S.S., a group show that revels in the guck, ooze, rot, leaks, and stray hairs, featuring artists Tricia Middleton, Nadine Faraj, Rebecca Storm and Jana Sterbak.
Art POP and Never Apart present G.R.O.S.S., a group show featuring artists Tricia Middleton, Nadine Faraj, Rebecca Storm and Jana Sterbak. Who decides that we can't make a mess? Or what kind of mess we can't make? This all-female exhibition revels in the guck, ooze, rot, leaks, and stray hairs. Working in diverse practices ranging from sculpture, photography to painting, these four artists have no qualms about getting gross. We get flashes of morbid decay, monstrous overgrowth, carnal slime and grotesque (female) bodies – suggesting various states of degradation but also transformation. We wonder, where does revulsion become attraction? Are these works unfeminine? And ultimately, why stay with entry-level tastes like cheese pizza when you can eat sh*& like raw oyster the size of your face?
Curated by Robb Jamieson and Tao Fei
Upper Gallery D
Colour By Icons
Never Apart and Brad Firmino
Colour by Icons is a colouring book project and gallery exhibit that aims to restore the importance of queer history and role models through an educational device that fills in some of the gaps of our past while colouring inside the lines.
There are 25 new iconic images found inside and bound in the 1980's Colouring Book style for a total of 50 Icons! The 25 new Icons created by Brad Firmino will be on display as large pop art posters.
Upper Gallery B+C
CELLS: A POETRY INSTALLATION AND DURATIONAL PERFORMANCE:
From July to August 2017, Jordan Brown and Alisha Mascarenhas will frequently inhabit these two rooms, addressing the inextricability of the poem and the socio-political systems in which it is encountered. The desired outcome is a living installation that explores the healing potentials of an ecological writing praxis. The rooms will become inclusive and connective environments to strengthen diasporic encounters: incubation cells for dialogue, disruption and generative silence.
Over time, they will materialize a work of poetic ecology composed of text, sound, video, light, and objects that grows out of its physical & ideological surroundings. The rooms will become imbued with the cumulative materials of the poetic process.
Weekly occupations will occur between the hours of 12-5pm on Saturdays, during the opening hours of the Never Apart gallery space. During this time, the poets will work alone, together, or with invited guests to develop the works. Their process will respond to the space and the current exhibition(s). This piece will culminate in an emergent textual performance as part of the CC: MTL Clapback on August 17th.
Upper Display Case
(Something) with a decorative edge.
Anika Ahuja & Sara Graorac
"(Something) with a decorative edge." is the border between consideration and consumption.
Artists Anika Ahuja and Sara Graorac consider the nuances of cultural exchange and confront the commodification of cultural diaspora.
Alongside references to tourism and convenience storefronts, cultural relics are revisited and altered as a means of addressing personal connections to migrational aesthetics, political and cultural crises, as well as internalized contradictions of "third culture" identity.
"(Something)…" is a vessel for memories both pleasant and difficult to confront, identities that are simultaneously inherent, and manufactured.
Theatre:
Black Box
Black Box unites Sven Marquardt's images and Marcel Dettmann's sound.
Born in East Berlin Sven Marquardt was a defining part of the emerging Punk, New Wave and arts scene in the Prenzlauer Berg neighborhood from the mid 1980s. With the fall of the Berlin Wall he halted his work as a photographer and immersed himself in the reunited city's rising night club scene. The subject-matter of 'Night' left a strong impression on Marquardt since the end of the 90s due to his work as a doorman at the Ostgut club. Marquardt has been working on the door of Berghain since 2004.
Marquardt's work combines formal severity and clear imagery with bleak impermanence, impresses through interaction of ease, severity and the dramatic art of monochrome contrasting. The ever changing metropolis of Berlin has shaped Marquardt's sensibility for striking characters, his sense for the unusual in humanity and his artistic subject.
Marquardt's body of work has stood the test of time of major societal and cultural changes. His photography seems classic, the underlying contents of his images merge past, present and future. There are echoes of transformation and reformation in his work, as in one of mankind's oldest symbols of the snake shedding its skin. The imagery plays with ideas of transforming creatures and takes on different appearances; in other words: there's more than meets the eye.
DJ and producer Marcel Dettmann is recognised as one of the most influential proponents of contemporary Techno. Widely associated with iconic places – Berlin, Berghain and Hard Wax – Dettmann stays true to his roots by consistently innovating his interpretation of electronic music, integrating art with the scene.
With DJ Frigid
Expositions:
Galeries A, B +C
Femme Realness
Une célébration de l'homme homosexuel efféminé
Artistes: George Stamos, Pansy Ass Ceramics, Nicholas Contrera, John Simone, Jihef Portelance
Cette exposition a pour but de célébrer les fifis, les tapettes et les tantouzes de la communauté LGBTQ2+.
Les stéréotypes répandus au cours du siècle dernier ont établi un discours dominant comme quoi tous les hommes gais étaient des mauviettes. Notre culture misogyne et hétérosexiste nous a appris que les hommes flamboyants et féminins avaient moins de valeur, qu'ils étaient moins attirants et n'étaient pas de « vrais hommes ». Pour essayer de réfuter ce stéréotype, des facettes de la culture gaie ont progressivement adopté et fétichisé la masculinité traditionnelle. Des uniformes aux sports et à la pilosité corporelle, un esthétisme plus masculin s'est ancré dans la culture gaie. Les garçons féminins ont été stigmatisés une fois de plus, mais cette fois, par notre propre culture. Cette hiérarchie perdure à l'extérieur tout comme à l'intérieur de la communauté LGBTQ2+.
Le mouvement queer a fait de grands progrès, mais il n'est pas toujours sécuritaire d'être qui l'on est vraiment. Ces folles assumées, comme beaucoup d'autres minorités visibles, sont habituellement victimes d'humiliation, d'intimidation et de discrimination dans le courant de leur vie.Pourtant, ces représentations « fofolles » ne devraient pas être méprisées, mais plutôt soulignées comme archétype puissant au sein de l'arc-en-ciel qu'est l'humanité. Nous voulons célébrer les créateurs, les visionnaires excentriques, les innovateurs et les personnes courageuses qui sont souvent en avance sur leur temps et n'ont pas peur d'être authentiques face à l'adversité.
Femme Realness place ces êtres magiques et colorés où ils méritent de se trouver, soit sur un piédestal, dans le but de susciter une conversation parmi notre communauté et la société et mieux comprendre ce phénomène. Il faut être vrai !
Galerie supérieure
G.R.O.S.S.
Art POP et Never Apart présentent G.R.O.S.S., une exposition de groupe qui se délecte de crasse, d'exsudat, de pourriture, de fuites et de poils perdus et met en vedette les artistes Tricia Middleton, Nadine Faraj, Rebecca Storm et Jana Sterbak.
Art POP et Never Apart présentent G.R.O.S.S., une exposition de groupe mettant en vedette les artistes Tricia Middleton, Nadine Faraj, Rebecca Storm et Jana Sterbak. Qui a déclaré qu'on ne pouvait pas semer le désordre? Ou ce qui constitue un dégât? Cette exposition composée de femmes artistes se délecte de crasse, d'exsudat, de pourriture, de fuites et de poils perdus. Travaillant dans des pratiques techniques variées allant de la sculpture, la photographie et la peinture, ces quatre artistes n'ont rien contre ce qui est répugnant. De la décomposition morbide, des excroissances monstrueuses, des mucosités charnelles et des corps (de femmes) grotesques – ces images suggèrent divers degrés de dégradation, mais également de transformation. On se demande à quel moment le dégoût devient-il de l'attirance? Ces oeuvres sont-elles antiféminines? Et, en bout de ligne, pourquoi se restreindre à des goûts de débutant comme de la pizza au fromage quand vous pouvez vous taper une huître crue de la taille de votre tête?
Organisé par Robb Jamieson et Tao Fei
Galerie D (étage supérieur):
Colour By Icons
Never Apart et Brad Firmino
Colour by Icons est un projet de livre à colorier et une exposition en galerie qui cherche à restaurer l'importance de l'histoire et des figures de proue queer par le biais d'un outil éducatif qui comble certaines lacunes de notre passé à coup de crayons de couleur.
25 nouvelles images iconiques s'ajoutent aux 25 icônes dévoilées dans la première édition de ce livre à colorier qui rappelle les années 80! Les 25 nouvelles icônes créées par Brad Firmino seront exposées sous la forme de grands posters pop art.
Galeries B + C (étage supérieur) :
CELLS: Installation poétique et performance de longue durée
De juillet à août 2017, Jordan Brown et Alisha Mascarenhas occuperont régulièrement ces deux salles, adressant l'indissociabilité du poème et des systèmes sociopolitiques dont il émerge. Leurs efforts ont pour but de créer une installation vivante qui explore le potentiel thérapeutique d'une pratique d'écriture écologique. Ces salles deviendront des environnements inclusifs et connectifs pour renforcer des rencontres diasporiques: des cellules d'incubation pour un dialogue, une perturbation et un silence reproducteur.
Au fil du temps, ils réaliseront une oeuvre de poésie écologique composée d'écrits, de vidéos, de sons, de lumières et d'objets qui émaneront de son milieu physique et idéologique. Les pièces seront empreintes de l'ensemble du processus poétique.
Ces séances créatives hebdomadaires auront lieu les samedis, entre midi et 17h, durant les heures d'ouverture de l'espace Never Apart. Durant cette période, les poètes travailleront seuls, ensemble ou accompagnés d'artistes invités pour développer leurs oeuvres. Leur processus sera influencé par l'espace ainsi que les expositions actuelles. L'oeuvre se culminera par une performance textuelle pendant le Clap Back du 17 Août présenté par CC:MTL.
Vitrine (étage supérieur):
(Something) with a decorative edge.
par Anika Ahuja & Sara Graorac
(Something) with a decorative edge. est la frontière entre la réflexion et la consommation.
Les artistes Artists Anika Ahuja et Sara Graorac considèrent les nuances de l'échange culturel et confrontent la marchandisation du diaspora culturel.
Outre des références au tourisme et aux vitrines de commerces de quartier, des reliques culturelles sont revues et modifiées en réponse aux rapports personnels à l'esthétisme de migration, des crises politique et culturelles, ainsi que des contradictions intériorisées de l'identité de «troisième culture ».
(Something)… constitue des souvenirs autant heureux que difficiles à aborder, des identités qui sont à la fois inhérentes et fabriquées.
Salle de projection:
Black Box
Black Box réunit l'univers visuel de Sven Marquardt et le son de Marcel Dettmann.
Né à Berlin-Est, Sven Marquardt est un élément important du milieu émergent punk, new wave et artistique de Prenzlauer Berg. À la chute du mur, il laisse de côté son travail de photographe pour pénétrer dans l'univers des night-clubs de Berlin. Le thème de la nuit l'influence profondément en raison de son travail de portier au club Ostgut à la fin des années 1990. Depuis 2004, Marquardt est portier au Berghain.
Les photographies de Marquardt allient rigueur formelle, langage visuel clair et éphémérité sombre. L'interaction entre la légèreté et la lourdeur ainsi que l'aspect dramatique des contrastes entre le noir et le blanc les rendent captivantes. La métropole de Berlin, en constante évolution, a aiguisé son regard pour les personnages marquants, son flair pour les aspects singuliers chez les humains et pour son sujet artistique.
L'œuvre de Marquardt est intemporelle, le présent, le passé et le futur se fondent dans ses images, qui évoquent la transformation et le renouveau, comme dans l'un des plus anciens symboles de l'humanité, celui du serpent qui se défait de sa peau. Cette image véhicule l'idée que les êtres se transforment et prennent de nouvelles formes, qu'ils recèlent en eux bien plus qu'ils ne le laissent paraître.
DJ et producteur, Marcel Dettmann compte parmi les protagonistes les plus influents de la techno contemporaine. Associé à aux clubs emblématiques que sont le Berlin, le Berghain et le Hard Wax, Marcel demeure fidèle à ses racines, tout en élargissant son interprétation de la musique électronique et en intégrant l'art à ce milieu.
Avec: DJ Frigid