Summer Exhibitions Vernissage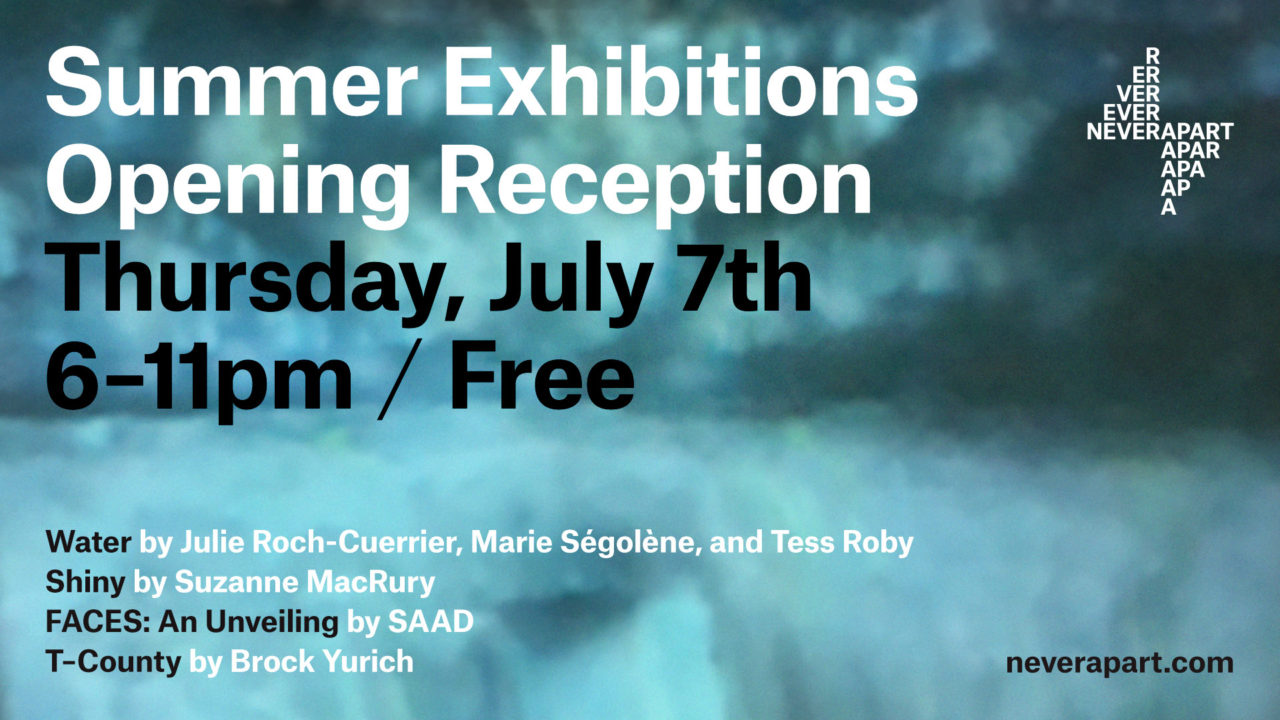 Join us for our Summer Exhibitions launch and Vernissage!
Water July 7th- October 1st
Gallery A: Marie Ségolène, Tess Roby
Gallery B + C: Julie Roch-Cuerrier
This exhibition brings together three women and their investigations about water. Encompassing installation, video, photography and performance, the plurality of approaches taken by the artists reveals different layers of understanding of the medium. Questioning concepts of borders and edges, together with the relation between landscape and the body, Water examines the twofold materiality and immateriality that defines water and its changing courses.
Tess Roby shares images from her two most recent series: Inner City Growth and The Shape of Worlds Colliding. In these selected images, water is used to create narrative within each body of work, representing themes of space, transition and loss. Alongside Roby, Marie Ségolène examines the symbolics of water within mythology and founding texts of Western civilization. In Aphrodite, she furthers her research into the ancient ritual of libation creating a three-part durational performance and installation. In gallery B and C, Julie Roch-Cuerrier presents it meant The World, a research project developed around an erased National Geographic atlas. Representations of the Earth are reduced to a world of colour, creating a new context of understanding.
Altogether, these works make us consider how ways of seeing and knowing have shaped our relationship to water through history. Water delves into the architecture of images and temporality, presenting work that stretches the boundaries of experience.
"Shiny" Suzanne MacRury July 7th- Oct 1st
This installation by Suzanne MacRury intends to start a dialogue that revolves around consumerism and its negative effects on our natural world. Brand marketing and trends brainwash society into buying the new, expensive and shiny. What is the true cost of these items? What is our sacrifice?
FACES by SAAD
An Unveiling
SAAD launches model placement and management agency, FACES MGMT and shines a spotlight on his first selection of talents with a photo exhibition.
The new agency provides a curated portfolio of models with exceptional talent and competence, which cater to the demands of the ever-changing fashion industry.
Theatre
T-County
Directed and written by Brock Yurich
"Eddie, a young man trapped in his small town, learns a terrible secret and must come to terms with the truth about his ailing grandfather. T-County explores the effects of masculinity and religion on a family of men set against the backdrop of rural Northeast Ohio"
Du 7 juillet au 1er octobre
Water
Galerie A: Marie Ségolène, Tess Roby
Galeries B et C: Julie Roch-Cuerrier
Cette exposition unit trois femmes et leurs enquêtes sur l'eau. Alliant des installation, du vidéo, de la photographie et des prestations, la pluratité des approches prises par les artistes révèlent les différentes sphères de compréhension du médium. Remettant en question les notions de frontières et de bordures, ainsi que la relation entre le paysage et le corps, Water examine la dualité du matériel et de l'immatériel qui définie l'eau et ses changements de cap.
Tess Roby partage des images tirées de ces deux plus récentes séries: Inner City Growth et The Shape of Worlds Colliding. Dans les images sélectionnées, elle se sert de l'eau pour créer un récit à travers chaque ensemble d'oeuvres, représentant des thèmes comme l'espace, la transition et la perte. Aux côtés de Roby, Marie Ségolène examine the symbolisme de l'eau à travers la mythologie et les textes fondateurs de la civilisation occidentale. Dans Aphrodite, elle poursuit sa recherche sur l'ancien rituel de la libation en créant une prestation et installation de longue durée en trois parties. Dans les Galeries B et C, Julie Roch-Cuerrier présente The World, un projet de recherche développé autour d'un atlas National Geographic effacé. Des représentations de la Terre sont réduites à un monde couleurs, créant ainsi un nouveau contexte pour la compréhension.
Ensemble, ces oeuvres nous font prendre conscience de la façon dont certaines manières de voir et de savoir ont façonné notre relation à l'eau à travers l'histoire. Water plonge dans l'architecture des images et de la temporalité, présentant des oeuvres qui repoussent les limites de l'experience.
Du 7 juillet au 1er octobre
"Shiny"
Suzanne MacRury
Cette installation par Suzanne MacRury a pour but d'initier un dialogue autour de consumérisme et de ses effets néfastes sur notre milieu naturel. Les tendances et la commercialisation de marque endoctrinent la société à acheter du nouveau, du cher, du brillant. Quel est le vrai coût de ces items? Quel est notre sacrifice?
FACES par SAAD
Un lancement
SAAD fait le lancement de FACES MGMT, agence de mannequin et de gérance, et tourne les projecteurs sur sa première sélection de nouveaux visages par le biais d'une exposition photo.
La nouvelle agence dispose d'un répertoire de mannequins à la compétence et au talent exceptionnels, répondant aux exigences du monde constamment en mouvement de l'industrie de la mode.
Salle de projection
T-County
Écrit et réalisé par Brock Yurich
Eddie, un jeune homme coincé dans sa petite ville, découvre un terrible secret et a terrible secret et doit faire faire à la vérité concernant son grand-père malade. T-County explore l'impact de la masculinité et de la religion sur une famille d'hommes, avec pour toile de fond le nord-est rural de l'Ohio.