Hybrid Identities:
Performance & Roundtable with DJ Ipek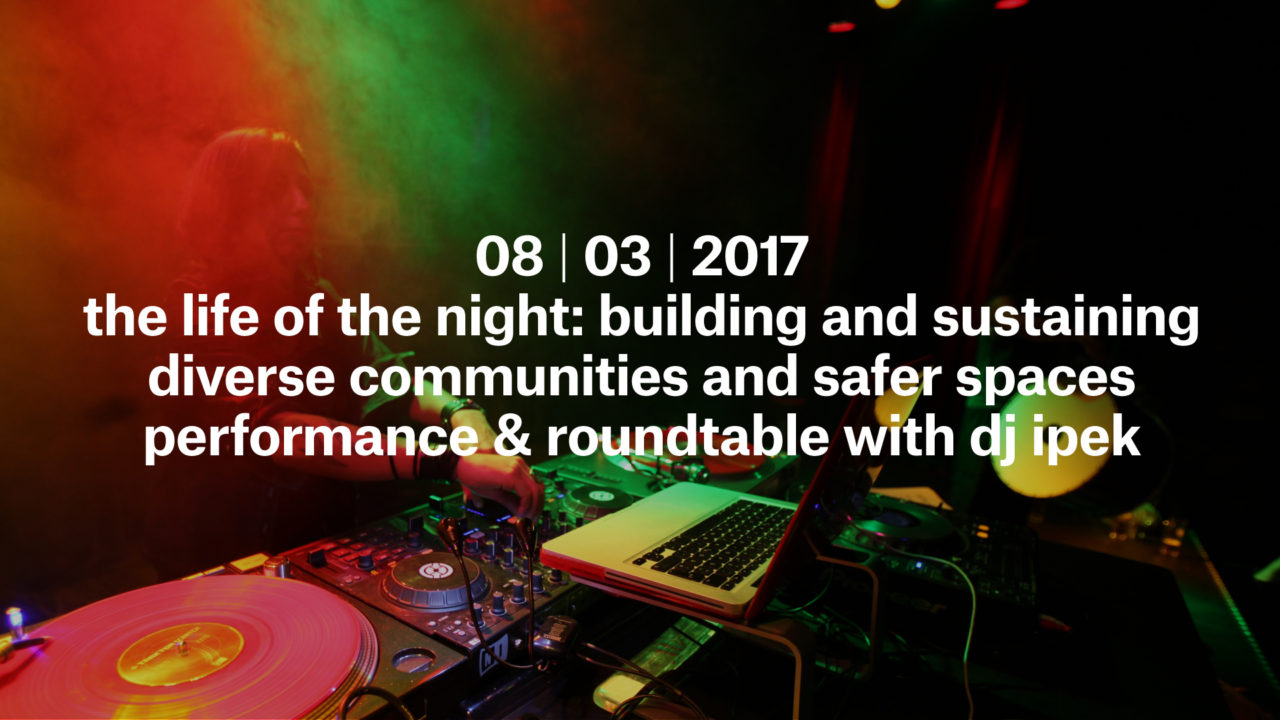 The Life of the Night: Building and Sustaining Diverse Communities and Safer Spaces
On International Womxn's Day, Goethe-Institut Montreal and Never Apart present a performance by Berlin/Istanbul-based DJ Ipek Ipekcioglu entitled "Hybrid Identities," followed by a roundtable discussion with Montreal-based artists/DJs and community organizers on the challenges of building and maintaining feminist and safe nightlife spaces for marginalized groups such as womxn, queer, trans, Black, Indigenous and people of colour. Participants will share their experiences as artists, DJs, producers, promoters and/or venue managers in navigating different DIY scenes in the city. The discussion aims to bring together various communities and perspectives to collectively assess the current situation in the hopes of building future alliances and solidarities, locally and internationally. We hope to see numerous nightlife agents come out and take part in this discussion!
Participants
Based between Berlin and Istanbul, queer-living DJ, producer, and curator Ipek Ipekcioglu has established a reputation across nightlife scenes worldwide. She has performed her music at Glastonbury, Fusion, Sziget, at.tension, Berlin Festival, and many more electronic and world music festivals. İpek is also an active curator, working as the music director of CrossKultur-Festival and designing the ImPort-ExPort stage for MyFest in Kreuzberg, inviting bands to perform for an audience of up to 10,000 people. As well as her DJing and curatorial practice, İpek is a board member of the radio station Reboot.FM and a member of the female electronic musicians network female:pressure. She is a patron of the Schools without Racism – Schools with Courage initiative in Berlin, and currently leads workshops and lectures on DJing technique, hybrid and queer identities, and transcultural clubbing.
Aïsha Vertus is a DJ, journalist, and curator born and raised in Montreal. Having developed a love for hip hop culture and electronic music at an early age, she has translated her musical knowledge into a diverse collage of influences, recreating the carnival ambience of the Caribbean through Northern Brazil percussion and soulful cosmic music. She has performed at a wide range of events and festivals, from Pop Montreal to 24 Hours of Vinyl, and has set the stage for Kaytranada, Mykki Blanco, New York's Discwoman collective, and more. As a curator, she programs for Ti-Agrikol and Mural Festival, and her work as a journalist has included written material for The Fader and Vice. Between 2012 and 2014, she co-directed PIU PIU, a documentary exploring Montreal's fabled beat scene. Aïsha can be heard regularly on her n10.as Radio show Witches Brew and as a co-host on Brooklyn Radio's Fresh Taste.
Jef Ellise Barbara is a Montreal-based avant-garde singer-songwriter and artist whose musical output combines elements of brazen 80s funk, late 70s underground, and downtown no wave. A lover of the odd, dark, and overlooked elements in pop music, they find inspiration in unexpected sources, like off-the-radar acts Su Tissue, Kashif, Francis Bebey, and obscure new wave duo Rexy. Rising from artist-run spaces such as La Brique and Drones Club at the turn of the current decade, J. Ellise Barbara has seen their work soar to enduring acclaim in countries such as Japan and France, in a career whose highlights include duets with Laetitia Sadier (Stereolab), and DIY icon R. Stevie Moore. Since going on an indeterminate hiatus, Barbara's efforts have been partly centered around LGBTQ community organizing (Taking What We Need, ASTTeQ, African Rainbow). They are working on a long-awaited follow-up to their 2013 album Soft To The Touch.
J'vlyn d'Ark is a DJ, event organizer, and artist who was raised in the Deep South and born again in Montreal's underground queer scene. Her music rides the edge of deep house and techno, seductive and driving – at times deep, at turns dark, always hypnotic. Her passionate performances feature an acute attention to production value while her sexy and impactful beats keep the dancefloor moving. After three years of heading up the renowned monthly fundraiser Faggity Ass Fridays, d'Ark has now embarked on several solo and collaborative projects centered around queer women such as D'ark Mistress, TRYST, Acidalia and pitch:dark. A regular fixture at the circuits of commercial venues and festivals in Montreal, including Piknic Électronik, Igloofest, and several ongoing residencies, she never strays too far from the underground, where house music was born.
Xarah Dion has been an integral presence in Montreal's music community for many years, producing and performing music on the fringes of several styles and sensibilities, from minimal wave to sludge metal, avant rock, free improv, and Arabic music. In addition to collaborating on numerous projects through the years, Xarah released her solo albums Le Mal Nécessaire in 2014 and Fugitive in 2016, two cornerstones of Montreal synth pop around which she has built international notoriety and toured extensively in Europe. Her role in the local scene has also been substantial as a founding resident of La Brique, one of Montreal's most important and beloved DIY spaces, which from 2005 to 2013 she co-ran as a jam space, studio, and venue for some of the city's most devoted underground figures.
The Life of the Night: Building and Sustaining Diverse Communities and Safer Spaces
À l'occasion de la Journée internationale des femmes, le Goethe-Institut et Never Apart présentent une performance de DJ Ipek Ipekcioglu (Berlin/Istanbul) intitulée « Hybrid Identities », suivie d'une table-ronde avec des artistes, DJs et organisateur.rice.s montréalais.e.s au sujet des défis associés à la création et au maintien d'espaces féministes et sécuritaires pour les personnes issues de groupes marginalisés tels que les femmes, les personnes queer et trans ainsi que les personnes noires, autochtones et racisées. Les participant.e.s feront part de leurs expériences en tant qu'artistes, DJs, organisateur.rice.s et/ou gérant.e.s de salle en lien avec différentes scènes locales de la vie nocturne. La discussion a pour objectif de rassembler différentes communautés et perspectives autour d'une évaluation collective de la situation actuelle dans l'espoir de créer de nouvelles alliances et solidarités. Nous espérons que plusieurs acteur.rice.s de la vie nocturne se joindront à cette discussion!
Participantes
Basée entre Berlin et Istanbul, İpek İpekçioğlu, DJ, productrice et commissaire queer, a acquis une solide réputation au sein de la vie nocturne internationale. Elle a joué dans les festivals de Glastonbury, Fusion, Sziget, at.tension, Berlin et bien d'autres festivals de musique électronique et musique du monde. Ipek est également une commissaire; elle assure notamment la direction musicale du festival CrossKultur, conçoit la scène ImPort-ExPort pour MyFest à Kreuzberg, et invite des groupes de musique à se produire devant un public de 10 000 personnes. Outre son travail de DJ et de commissaire, Ipek est membre du conseil d'administration de la station de radio Reboot.FM et membre du réseau de musiciennes électroniques female:pressure. Elle est marraine du projet Schools without Racism – Schools with Courage (Écoles sans racisme – Écoles avec courage) à Berlin, et donne actuellement des ateliers et conférences sur les techniques du DJing, les identités queer et hybrides ainsi que le clubbing transculturel.
DJ, journaliste et commissaire, Aïsha Vertus est née et a grandi à Montréal. Ayant développé l'amour de la culture hip hop et de la musique électronique à un très jeune âge, elle a traduit ses connaissances musicales en un collage de diverses influences, recréant l'ambiance carnavalesque des Caraïbes à travers les percussions du nord du Brésil et la musique soul cosmique. Elle s'est produite dans une grande variété d'événements et festivals, allant de Pop Montréal à 24 Hours of Vinyl, en plus d'assurer la première partie de concerts de Kaytranada, Mykki Blanco et du collectif new-yorkais Discowoman pour n'en nommer que quelques-uns. En tant que commissaire, elle assure la programmation de Ti-Agrikol et du festival Mural, et son travail de journaliste l'amène à écrire entre autres pour The Fader et Vice. De 2012 à 2014, elle a coréalisé PIU PIU, un documentaire sur la légendaire scène musicale expérimentale montréalaise.
Basé.e à Montréal, J. Ellise Barbara est un.e auteur.e-compositeur.rice-interprète de l'avant-garde dont la création musicale combine des éléments du funk des années 80, de l'underground de la fin des années 70 et du downtown no wave. Un.e amoureux.se des éléments étranges, sombres et négligés de la musique pop, il.elle s'inspire de sources inattendues telles que des numéros de Sue Tissue, Kashif, Francis Bebey et du duo new wave[Office1] Rexy. Ayant débuté dans des centres d'artistes autogérés tels que La Brique et Drones Club au début de la décennie, J. Ellise Barbara a connu ensuite un succès fulgurant au Japon et en France. Parmi les moments forts de sa carrière, mentionnons ses duos avec Laetitia Sadier (Stereolab) et l'icône DIY R. Stevie Moore. Prenant une pause d'une durée indéterminée, Barbara concentre ses efforts sur son travail dans la communauté LGBTQ (Taking What We Need, ASSTeQ, Arc-en-ciel d'Afrique). Il.elle travaille également à la suite très attendue de son album de 2013 Soft To The Touch.
DJ, organisatrice d'événements et artiste, J'vlyn d'Ark est née dans le Sud profond pour renaître dans le milieu queer underground de Montréal. Sa musique emprunte à la fois au deep house et à la techno; elle est envoûtante et entraînante, parfois profonde, parfois sombre, mais toujours hypnotique. Ses performances passionnées démontrent l'attention extrême qu'elle accorde à la qualité de production, tandis que ses rythmes sexy et percutants font danser le public. Après avoir dirigé le renommé Faggity Ass Fridays, un événement-bénéfice mensuel, d'Ark se consacre maintenant à de nombreux projets solos et collaboratifs pour femmes queer, tels que D'Ark Mistress, TRYST, Acidalia et pitch:dark. Bénéficiant de nombreuses résidences d'artiste et se produisant régulièrement dans des salles commerciales et des festivals montréalais, dont Piknic Électronik et Igloofest, elle ne s'éloigne jamais de l'underground, où la musique house est née.
Produisant et interprétant de la musique en marge de nombreux styles et sensibilités, allant du minimal wave au sludge metal, en passant par l'avant rock, l'improvisation libre et la musique arabe, Xarah Dion occupe une place fondamentale depuis plusieurs années dans la communauté musicale montréalaise. En plus de participer à de nombreux projets, Xarah a sorti ses premiers albums solos Le Mal Nécessaire en 2014 et Fugitive en 2016, deux jalons de la synth pop qui lui ont apporté une notoriété internationale et permis d'effectuer une longue tournée en Europe. Elle joue également un rôle de premier plan au niveau local en tant que membre fondatrice de La Brique, l'un des espaces DIY montréalais les plus importants et appréciés, qu'elle a codirigé de 2005 à 2013 en tant que lieu d'improvisation, studio et salle de spectacles pour quelques-unes des personnalités les plus engagées du milieu underground.