Legend Series: Genesis Breyer P-Orridge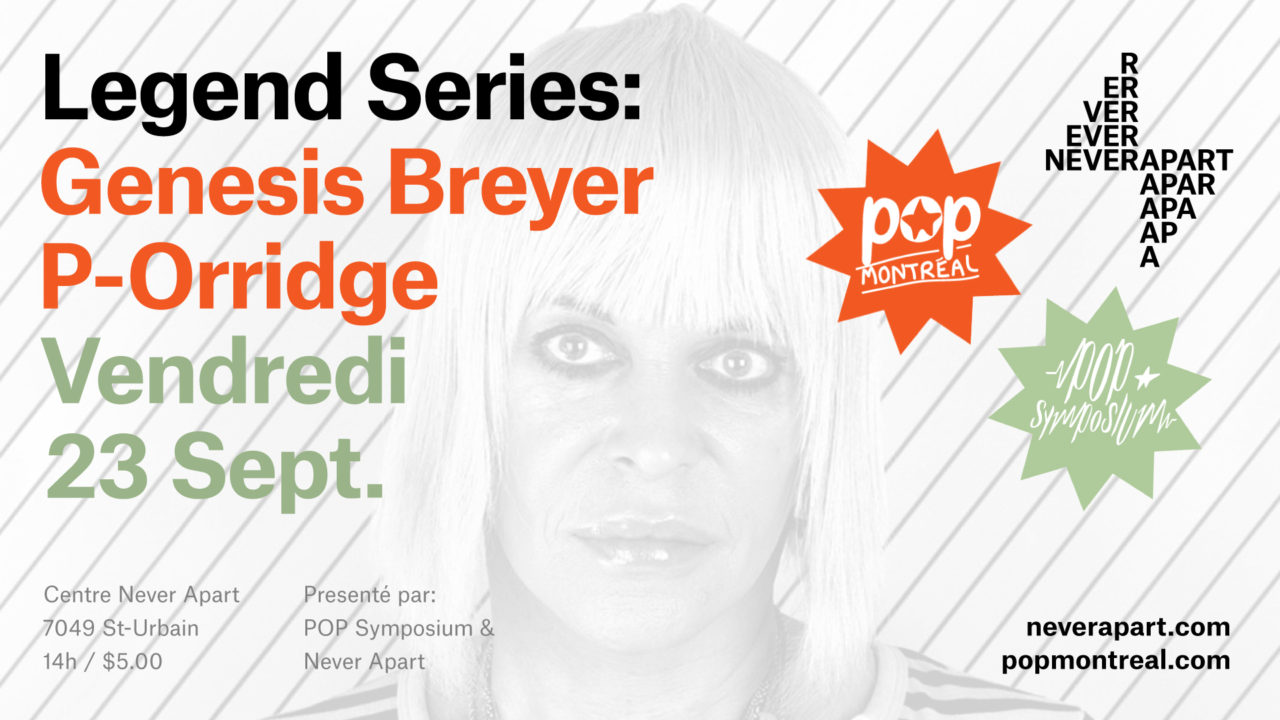 Never Apart and POP Symposium Present:
Genesis Breyer P-Orridge Legend Series
Genesis Breyer P-Orridge is a musical pioneer fronting both Throbbing Gristle and Psychic TV, two of the most innovative bands of all time. Holding a Guinness World Record for most released albums in one year, the sheer variety of sounds manifested by this musical genius defy industry constraints. In the nineties, Thee Temple ov Psychick Youth was formed and saw PTV exploring a new philosophical side. In more recent years, Genesis has been at the forefront of gender non-conformity and an eloquent spokesperson for the transgender community. P-Orridge has always been the very top of this list for a Never Apart Legend Series and, with the help of Pop Symposium, this dream is unfolding Friday, September 23rd at 2pm.
Hosted by Michael Venus and Bernie Bankrupt (Lesbians on Ecstasy)
Also on Display: Water, Shiny, Faces by SAAD, T-County, Colour By Icons, Poster Boys, The Moon Room, The Sun Room and The Invite.
Legend Series — Artist Talks
This ongoing program is geared to educate the public with pioneers and trail blazing guest artists discussing their body of work in an intimate engaging setting. They will be an interactive and multi- disciplinary seminar celebrating the artist's achievements while engaging the attendees with the shared knowledge and insight.
Never Apart et POP Symposium présentent:
Genesis Breyer P-Orridge Legend Series
Genesis Breyer P-Orridge est un pionnier musical à la tête de Throbbing Gristle et de Psychic TV, deux des groupes les plus innovateurs de tous les temps. Détenteur d'un record du monde Guinness pour le plus grand nombre d'albums parus durant une même année, la diversité des sons produits par ce génie de la musique défie les contraintes de l'industrie. Durant les années 90, The Temple of Psychick Youth a été créé et PTV a exploré un nouvel aspect philosophique. Au cours des dernières années, Genesis a été au premier plan de la non-conformité de genre et est devenu un porte-parole éloquent pour la communauté transgenre. P-Orridge a toujours été en tête de liste de la Legend Series de Never Apart et, avec la collaboration de Pop Symposium, le rêve deviendra réalité vendredi le 23 septembre à 14h.
Présenté par Michael Venus et Bernie Bankrupt de Lesbians on Ecstasy
Sont également à l'affiche Water, Shiny, Faces par SAAD, T-County, Colour By Icons, Poster Boys, The Moon Room, The Sun Room et The Invite.
Legend Series — Discussions d'artistes
Ce programme continu cherche à éduquer le public avec des artistes-invités, pionniers dans leur domaine, qui discutent de l'ensemble de leurs oeuvres dans un cadre intime et engageant. Un séminaire interactif et multidisciplinaire qui célèbre les réussites de l'artiste tout en captivant l'audience avec ses connaissances et ses points de vue.