LGBT Film Series: Blood and Glitter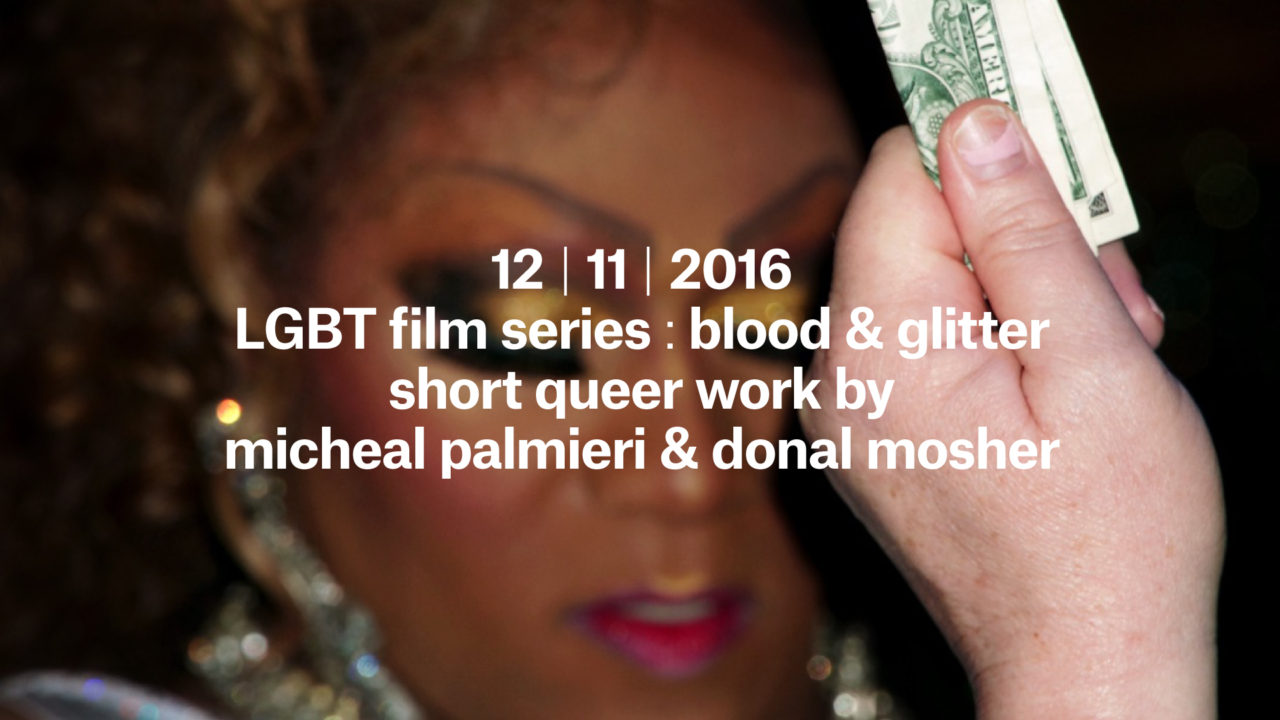 Short Queer Films by Michael Palmieri and Donal Mosher
Peace In The Valley –
In Eureka Springs, Arkansas the polls are closing on a groundbreaking vote for LGBT rights. Meanwhile, at the largest outdoor production of the life of Christ in the USA, the audience is waiting and the show must go on. Full of political passion, stage blood, and heavy foundation Peace In The Valley is a documentary comedy about faith and civil rights.
Magic Mouth – Mother lode.
A music video for Portland's premiere queer, punk, soul band Magic Mouth. Featuring fabulous Portland queers of all ages (and a hint of Kate Bush) Mother Lode is a tribute to Embers, the city's oldest drag bar.
The New Pornographers – Sing Me Spanish Techno.
Directed by Mike Palmieri, Sing Me Spanish techno is the unofficial first collaboration between Palmieri and Mosher. This Vancouver B.C noir stars Never Apart's very own Michael Venus (A.K.A Cotton) and San Francisco's legendary Juanita Moore in a musical tale of lust, betrayal, and lipstick.
Bios
Michael Palmieri (Co-Director, Director of Photography, Editor) is a director, a director of photography, and an editor. While he works predominantly in the documentary world as a director, he began his career in visual effects animation and spent a number of years as a music video director. He has directed award-winning music videos for artists including Beck, The Strokes, and Sharon Van Etten; worked as a technical director for the visual effects wizard Phil Tippett; collaborated with the fine artists Tauba Auerbach and Adrian Paci; directed and animated a political satire created by Garry Trudeau; edited films for the Academy Award winning filmmakers Rob Epstein and Jeffrey Friedman; and has shot many films including the Ross Brothers' Contemporary Color, Tonje Schei's Drone, and James Q. Chan's Forever, Chinatown. His documentary films collaborating with Donal Mosher have garnered numerous awards and nominations around the world. More information about his work can be found at michaelpalmieri.com
Donal Mosher (Co-Director, Sound, Assistant Editor) is a filmmaker, photographer, writer, and musician. He is the collaborative director (with Michael Palmieri) of the award wining documentary features October Country, Off Label and the shorts Rougarouing, Marseilles,and Peace in the Valley. Alongside filmmaking he has published fiction, non-fiction, and reviews including a contribution to the LAMBDA Award winning anthology Portland Queer. His recent photographic work The Vibrancy Is Killing Me was on exhibition in Munich, Germany in 2015. Selections of his film, writing, and photographic work can be found at donalmosher.org
LGBT Film Series — On-site events geared to GLBT people and their allies to promote a positive lifestyle and a safe environment with unique programing and educational screenings to broaden and elevate minds while also building community.
Never Apart is a non-profit organization based in Montreal, Canada, determined to bring about social change and spiritual awareness through programming with global reach and impact.Never Apart seeks to educate on equality, the environment and conscious living, while celebrating both established and emerging artists.
Q&A following the films with Michael Venus
Also on Display:
The Moon Room, The Sun Room, The Invite, Poster Boys, Colour By Icons
Non-Binary featuring:
Cassils – Cuts: A Traditional Sculpture and Fast Twitch // Slow Twitch
Damian Siqueiros – TRANSformation
JJ Levine – Alone Time
Lissa Rivera – Beautiful Boy
WORD OF THE PIG
Laura Acosta
HURTING THE EYES
Jean-Sebastien Baillat
LE VOYAGE DES HAÏKU
Philippe Dubost
LE BLED : LE CULTE
Doors: 6pm
Films: 7pm
Q&A: 8pm
FREE