Lez Spread The Word Magazine Launch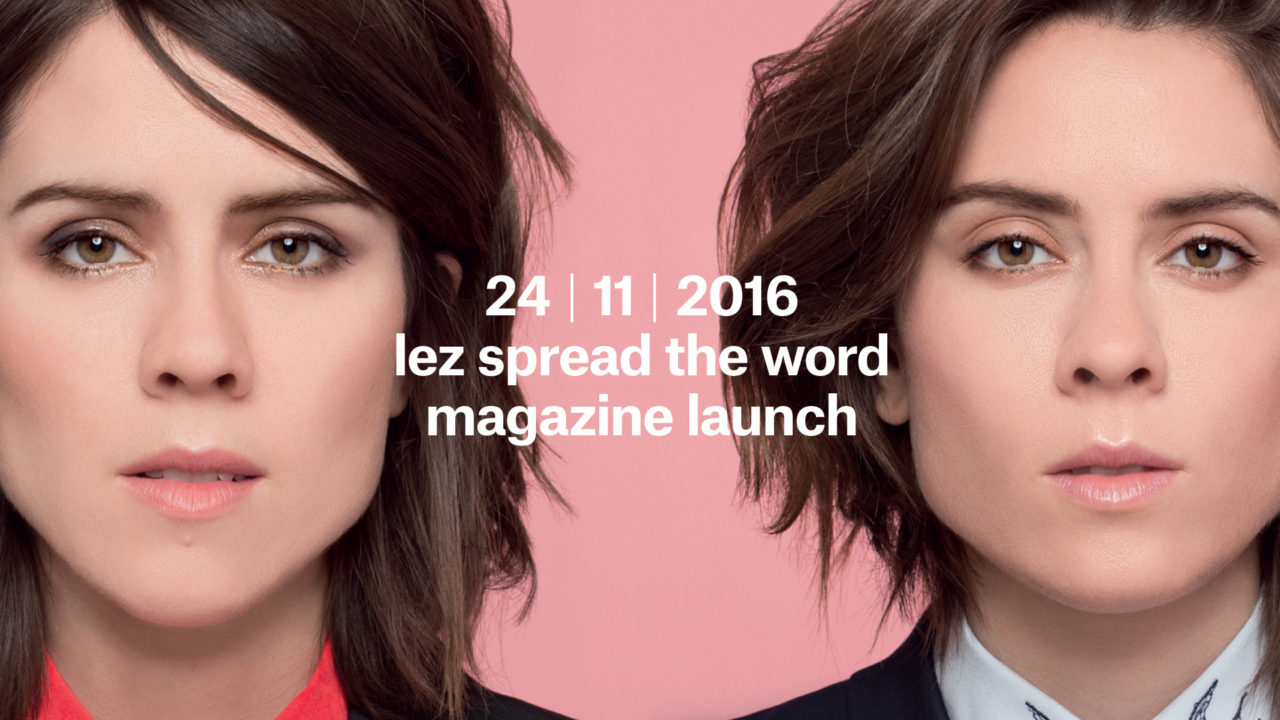 Le 24 novembre prochain, à compter de 18h, vous êtes conviées au lancement du premier numéro du magazine imprimé LSTW.
LSTW est une publication imprimée bilingue annuelle. Une exploration et un portrait intimiste des communautés lesbiennes canadiennes. D'un océan à l'autre: Diversité, bilinguisme et authenticité.
/ Dossiers
/ Entrevues
/ Séries photographiques
/ Portraits
Incluant Tegan & Sara, Bernie Houde (Lesbians on Ecstasy), Jóhanna Sigurðardóttir, Manon Massé, Patti Schmidt et plusieurs autres.
Découvrez au même moment le Never Apart et dégustez la bière #12 LSTW, brassée par nos amies de la Brasserie Harricana.
De 18h à 21h
Entrée: Gratuite
Magazine: 20$ + taxes
Argent comptant seulement
#lstwmag
LGBT Desjardins offira un avantage membre / Le magazine sera 15$ + taxes avec présentation d'une carte débit Desjardins.
Never Apart a la mission d'éduquer sur l'égalité, l'environnement et comment vivre en toute conscience, tout en célébrant avec la participation d'artistes établis et émergents. Niché au coeur du quartier Mile-Ex de Montréal, Never Apart dispose de 12,000 pieds carrés de galeries, d'un studio de production musicale ainsi que de l'espace créatif. Il abrite aussi un cinéma, une mezzanine polyvalente qui ouvre sur un jardin et une piscine d'eau de mer pour les rassemblements, une archive de 10,000 disques vinyles, ainsi qu'un local solaire et un lunaire.
Fondée en 2012, Lez Spread The Word est une organisation qui rassemble, renseigne et fait rayonner les communautés lesbiennes au Québec, au Canada et à l'international. En plus d'offrir du contenu informatif et de divertissement sur sa plateforme Web, LSTW se veut une ressource pour les femmes qui n'ont pas ou peu de référence par rapport au milieu lesbien. LSTW se distingue également par ses événements et par la production de sa série web, FÉMININ/FÉMININ, réalisée par Chloé Robichaud, nominée au Festival de Cannes pour son long-métrage Sarah préfère la course.
Partenaires: Village Gai Montréal Gay Village, Peau De Loup, Visit Montréal / Visitez Montréal et LGBT Desjardins.
/////////////////////////////////
You are invited to the launch of the inaugural issue of LSTW: The Magazine, which will take place on November 24 as of 6 p.m.
Take this opportunity to explore the Never Apart space and try the beer #12 LSTW, brewed by our friends at Brasserie Harricana.
LSTW is a bilingual print magazine published annually. An exploration of Canada's lesbian communities from coast to coast to coast, it's an intimate portrait of the authentic and the diverse.
Featuring Tegan & Sara, Bernie Houde (Lesbians on Ecstasy), Jóhanna Sigurðardóttir, Manon Massé, Patti Schmidt and many more.
From 6 p.m. to 9 p.m.
Admission is free
Magazine: $20 + tax
Cash only
#lstwmag
Never Apart seeks to educate on equality, the environment and conscious living, while celebrating both established and emerging artists. The platform is geared towards igniting positive change and unity through culture — gatherings, music, art exhibitions, panel discussions, workshops and special events. If we can break down the separations in society and on our planet, if we can embrace our oneness, we can start something new.